It's that time of year, when parents begin preparing their children for their first day of school. Organizing backpacks and planning out lunches can be very exciting, especially when you have a toddler who will be starting preschool!
Give your kids a head start by reading to them every night (or when you can). Bookroo is a children's Book subscription that delivers new books in colourful packages to your front door every month.
Use my code: MICNEM for 10% off when shopping at Bookroo.
So how could you make your little one's first day of preschool memorable? You can do that by preparing them in the best way possible. Ask the teacher during registration for a copy of their checklist. It also helps to ask other parents what they will be packing as well.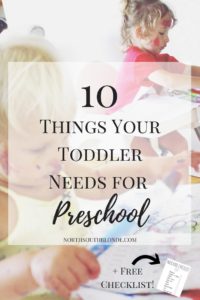 Here's a list of practical items to pack with your child when they attend preschool, without breaking the budget.
A Fun Themed Backpack
How exciting it is when your child gets to pick out their own little backpack! Maybe it has their favourite cartoon, action figure, or Disney movie on it! Be sure to pick a bag that is the right size for your child. Sometimes it can be hard to find a "toddler size" school bag. Make sure they try it on first and then you can adjust the straps to fit. This Skip Hop backpack
 has the perfect fit for any preschooler.

A Change of Clothes
At preschool there will be messy arts and crafts, dirt in the playground, and many outdoor trips. You want to pack affordable, quality clothes for your toddler. I usually dress my daughter in a warm sweater (here's one for boys) with an undershirt during the colder months. That's so she can wear just her t-shirt when she get's too hot playing indoors.

Extra Underwear / Pull-ups
School is such an exciting time for kids when they're this young. They get to socialize with each other and learn a ton while their little brains expand like crazy. And during all of this excitement, they are likely to have a pee or poop accident. It will happen because it's a new experience and it's normal. Check out our favourite undies
 for the girls (and these
 for boys).

Indoor Shoes
Proper indoor shoes are important to prevent slips and falls. I recommend getting your child a great pair of running shoes so that they are comfortable while playing without hurting their little feet. We are in love with these easy to slip on toms
, Brooke is beyond excited to wear them to preschool!

Bottle / Sippy Cup 
Don't forget to pack your child's favourite sippy cup. It's important for children to drink from their own cups and not share with other children to prevent the spread of germs and illnesses. They may not be tall enough to drink from the school's water fountains just yet! I love the Munchkin Trainer Cup
 because they're so easy to clean (no mould!)

Rain / Snow Boots
You wouldn't want those cute runners to get dirty in the mud! These are our go-to rain boots (these are cute for boys!). They're perfect for inclement weather and are easy to get on and off. Normally, I dream of splurging on adorable pink Hunter Boots
but these from Joe Fresh are a lot more affordable. My girls grow fast!

Jacket
You never really know how cold it could get once the kids are off to school. It's nice to always be prepared so your toddler feels comfortable and safe at all times. I love jackets that are waterproof and insulated at the same time. Our winters get pretty cold! Here is a great quality jacket for outdoor play (and this one for boys). Don't forget about warm snow pants (for girls and boys).

Hat / Scarf / Mitts
A hat to keep their little heads cool. Let's hope they listen to the teacher and wear their hat! This sun hat
 is my favourite because of the chin strap that secures it on Brooke's head. She's not a fan of wearing hats, so if the wind can blow it off, we don't want it! For cold and windy days, these his and her mitts are super warm!

Comfort Toy / Blanket
You may have a child who has a favourite toy that never leaves their side. Maybe it's their Winnie The Pooh bear that they sleep with every night, their go-to blanket, or their Olaf
 snowman that accompanies them during nap time. You want to make sure your toddler is comfortable in their new surroundings even if they're too excited to take their nap.

"I Love You" Note from Mom and Dad
Sure, they don't know how to read yet. All you have to do is draw a big heart, a picture of your family and your home. You don't have to be great at drawing, just explain to your child what the note means the night before school – that you love them, you're proud of them, and you can't wait for them to come home and tell you how their day went.
Whether your little one attends school Monday to Friday or just a few days a week, it may be one of the hardest things we have to go through as parents – saying goodbye to them. And if you're anything like me, you'd want your child to have the most positive experience as soon as they walk through those doors.
If you have any questions or items to add to the list, leave them in the comments below!