This Cocomelon themed birthday party is fun and easy to put together, perfect for any toddler. Amazon party decorations and all details here!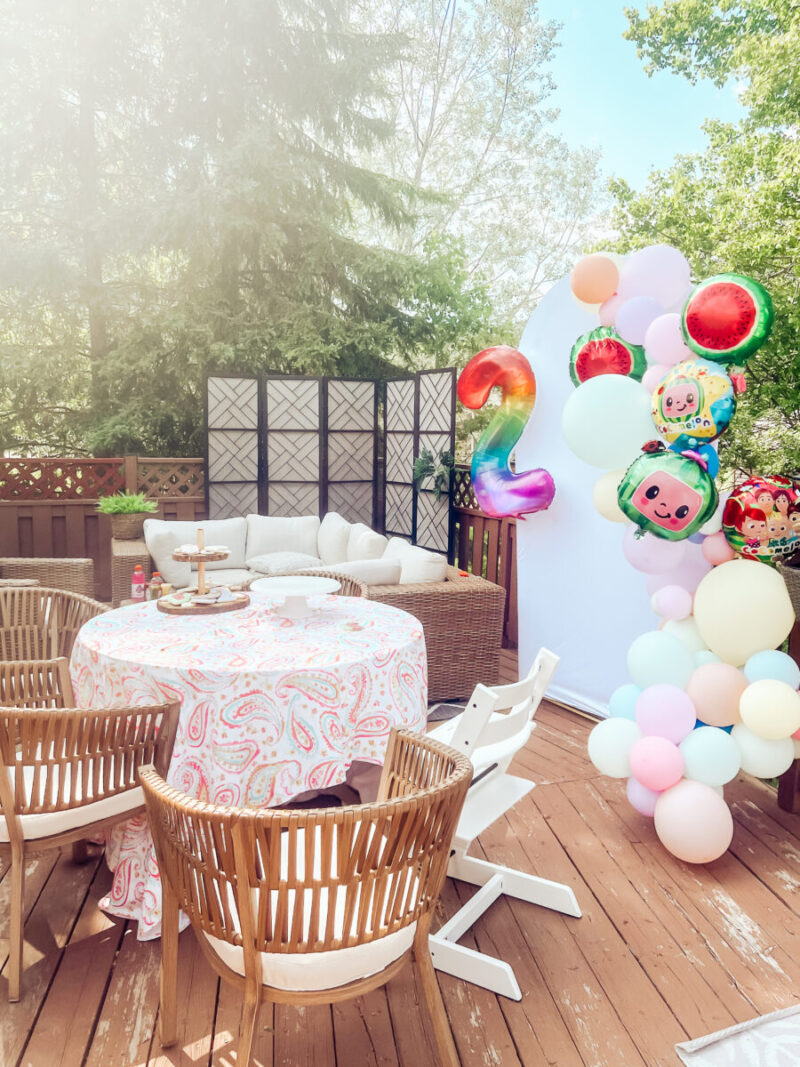 Cocomelon Themed Birthday Party Inspiration
If you're planning your toddler's birthday party, this is for you! I hope I can inspire you on all the things to put together for your little one, especially if they are Cocomleon obsessed just like our Gemma is!
It's always a good idea to go with a theme that your little one is crazy about, because it sparks the magic in their eyes when they see it all come together!
Let's face it, if you're not ready to jump on a plane to Disney World, then why not make the most of childhood magic right at home?! You'll save money in the long run and customize literally every single detail.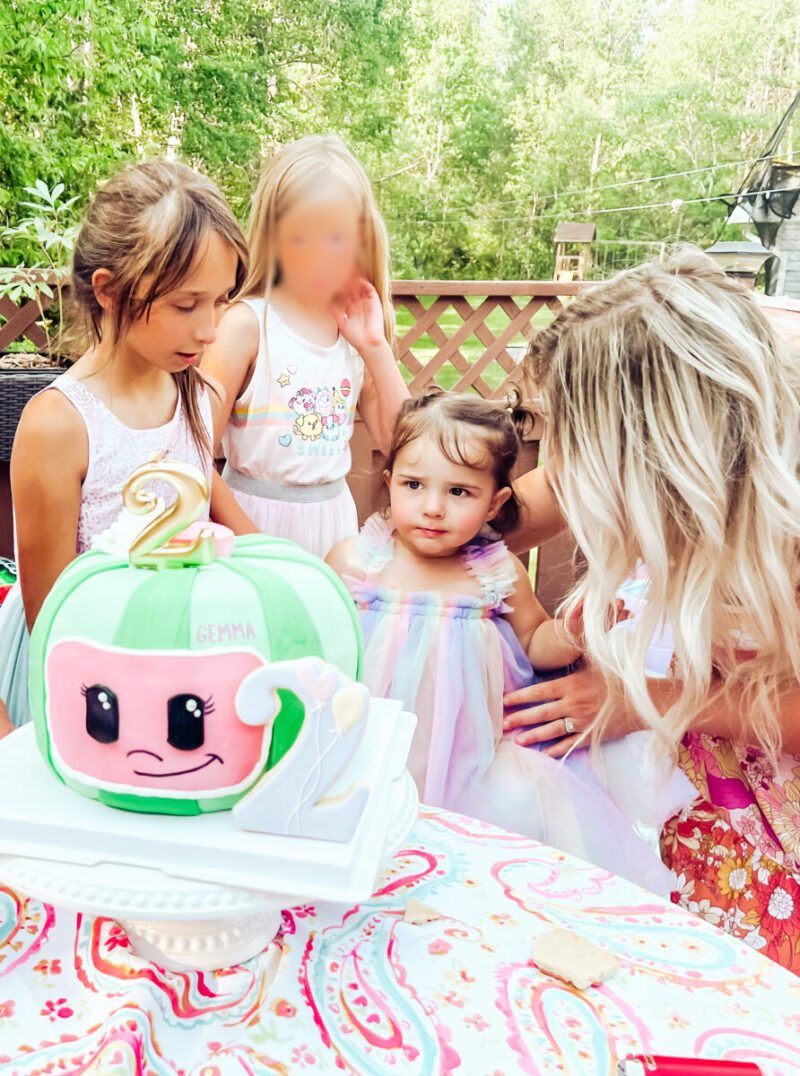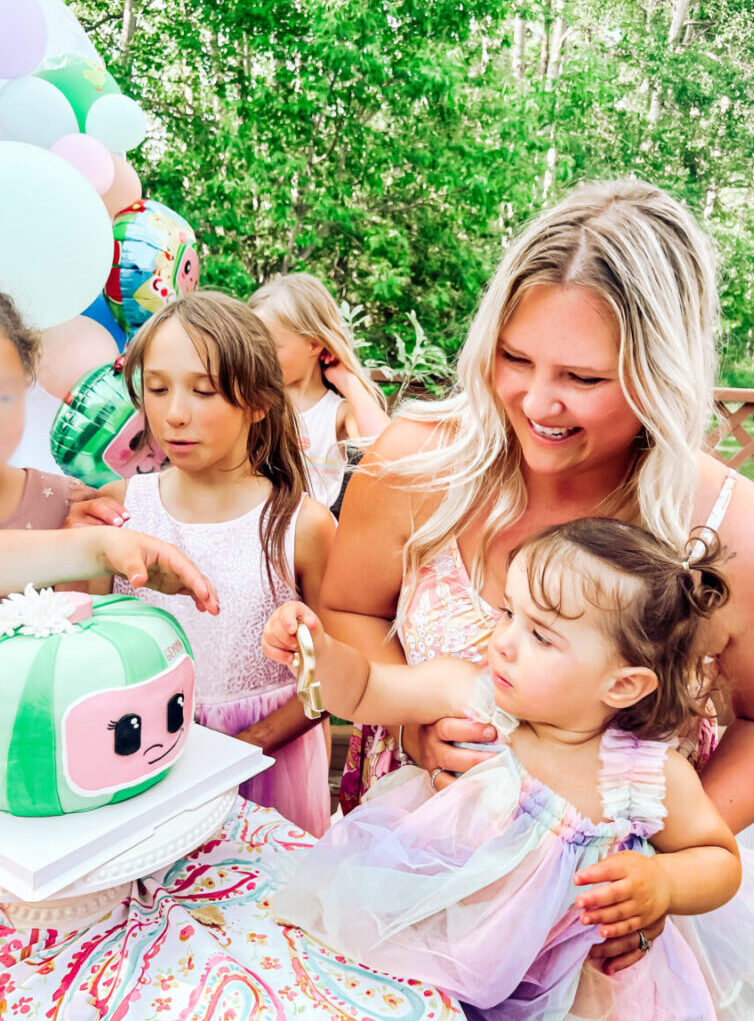 Birthday Party Ideas for Girls or Boys
The best part about a Cocomelon themed birthday party is that it can go whichever way, for boys or for girls. When picking the colours of the balloons for example, you'll want to go with the bright, bold colours for boys. We went with lighter, pastel colours (sticking with the Cocomelon theme) for our little girl.
I have three daughters who love all things fun and girly, so that's exactly what I did! Think of all of the Cocomelon colours, just lighter, brighter, and lots of watermelons and rainbows.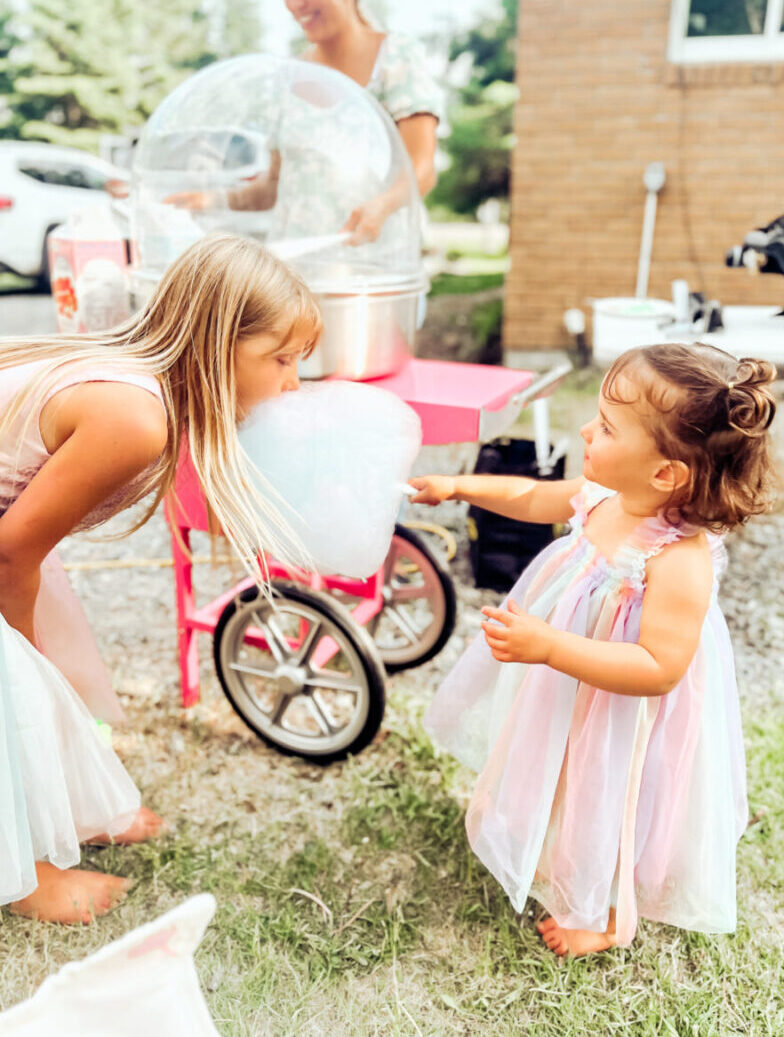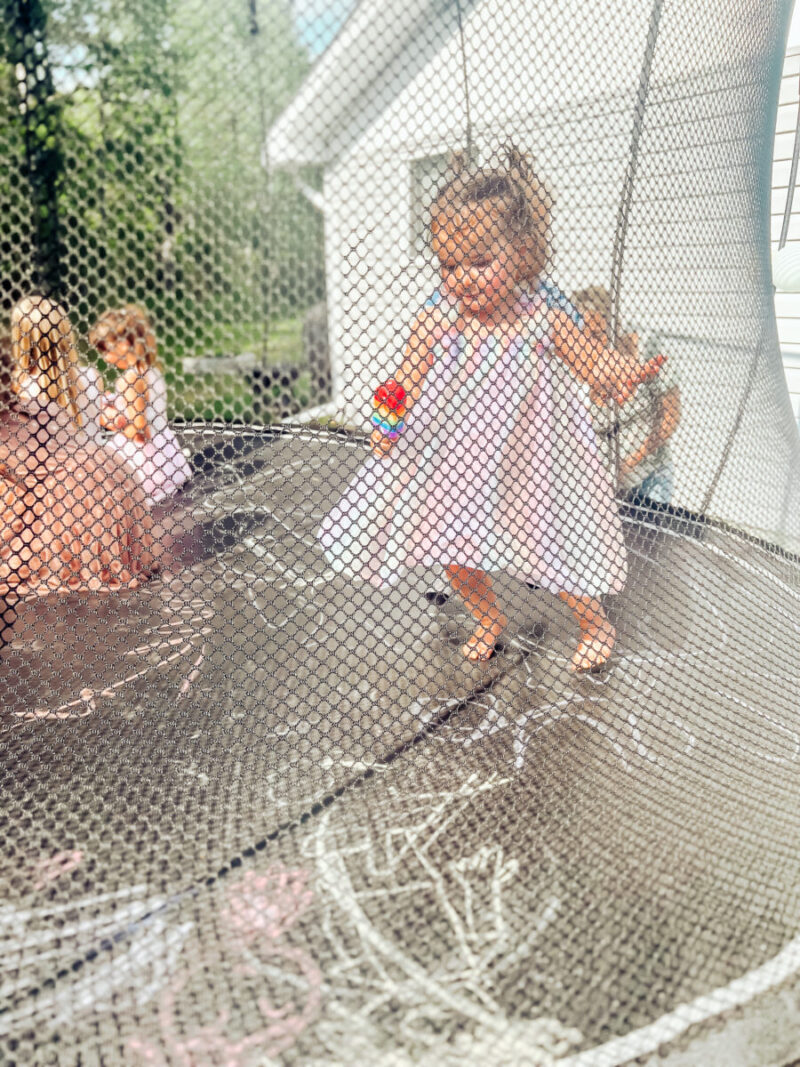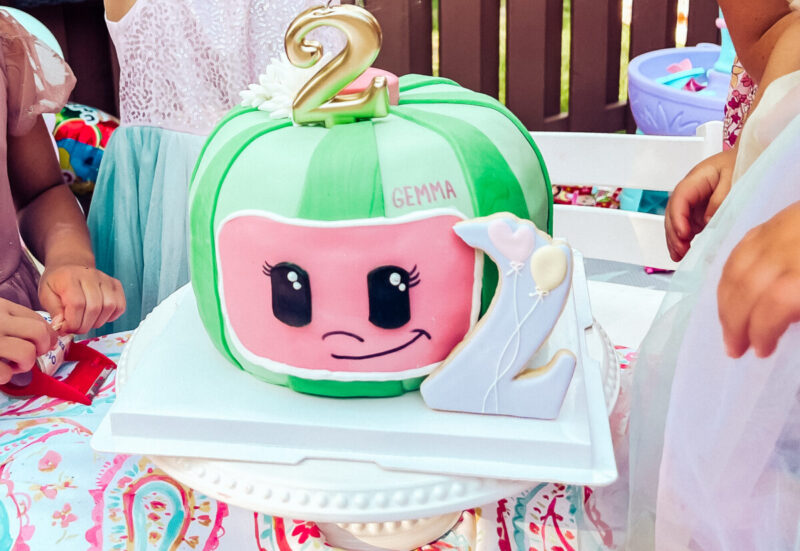 Birthday Party Planning Tips
Planning is the fun part – making the lists, adding to cart, rearranging furniture, all the things to help the day run as smooth as possible!
I used to find planning birthday parties very overwhelming, and still do to this day. But when I make lists and stay on top of organization like picking a date and ordering food in advanced all helps so much when to be prepared.
Here are a few planning tips that have helped me stay on top of things:
Plan to order the food, snacks, cake, and dessert inquiring and ordering well ahead of time. Always order more than you expect you'll need, it's okay to have leftovers of send people home with extra cake they'll appreciate!
Draw out the layout of the party – where the eating will take place, where the dessert table will be, where the balloon display will be, etc. Be sure to sketch exactly what plates or trays you will use, or any specific decorations. That way when the day comes, you know where to place everything with ease.
Make a list of what you need to buy at the party store or on Amazon – like paper plates, cutlery, cups, balloons, backdrops, candles, electric lighter, and more.
Jot down exactly what you need to do the day before or the day of, like picking up the cake, having a time slot to set up a balloon garland (3-4 hours if you're new at it like I am), and making time for picture taking before the party begins since you'll be running around later like a chicken with it's head cut off. Just kidding.
Print and prepare the printables for things like water bottle wrappers, loot bag 'thank you' tags, cupcake toppers, colouring pages for kids, etc.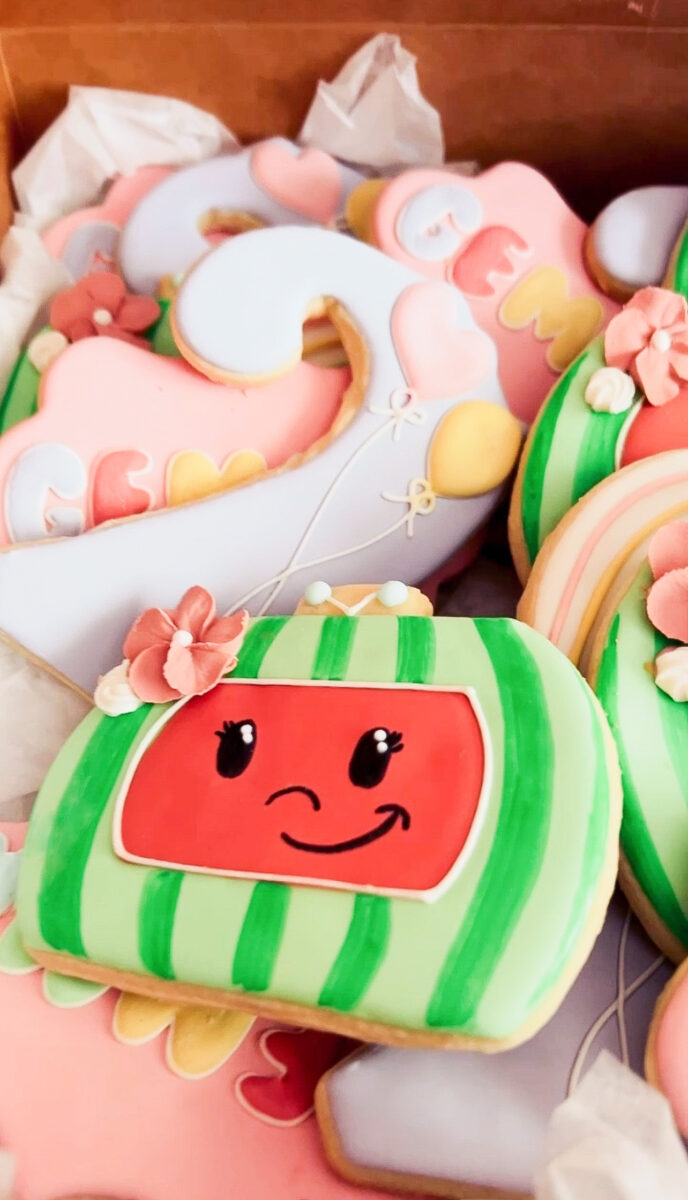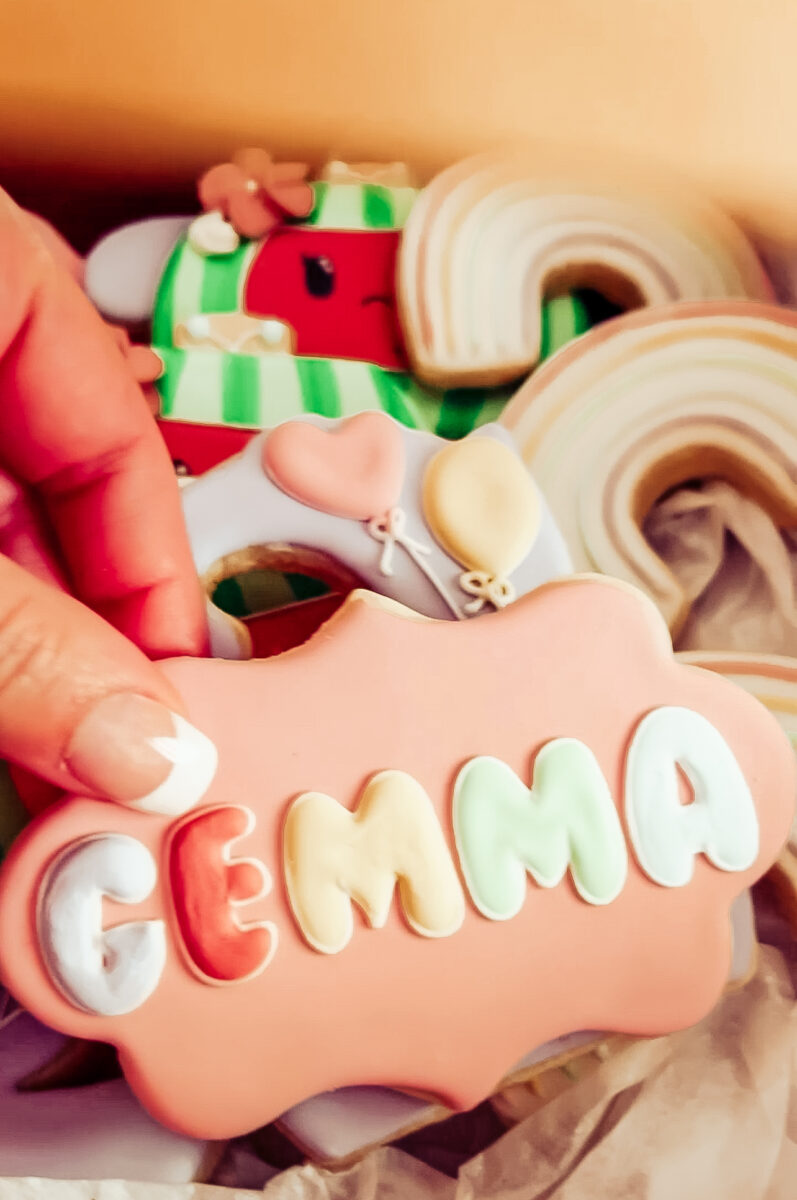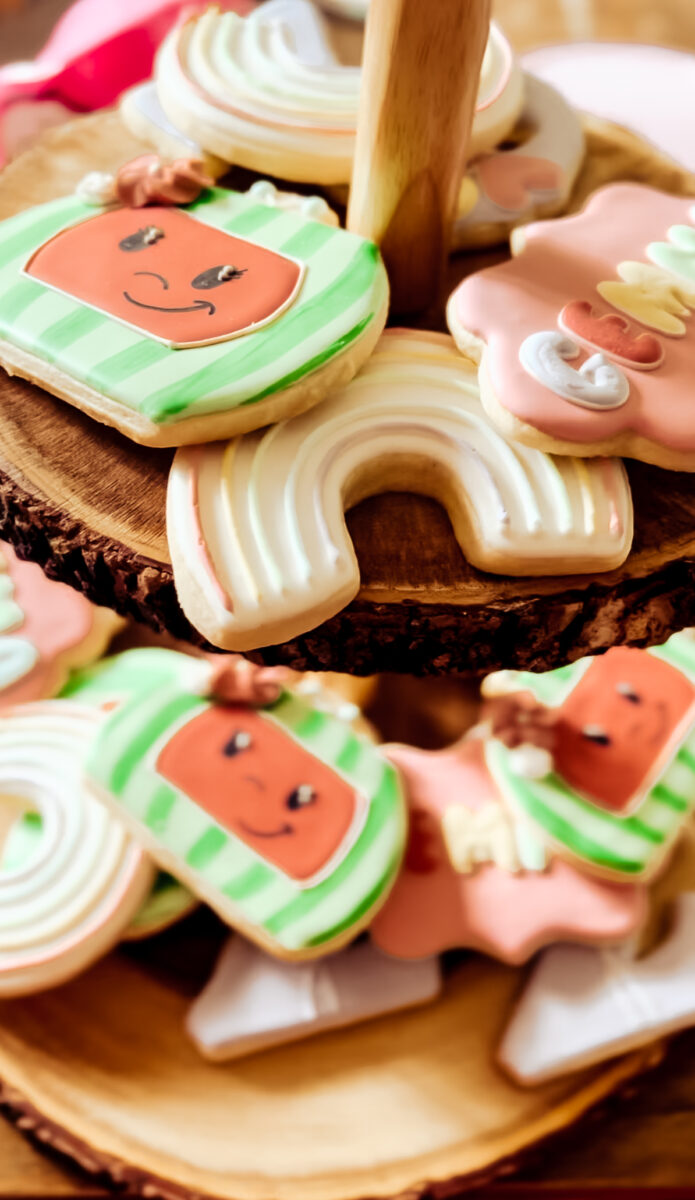 Cocomelon Birthday Party Theme Details
Gemma's tulle birthday dress, it came in so many cute colours!
Themed Table (my patio dining set from Walmart), with a colourful tablecloth, plates, Napkins, cutlery, cups
Watermelon, fresh fruit and veggies, charcuterie board, juiceboxes, water bottles (covered with printables from Pinterest), BBQ, Cocomelon cookies and a Cocomelon cake (I ordered from @thecookiejar.mh)
Our springfree trampoline, or you can set up a bouncy castle, pool, or pool ball pit
Pastel coloured ball pit balls (I actually had to order around 500-600 of these to actually fill a small kiddie pool)
Activities like a Cocomelon bubble maker, colouring/painting, chalk art on the trampoline, a water table, or even water balloons (reusable water balloons here!)
Cotton candy machine or popcorn machine for snacks throughout the party or for party favours to take home
Themed printables on Pinterest to add special touches like water bottle wrapping, 'thank you' cards, tags for party favours, etc.
The 'big gift' at the end of it all. We went with an adorable Power Wheels Barbie Jeep.
Giant pink bow to place on top!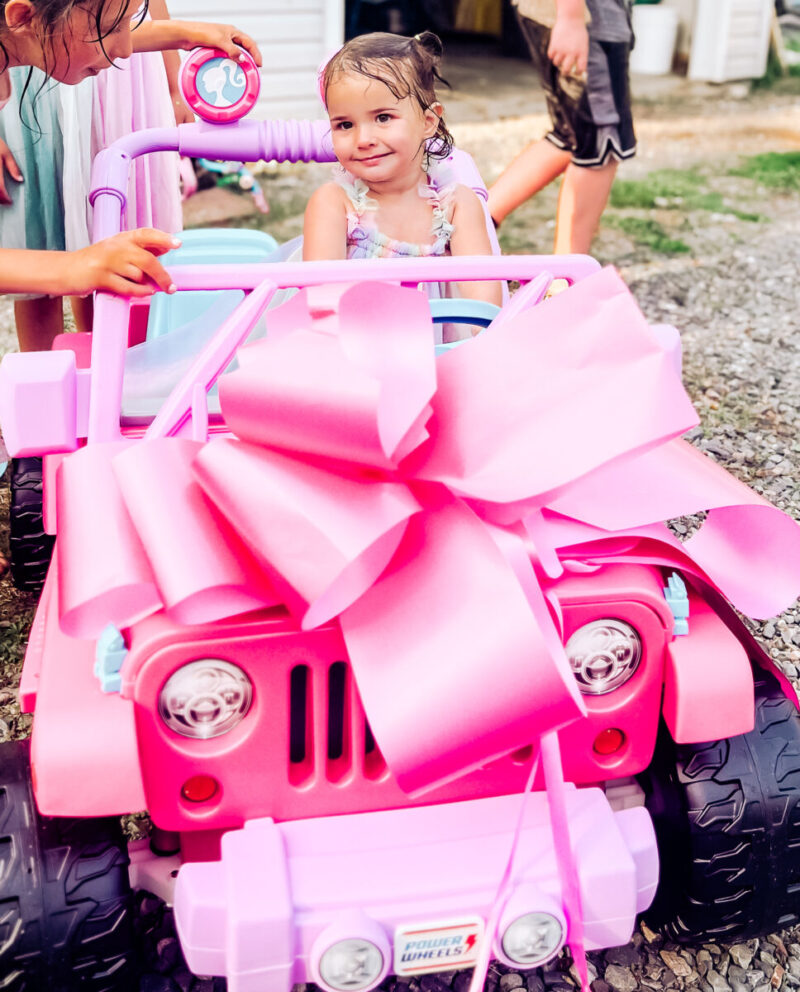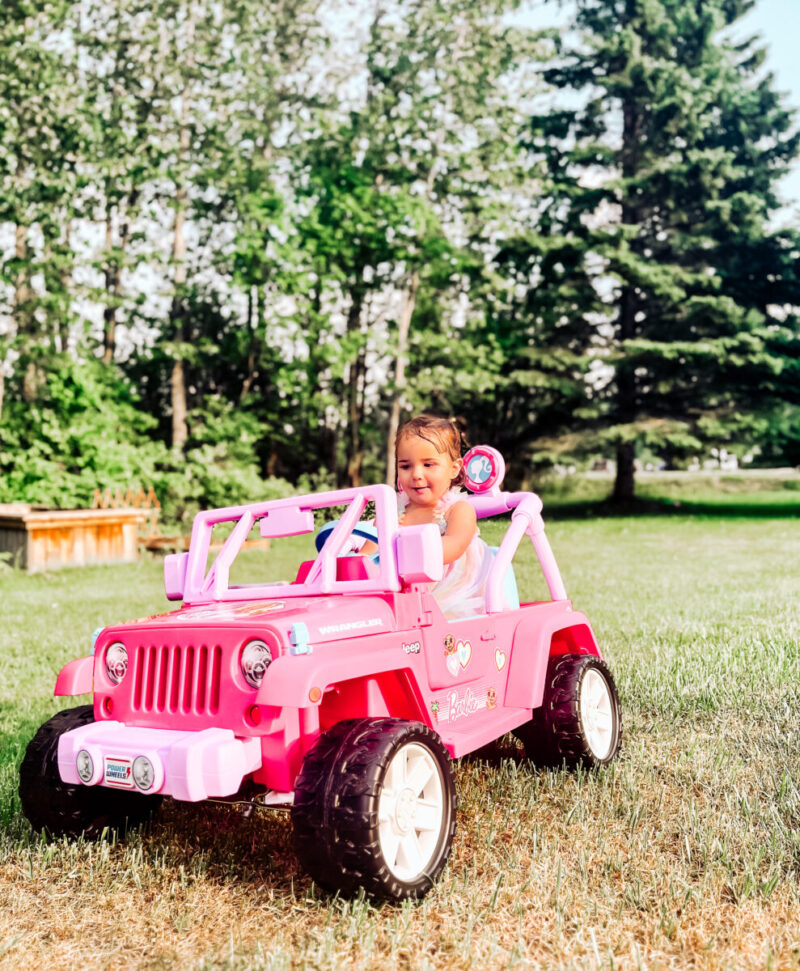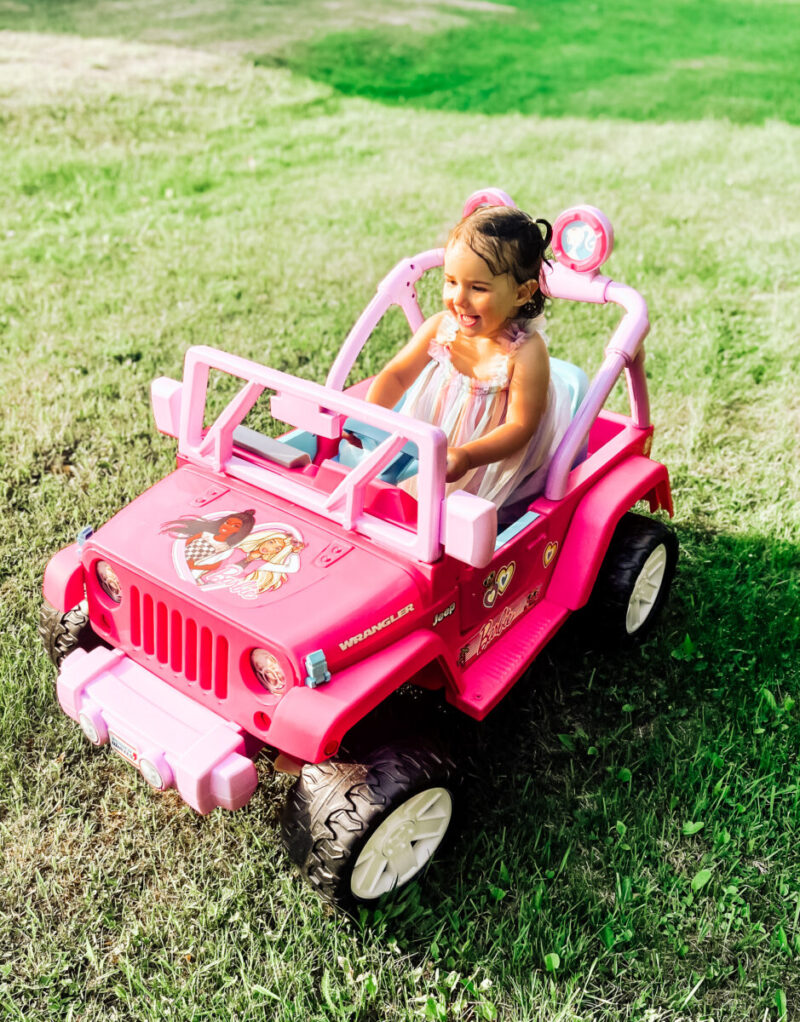 Toddler Birthday Gift Ideas:

Backyard Patio Furniture
Our outdoor sectional was a Canadian Tire find a few years ago, as seen in our deck upgrade here. I absolutely love the creamy tones on the cushions and found that lifting them vertically after every rainfall helps to drain the water from them (a trick to use if you don't have a gazebo to keep your furniture dry and mold-free!) Other than that, it has held up very well, it's very durable and easy to assemble and put put away.
Here are some similar sectionals here and here (cheaper). I also love how well our outdoor rug is holding up, I may get another one.
The dining set seats four people comfortably and was a purchase I made just this year. I also brought out some camping chairs and tables in case we needed extra seating. This set in particular matched my sectional so I had to have it. Again, cream coloured cushions and a beautiful light brown, beige wicker. It really goes together so beautifully, and now I'm just waiting on this boho umbrella to really make it all complete! The extra seating is perfect for family and friends.
As for our privacy fences, these were a super inexpensive way to add privacy to our deck instead of going with lumber. I bought them from Rona, attached them to the corner of the deck and it worked out really well. Similar privacy screens here and here.
I'd love to know if this inspired you for party planning your little one's special day! Do you have more ideas to add? What would you change or what did you love? Follow along on Instagram as I share so much to my stories as well! Happy Summer!
More Summer Inspiration:
Pin It!