An extensive list of everything you'll need, gear, and necessities for setup and camping in an RV trailer or camper with the family.
This post contains affiliate links for your convenience, in which I earn a commission from at no extra cost to you.
Everything You Need for Your RV or Camper
Coming in a teeny tiny bit late with this post, but rest assured, it is a comprehensive one that will come in handy for years to come!
It's mid August and summer isn't quite over yet. Here in Canada, we have one more long weekend that we always look forward to, before the start of school and the cooler weather. It's our last chance to spend time as a family and add to those summer memories!
What better way to do that than RV camping?!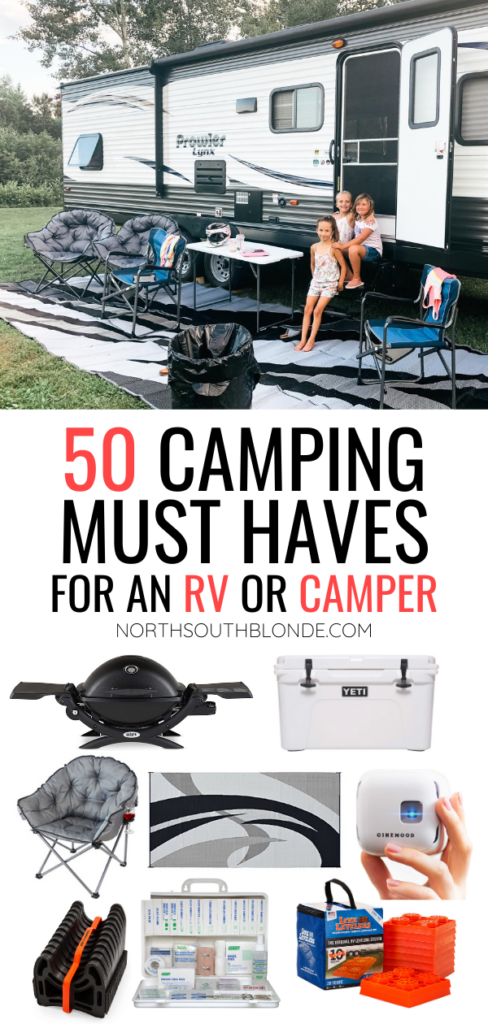 Family Camping List With Kids and Set-Up
And of course, there's all the things that make camping that much better, especially with little ones running around.
---
Related: Campfire Trail Mix for Kids
---
Maybe you're more of a glamper (glam + camping = glamping). Regardless of the type of camper you are, you'll want to familiarize yourself with this extensive list of necessities for a successful week of camping!
From gear to easy and convenient set-up, to safety necessities like a first aid kit and much more–it'll all be covered right here.
Feel free to bookmark this page to come back to as a checklist for your next camping adventure!
50 Camping Must-Haves for an RV Trailer or Camper
There is definitely a lot you'll need when camping in an RV or camper, but it's much better to be prepared so that there isn't any stress and tears when you're trying to enjoy a camping family vacation.
My husband recommends all of the technical gear–the hoses and plumbing and electrical stuff–because that's all we use for quick set-up with our camper. Trust me, you'll want set-up to be easy and fast, so you can get that AC running, and little bellies full of food fast! And maybe even enjoy a cold one.
I hope this list comes in handy for you and your family, and again, go ahead and bookmark the page for future reference. If you have anything else you swear by using with your own camper, I'd love to know!