The best oven-baked crispy parmesan crusted potato wedges you will ever make with deliciously roasted seasoned potatoes, freshly cut to perfection. The perfect dinner side dish, snack or appetizer that hits home.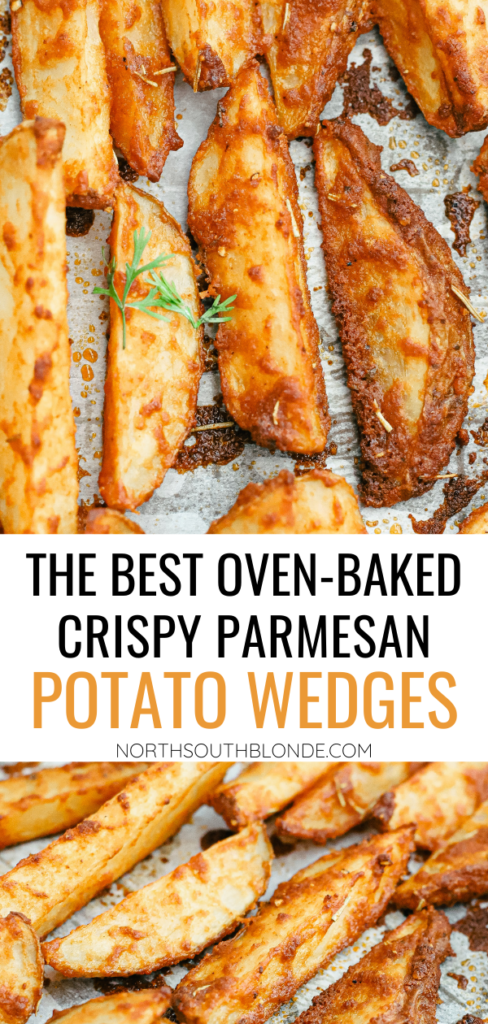 The Best Comfort Food Potato Wedges
Usually I refrain from high carb foods for weight loss — but sometimes, you just have to enjoy yourself!
All the carbs, all the goodness, and all the right seasonings to enjoy for any occasion.
These are the best potato wedges for a reason. They're perfectly soft on the inside and crispy and crunchy on the outside.
Just like my breakfast potato hash, these potato wedges hit the spot as a side dish for dinner, lunch, or snack time. Even for the big game.
---
Related: Crispy Oven-Baked Sweet Potato Fries (GF, Vegan, Paleo, Whole 30)
---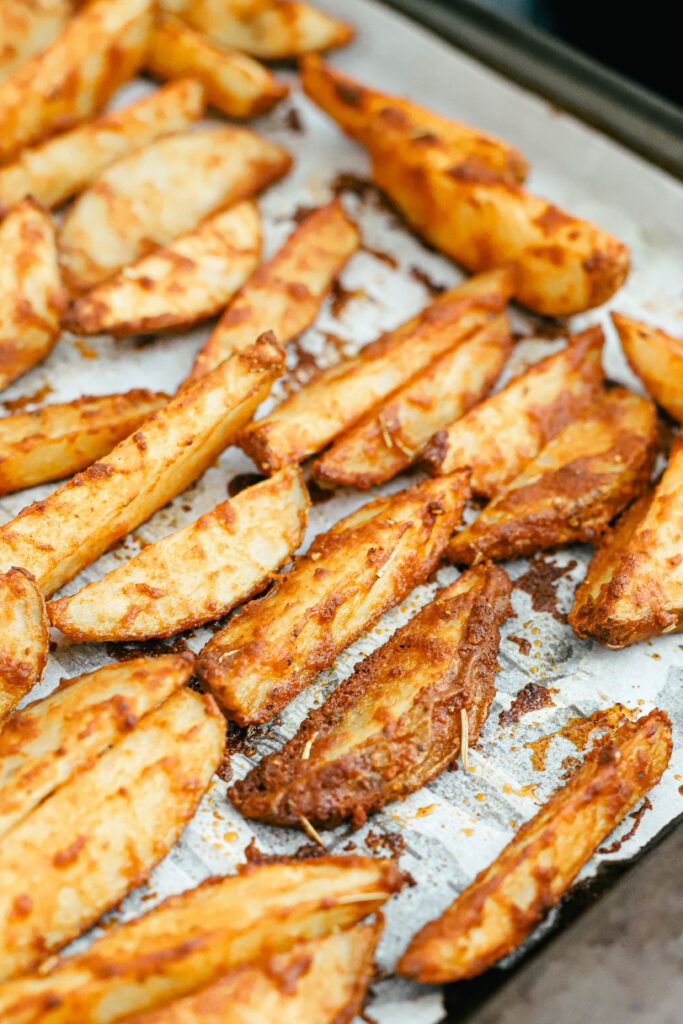 A Gluten-Free Potato Side Dish or Appetizer
This recipes calls for mouthwatering seasonings and a heck of a lot of parmesan. Are you drooling yet?!
The potato wedges are crispy as can be with a thick coating that doesn't involve gluten, grains, or any breading at all. This complies with those with celiac disease, refraining from eating gluten.
Surprisingly enough, potatoes are way underrated when it comes to nutrition.
Aside from the high carb content, potatoes contain some protein and fibre, as well as vitamin c, vitamin b6, potassium and manganese.
And, potatoes are cheap. If you are looking for a budget friendly family dish, this is it.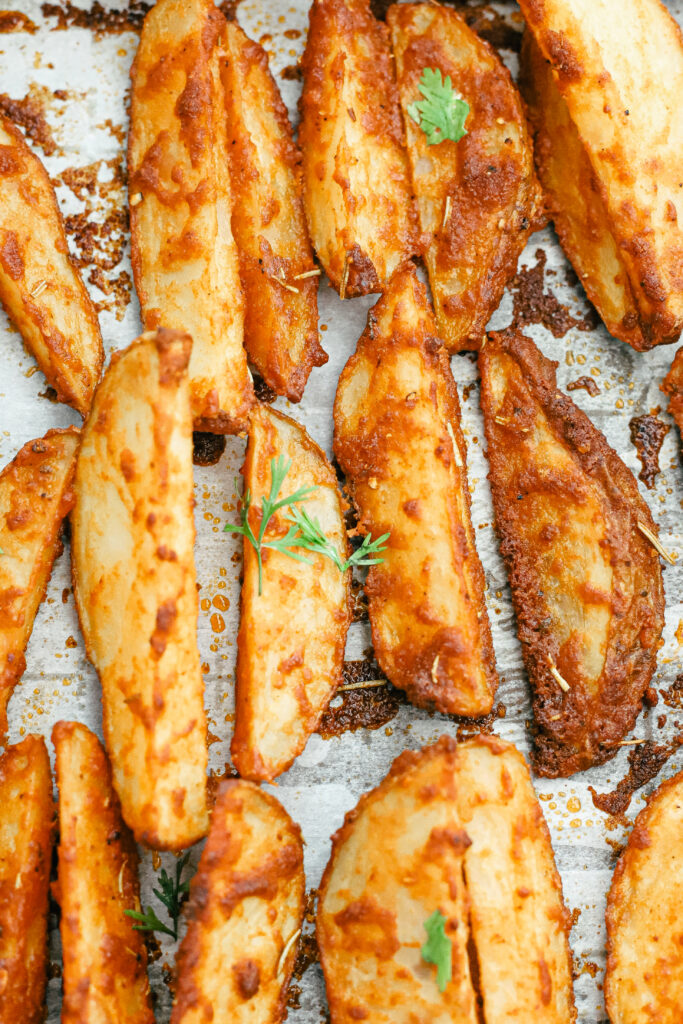 Do I Keep The Potato Skin on?
The secret to the best ever potato wedges you'll ever make in your life is by freshly cutting your potatoes with the skin on.
This will add texture and crunch to your wedges and also adds all of the nutrients to your dish (as they reside in the skin itself).
If you have picky eaters in the house, you can always peel the skin off of each potato, but of course will be time consuming and in turn won't turn out as crispy.
How to Cut Potato Wedges
Wedges are very easy to cut, especially when you keep the skin on your potatoes.
Wash your potatoes well, making sure to scrub the dirt off. Pat the potatoes dry with a towel and place them on a cutting board.
Use a large, sharp knife and cut each potato in half. Turn the halves down and cut into halves. Repeat and cut into halves again. You will get 1-inch thick wedges.
Prep time made easy!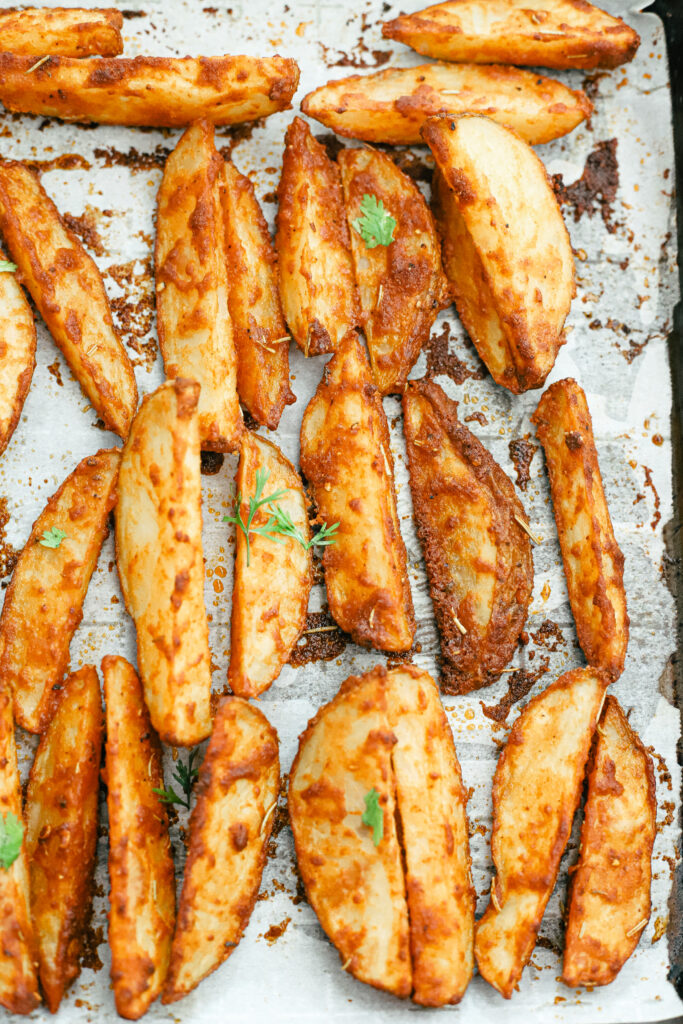 What Ingredients are in Parmesan Potato Wedges?
You will need:
6 large russet potatoes
fresh parsley (for garnish)
How to Make Crispy Oven-Baked Potato Wedges
Easy as can be, this is a recipe you'll want to make all the time. I guarantee it! It's one of our little girls' favourite dishes, these and our homemade sweet potato fries!
First you'll need to line a two large baking sheets with parchment paper and preheat your oven to 400 Degrees Fahrenheit.
Gather 6 large sized potatoes and rinse well. Cut into 1-inch-thick wedges. Try to make them all the same exact size so that they cook evenly.
In a large mixing bowl, season potato wedges with olive oil, salt, pepper, rosemary, paprika, thyme, and grated parmesan cheese. Toss to coat.
Space wedges apart on the baking sheets and bake in the oven for 45 minutes or until desired crispiness. Cooking time will depend on how thick your wedges are.

Vegan Alternative Potato Wedges
Potato wedges can instantly become a vegetarian or vegan dish by cutting out the parmesan cheese.
All the other spices like rosemary and thyme provide powerful health benefits and mouthwatering flavour all on their own. Not to mention, potatoes are a great source of potassium!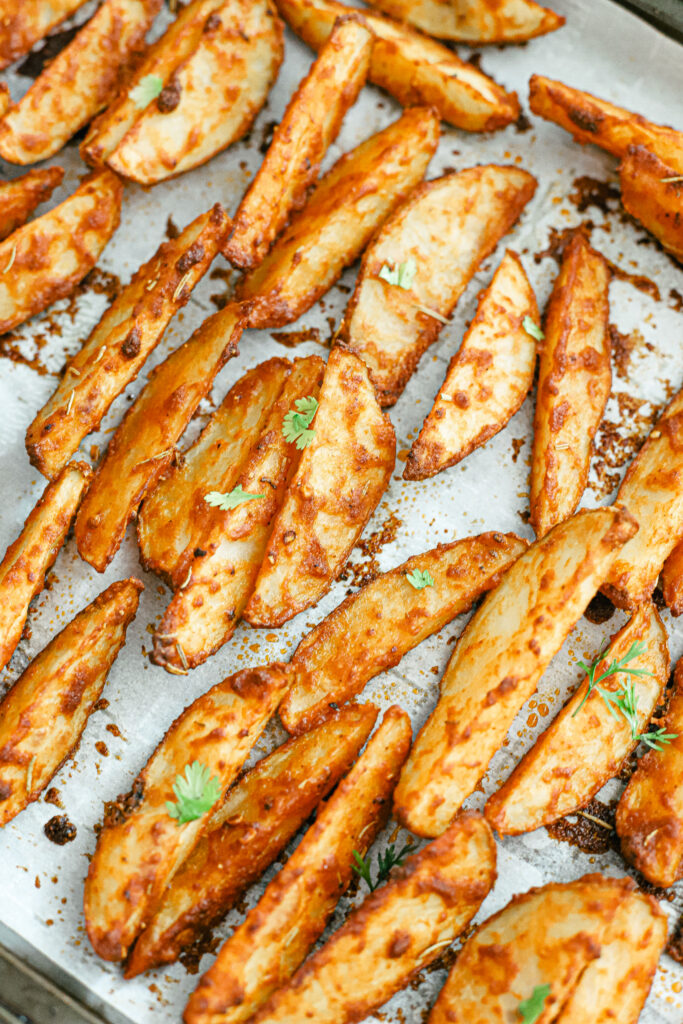 Fresh Cut Wedges VS Store Bought Wedges
Here's the deal. Homemade is always the way to go. When you buy frozen cut potatoes from the store, you're also buying additives such as oils and trans fats and other fillers. The potatoes are usually pre-cooked with all of those not-so-good fats.
When you make fresh cut potato wedges homemade, you are the one who controls the ingredients.
Oven-baking your wedges using olive oil is a much healthier means of cooking them rather than the store bought kinds which are deep fried in unhealthy oils.
More Side Dishes You'll Love:
Dinner Recipes to Serve Potato Wedges With:
Crispy, fresh cut homemade wedges are all you will need in your life–especially for easy weeknight dinners! Enjoy xo

The Best Oven-Baked Crispy Parmesan Potato Wedges (Gluten-Free)
The best parmesan crusted potato wedges with seasoned roasted potatoes, freshly cut to perfection for the perfect dinner side dish, appetizer, or snack.
Instructions
Wash and rinse potatoes well and pat dry. For each potato, first cut in half lengthwise. Turn the halves down and cut into halves again. Repeat and cut into halves again, resulting in roughly 8 1-inch-thick wedges per potato. Try to keep wedges the same size for even cooking.

In a large mixing bowl, combine olive oil, salt and pepper, rosemary, thyme, paprika, and parmesan. Throw potato wedges into the bowl and toss to coat.

Arrange wedges spaced apart, skin side down, and single layer on the baking sheet. Sprinkle any extra oil and seasonings from the bowl onto the wedges.

Bake for 45 minutes. Depending on how large your wedges are, you can bake between 45 minutes to 1 hour. For thinner cut wedges, bake for 30 minutes or until desired crispiness.

Sprinkle with fresh chopped parsley to serve. Enjoy!
Nutrition
Calories:
285
kcal
|
Carbohydrates:
40
g
|
Protein:
8
g
|
Fat:
12
g
|
Saturated Fat:
3
g
|
Cholesterol:
6
mg
|
Sodium:
534
mg
|
Potassium:
929
mg
|
Fiber:
3
g
|
Sugar:
2
g
|
Vitamin A:
730
IU
|
Vitamin C:
14
mg
|
Calcium:
133
mg
|
Iron:
2
mg
Shop What You'll Need