Garlic Parmesan Grilled Eggplant is melt-in-your-mouth delicious, the best BBQ recipe and side dish you will ever make! Easy, healthy, low carb, and keto friendly.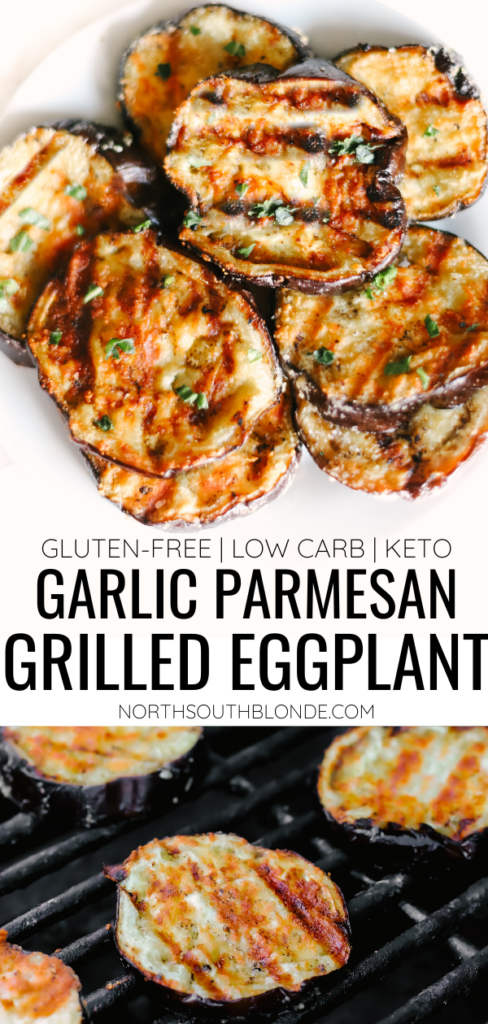 Garlic Parmesan Grilled Eggplant
Talk about flavour! You simply cannot get this recipe wrong.
All you have to do is cut, season, and grill your eggplant alongside your favourite steak, chicken, or seafood!
Not only are grilled veggies easy to cook, they're also healthy and light for summer!
---
Related: Meat and Vegetable Barbecued Kabobs (Gluten-free, Paleo, Whole 30)
---
You'll need olive oil, some spices from your pantry, and a firing hot grill to serve your family or guests.
Prep time is 15 minutes and grilling is 12 minutes or less. So just sit back, and make those summer memories happen.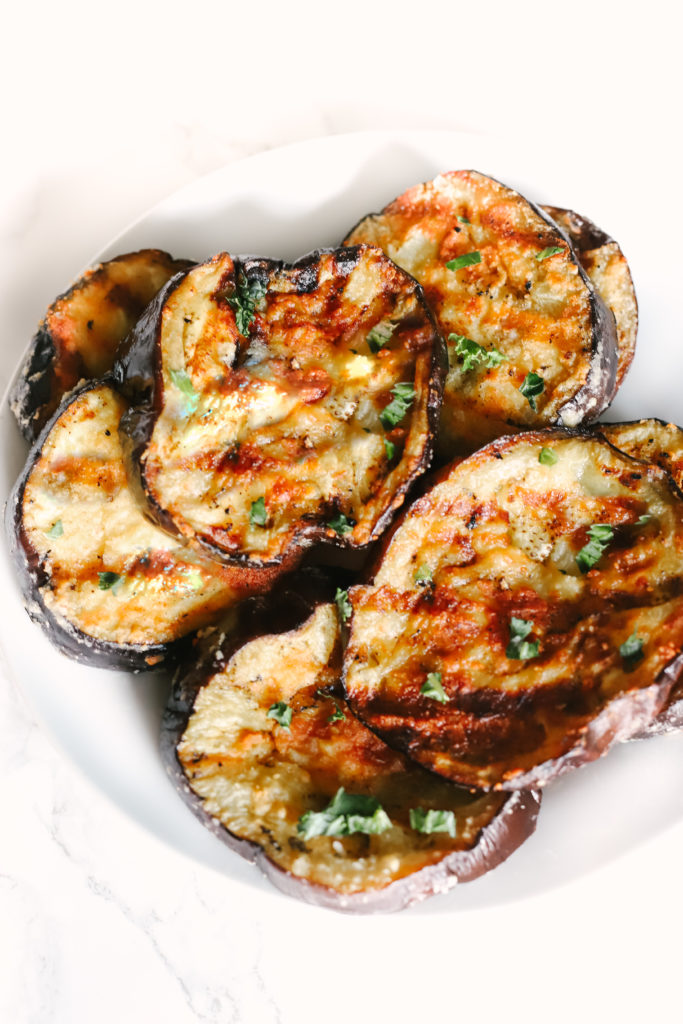 How to Slice Eggplant
Similarly to baking eggplant in the oven, like my mini eggplant pizzas, it's the same process.
After washing your eggplants, you'll slice them into 1/4 inch thick rounds. You'll need about two eggplants to feed four people.
How to Prepare Eggplant for The Barbecue
There really isn't anything easier than preparing eggplant for grilling.
All you have to do is set aside 15 minutes for your eggplant slices to rest on some paper towels with salt on top. This will extract its water content.
Then, your eggplant slices are ready to be seasoned and barbecued!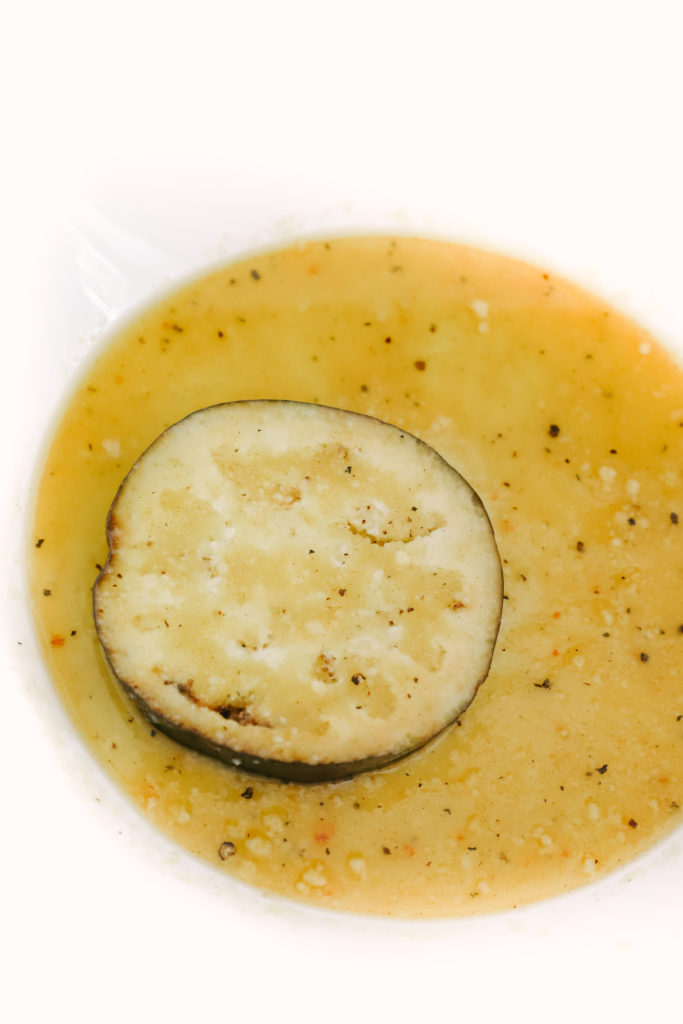 Garlic and Parmesan Eggplant Seasoning
This is the magic blend that will get you that mouth watering flavour and crispy outer layer.
You'll need:
olive oil
salt
pepper
garlic powder (not garlic salt)
oregano
grated parmesan
For coating:
You can either brush it on your eggplant slices with a basting brush, or simply rub the mixture on by hand, evenly coating each side.

How to Grill Eggplant
Before you know it, you'll have delicious crispy grilled eggplant in no time!
Preheat your grill to medium heat (depending on your grill, preheating usually takes 10-15 minutes).
Place your coated eggplant slices on your hot grill, evenly spaced out. Grill for 5-6 minutes per side and flip. You only need to flip once! You'll see those sizzling grill marks on the other sides.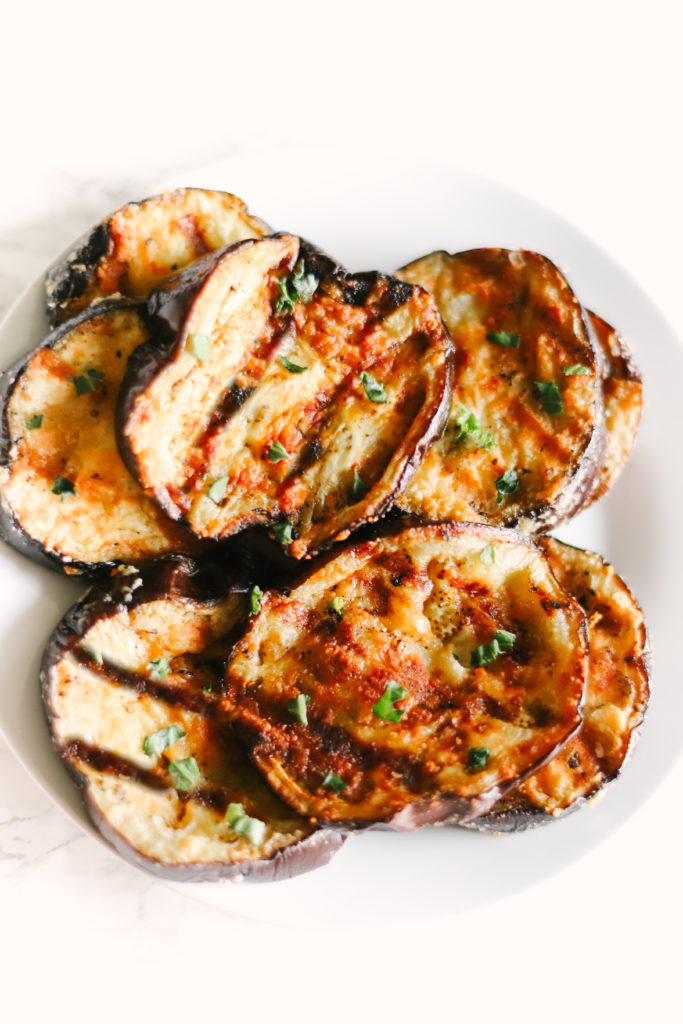 Eggplant is Low Carb and Keto
Eggplant is not only easy to cook, it's also low in carbs and low in calories. It's packed full of nutrients and fibre, which your body will thank you for.
Here's why eggplant is so healthy and how it's perfect for weight loss or weight management:
Health Benefits of Eggplant
High in fiber and therefore aids digestion
Contains potassium which is essential for nerve and muscle function
High in vitamin C, B-6 and antioxidants which strengthens the immune system and fights off free radicals
Supports heart health and fights cancer
Its fiber controls cholesterol and blood sugar levels
Contains anthocyanin that improves brain function and blood flow to the brain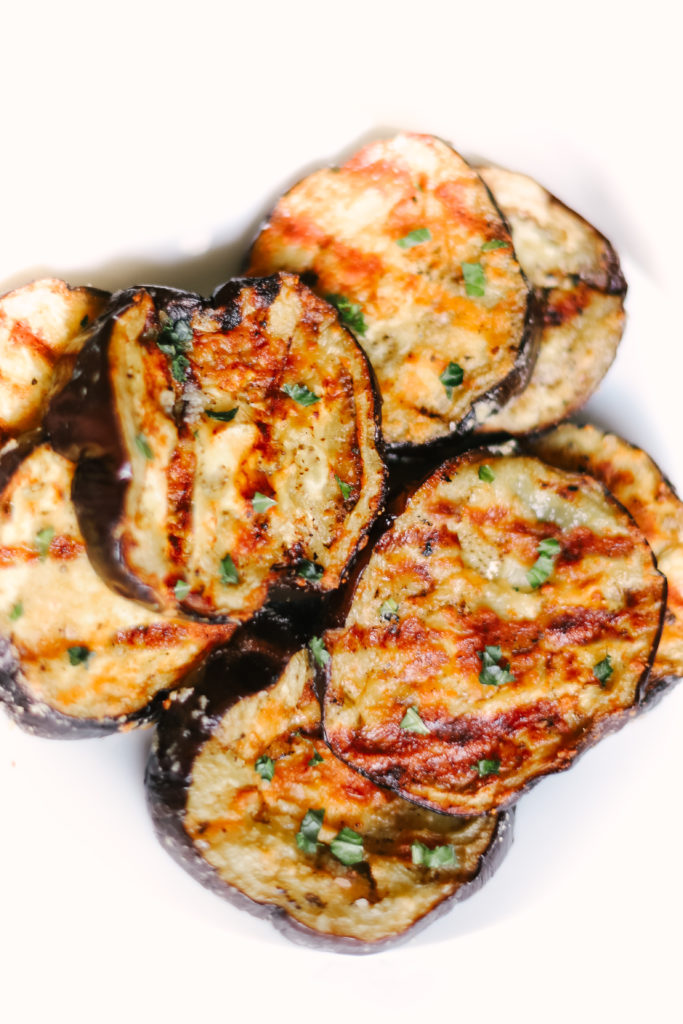 More Side Dishes You'll Love: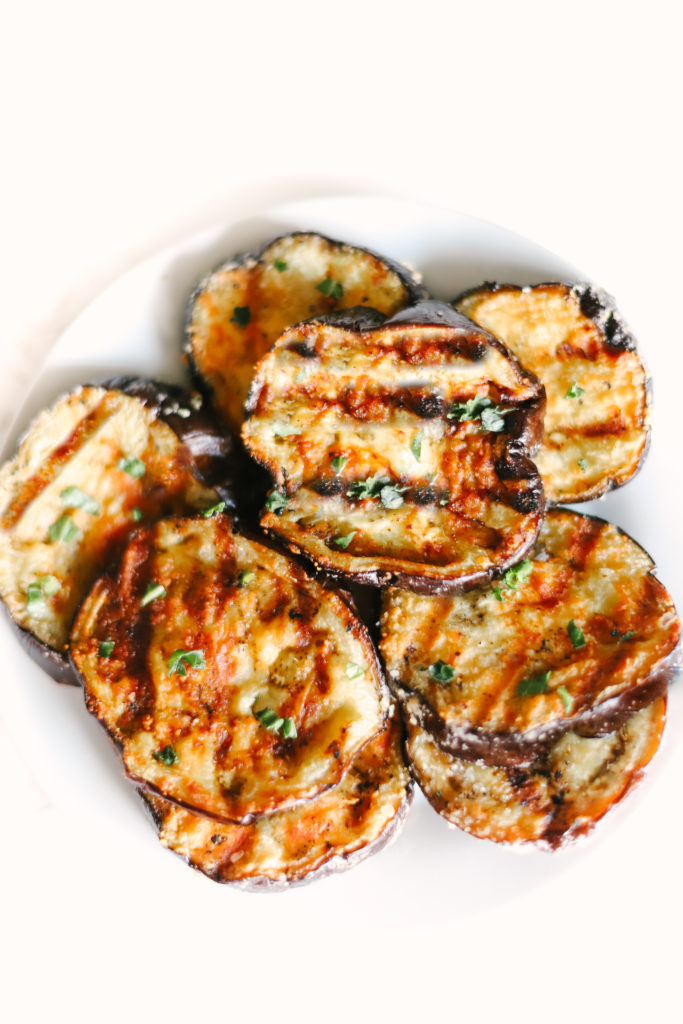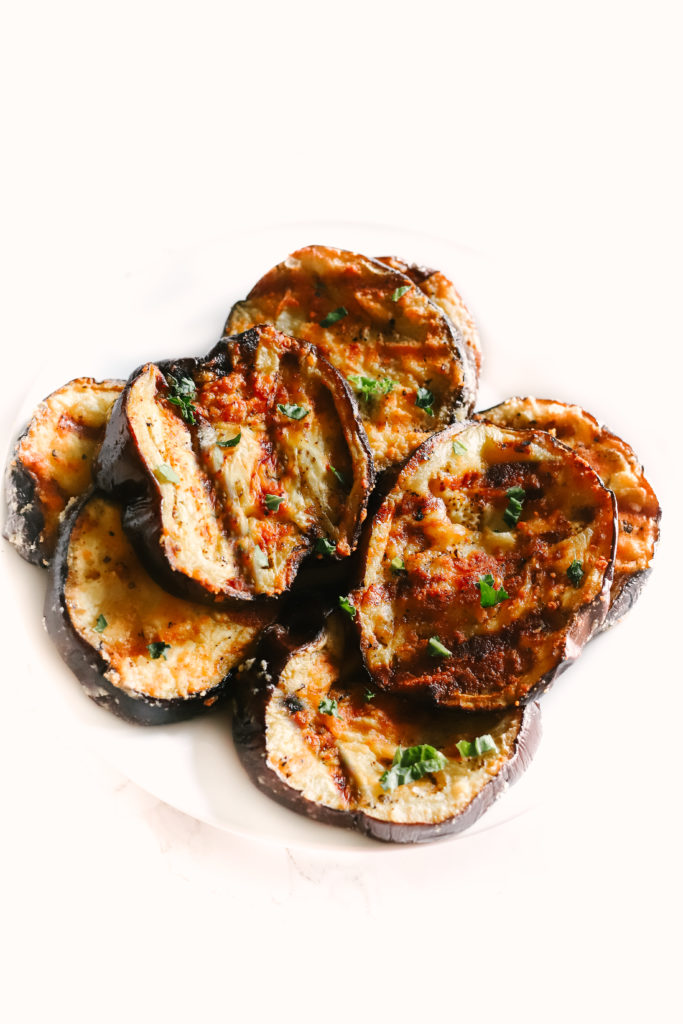 I hope you enjoy these as much as my family and I do! Cheers.

Garlic Parmesan Grilled Eggplant
Garlic Parmesan Grilled Eggplant is melt-in-your-mouth delicious, the best BBQ recipe and side dish you will ever make! Easy, healthy, low carb, and keto friendly.
Instructions
Wash eggplant and cut into 1/4 inch thick slices. Lay on paper towels and sprinkle with salt. Let sit for 15 minutes to extract water content.

Preheat a BBQ or Grill on medium heat. Dust off salt on eggplant slices.

In a large bowl, combine olive oil, salt, pepper, garlic powder, oregano and parmesan.

Dip the eggplant slices into the garlic and parmesan blend and coat evenly on each side. Transfer to a grill and grill 5-6 minutes per side or until browned nicely.

Garnish with parsley and serve immediately or store in the fridge for up to four days. Enjoy!
Nutrition
Calories:
191
kcal
|
Carbohydrates:
15
g
|
Protein:
3
g
|
Fat:
15
g
|
Saturated Fat:
2
g
|
Cholesterol:
2
mg
|
Sodium:
627
mg
|
Potassium:
534
mg
|
Fiber:
7
g
|
Sugar:
8
g
|
Vitamin A:
72
IU
|
Vitamin C:
5
mg
|
Calcium:
58
mg
|
Iron:
1
mg
Shop What You'll Need