Bacon Wrapped Asparagus is the perfect side dish at dinnertime. Great for lunch or meal prepping as well. They're full of flavour and only 20 minutes to make!

Healthy Asparagus Side Dish
Let's just talk about vegetables for a minute. What is your favourite veggie?
Growing up I was never one to like asparagus and I think it was because of it's thickness and hard-to-chew consistency. No offence mom (the best cook I know), but I now enjoy them with my kind of seasoning, and baked instead of boiled.
The flavours go a long way, oh and the bacon helps too.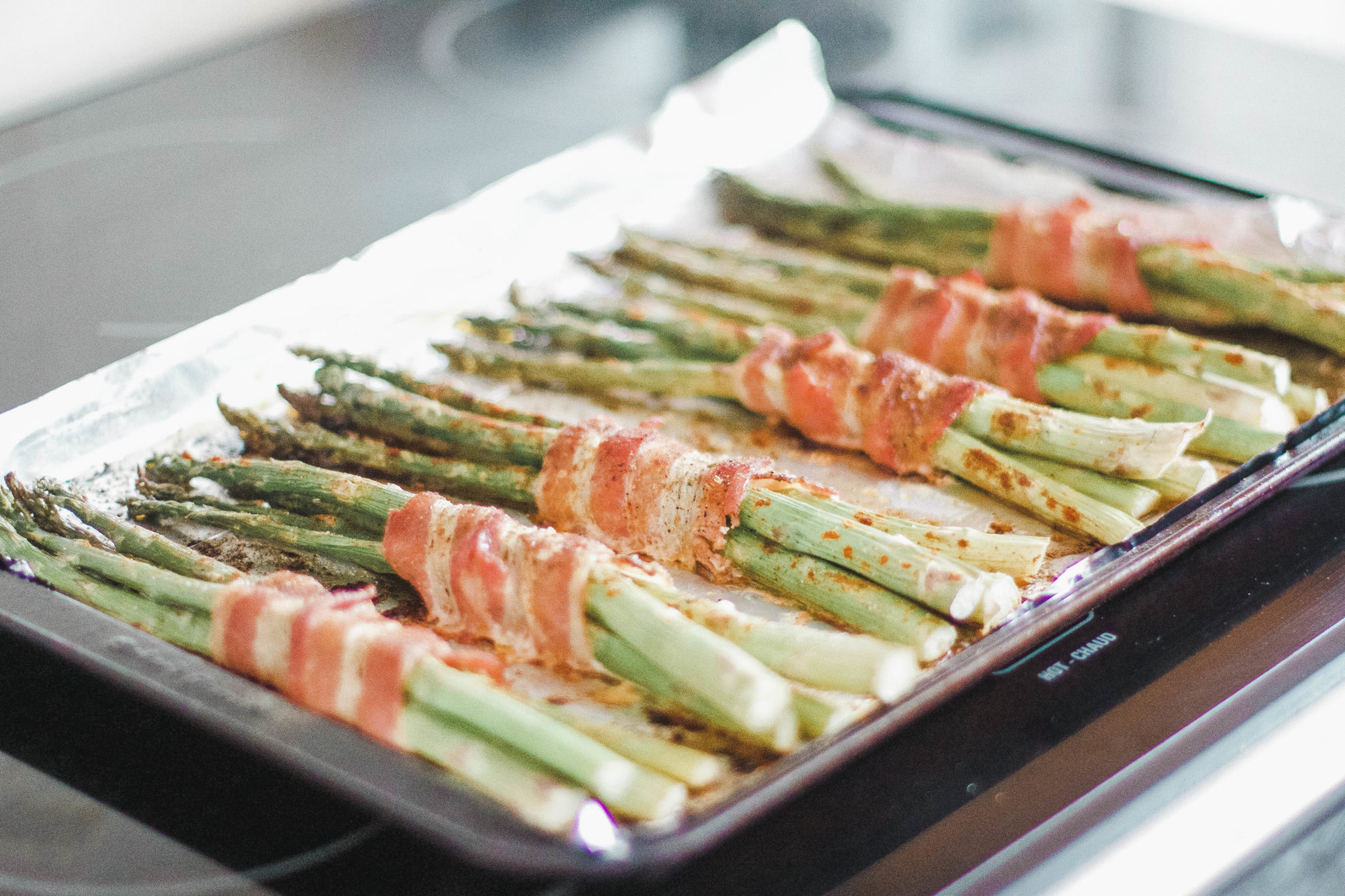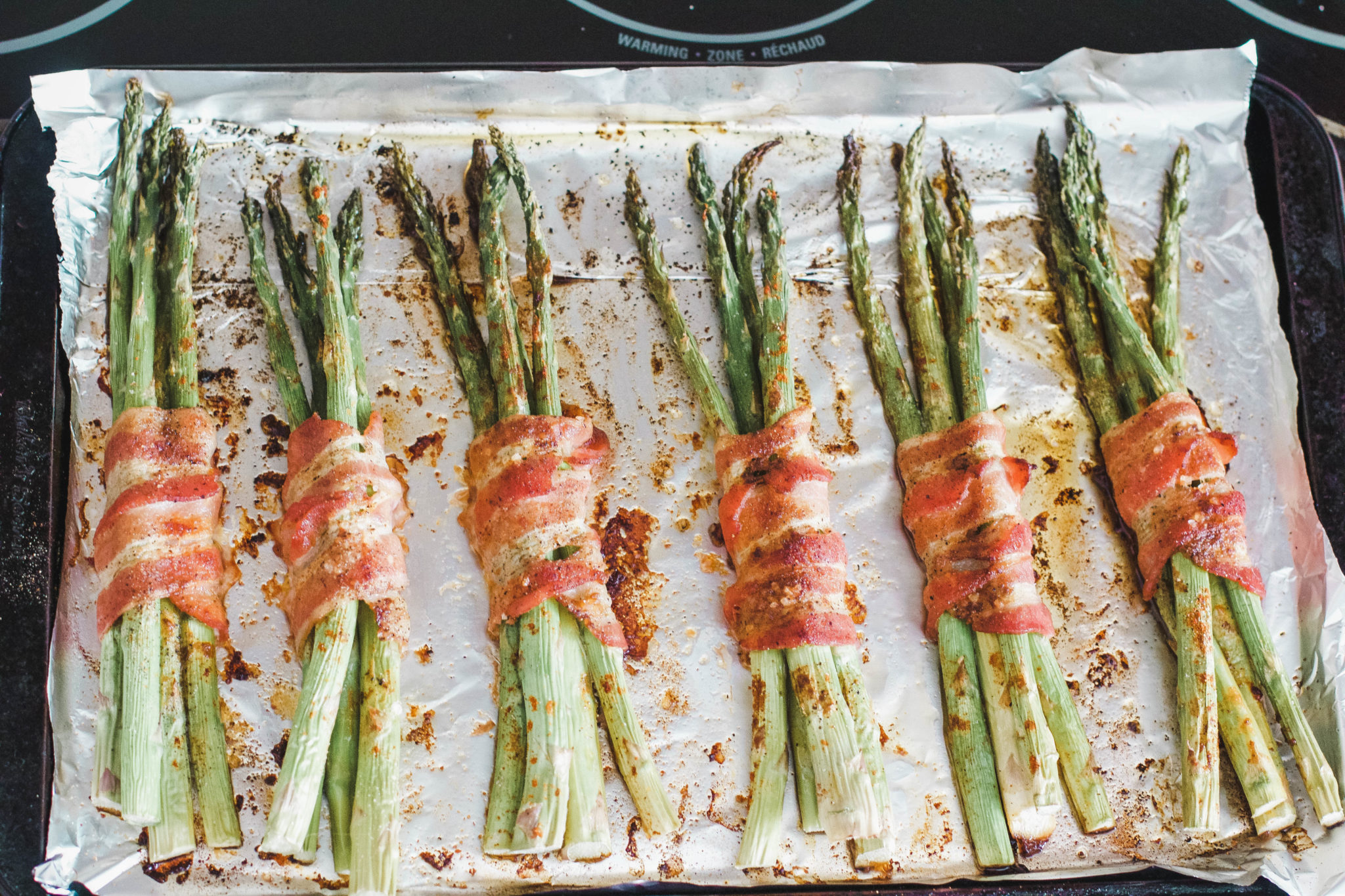 Keto and Low Carb Bacon Wrapped Asparagus
What's great about this dish is that it can be your main dish breakfast, lunch, or dinner. Having guests over?
Serve bacon wrapped asparagus on a platter as an appetizer. Everyone will undoubtably grab a bundle to munch on.
I used groups of four asparagus, as seen in the photos, but you can wrap each one individually and make it a snack.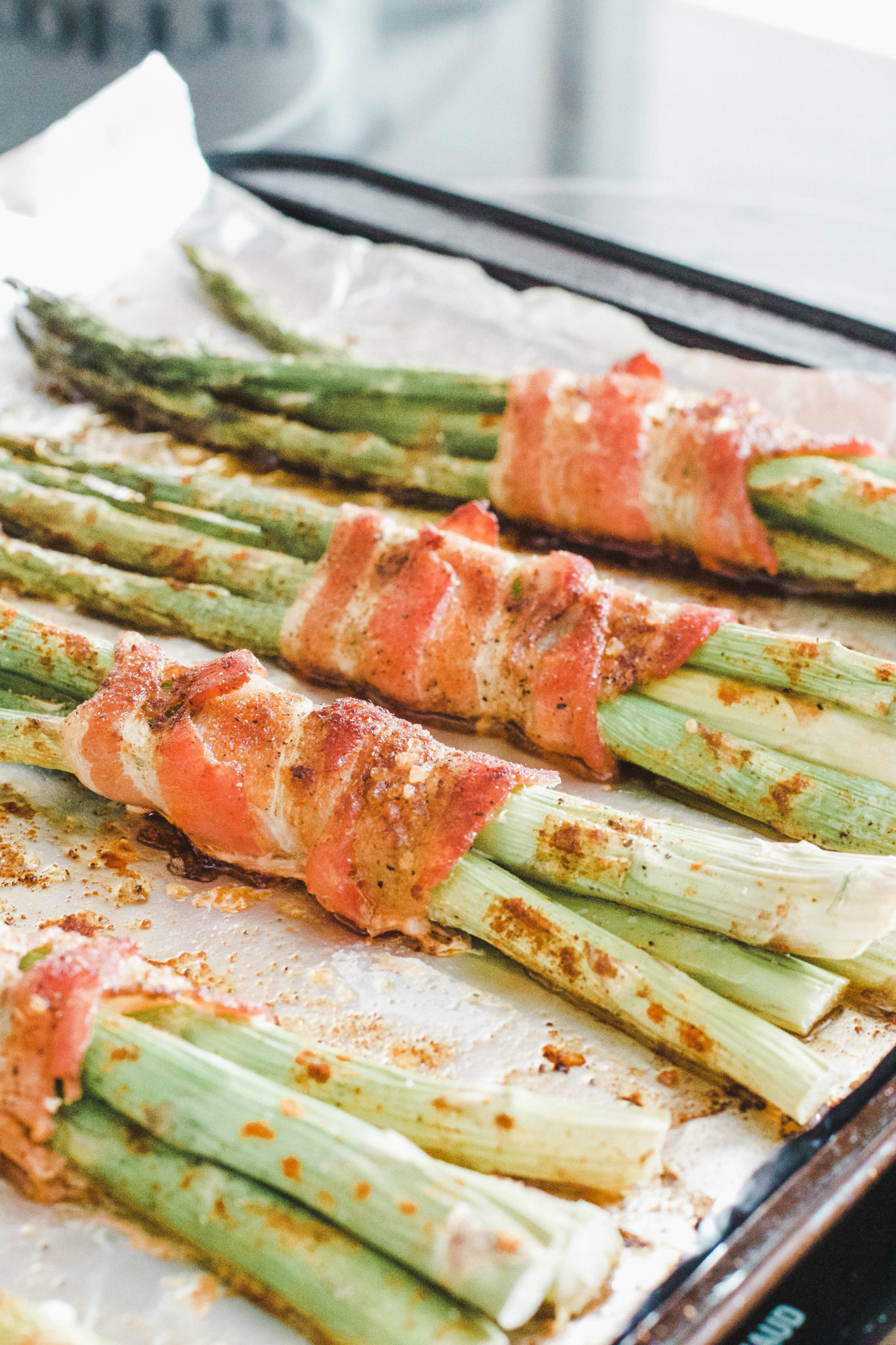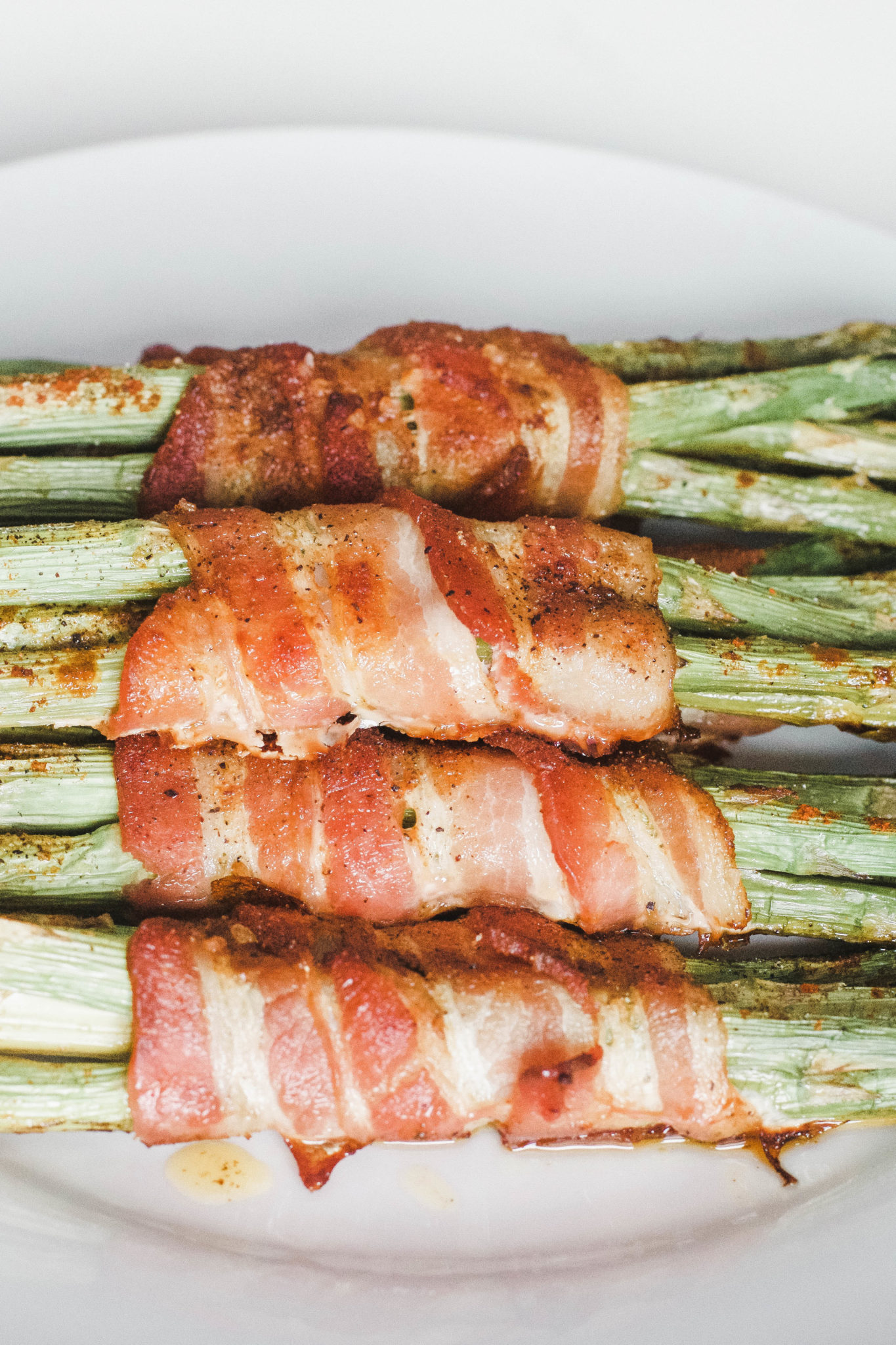 What to Serve Bacon Wrapped Asparagus With
Serve with rice, seafood, potatoes, quinoa, or whatever your little heart desires.
If sticking a low carb or keto diet, you'll want to eat this with grilled chicken, dry rubbed chicken wings, or this taco chicken recipe.
Oven Baked Bacon Wrapped Asparagus
You're going to love how tasty this asparagus is and how quick it is to make.
In 20 minutes, no draining required, you will have not-soggy but crispy bacon wrapped goodness!
Use Sugar Free Bacon
Similarly to my sweet potato kielbasa skillet where I use uncured meat, this recipe requires bacon with no sugar added.
Look for meat with no antibiotics, growth hormones, and fed no animal by-products.
To find bacon that has little or no sugar, go to your local butcher or whole foods store and buy organic.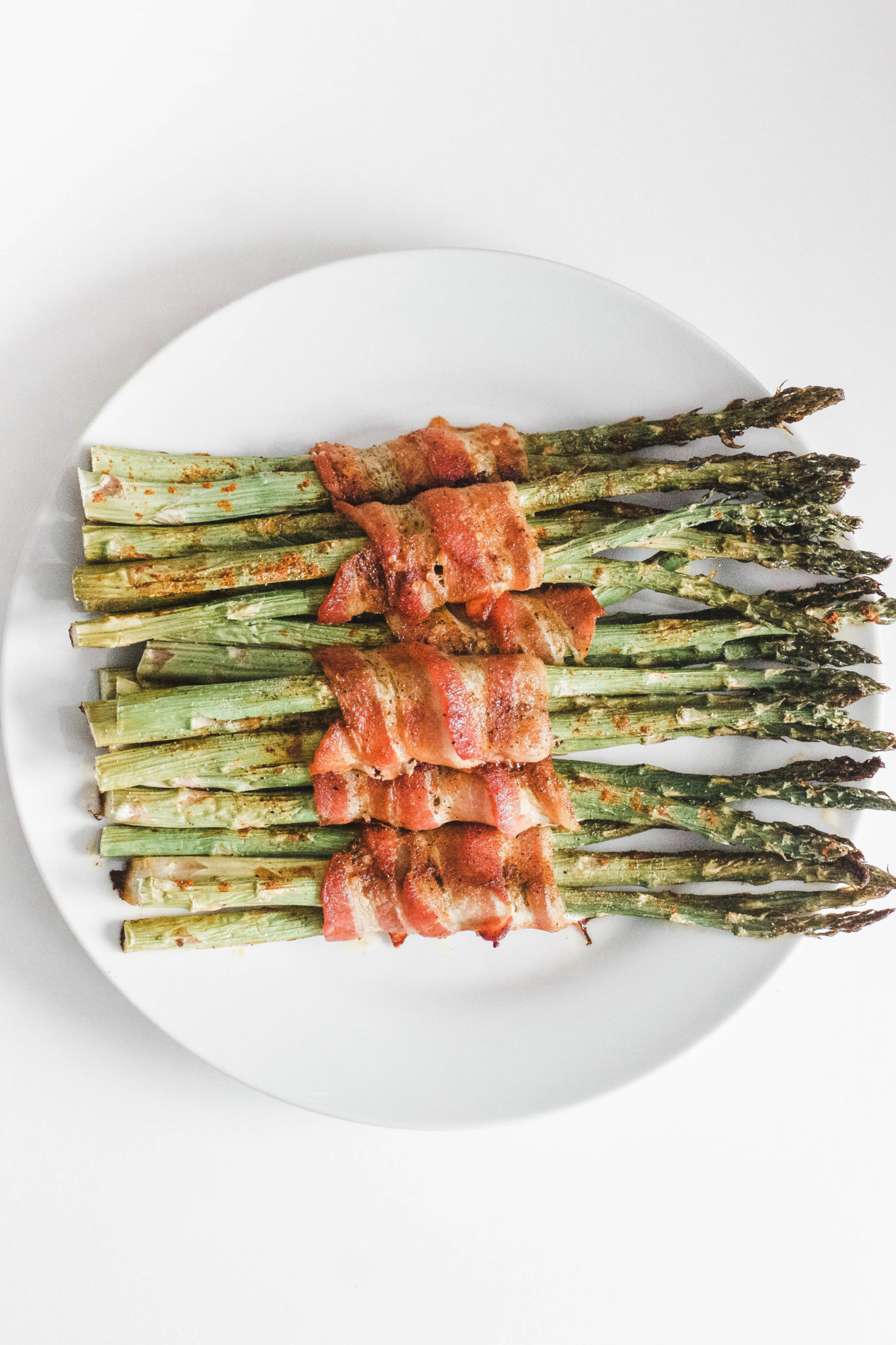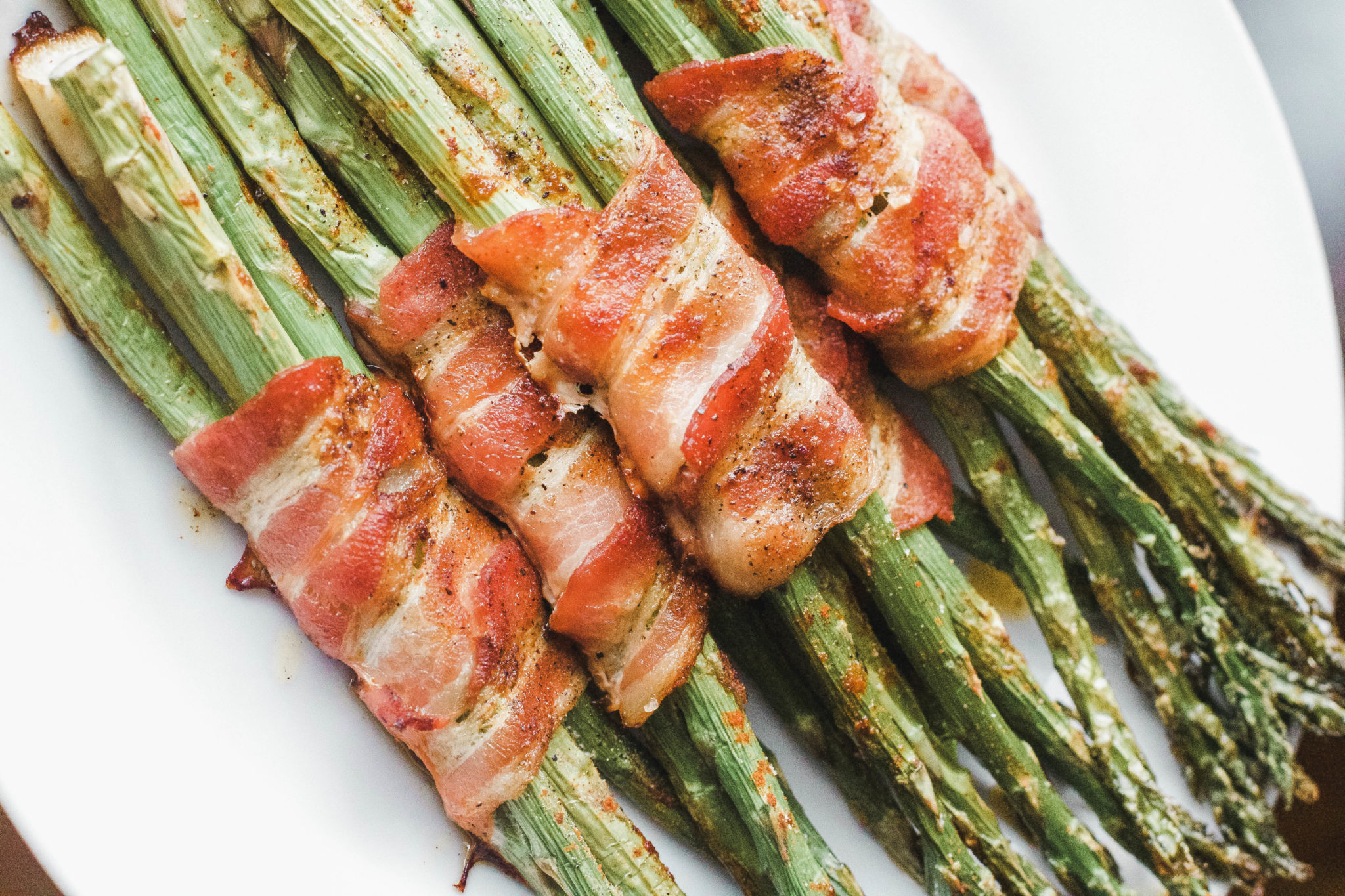 More whole 30 recipes you'll love
At the end of the day, this recipe can be enjoyed at any time or any occasion.
Make it with eggs for a wholesome breakfast or store in containers with a side of proteins for lunch or dinner meal prepping. I
hope you enjoy this 20 minute meal as much as we do!
Interested in starting a food blog of your own? Read my post on starting a profitable blog for beginners.

Paleo and Whole 30 Bacon Wrapped Asparagus
Instructions
Preheat oven to 425.

Line a

baking sheet

with foil or a non-stick cooking spray. OR cover a baking sheet with a

baking rack

(to drain the grease from the bacon).

Bundle asparagus into groups of four and wrap with one piece of bacon. Place spread apart on baking ban/rack.

Drizzle olive oil and sprinkle seasoning on top of the bundles.

Bake for 20-25 minutes depending on desired crispiness of bacon. Serve immediately.