Vegan chickpea cookie dough is creamy and delicious, healthy and safe to eat, involving only a few ingredients. A guilt free dessert that's high in fibre and protein!
Have you been sticking to your health goals now that it's March first? It can be hard! Especially when you have a sweet tooth like I do.
You'll love this healthy dessert that's plant based and full of nutrition to power your body.
Related: Vegan Avocado & Chickpea Salad (Vegan, Gluten-Free)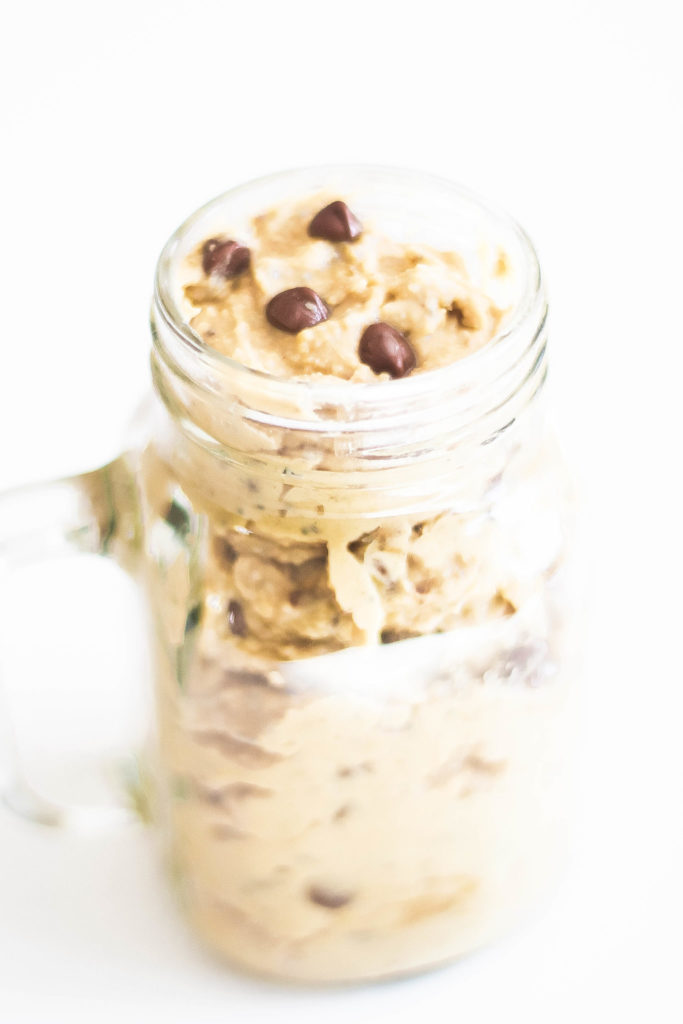 What You'll Need to Make Chickpea Cookie Dough
This cookie dough will satisfy your cravings in a good way. All you need is a food processor or a professional blender to whip it up.
Either of the two will blend the chickpeas to get them smooth and creamy, just like a cookie dough consistency should be!
Don't forget to add that pinch of sea salt to give it that special cookie dough flavour.
Sugar Alternatives and Sweeteners
I love using natural sweeteners like pure maple syrup or raw medjool dates.
For low carb, 0-calorie sweeteners that are natural, you'll want to use liquid stevia, powdered stevia, monk fruit sweetener, or natural erythritol.
This cookie dough will bring you back to your childhood memories. Top it over ice cream, serve it as a dip, or better yet, eat it by the spoonful. It's seriously that good.
The kids will love it too! Little Ava, only three years old, she is my little taste tester and she definitely approves.
I add chia and flax seeds to this cookie dough for a ton of extra fibre, but you can also add chopped nuts or chunkier vegan chocolate chips. Get creative with it.
Vegan and Dairy Free Chocolate Chips
Oh yes my darling. There is such a thing, and yes, they do exist.
These semi-sweet mini chocolate chips check all of those boxes and more–non-GMO, gluten-free, vegan, kosher, Halal, and paleo friendly.
OR:
Sugar Free Chocolate Chips
Although the above option is great for those with food allergies or who are following a plant-based diet, but many are also looking for a completely sugar free option.
These sugar free chocolate chips and low carb and keto friendly, naturally sweetened with stevia and erythritol. Only 1 net carb per serving!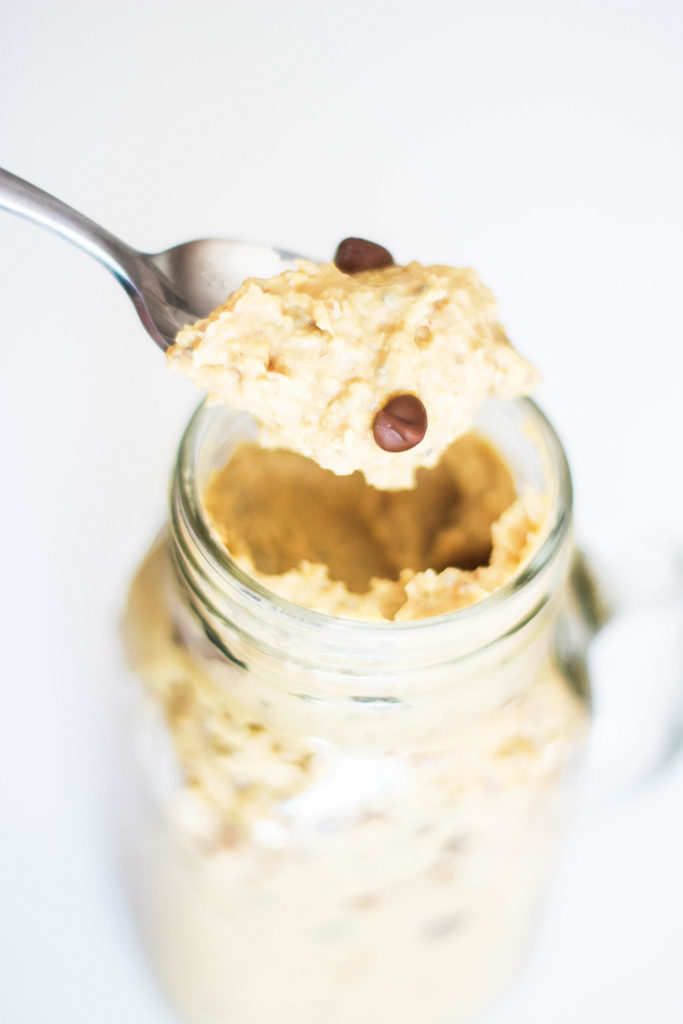 Chickpea Cookie Dough is Healthy
Did I mention that this recipe is refined sugar free?
That means that this is a scrumptious dessert that is actually healthy for you.
Try to avoid sugar at all costs to avoid health problems such as high blood pressure, mood swings, fatigue, and brain fog.
Chickpeas Are High in Fiber
Chickpeas are a great plant-based ingredient that you would find in your favourite hummus dip but can also be used in a dessert like this.
Here are the health benefits of chickpeas:
High in fiber aids in digestion and detoxification
Reduces inflammation
Great source of protein especially when consuming a vegan diet
High in iron, zinc, folate, calcium and vitamin B6
Supports healthy bones, muscles, and skin
High in potassium, helps to lower blood pressure
Fights against heart disease and cancer
Lowers LDL "bad" cholesterol in the body
Contains choline, which improves mood, memory, and metabolism
Can I eat Chickpeas in Large Amounts?
You may want to indulge in this whole jar of chickpea cookie dough. And you're probably asking yourself "is it okay if I do?"
It is recommended to consume one serving of beans a day (1), but be weary of how much you consume if you have a digestive disorder such as IBS or Crohn's disease.
Eating too much will cause gas, in turn causing digestion issues to worsen. Therefore, try not to indulge in too many beans.
The amount you need to consume to reap the healthy benefits of chickpeas is no more than 1 cup per day.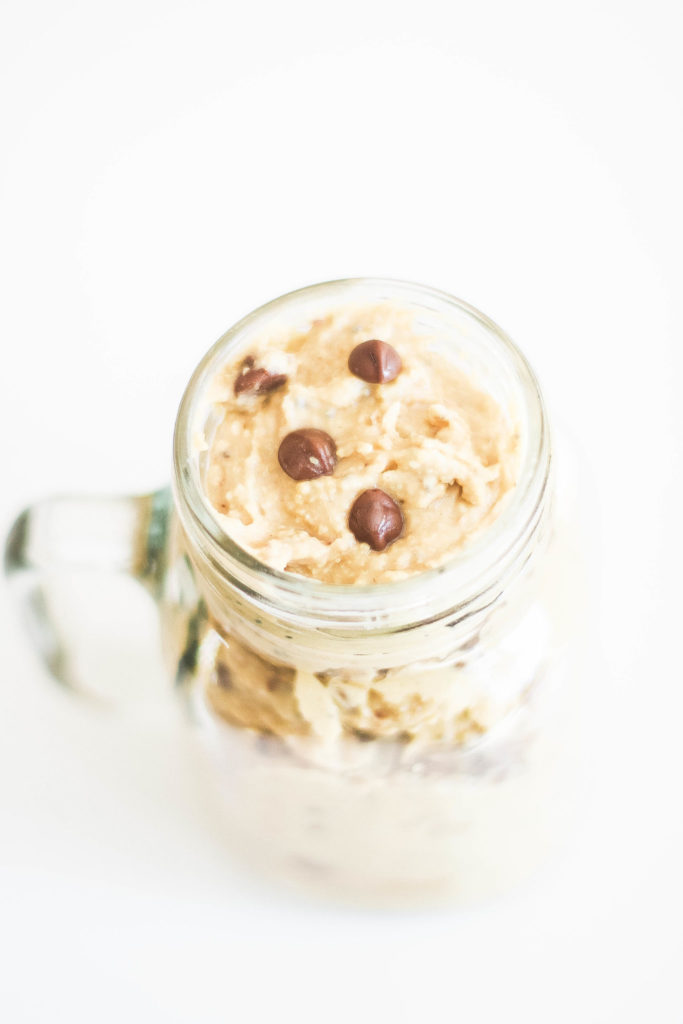 Can I Refrigerate or Freeze Chickpea Cookie Dough?
Refrigerating the cookie dough before serving will thicken it up nicely. I usually refrigerate a jar over night and indulge the next day.
It will remain fresh in the fridge for 3-5 days and freezes well in an air tight container for up to six months.
More Healthy Desserts:

I hope you enjoy this healthy and scrumptious dessert as much as I do! Happy March!
If you make this recipe, don't forget to tag @northsouthblonde on Instagram! I'd love to see how yours turns out.

Watch the recipe video:
Raw and Vegan Chickpea Cookie Dough (GF & Refined Sugar Free)
Equipment
Food processor OR high speed blender
Instructions
Rinse and pat dry chickpeas. In a food processor or high speed blender, add all ingredients except for the almond milk and chocolate chips. Blend on low until smooth. You may have to scrape the sides between blending to get everything mixed in.

Add almond milk, less for a thicker consistency. Pulse a few times.

Fold in the chocolate chips with a spatula or pulse a few times to mix.

Refrigerate for at least 2-3 hours to thicken before serving. Keep refrigerated for 3-5 days. Enjoy!
Nutrition
Calories:
369
kcal
|
Carbohydrates:
34
g
|
Protein:
8
g
|
Fat:
26
g
|
Saturated Fat:
6
g
|
Sodium:
10
mg
|
Potassium:
279
mg
|
Fiber:
5
g
|
Sugar:
24
g
|
Calcium:
170
mg
|
Iron:
3
mg
Shop the post: