This helpful list is composed of the most insightful, modern-day parenting books to get you through the toughest of days. Let 2018 be your best year of parenting yet!
This post contains affiliate links.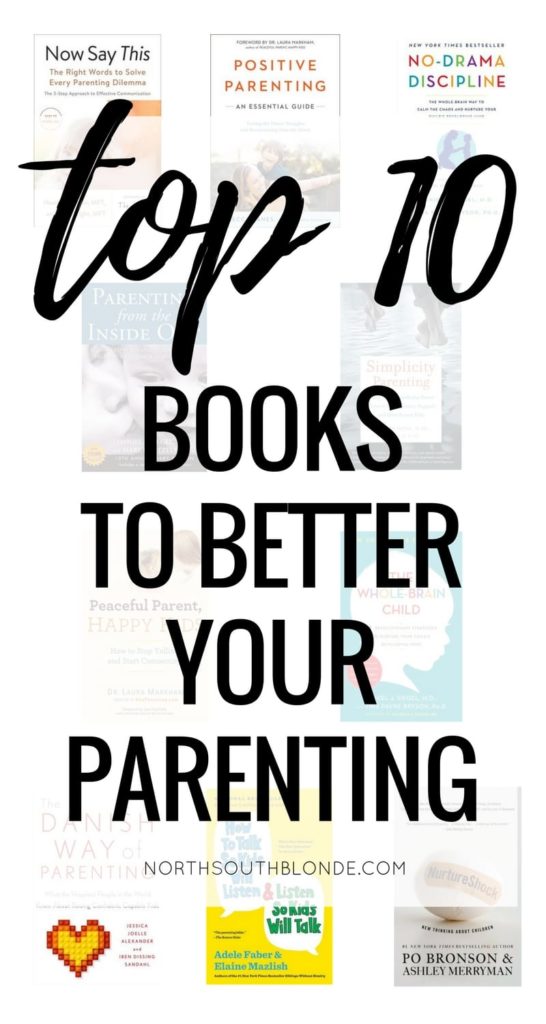 Have you ever found yourself yelling at your children, losing control, becoming anxious and stressed out? Many mothers and fathers around the world experience the exact same emotions and ups and downs that come along with parenthood.
It's common to struggle and it's okay to reach out for guidance. We all have the same questions to ask and you should never have to feel alone when it comes to being a parent. That's where parenting books come into play. They're helpful, encouraging, and tell real stories of parents just like you who are going through the same thing.
If you are new around here, you are welcome to read my article on how to discipline your children without yelling. In order to have a better understanding of what works, educating yourself with highly recommended parenting books will help you to utilize positive parenting strategies, while learning to be patient, present and mindful.
The following books are ones that I love and trust. They have outstanding reviews from parents everywhere and the benefits of reading them are life changing. Rest assured that you are always doing the best you can and remember that a little bit goes a long way, as long as you try.
Top 10 Books to Better Your Parenting


Why you'll love it:
"In Parenting from the Inside Out, child psychiatrist Daniel J. Siegel, M.D., and early childhood expert Mary Hartzell, M.Ed., explore the extent to which our childhood experiences shape the way we parent. Drawing on stunning new findings in neurobiology and attachment research, they explain how interpersonal relationships directly impact the development of the brain, and offer parents a step-by-step approach to forming a deeper understanding of their own life stories, which will help them raise compassionate and resilient children.
Born out of a series of parents' workshops that combined Siegel's cutting-edge research on how communication impacts brain development with Hartzell's decades of experience as a child-development specialist and parent educator, this book guides parents through creating the necessary foundations for loving and secure relationships with their children."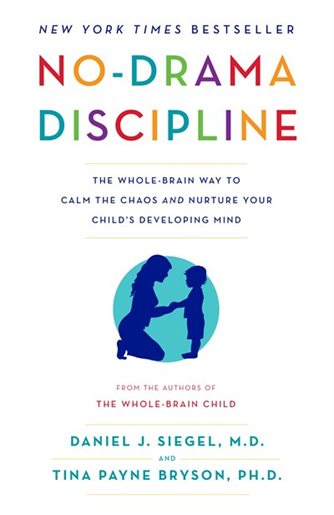 Why you'll love it:
"Highlighting the fascinating link between a child's neurological development and the way a parent reacts to misbehavior, No-Drama Discipline provides an effective, compassionate road map for dealing with tantrums, tensions, and tears—without causing a scene.
Defining the true meaning of the "d" word (to instruct, not to shout or reprimand), the authors explain how to reach your child, redirect emotions, and turn a meltdown into an opportunity for growth. By doing so, the cycle of negative behavior (and punishment) is essentially brought to a halt, as problem solving becomes a win/win situation. Inside this sanity-saving guide you'll discover
• strategies that help parents identify their own discipline philosophy—and master the best methods to communicate the lessons they are trying to impart
• facts on child brain development—and what kind of discipline is most appropriate and constructive at all ages and stages
• the way to calmly and lovingly connect with a child—no matter how extreme the behavior—while still setting clear and consistent limits
• tips for navigating your child through a tantrum to achieve insight, empathy, and repair
• twenty discipline mistakes even the best parents make—and how to stay focused on the principles of whole-brain parenting and discipline techniques"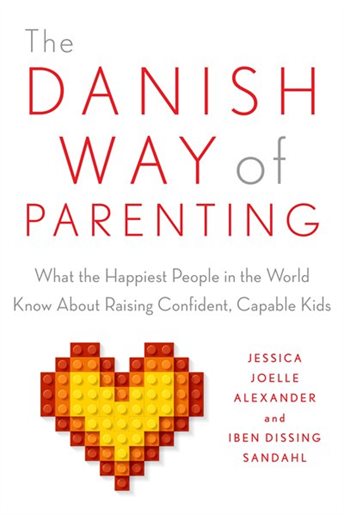 Why you'll love it:
"As seen in The Wall Street Journal–from free play to cozy together time, discover the parenting secrets of the happiest people in the world
What makes Denmark the happiest country in the world–and how do Danish parents raise happy, confident, successful kids, year after year? This upbeat and practical book presents six essential principles, which spell out P-A-R-E-N-T:
Play is essential for development and well-being.
Authenticity fosters trust and an "inner compass."
Reframing helps kids cope with setbacks and look on the bright side.
Empathy allows us to act with kindness toward others.
No ultimatums means no power struggles, lines in the sand, or resentment.
Togetherness is a way to celebrate family time, on special occasions and every day. The Danes call this hygge–and it's a fun, cozy way to foster closeness. Preparing meals together, playing favorite games, and sharing other family traditions are all hygge. (Cell phones, bickering, and complaining are not!)
With illuminating examples and simple yet powerful advice, The Danish Way of Parenting will help parents from all walks of life raise the happiest, most well-adjusted kids in the world."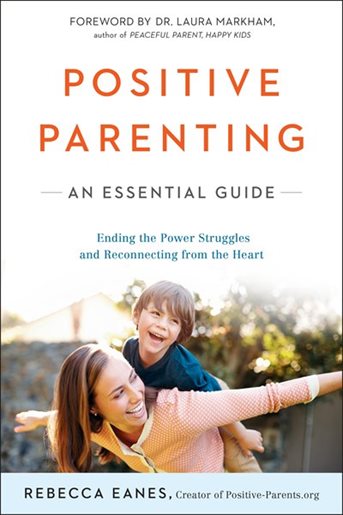 Why you'll love it:
"Tired of yelling and nagging? True family connection is possible–and this essential guide shows us how.
Popular parenting blogger Rebecca Eanes believes that parenting advice should be about more than just getting kids to behave. Struggling to maintain a meaningful connection with her two little ones and frustrated by the lack of emotionally aware books for parents, she began to share her own insights with readers online. Her following has grown into a thriving community–hundreds of thousands strong.
In this eagerly anticipated guide, Eanes shares her hard-won wisdom for overcoming limiting thought patterns and recognizing emotional triggers, as well as advice for connecting with kids at each stage, from infancy to adolescence. This heartfelt, insightful advice comes not from an "expert," but from a learning, evolving parent. Filled with practical, solution-oriented advice, this is an empowering guide for any parent who longs to end the yelling, power struggles, and downward spiral of acting out, punishment, resentment, and shame–and instead foster an emotional connection that helps kids learn self-discipline, feel confident, and create lasting, loving bonds."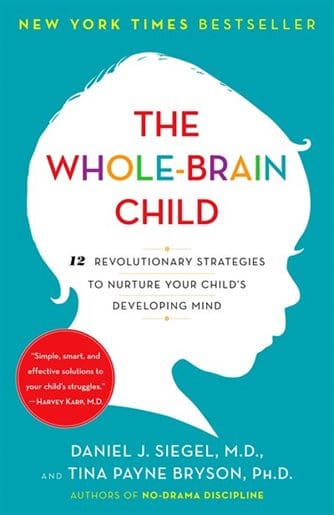 Why you'll love it:
"In this pioneering, practical book, Daniel J. Siegel, neuropsychiatrist and author of the bestselling Mindsight, and parenting expert Tina Payne Bryson demystify the meltdowns and aggravation, explaining the new science of how a child's brain is wired and how it matures. The "upstairs brain," which makes decisions and balances emotions, is under construction until the mid-twenties. And especially in young children, the right brain and its emotions tend to rule over the logic of the left brain. No wonder kids can seem—and feel—so out of control. By applying these discoveries to everyday parenting, you can turn any outburst, argument, or fear into a chance to integrate your child's brain and foster vital growth. Raise calmer, happier children using twelve key strategies, including
• Name It to Tame It: Corral raging right-brain behavior through left-brain storytelling, appealing to the left brain's affinity for words and reasoning to calm emotional storms and bodily tension.
• Engage, Don't Enrage: Keep your child thinking and listening, instead of purely reacting.
• Let the Clouds of Emotion Roll By: Guide your children when they are stuck on a negative emotion, and help them understand that feelings come and go.
• SIFT: Help children pay attention to the Sensations, Images, Feelings, and Thoughts within them so that they can make better decisions and be more flexible.
• Connect Through Conflict: Use discord to encourage empathy and greater social success."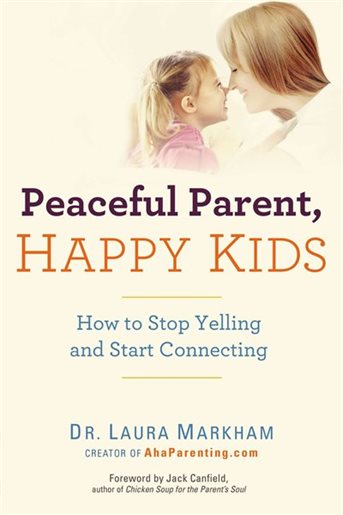 Why you'll love it:
"A groundbreaking guide to raising responsible, capable, happy kids
Based on the latest research on brain development and extensive clinical experience with parents, Dr. Laura Markham's approach is as simple as it is effective. Her message: Fostering emotional connection with your child creates real and lasting change. When you have that vital connection, you don't need to threaten, nag, plead, bribe—or even punish.
This remarkable guide will help parents better understand their own emotions—and get them in check—so they can parent with healthy limits, empathy, and clear communication to raise a self-disciplined child. Step-by-step examples give solutions and kid-tested phrasing for parents of toddlers right through the elementary years.
If you're tired of power struggles, tantrums, and searching for the right "consequence," look no further. You're about to discover the practical tools you need to transform your parenting in a positive, proven way."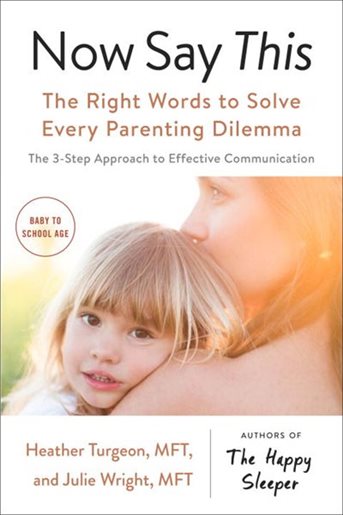 Why you'll love it:
"A powerful new parenting book that gives parents the exact words to solve any sticky parenting situation!
A toddler meltdown over the wrong pair of pants, siblings fighting in the back of the car, kids crying when you try to leave the house…
Parents have the best intentions to be patient and loving, but in the heat of the moment, they too often find themselves feeling helpless, desperate, and so frustrated that they resort to yelling, threatening, bribing, or caving. Now Say This solves the dilemma: how can you be empathic and effective at once? Based on the popular 3-step "ALP" model the authors have taught thousands of parents in their clinical practice, and written in a friendly, balanced, and research-based tone, Now Say This addresses issues such as,
* Tantrums
* Engaging cooperation
* Sibling relationships
* Screentime
* Bedtime
Best of all, it answers the question, "Now, what do you actually say?" using scripts and body language from real life examples. Now Say This is a guide that transforms remarkable ideas into practical how-to's that busy parents can use right away."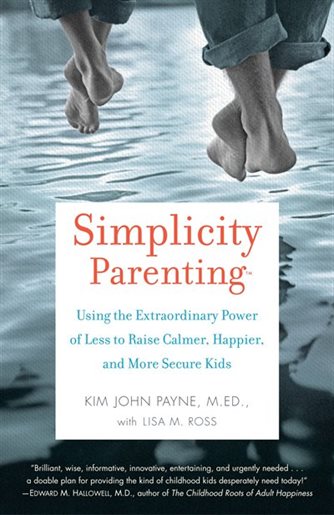 Why you'll love it:
"Today's busier, faster society is waging an undeclared war on childhood. With too much stuff, too many choices, and too little time, children can become anxious, have trouble with friends and school, or even be diagnosed with behavioral problems. Now internationally renowned family consultant Kim John Payne helps parents reclaim for their children the space and freedom that all kids need for their attention to deepen and their individuality to flourish. Simplicity Parenting offers inspiration, ideas, and a blueprint for change:
• Streamline your home environment. Reduce the amount of toys, books, and clutter—as well as the lights, sounds, and general sensory overload.
• Establish rhythms and rituals. Discover ways to ease daily tensions, create battle-free mealtimes and bedtimes, and tell if your child is overwhelmed.
• Schedule a break in the schedule. Establish intervals of calm and connection in your child's daily torrent of constant doing.
• Scale back on media and parental involvement. Manage your children's "screen time" to limit the endless deluge of information and stimulation.
A manifesto for protecting the grace of childhood, Simplicity Parenting is an eloquent guide to bringing new rhythms to bear on the lifelong art of raising children."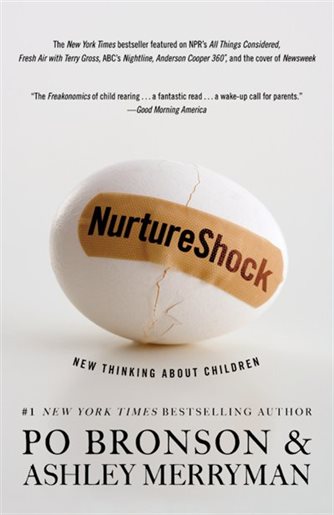 Why you'll love it:
"One of the most influential books about children ever published, NurtureShock offers a revolutionary new perspective on children that upends a library's worth of conventional wisdom. With impeccable storytelling and razor-sharp analysis, the authors demonstrate that many of modern society's strategies for nurturing children are in fact backfiring–because key twists in the science have been overlooked. Nothing like a parenting manual, NurtureShock gets to the core of how we grow, learn and live.
Released in hardcover in September 2009, NurtureShock remained on the New York Times best seller list for three months, and was one of Amazon's best selling books for 2009. The book has become a worldwide phenomenon with editions published around the world – in fifteen languages, to date."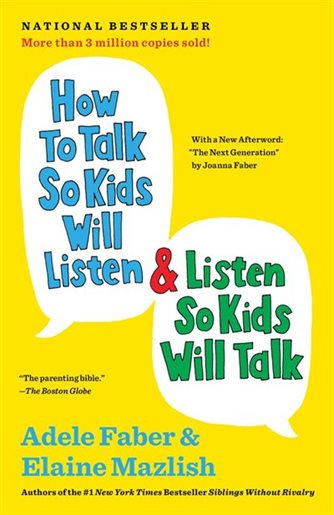 Why you'll love it:
"The ultimate "parenting bible" (The Boston Globe) with a new foreword—and available as an ebook for the first time—a timeless, beloved book on how to effectively communicate with your child from the #1 New York Times bestselling authors.
Internationally acclaimed experts on communication between parents and children, Adele Faber and Elaine Mazlish "are doing for parenting today what Dr. Spock did for our generation" (Parent Magazine). Now, this bestselling classic includes fresh insights and suggestions as well as the author's time-tested methods to solve common problems and build foundations for lasting relationships, including innovative ways to:
· Cope with your child's negative feelings, such as frustration, anger, and disappointment
· Express your strong feelings without being hurtful
· Engage your child's willing cooperation
· Set firm limits and maintain goodwill
· Use alternatives to punishment that promote self-discipline
· Understand the difference between helpful and unhelpful praise
· Resolve family conflicts peacefully
Enthusiastically praised by parents and professionals around the world, the down-to-earth, respectful approach of Faber and Mazlish makes relationships with children of all ages less stressful and more rewarding."
Cited from Amazon.com
Have you read any of these books and what is your take on them? I love finding new positive parenting strategies to help get through the day!