We catch ourselves doing it all the time. Out of stress, frustration, irritation, and anger. The more they disobey the more we find ourselves yelling. Why won't they listen? Let's say a toddler runs away from their mother during grocery shopping. Can you recall hearing that one mom yelling across the store "don't ever do that again!"
Can you relate to that mother who takes her child to the park down the street and her child ends up pushing another just to race down the slide first. "Stop doing that! No pushing!" we shout. But is it really the answer? Your toddler rebels with a big "no!" In turn, you find yourself repeatedly yelling the same commands over and over again, with no positive outcome.
What next? What can you do instead of yelling to discipline your child? What actually works?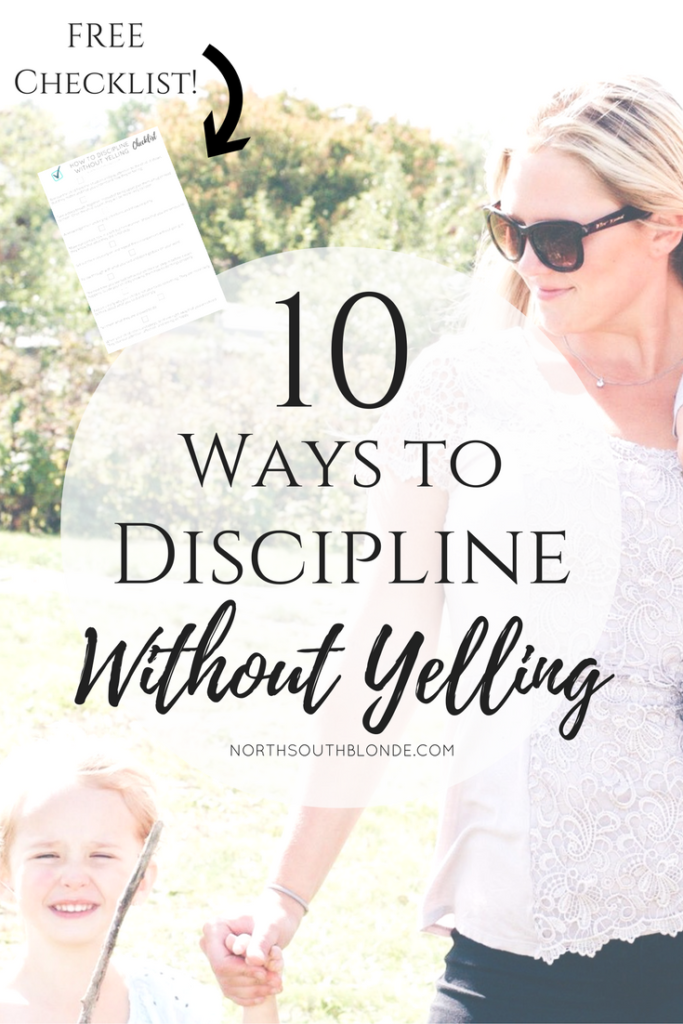 The Mistake You Make When You Yell At Your Child
Every time you yell and take your frustration out on your children, you are encouraging them to act in a similar manner. You are provoking them to act out, talk back, and relay the same behaviour onto you and to others. We all make these mistakes and catch ourselves in the act. You'll realize that it doesn't help the situation, it just feeds the fire.
The damage does more harm than good. Try these tactics, instead:
How to Discipline Without Yelling
Attend to your child
Remove the child from the situation and pay attention to the child. Why? Their bad behaviour was a result of not getting what they wanted, from seeking attention, in turn not being heard. A lot of the time, when children have trouble communicating, they commonly begin to express their anger and frustration onto others. By giving a child your attention, it shows that they matter and that you understand how they're feeling.
Calm them down
Take a deep breath, together. Instead of being upset give them a hug or read to them. How do elementary school teachers do it? They remain calm in any situation and take the child aside to teach the same. Once the child is calm, they will be more likely to listen instead of blocking you out when they're in fit of rage.
Understand Their Emotions
Once the child has calmed down, you can acknowledge their underlying intentions, "you really wanted to play with that toy didn't you?" Show empathy to your child's feelings by getting on their level. They will most likely communicate back to you "mommy I'm really tired" or "I'm really hungry."
Talk Calmly, But Firmly
"I understand that you are tired, but you should tell me that instead of throwing your toys." Get on their level, make eye contact, talk in a soft but firm manner. Your child is more likely to listen to a calm voice than an angry one. Show that you are serious (try not to smile no matter how cute and innocent they look) so they know that what they did is not okay.
Follow Through on Consequences
"We will put your legos away until tomorrow, when you're ready to play with them." If they are able to get a hold of them again, place them out of reach and follow through with what you said. They will recognize that the next time they throw their toys across the room, the toys will be taken away from them. In turn, they will learn their lesson.
Repeat and Don't Give In
You followed through with consequences the first time your child misbehaved, but now they've ignored your commands and continue to throw more toys. It's crucial to repeat the consequences – continue to put the toys away until the next day when they can try to play nicely with them again. Set out the rules, and repeat them without giving in.
Set an Example
The next time you see bad behaviour on the rise, step in before it even happens. Guide your child by showing them how to do things properly. Take their plate away from them before they throw their food on the floor. Set their dolls down, gently dress them and brush their hair. Show your child how to care for their toys and play gently. They're more likely to remember how to play properly in the future.
Explain to Your Child
Instead of saying "stop what you are doing", explain clearly why your child is not able to do something. "You need to play nice with your toys, or they might break." Or "don't climb on the table because you could fall and hurt yourself." They are more likely to think about what you said and comply.
State What You Want Them to Do Instead
Once you've explained why they are not allowed to do something, tell them what they are allowed to do. "You can play in your playroom" rather than "no toys in the living room." Stating what they are not allowed to do will only encourage them to act out again and again.
Praise Positive Behaviour
When your child listens and obeys, tell them right away that you've noticed. "You played nicely today!" or "great job for sharing!". It's kind of funny to say, since that's what we do with puppies – we give them treats when they do what we say. Well, puppies are like children to most of us anyways! So, the same thing goes with our kids. They love our attention, affection, and seeing us happy. They will want to have their reward so badly that they will clean up all of their toys just to get your praise and some time on the iPad
.
Conclusion
I've tried time-outs and they're only useful the first few times. When you witness your child's bad behaviour, the opposite of a time-out is most effective. Instead of yelling, take them aside, calm them down, and pay attention. Emphasize with your child, understand their feelings and intentions. Get down to their level and understand what they're going through.
Always keep eye contact while talking in a calm yet stern manner. You mean business.
Explain to your child why they are not allowed to do something and what the consequences of those actions are. Repeat, repeat, repeat, and never give in – always follow through with those consequences so your child recognizes that you are the boss.
Read more parenting books. I love this one
, this one
, and this one
too. For more books on positive parenting, here are The Top Ten Books to Better Your Parenting in 2018.
More on Motherhood and Parenting:
What are some of your techniques when it comes to disciplining your child? How do you calm your nerves?
Let me know if my advice helps you! No parent is perfect, but we are all learning along the way.
Michelle