This gift guide of the top 20 toys to get your toddler this Christmas will surely put a smile on your child's face! From the hottest toys to the most practical and affordable gifts.
This post contains affiliate links for your convenience.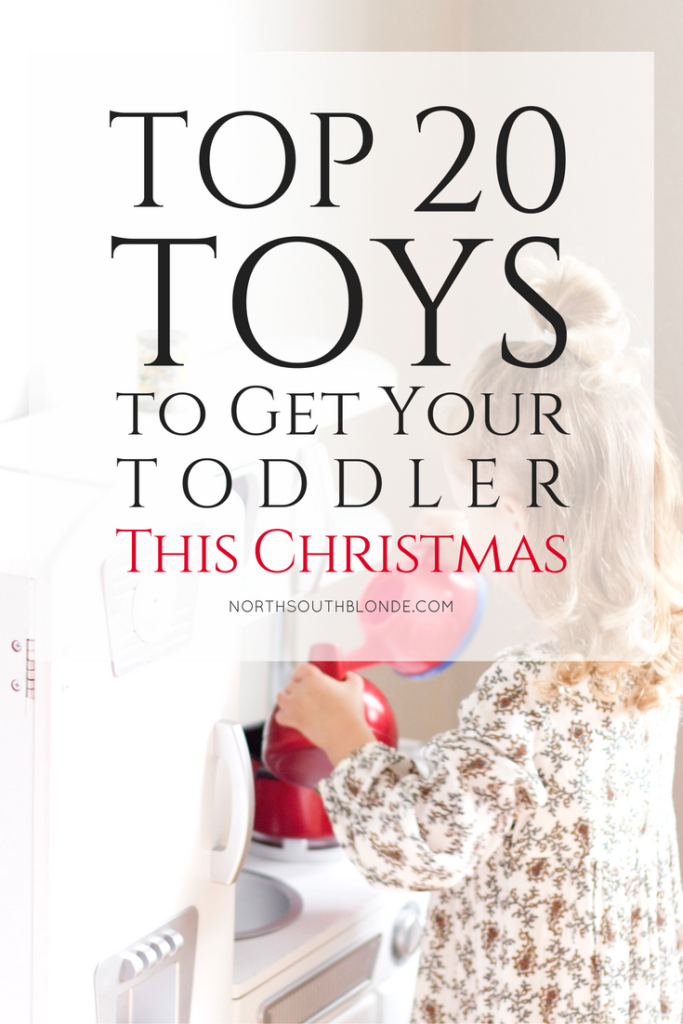 It's mid November and all I see at the stores are isles upon isles of decorations. Christmas is just around the corner! And even though it excites me so, I can't help but feel overwhelmed thinking about what to buy for the little ones.
Christmas Gift Ideas From Amazon
I never really know what to get kids, especially toddlers. When I ask my girls "what do you want Santa to get you this year?" my three year old responds "presents!" At the end of the day, it's up to me to pick what's best for them. I mean, of course there has to be a Frozen toy in the mix.
So I ask myself, what would be appropriate for their age group?
What can I get that won't break the budget?
What's something that won't end up in the corner of their room?
You'll have a lot of time to think about what to get by planning ahead of time and getting your Christmas shopping done early. Ultimately, if you wait too late, it just gets so chaotic that you'll want to pull out your hair. And when you find out the item you were going to get is sold out, that's when you'll really have a nervous breakdown.
Get shopping done early – get it out of the way.
I'm here to help give you a head start with ideas for the perfect, affordable gift that any child will absolutely love.
Top 20 Toys to Get Your Toddler This Christmas
A toy Kitchen
If you look into any day care, preschool, or early childhood education centre, there is always a pretend kitchen. The reason pretend play is so important is because children develop their personality, social skills, and self-esteem, by experimenting with emotional roles.
You'll be amazed at how fast your toddler is growing by how they copy and mimic everything you do. They want to be just like you. So when they see you cooking in the kitchen, baking, or pouring a cup of coffee, they remember those actions precisely.
When my girls started playing with their KidKraft Vintage Kitchen
, they were beyond excited. It's the first toy they run to during play time at home and they pretty much never get bored with it. Plus, it's wooden, very sturdy, and built to last. The kitchen is modern and comes in three pretty colours, but the white fits into any decor, boy or girl's room.
"Can you make mommy a coffee?" I command as both of my girls (18 month old and 3 year old) would run over to their play kitchen and mix me up a pretend cup of joe with one of their plastic mugs. This is by far our favourite toy.
---
Related: Cozy and Whimsical Girls Shared Bedroom Reveal
---
Pretend Play Food and Cookware
Life Like Toy Pet

Teepee

Building Blocks and Legos

Dollhouse

Farmhouse

Play-Doh

Dress-Up Costumes

Pretend Toy Instruments

Microphone or Recorder

Bath Art

Whiteboard and Chalkboard Easel

Puzzles

Magnets

Tricycle or Ride-On

Roller Skates Skates

Mini Trampoline or Bouncer

Water Table

Wagon or Sleigh

More Gift Guides You'll Love:
What will you be getting your little one this Christmas? Happy shopping!
Michelle