Everything you need for pregnancy — from practical and affordable items, to essentials you'll use daily, and luxury pregnancy products. For a healthy, stress-free and comfortable pregnancy.
---
Related: What To Expect – The Second Time Around
---

Pregnant With Baby Number Three
Here we go. Six years later and doing it all over again with baby number three! From raising two daughters (back to back pregnancies) from the baby stage through to toddlerhood and now the big kid stage. Here I am, starting back at square one with our third! Luckily, I know our girls will be the best little helpers when it comes to helping mama with their new baby sister coming this June.
You heard that right — we are going to have three daughters!
All emotions aside, there are many things I wish I had years ago with my first two pregnancies, as well as things that I would never waste a penny on ever again. All you will need to focus on is this extensive list to help get you through your pregnancy from affordable essentials to luxury items!
Practical Pregnancy Must Haves
There are many things that I didn't have with my first two pregnancies that I have and use now and wish I had back then.
I'm a little bit about both worlds — spending as little as possible and being super minimal when it comes to pregnancy items, as well as splurging a teeny tiny bit to feel the best you can and to treat yourself before babe arrives.
The following must haves are split into two categories — essentials and non-essential luxury items.
---
Related: Newborn Essentials – 10 Ways to Use a Muslin Swaddle Blanket
---

Pregnancy Essentials for Every Trimester
Prenatal Vitamins
I make sure that my prenatal vitamins have a high amount of iron and the recommended amount of folate. I also supplement with additional supplements like Collagen Peptides which provide protein and help with strong bones, hair, skin and nails. Every morning I'll add a scoop of collagen to my coffee. After breakfast, I'll take my prenatal with an Omega-3 with DHA supplement (for mind and baby's development) which has extra Vitamin D3 in it and is essential especially if you're pregnant during the winter months. If you are pregnant and low in iron, as your doctor advises, be sure to supplement with an over-the-counter iron supplement that is easily absorbed (you may need to spend a bit more for a good brand, just ask your pharmacist which one is best) and remember to take it a few hours apart from your prenatal so that the calcium doesn't prevent the iron's absorption.
SoulLife Cellenda and Rekick Supplements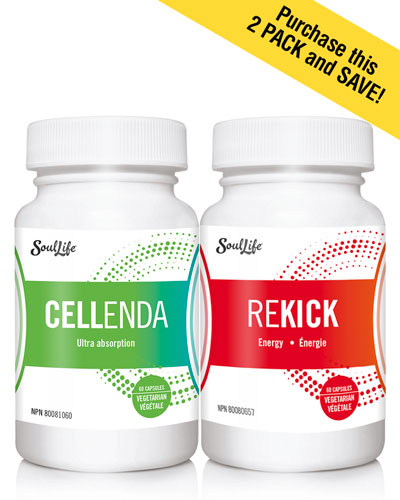 Cellenda by SoulLife is a natural, organic form of vitamins and minerals that can be consumed as a prenatal and postnatal supplement. They include minerals in their natural form (not synthetic) that are required for cellular membranes, connective tissue (including muscles, tendons, ligaments, cartilage, bones) and soft tissues (veins, arteries, organs, etc.) We are lacking the rich nutrient dense soils we once had, causing our fruits and vegetables to be depleted in minerals. We would need to consume 26 apples to receive the same nutrition as one apple in 1950. Mind blowing. Think of Cellenda as being an "insurance policy" for your body, and your growing baby.
For balancing hormones, regulating the thyroid gland, promoting growth, metabolism and energy, Rekick is excellent for postpartum mothers. It makes it easy to get back to optimal health, and pick you up, holistically speaking–powering the mind and body and ridding chronic illness and fatigue. It also fights obesity, heart disease, inflammation, depression, helps with joint pain, constipation, PMS, and regulating menstrual cycles. A lot of times, postpartum depression other postpartum mental illnesses are associated with a depletion of minerals and nutrients like iron and magnesium which is also associated with anxiety and brain fog or "pregnancy brain".
Instead of taking 7-10 different supplements, you will actually garner better results with just these two combined. They are incredibly priced at $70 a bottle, but by using my link here, you will get them even cheaper!
Always consult with your healthcare provider before starting any new supplement.
---
Related: Postpartum Weight – How to Get Your Body Back After Baby
---
Bio-Oil
An item that I'm using this time around to control stretch marks. With my first two pregnancies, I used Pregnancy Cocoa Butter and it didn't work that well for me, personally. I just didn't like the smell of the lotion. My stretch marks weren't that bad in the end, maybe thanks to genetics, but they still ended up showing up slightly post delivery. With the Bio Oil, which is meant for ridding scars and stretch marks as well, my skin feels way more smoother and hydrated as opposed to the cocoa butter. And because my skin has already stretched from before, I'm hopeful of good results. After every shower, I apply the oil to my tummy, but you can also apply it twice daily. As beautiful and meaningful as stretch marks are in relation to motherhood and all we've been through growing a human, it's also worth to mention that taking care of your skin is a form of self love and self care and will help you feel more comfortable and confident postpartum!
Water Bottle With Measurements
I carry my water bottle with me wherever I go, literally. And it's not just like any water bottle, it's one that has measurements imprinted on it so that you can track exactly how much water you are consuming throughout the day, which is extremely important during pregnancy. You are typically required to drink at least 90 ounces of water a day (about 10 cups of water) while pregnant. Some health care providers recommend intaking up to 100 ounces per day. There are many benefits of drinking enough water during pregnancy, although not easy for all moms due to nausea and other common pregnancy symptoms, however it will help to bring down swelling and bloating, promote healthy weight management, and help with a smoother labour and delivery in the end.
U-Shaped Pregnancy Pillow
I've never owned a pregnancy pillow before, but now that I'm using one this time around, it really helps to support my baby bump and my back. I have this U shaped pregnancy pillow and I highly recommend it to help relieve lower back pain. They say your bump is bigger or more prominent with each pregnancy, which contributes to back pain. Either that or it's all because I've hit the 30 mark. Regardless, it really does makes sleep that much better at night, especially if you suffer from pregnancy insomnia, or if you just can never get comfortable at night in bed, providing you an all-around cushion experience.
My Go-To Non-Maternity Maternity Leggings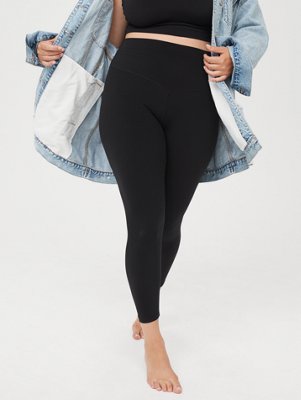 I find that many maternity leggings are either cheaply made, or way too expensive and aren't even that comfortable. My go-to leggings this pregnancy happen to be not maternity wear, and work above and beyond anything you've ever imagined. Aerie's Offline Real Me High Waisted Leggings are super stretchy and buttery soft. You can wear them before and after pregnancy. Believe all those reviews! They make for perfect loungewear and they hold up amazingly during prenatal yoga and general exercise. I wore mine before pregnancy and now that I'm in the third trimester, I continue to wear them on my every day walks. Believe me, the high waist provides the perfect amount of pregnancy support with lots of give to them.
Maternity Nursing Tank
I have the Bravado Nursing Tank that I've been wearing from my second trimester all the way to my third trimester. It has very flattering, stretchy material that is long enough for a full pregnant belly, as well as for its convenient nursing capabilities for postpartum. With functioning clips at the straps for one-handed nursing, I can't wait to live in these tanks when baby is here in the summertime. You can easily dress them up with a cozy cardigan on colder days and again, comfort is king when you don't have to wear a bra and spend all your time with your little darling staying comfortable and cozy. Did I mention the built in bra? I have their white and black maternity nursing tanks.
Maternity Nursing Bra
Forget about those bra extenders you will never use. Get some comfortable, stretchy, buttery soft, wire free nursing bras to wear throughout your pregnancy and postpartum. Comfort is key. I only had one good nursing bra with my first two pregnancies and this time, I bought about four. I have the Bravado Plunge Nursing Bra which is so sexy and flattering and comfortable all around, the Bravado Ballet Nursing Bra which is super soft and perfect for sleeping with amazing stretch and no clips involved, and the Body Silk Nursing Bra which I personally think is like the perfect stretchy sports bra for everyday use and has full coverage.
Comfortable Sandal Slides
I don't think any pregnant lady wants to be bending over tying laces or struggling to do up a buckle. We're easily out of breath speaking a sentence as it is! Slip-on slides are my go-to while being a mom of two kids, during this third pregnancy, and will be all I succumb to postpartum. I find slides to be convenient to have and are definitely affordable for moms-to-be. I love these fur slides on Amazon that are under $20 and I currently own a pair of Adidas Adilette Slides which are highly cushiony, sporty and perfect for summer. Although, I typically wear them almost all year around.
Ginger Candies for Nausea
I wish I had these for all of my pregnancies. I usually experience moderate nausea in all of my first trimesters, luckily no throwing up involved this time around, but the usual heightened senses and extreme nauseousness that seemed like would never subside. Thankfully, it did subside, though not the case for all women. Some experience severe morning sickness either short-term or throughout their entire pregnancy — I feel for you mama. In my case, I would suck on regular mints and mint flavoured Tic Tacs to sooth my nausea. I kept a pack in my car, in my purse, and pretty much everywhere in the house. I also put a pinch of ground ginger in my tea every night up until the second trimester which did wonders for me. But let's be real, the taste of ginger isn't the best, so why not order these ginger morning sickness candies that will help ease the pain? Moms-to-be are raving about them and they're made with organic cane sugar!
Pregnancy Teas
Believe it or not, raspberry red leaf tea isn't only meant for the third trimester. It can be consumed throughout your entire pregnancy in moderate amounts to help strengthen the uterus for a quicker labour and delivery. Drink one cup a day in early pregnancy and up to three cups a day in the third trimester. As for chamomile tea, it has soothing and calming effects. This naturally caffeine free tea is great before bed for a better night's rest, or when you are feeling ill or anxious. It provides antioxidants and anti-inflammatory properties which is why it should only be consumed in small amounts (just like these powerful herbs and spices), and not enough studies have been done to ensure its safety during pregnancy. (Source)
If you are not a fan of tea, take all of your nutrients for relaxation in supplement form (Cellenda).
Buttery Soft Robe for Maternity and Nursing
A soft, lightweight robe is convenient to have throughout pregnancy and into postpartum during breastfeeding. Let's put it this way — if your clothes don't fit anymore, throw on a comfy sports bra or no bra at all and a robe on top to go on about your day lounging at home in comfort! I absolutely love my buttery soft robe in the third trimester. Forget about pyjamas, you'll want to live in these robes all day long and pack in your hospital bag for the big day.
Loose Fitting Lounge Pants
My calves and thighs seem to be super swollen in this third pregnancy, which I never had with my others. Sometimes it's so nice to take a break from leggings by wearing loose fitting pants. I purchased these adorable leopard lounge pants from Blush Maternity in my second trimester and I'm obsessed with them. They are so light and breathable, they do not restrict your belly once so ever. The best part is that they can be worn as pyjamas or throughout the day with a stretchy tank or pullover sweater. You can shop my maternity style ideas here.
Compression Socks
Referring once again to swelling, it's a very common pregnancy symptom which is totally normal to experience. Of course, you can try to limit your salt intake as much as possible and drink those 90 ounces of water a day if you can. And if you still happen to experience swollen ankles or calves and aching feet (75% of pregnant women do), then compression socks may be for you. It is recommended to wear them first thing in the morning as they help to massage your muscles and boost circulation to relieve the swelling. Try to wear them when you're walking, standing, or sitting. There's no need to wear them when your feet are elevated like when sleeping or relaxing.
Arm or Wrist Brace
I never knew that carpel tunnel syndrome was such a common pregnancy symptom until I came to experience it head on with my third pregnancy. Turns out, if you sleep on your arm bent at the elbow, or spend too much time typing at a computer or holding your phone, you can develop it. More so during pregnancy. To relieve any tingling or numbness in your arm, hand, or fingers, you may want to keep your arms and wrists straight as much as you can. Although, not so easy to do when you're tossing and turning at night, you may want to try wearing an arm brace to keep your arm and elbow straight to promote circulation. Or alternatively, wear a wrist brace to keep your wrists in proper form while typing at a computer.
High Waisted Underwear
Cotton underwear is specifically light and breathable allowing maximum airflow. During pregnancy, our hormones go crazy and women become prone to infections down there which is why cotton is a must have to keep things dry rather than tight and moisture-collecting. The looser the fit, the better, like pyjamas. Comfort is key! High waisted underwear provide maximum support for that growing pregnant belly, as long as it has a stretchy band, which most cotton underwear do have (thong version here). They will most definitely come in handy for recovery post labour as well. You can worry about a postpartum tummy band for after delivery to help suck everything back into place and build back your core muscles later on.
Relief for Heartburn and Acid Reflux
I've never experienced heartburn until my third pregnancy, and boy oh boy, it's rough in the third trimester! What helps for me is taking heartburn tea and Tums — the recommended dosage after every meal or to a maximum of five a day. As common as it is, try to eat smaller meals more often and keep track of the foods that cause your flareup like coffee, chocolate, tomato sauce, or hot sauce and limit them. Yes, even drinking water would cause heartburn for me. Ouch. I literally have to lay down after meals and hope that it would go away. When you're at the point of maxing out the over-the-counter Tums or Gaviscon, just get your hands on a prescription from your OB-GYN. Don't worry, whatever they prescribe will be pregnancy safe and much more effective.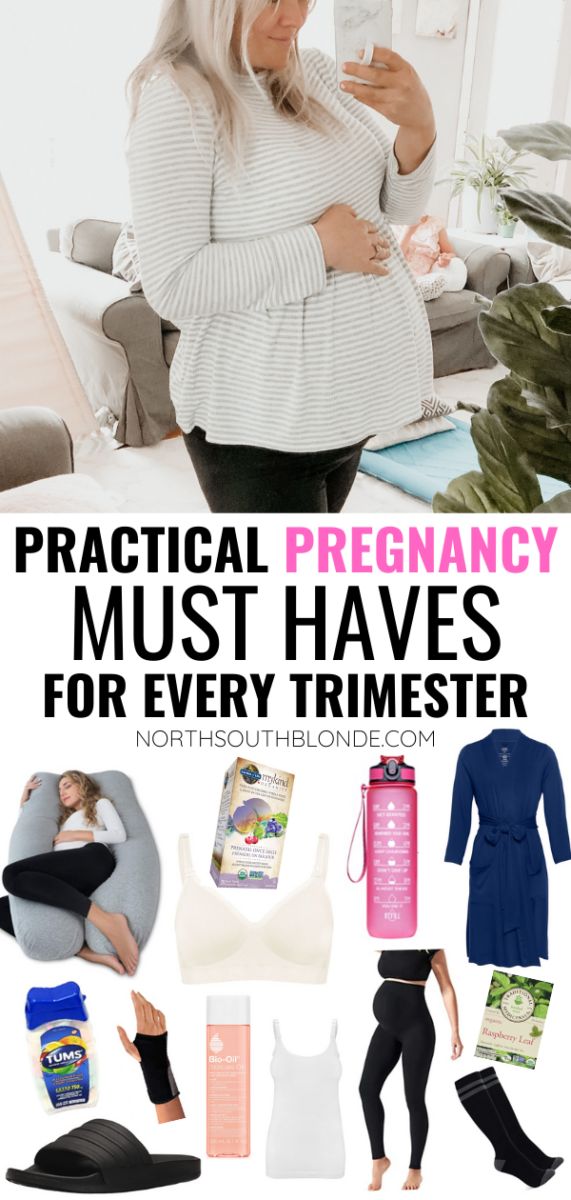 Non-Essential Luxury Pregnancy Items
On Trend Slippers
I love these pink fluffy slippers I bought off Amazon that make for a cute Instagram picture. They are super comfortable for wearing around the house and for lounging in while pregnant to postpartum and nursing. They have rubber soles on the bottoms, making them outdoor friendly and perfect for wearing at the hospital. Throw them in the wash when you get back home!
Maternity Belly Band
If you want to stick to leggings and jeans for as long as possible, you can add a maternity belly band to support the bottom of your belly as opposed to high waisted maternity pants. It just adds that extra comfort, instead of say, pants rolling down from a growing pregnant belly! They have many benefits as well, like helping to improve posture and easing lower back pain. Blanqi has an awesome full belly band for even more all around support.
Blanqi Shapewear
Easy to style and super popular on social media, these leggings (or shorts for the summer months) provide extensive support all the way up to your ribs. With an expandable tummy section for your growing belly, they are tight in the legs to help hold everything in except for the belly section, in turn making them very flattering and form fitting.
Yeti Insulated Travel Mug
If you prefer your water ice cold like the ice queen princess that you are, invest in a quality Yeti travel mug to use in the hospital and everywhere else on the go. They hold ice for a super long time, which would come in handy for labour and delivery — as munching on ice tends to help with distraction from contractions. They're great for cold or hot beverages and are built to last.
Fetal Dopler
A baby heart monitor known as a doppler can be great reassurance — in the comfort of your own home — that baby is alive and well. This can come in handy if you're nervous about your baby's activity levels in the womb, if you are not able to track the amount of kicks, or just for peace of mind that everything's okay.
Leather Diaper Bag or Hospital Bag
I'll never forget my very first diaper bag when Brooke was born. It was a gorgeous leather over-the-shoulder bag from Storksak that had functional compartments for bottles, soothers, diapers and wipes. For your hospital stay, try this Weekender Bag by Fawn Design which is perfect for packing for mom and babe (and dad too!). Stylish for any outing and functional for those weekend trips to grandma's house. Plus, they're easy to wipe clean!
Maternity Jeans
To be honest, the third time around for me consists mostly of comfy leggings and loungewear because I've got online learning with two older kids and I get to work from home in my pyjamas. So, hey, there's that. But when I was pregnant way back when, when things were normal before the pandemic and we got to dress up and go out, I had the luxury of wearing maternity jeans! It just makes styling that baby bump easier, in turn making you feel better about yourself too. I always wore maternity jeans with the full panel for support, not the ones with an inset panel on each side of the hips. Just preference.
Epson Salts
Not every mama-to-be has time for "me time" or spa time in the bathroom, alone, away from their kids. And if you do, take advantage of it! Soak in that tub with warm water and some eucalyptus epson salts for maximum relaxation and relief from aches and pains associated with pregnancy. This will help you to practice calmness and breathing in preparation for labour, to rid any anxiety you may have.
Essential Oils
This falls into the category of an all-natural luxury item because let's face it, essential oils ain't cheap. Although, women and moms-to-be swear by using them to relieve many pregnancy symptoms as long as they're used safely and properly. Use rose oil, lavender oil, geranium oil, or chamomile oil to calm down, relax and ease anxiety. Peppermint oil or lemon oil will help reduce nausea. Use an essential oil diffuser in your home to help relieve any of these symptoms.
Rubber Wedding Ring Replacement
With pregnancy comes swelling, a common symptom for many women which includes your fingers. If you notice your fingers swelling and your wedding ring getting too tight or hard to take off, you'll want to remove it right away! Replace it with a rubber wedding ring in the meantime, or until swelling goes down. Usually after baby is born swelling should subside, or a few months into postpartum or after nursing.
Foot Spa for Sore Swollen Feet
If you can get your hands on a foot spa, soak those precious sore and swollen feet for great relief and relaxation time. This is great if you're on your feet for long hours of the day or if you experience swollen feet in general. You can fill up the spa with water, adjust the temperature and add in those epson salts that I mentioned earlier, or a few drops of essential oils. Then, squeeze in as many foot massages as you can before the big day, mama!
Heating Pad for a Sore Back
If your belly band and pregnancy pillow isn't providing you with enough back support to relieve back pain, you may find that a heating pad would help to ease the pain the most. Apply the pad directly to the painful area by holding it in place while sitting or laying down and resting. Always confront your health care provider if you have serious back pain concerns.
Bubly Carbonated Sparking Water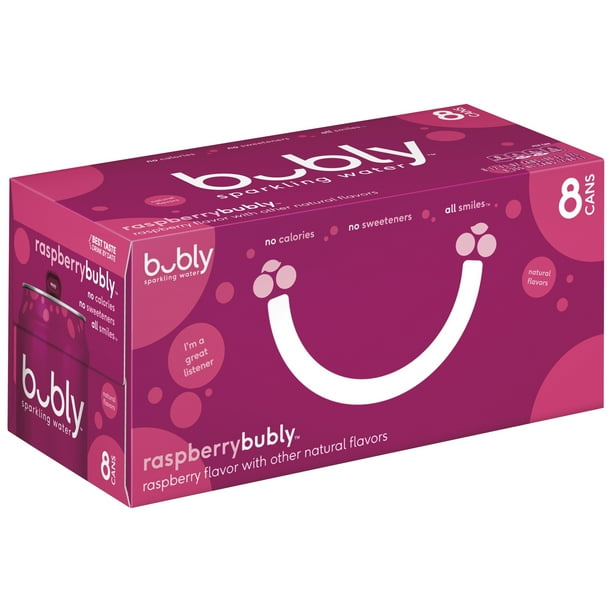 If you have trouble cutting out soda cravings, try flavoured sparkling water with 0 calories and 0 sugars. I find carbonated water helps with nausea, and also simulates a sugary treat when really, it's just water. So while hubby gets to sip on his favourite beer or beverage, you get to enjoy some "bubbly" too! Great to serve at your baby shower as well. Highly recommend raspberry and blackberry!
More on Pregnancy:
I hope this extensive list of pregnancy essentials and luxury items come in hand for you for staying as comfortable and as stress free as possible during your pregnancy.
Take as much you time as you possibly can before babe arrives! I'd love to know what works for you and how your pregnancy has been going! Ontario moms, have you gotten your vaccine yet?! Don't forget to follow along on Instagram. Stay safe mamas!
PIN IT FOR LATER