Save money on baby products when preparing for baby's arrival by using a soft, breathable muslin swaddle blanket that is practical and multifunctional. Here are 10 ways to use this newborn must have!
Thank you Nightingale for sponsoring this post. All opinions are my own.
Some links may be affiliate links for your convenience.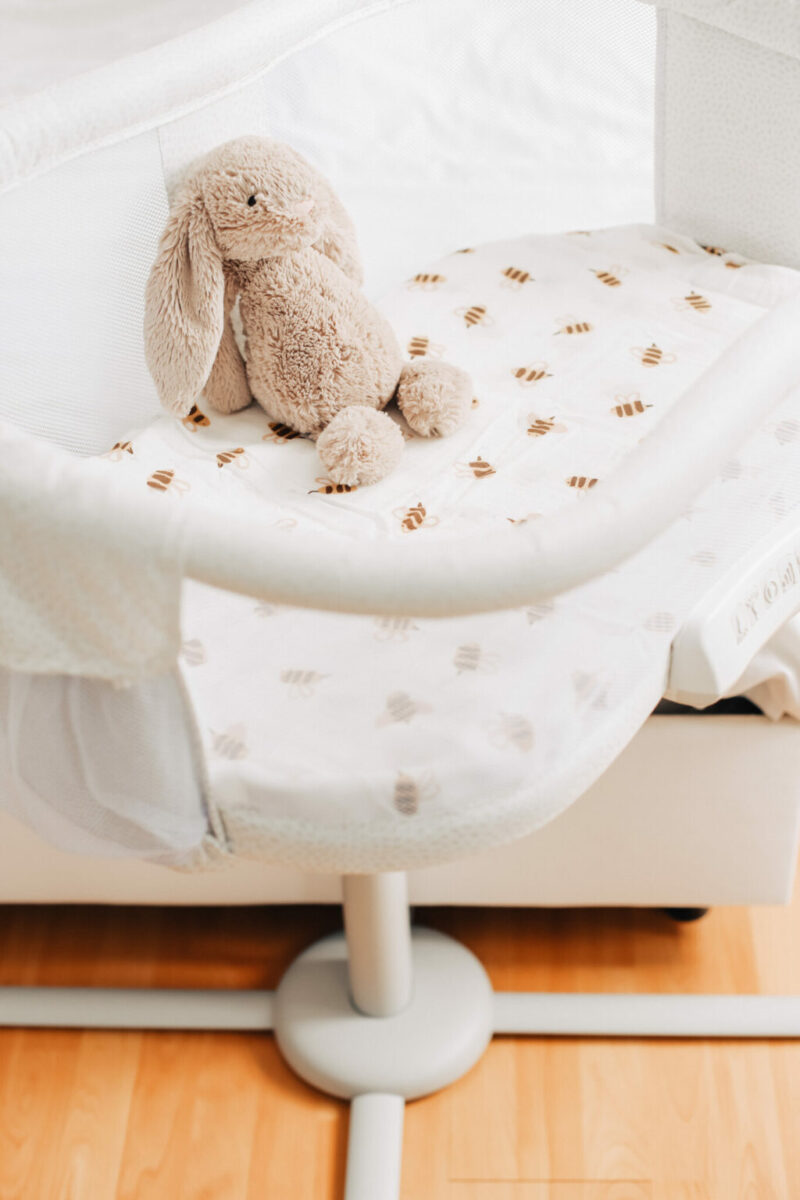 Newborn Essentials
I am so excited to announce that baby number three will be arriving this June! I remember like it was yesterday when I wrote about What to Expect The Second Time Around. And now we're doing it again with our third! It truly feels surreal.
And what's even more exciting is the fact that it's another girl! If you follow me on Instagram, you know how shocked I was when I found out, but ultimately so happy to have a little girl gang of three daughters!
In preparation of welcoming our little babe into our family and home, I'm doing things a little differently this time around. We live in a decent sized house where the girls share a bedroom, and our third bedroom is a guest room, office combination. And so, we've made the decision to co-sleep the first few months when babe is here, and worry about the nursery later on. We have a bassinet in our master which is what will be working for us in the meantime!
As for everything baby — baby products and must haves (this post included) — get ready for it!
I know these tips will be useful for you whether you're a first time mother, looking for advice, or inspiration in general. By using few baby products in different ways, you'll save money and sleep a little better knowing you're prepared.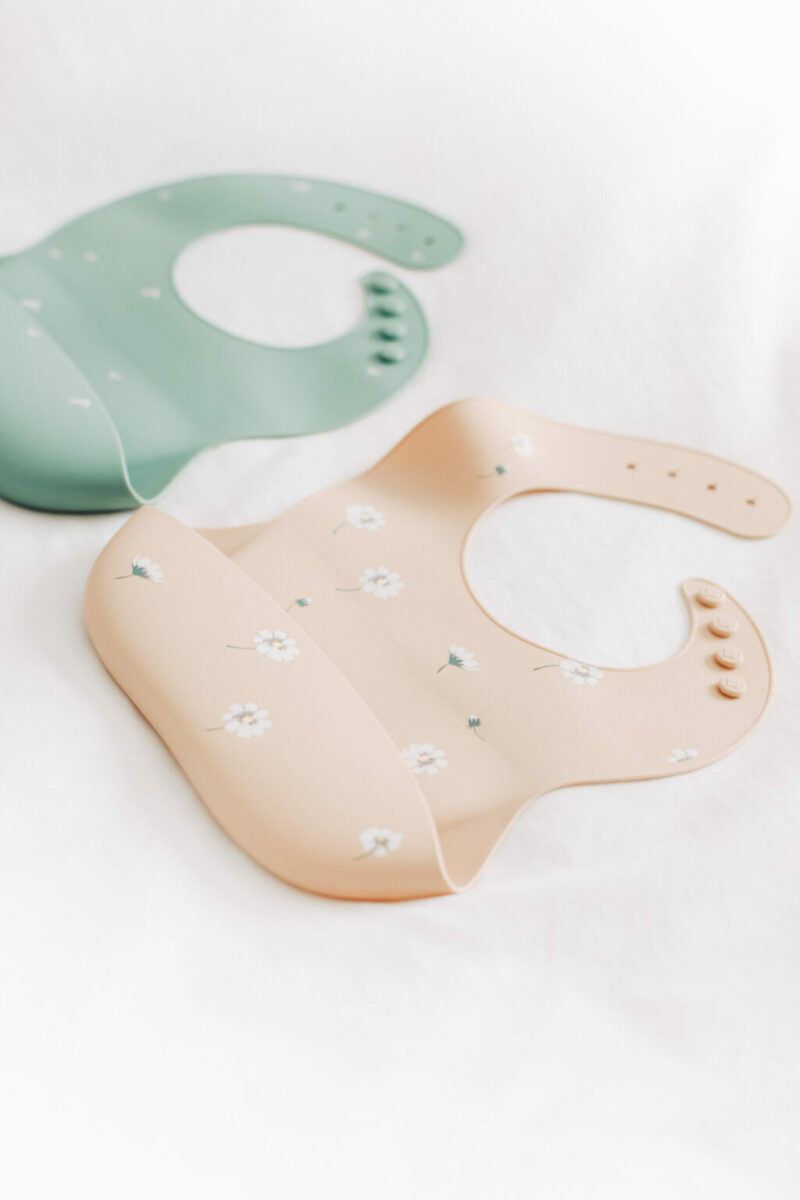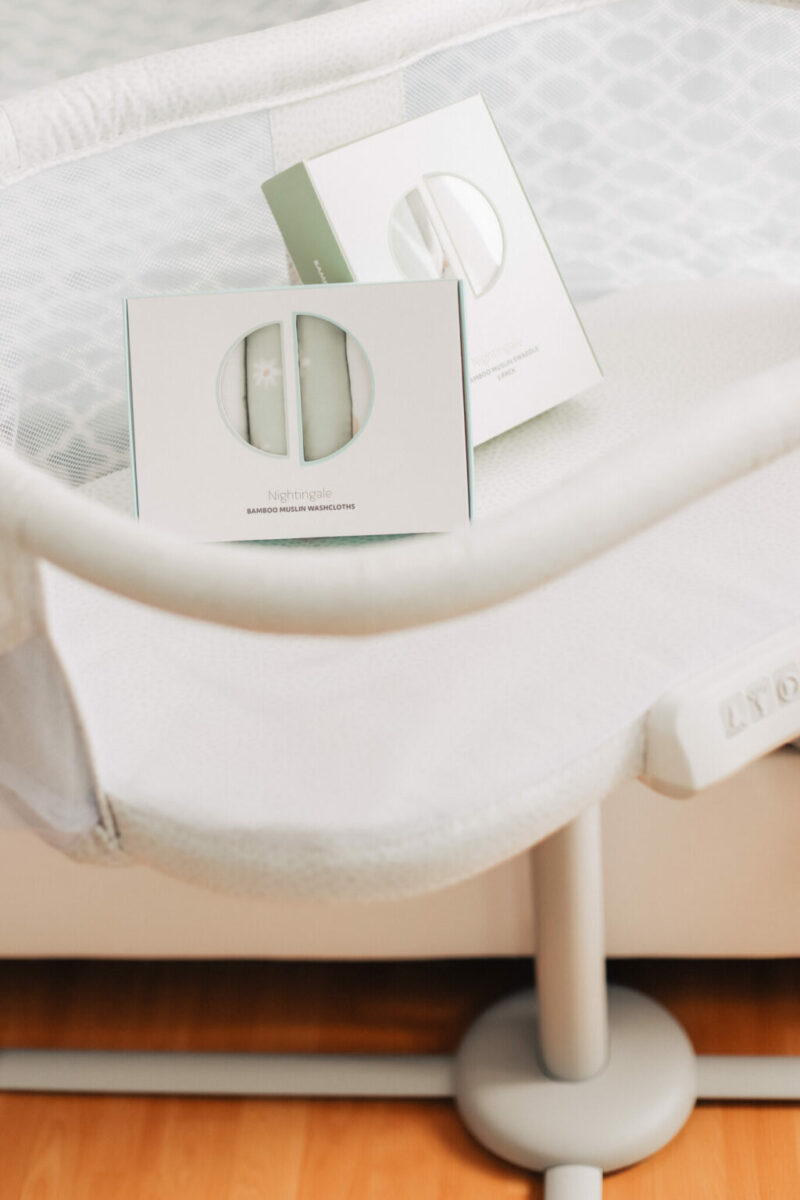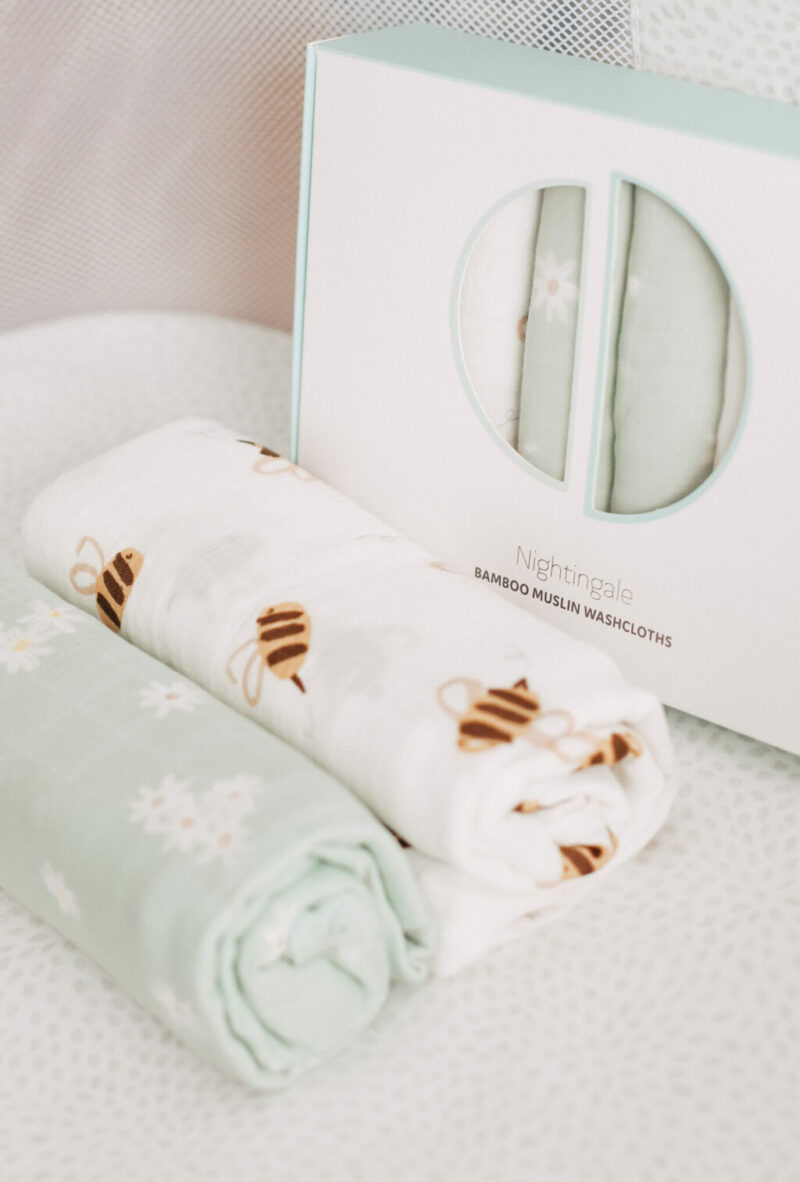 Nightingale Baby Products Available on Amazon
Nightingale is a company that designs their baby products in Canada, which I absolutely love! You can find their products on Amazon.ca (in Canada) and Amazon.com (in the US). You can also shop their products directly from their website.
They have modern designs that are simple, sweet, and minimal. I love that their beautiful prints are subtly gender neutral, just in case you are waiting to find out the gender until baby is born!
Nightingale's blankets and washcloths for example make for the sweetest baby shower gift, especially if the baby's gender is not announced yet.
Another reason why I love to support small businesses like Nightingale is because they have such great intentions. 1% of their sales goes to Share The Meal — a United Nations World Food Programme. How wonderful is that?!
Shop Nightingale's Newborn Essentials: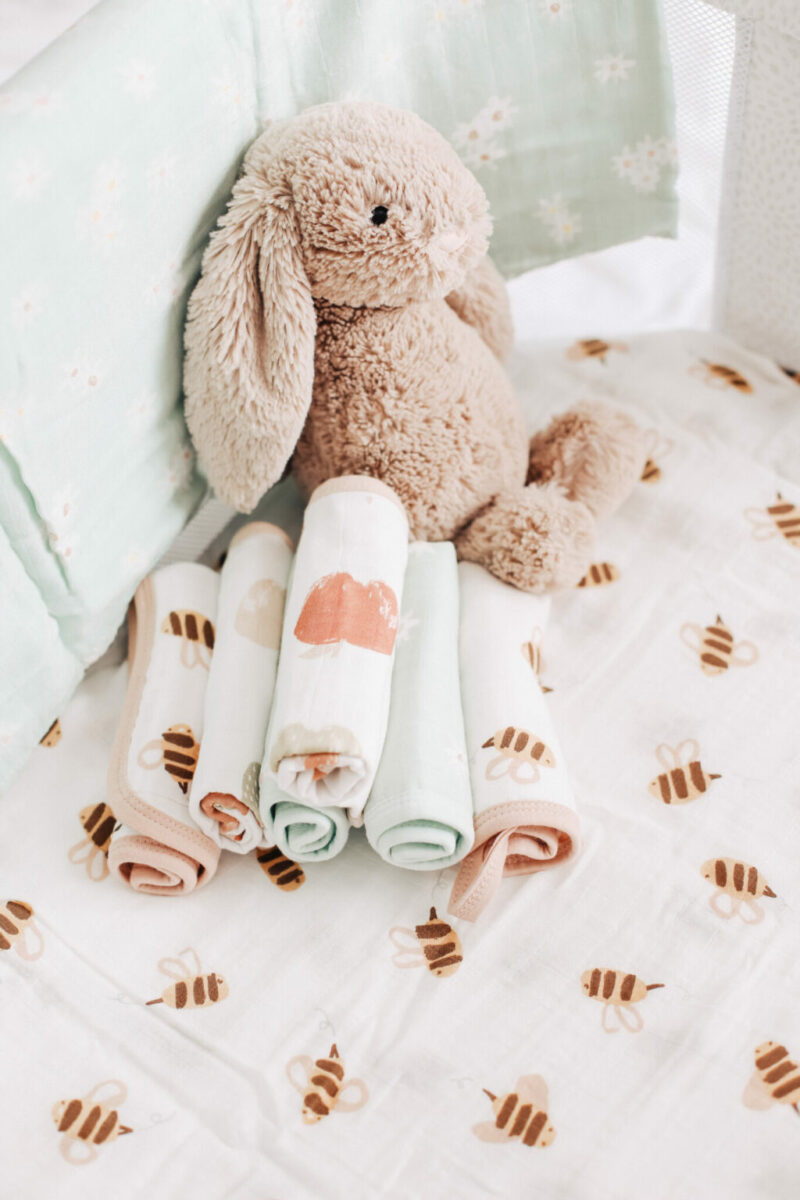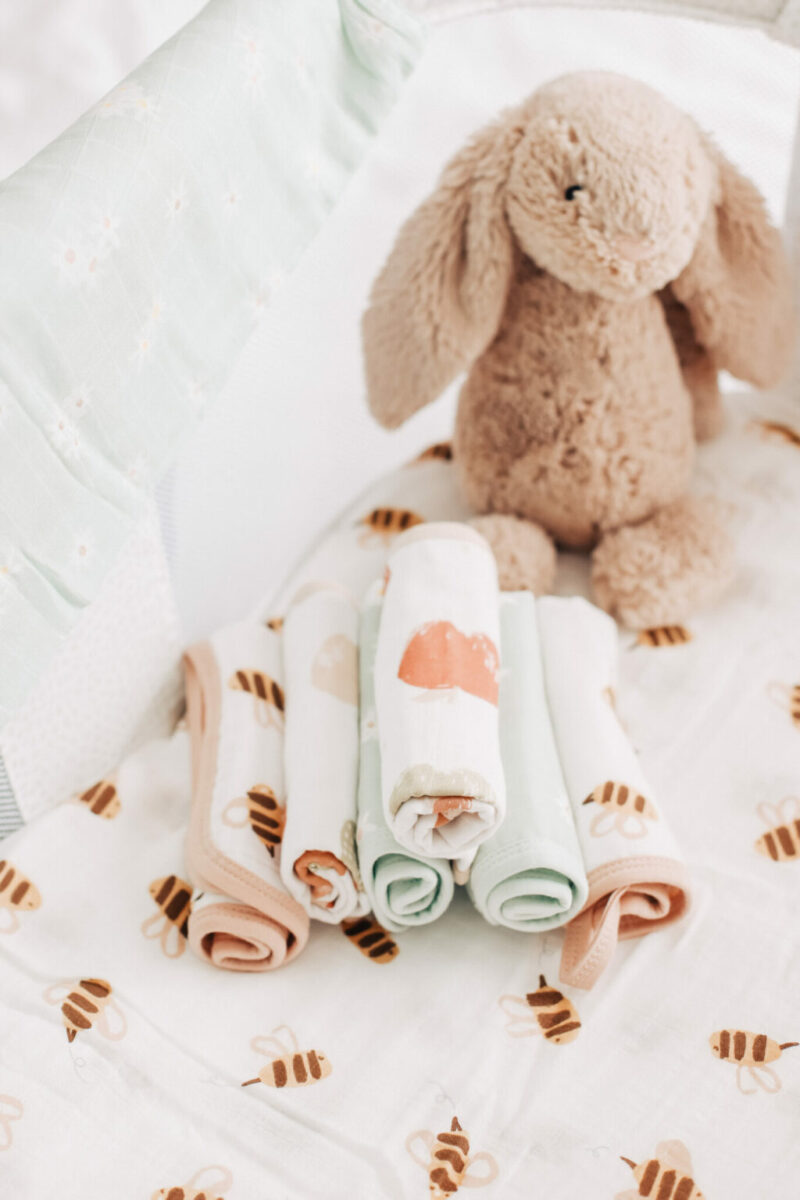 10 Ways to Use a Muslin Swaddle Blanket
Swaddle Baby After Birth

Swaddling a newborn baby is something that takes practice, but can be very beneficial for mom and dad. Swaddling helps to calm and soothe baby, and snuggle the baby as if they are still in the womb. My favourite swaddle folds are the the basic wrap and tuck, and the wrap and knotted bottom.

Nursing Cover

Tie two of the top corners of your muslin blanket together, using as little material as possible, and tying a double knot. The loop you've made can now go over your head, draping the front of your body as a lightweight, breathable nursing cover.

Stroller Cover

Fold the muslin blanket in half and drape over the stroller starting at the top where the canopy is fully extended. If your child is older and tends to pull or kick a blanket off, you can tie the top two corners of the blanket onto the sides of the stroller handlebar.

Car Seat Cover

You can fold the blanket twice, once lengthways and once sideways, and use that to hang from the canopy down to the bottom of the front of the car seat for full coverage. Optionally, make some slack in the blanket to garner enough material to tie each of the top corners to the car seat handle. This allows a gap of airflow while also peace of mind that the cover will stay in place.

Related: View our Car Seat Review on Youtube.
Lounger Cover

You may have an infant lounger like the Snuggle Me Organic Lounger, which is great for hugging baby just right during supervised nap times or tummy times. Spit ups happen. Accidents happen. And especially if you didn't spend the extra money on a lounger cover, a swaddle blanket comes in handy as an extra layer of protection, plus a gorgeous backdrop for photos as well!

Change Pad Cover

Saving money in all aspects here — a swaddle blanket is perfect for wrapping a plastic waterproof changing pad, which can be much more aesthetically pleasing in babe's nursery, as well as being soft and comfortable for them to lay on while having their diaper changed.

Spit Up Cloth

When burping your baby on your shoulder in an upright position, simply layer a folded muslin blanket over the shoulder you'll be using. This will give you an extra layer of protection to protect your clothes from soiling. Use the blanket to wipe baby's mouth or for any extra mess that needs a quick cleaning.

Receiving Blanket for Older Babies

Muslim swaddle blankets are usually large in size. They make for perfect lightweight blankets for older babies while travelling in the car seat or in the stroller. They are also great for cuddling at home, and may be one that will be hard to give up as your little one gets older. My daughters still play with their swaddle blankets with their dolls!

Tummy Time Blanket

We all know how cumbersome it can be to get rid of stains on carpets. And when it comes to tummy time, we want to place our babies on a soft surface on the ground. To prevent stains, simply fold a swaddle blanket in half and place it down on the floor with baby on top to do their thing! It's great for absorbing teething drool too!

Photography Backdrop

Muslin blankets like Nightingale's come in absolutely gorgeous patterns and colours these days. Much of which are trending on social media and match our home decor more than ever before. They are perfect for lying baby on top of with their cutest outfit, or for those monthly milestone shots.
Muslin Swaddling Blanket FAQS
Can I use a Stuffed Animal Beside My Sleeping or Swaddled Baby?
Stuffed animals and toys should only be used for decoration purposes only. Once baby is in their sleeping area (crib, bassinet, etc), and whether they are swaddled or not, all blankets, pillows, toys, and stuffed animals should be removed. This allows for proper airflow, to reduce the risk of SIDS.
Can I Use a Muslin Swaddle Blanket as a Bassinet Sheet?
Bassinet and playpen companies recommend always using their brand of bassinet sheets that are custom fit to their product. If you decide to use a muslin blanket as a sheet, make sure it is secured on the back side of the bassinet mattress, and that baby is supervised while sleeping to reduce the risk of SIDS or suffocation.
Can I Use a Muslin Swaddle Blanket as a Crib Sheet?
A muslin blanket would not be nearly large enough to wrap over a crib mattress and safely secured underneath with an elastic band. While baby is sleeping, the blanket could bunch up and cause suffocation. Read more about the risks of SIDS here.
Is a Muslin Blanket Safe to Use as a Breastfeeding Cover?
Yes, if used correctly. A baby's face should never be close to, touching, or covered by a fabric. Muslin blankets are light and breathable, but should be used to cover baby only to disguise breastfeeding, in an airy environment with sufficient airflow.
How Do I Wash My Muslin Swaddle Blanket?
Since muslin blankets are either 100% cotton or made of organic bamboo fabric like the Organic Bamboo Muslin Swaddle Blankets pictured, you'll need to wash them in cold/warm water, gentle cycle and with like colours. Use a baby detergent, or one that is fragrance free if your baby has sensitive skin. Separate swaddle blankets from baby clothes that have buttons, zippers or velcro to avoid tears and snags. Avoid washing them with towels, which would cause a lint buildup on their delicate material. Avoid using fabric softener.
How Do I Get stains Out of Muslin Swaddle Blankets?
Avoid using bleach or harsh chemicals. To remove stains, use Oxy Clean Stain Remover, or spot treat using a chlorine-free bleach by gently blotting the soiled area and letting sit for 5 minutes before adding it to a wash. You could also soak the blanket in warm water and a splash of non-chlorine bleach for one hour. Repeat as necessary.
Do I Have to Hang Dry Swaddle Blankets?
Remove items from your washing machine promptly. You can tumble dry the blankets on low heat in your dryer. Avoid using dryer sheets. When dry, remove promptly from the dryer to fold or roll up and store away. If you have the time, you can hang them to dry, which is my personal preference and seems to keep them smelling fresher.
Can I Iron Out Creases in a Muslin Swaddle Blanket?
Do not iron or dry clean your muslin swaddle blankets. Refer to the drying instructions above to keep the blankets soft, crease free and wrinkle free.
How do you get the most use out of your swaddle blankets? I'd love to know in the comments below!

Shop The Post
Pin it for later!