Here I'll be sharing all of the details of our 3-year-old and 4-year-old girls' shared bedroom update. A room made up of neutral tones, soft pink accents, delicate details, and all white furniture for a bright and dreamy look.
This post contains affiliate links for your convenience. At no cost to you, I will earn a commission if you click through and make a purchase.

A Small and Cozy Girls' Shared Bedroom
Let me just say that this has to be the most darling room in our whole house! It was so much fun to decorate with all things girly, as opposed to our neutral, farmhouse inspired master bedroom.
We live in a cozy 1800 square foot bungalow. Not that small, but not that big either. It's just right for our family of four. One of the main reasons why I decided not to separate our daughters when designing their shared bedroom is because they are so close in age — only 15 months apart.
They're literally BFF's and I want it to stay like that for as long as possible! I also like the idea of using our third bedroom as a toy room and office.
Neutral Paint Colour
I truly believe that less is more when decorating. Minimal design, a clean look, it's just so fresh and welcoming especially when you have little space to work with.
The majority of our home has white furniture and I did this because I stuck to medium/light grey walls and wanted to brighten up the space.
Gray Owl by Benjamin Moore
The paint I used in the girls' room is "Gray Owl" by Benjamin Moore.
Light, dreamy, and the perfect shade of grey. Ask to add white to your can of paint if you want it to be even lighter.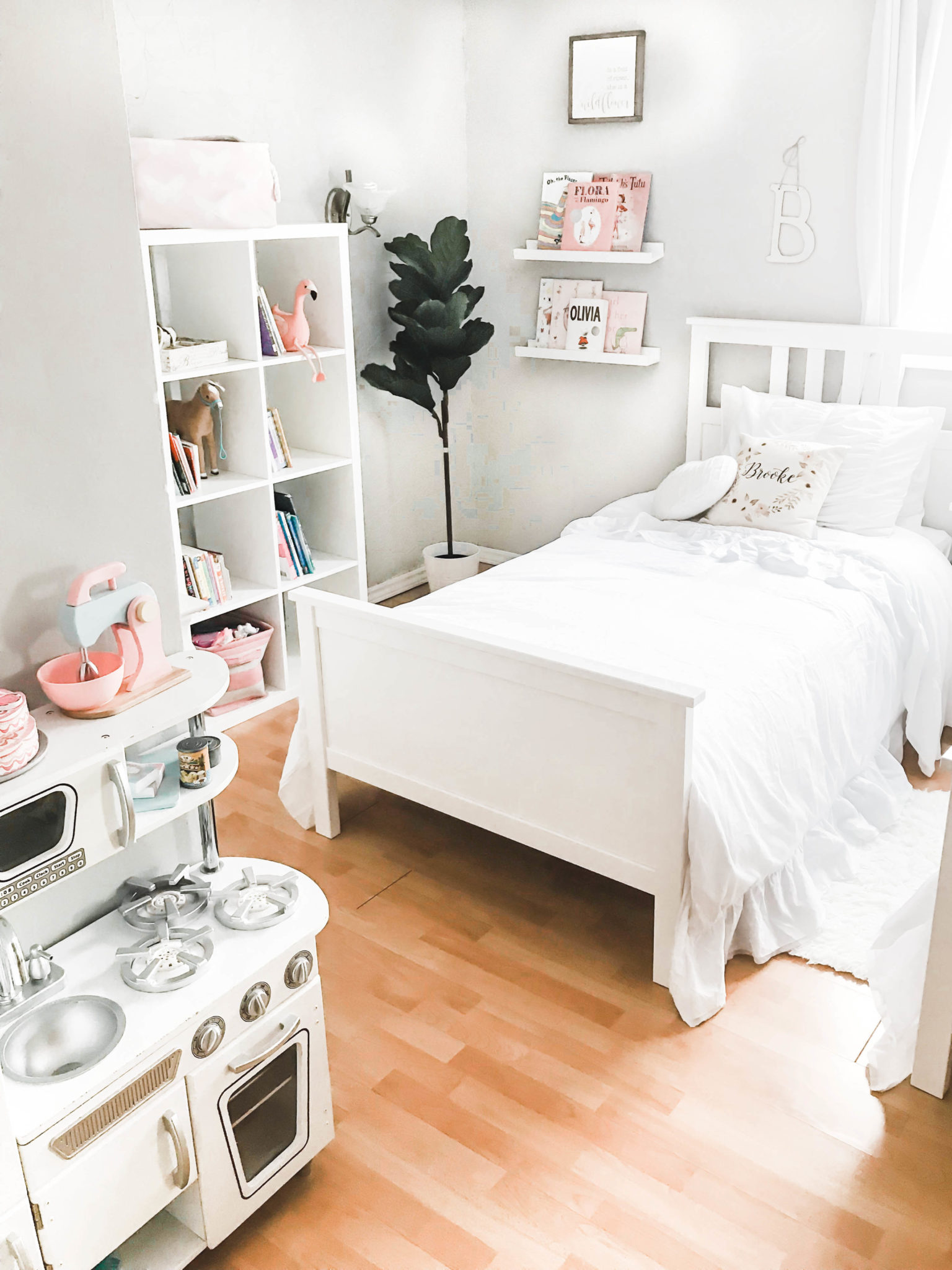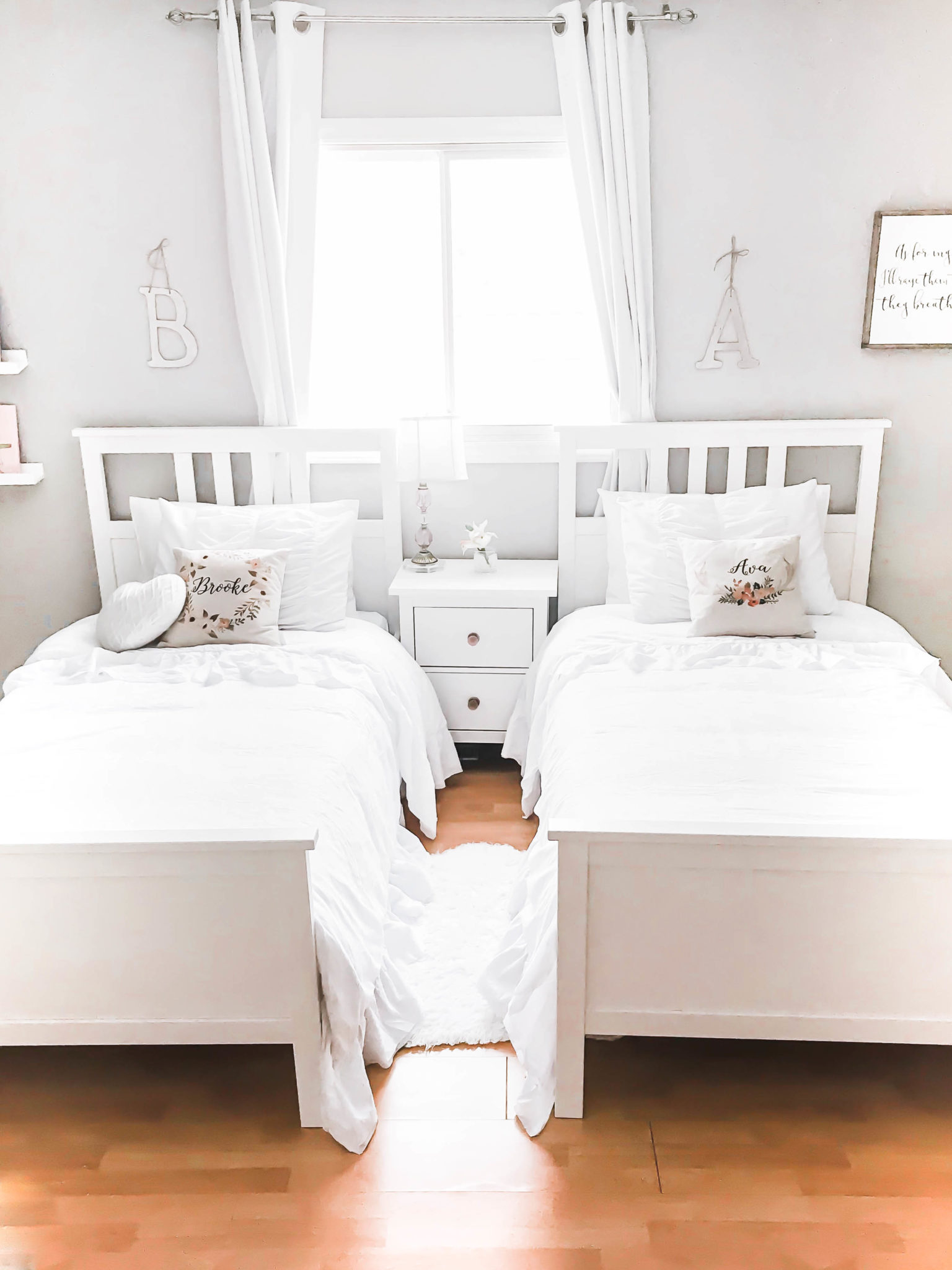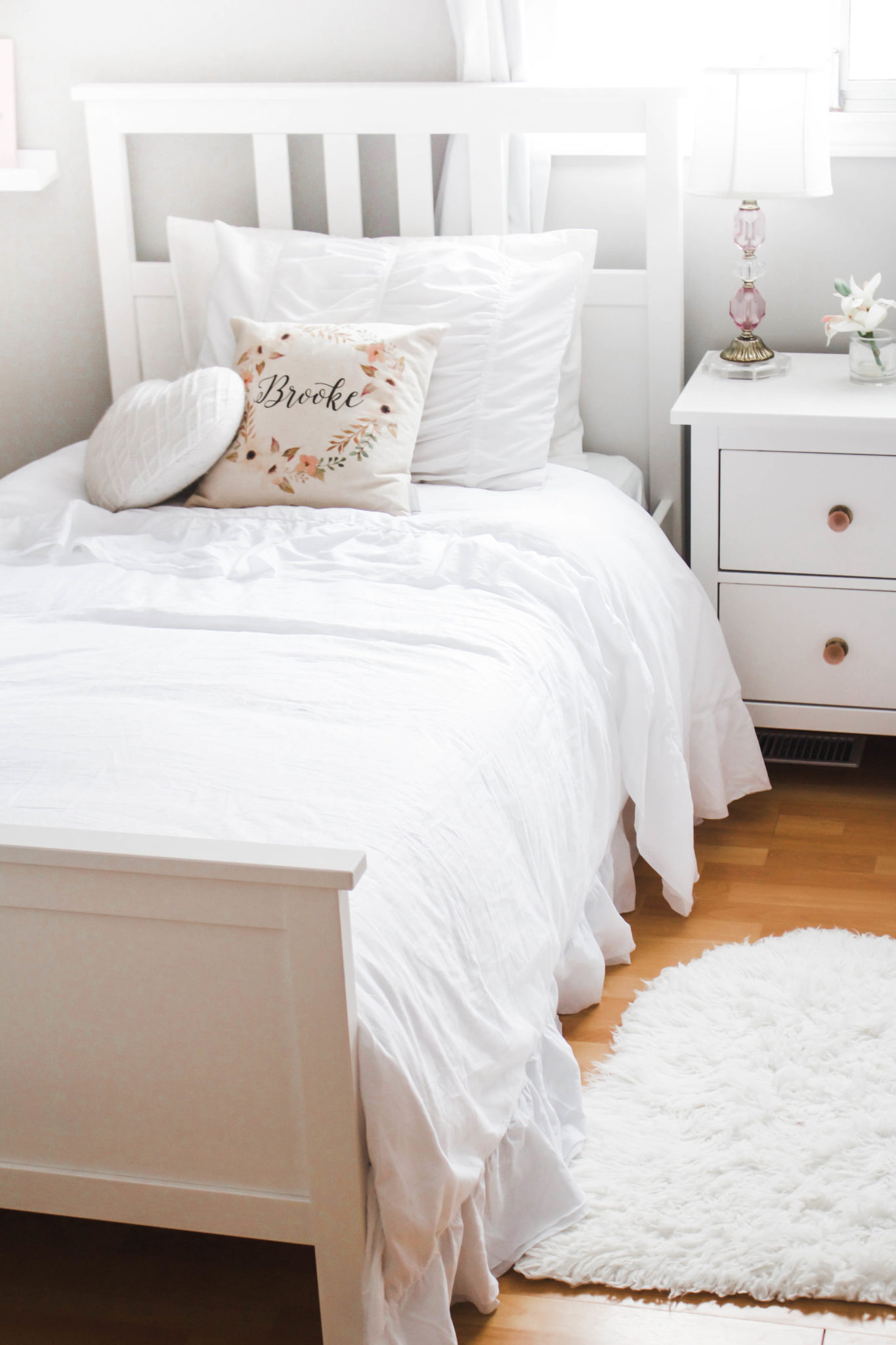 This bedroom faces north and doesn't get a whole lot of light as there is only one window. I wanted everything to be white and bright with small touches of pink and blush tones. It is, after all, a little girl's room!
Hemnes Ikea Bed Frame
The platform bed frames are from Ikea and to be honest, I wasn't crazy about the headboards. I wanted something affordable and minimal, and that they are.
To soften the look, I dressed up the beds with a gorgeous duvet cover and customized pillows.
The hand made pillows are a natural canvas colour and the details and printed-on script is exactly what I envisioned. It adds a feminine and cozy vintage feel.
Affordable Single Bed Frames for Little Girls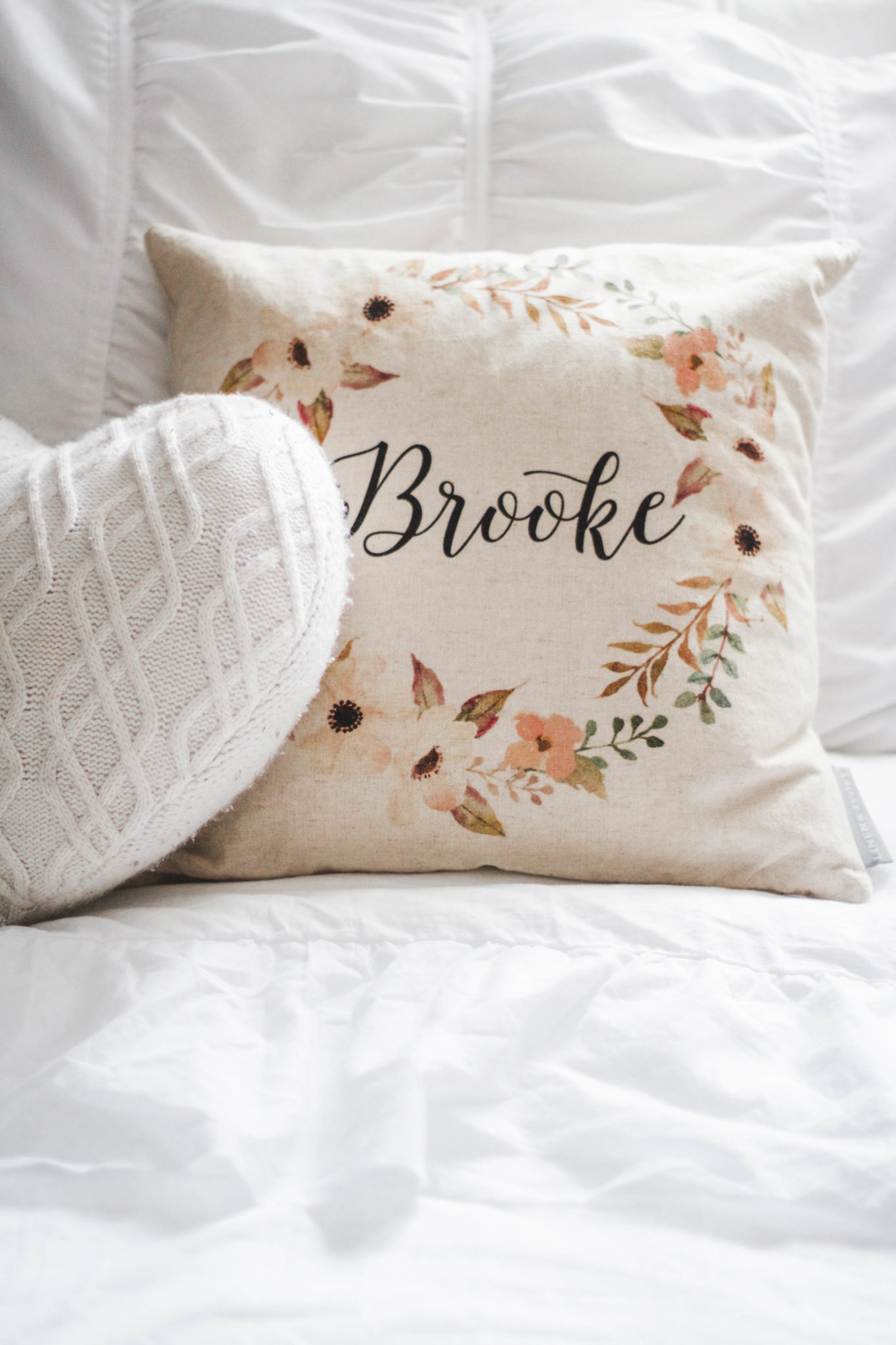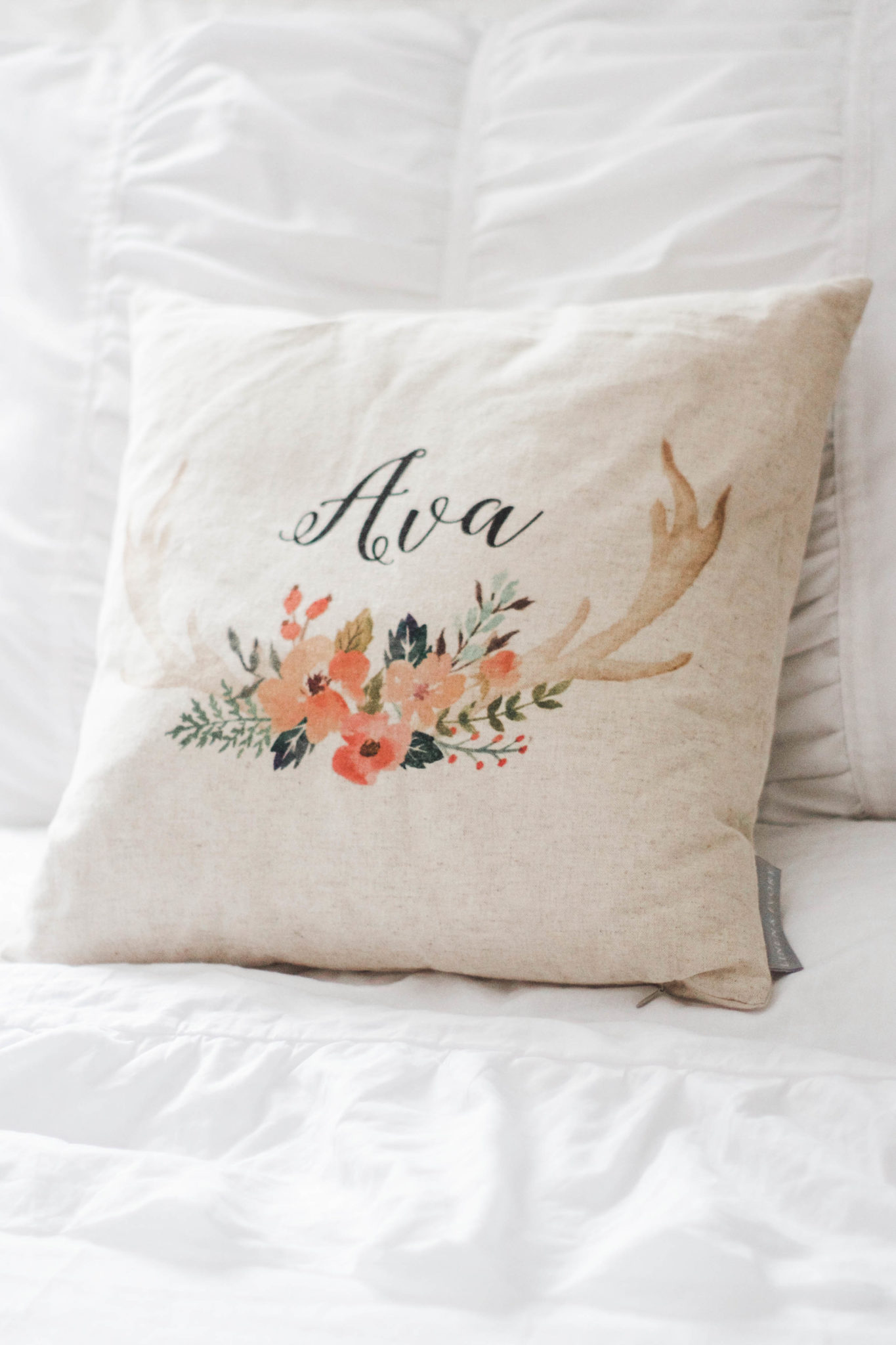 Memory Foam Mattresses for Little Girls
Since the beds do not require boxsprings, we opted for memory foam mattresses. Again, very affordable and a great idea when you have kids.
I slept in them and I have to say, they're actually comfortable! Read about why we switched to memory foam in this post.
White Bedding
I love that the beds aren't very high off the ground, so the duvet cover falls nicely off of the sides, just lightly hitting the floor, as if they're bed skirts. Just love that look so much!
On another note, the girls are not 'big' girls just yet. With that being said, they have no problem climbing up onto their beds and they can get in and out with ease.
Little Girls' Decor Pieces and Accents
The metal initials "B" for Brooke and "A" for Ava are from Pottery Barn Kids. They're called Monique Lhullier Ribbon Letters and they come with a light pink ribbon to hang up.
I love the metal because it has a rustic, farmhouse feel, but I wasn't crazy about the pink ribbon. It reminded me more of a baby's nursery, and so I simply removed the ribbons and tied in some twine that I had laying around the house.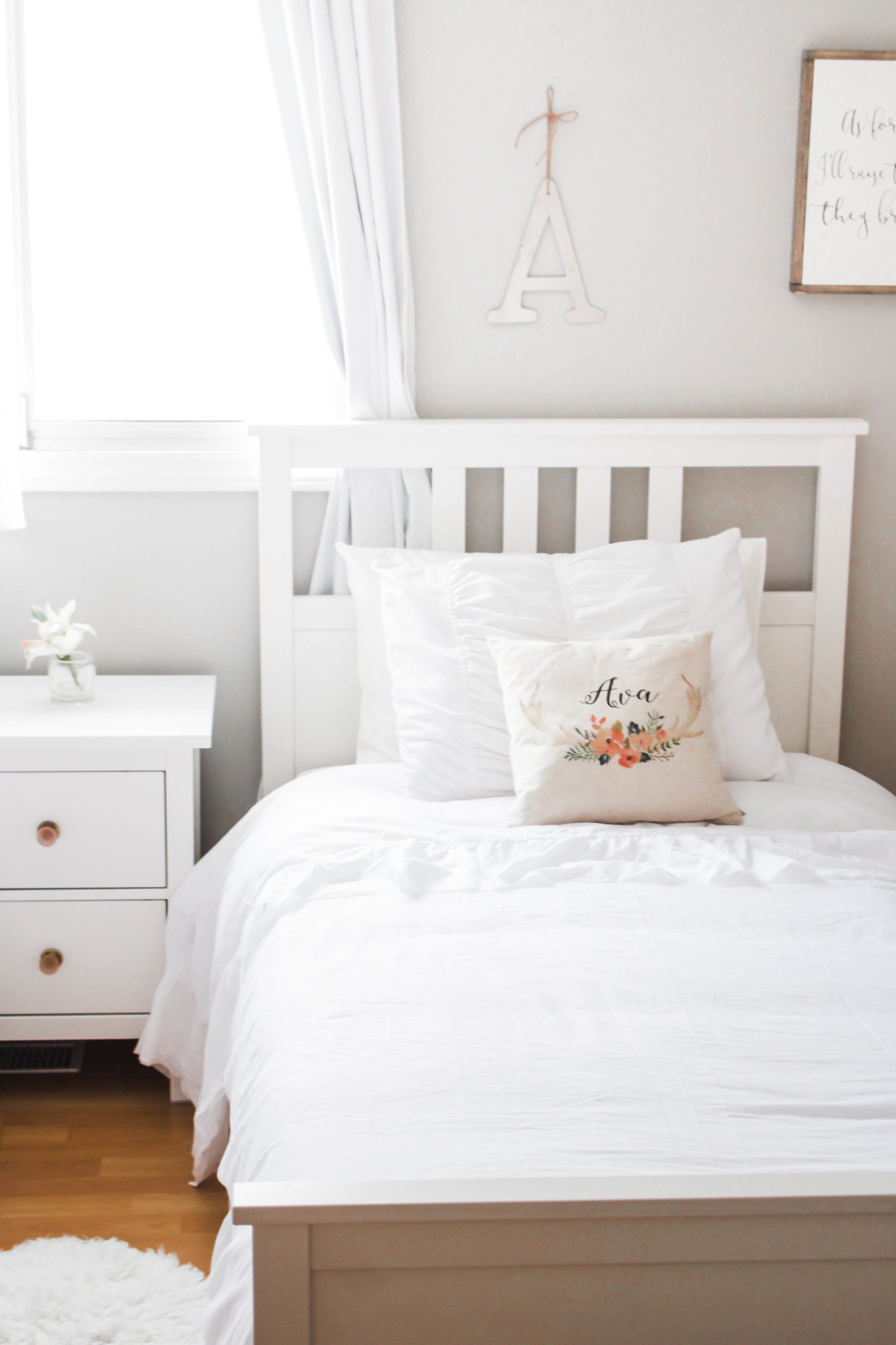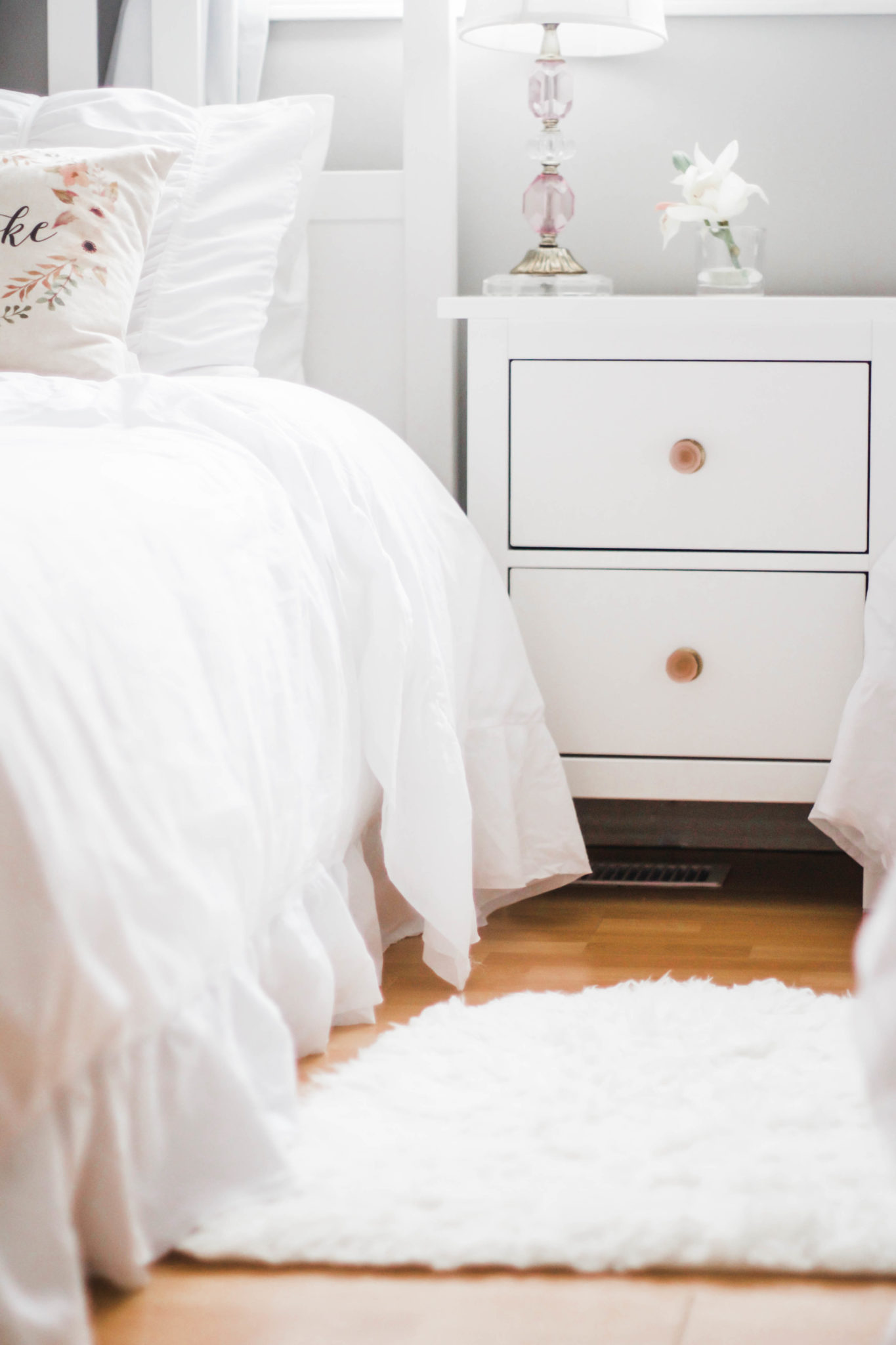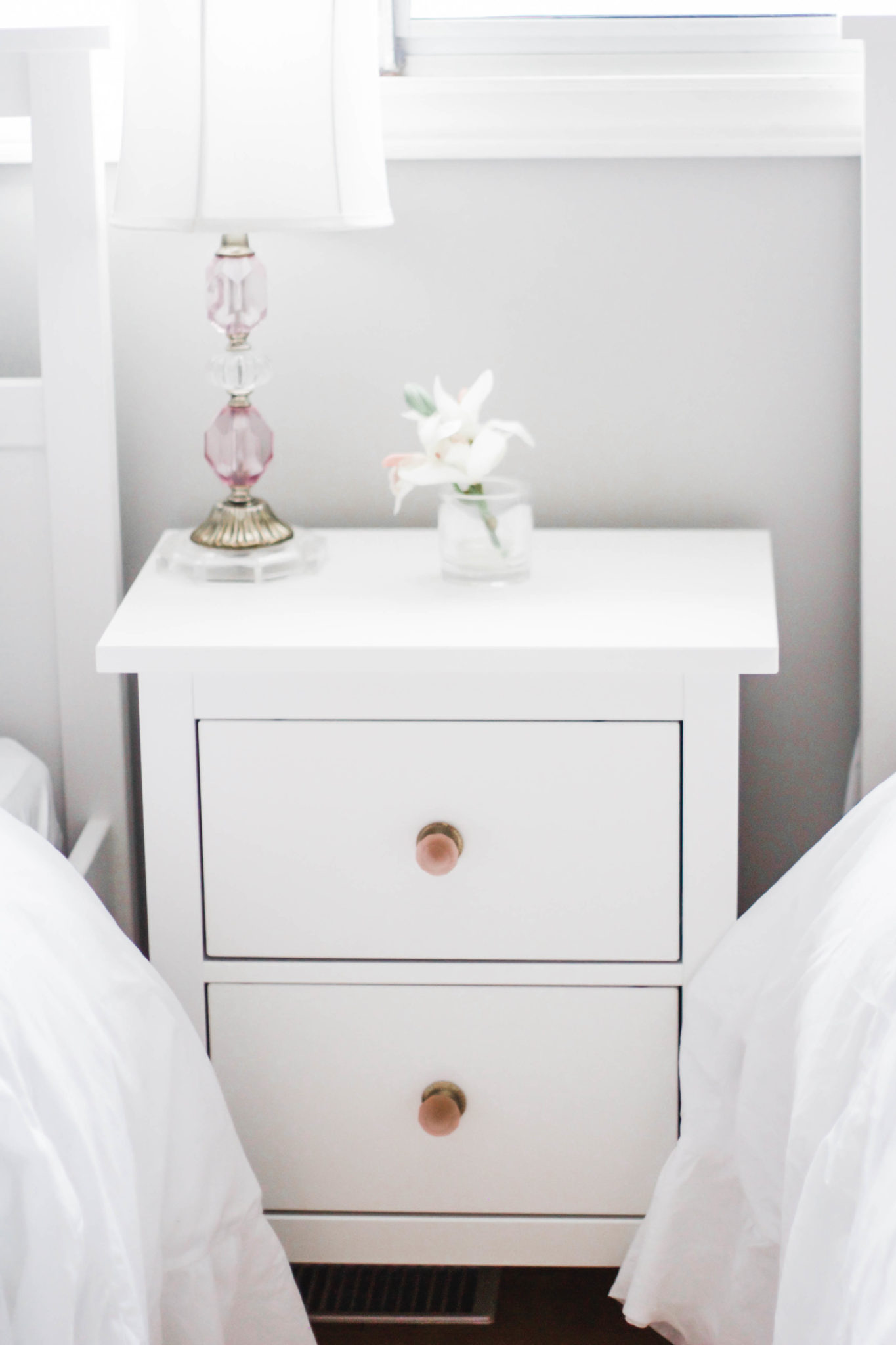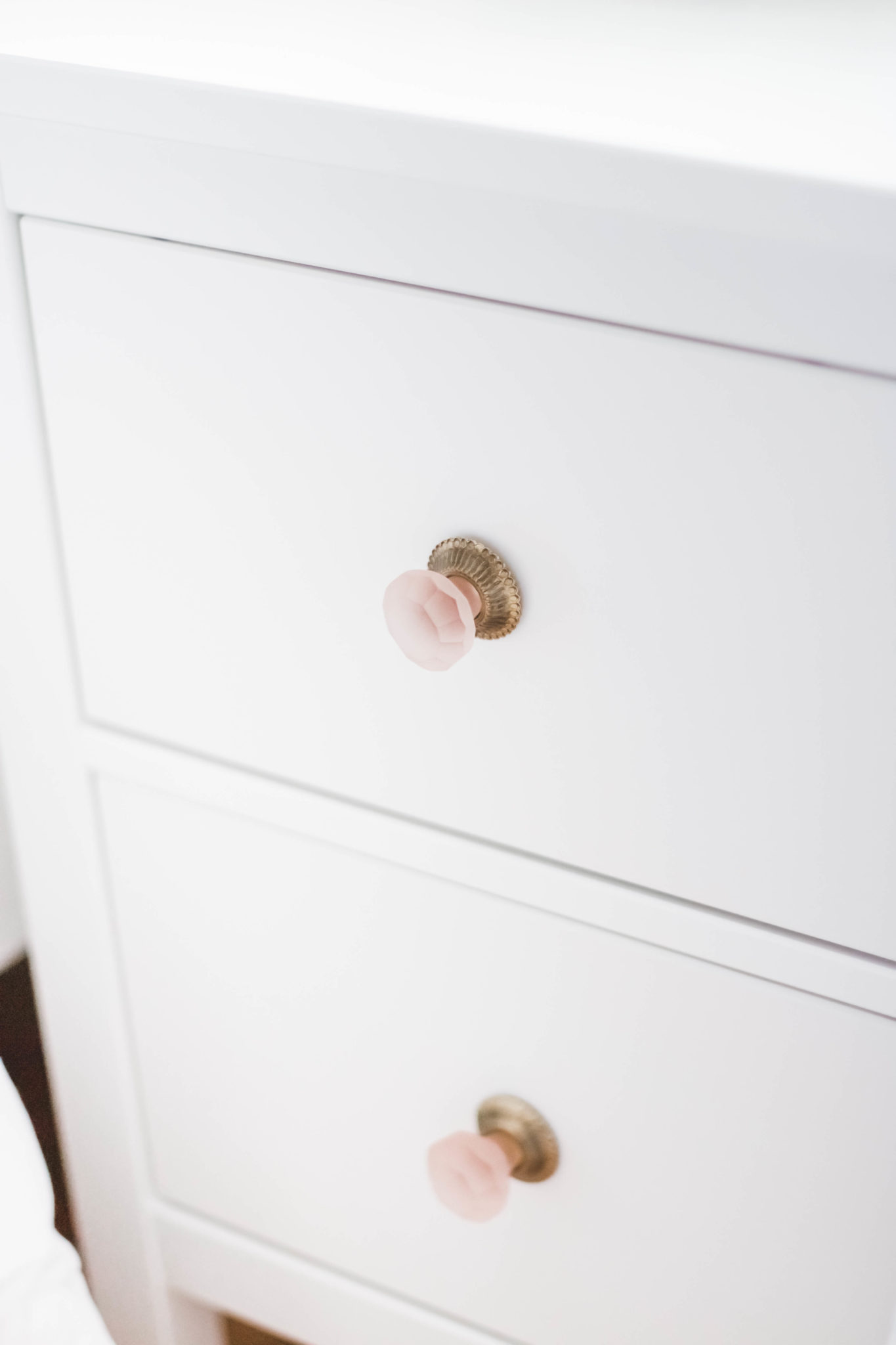 Ikea Hack – Hemnes Nightstand
The nightstand, again from Ikea, is very minimal and exactly what I wanted for the girls. The Hemnes nightstand comes with black knobs, and so I swapped them for these frosted pink and brass knobs from Anthropologie.
The new knobs are so delicate and pretty, the girls love them and really feel like princesses in this room!
Accents for a Little Girls Room
The small white flower in the clear vase is an accent I found at a local Winners. I found something similar here and here.
The lamp is actually a handed down item that is also very feminine and girly. I found similar styles here, here, and here.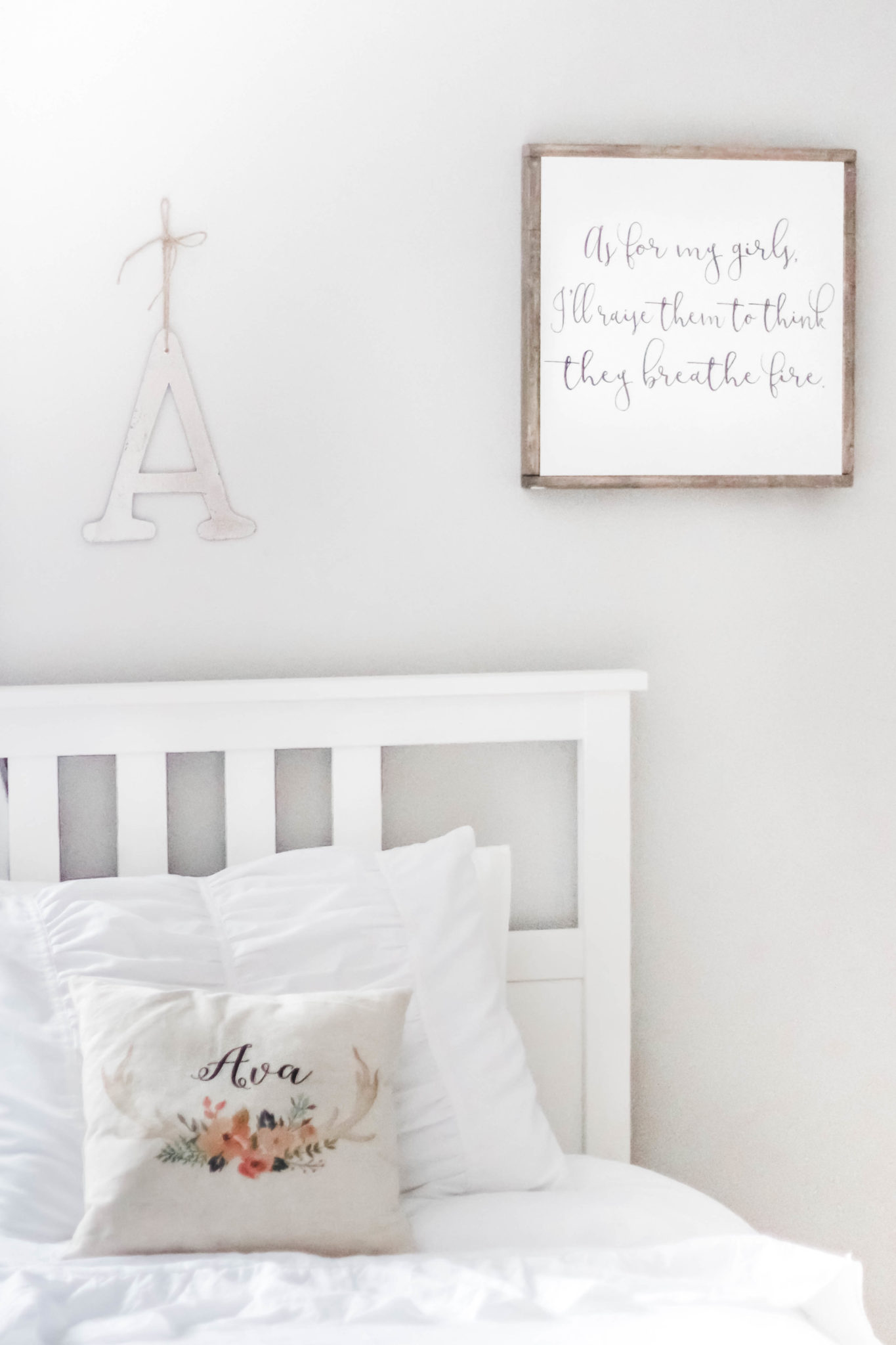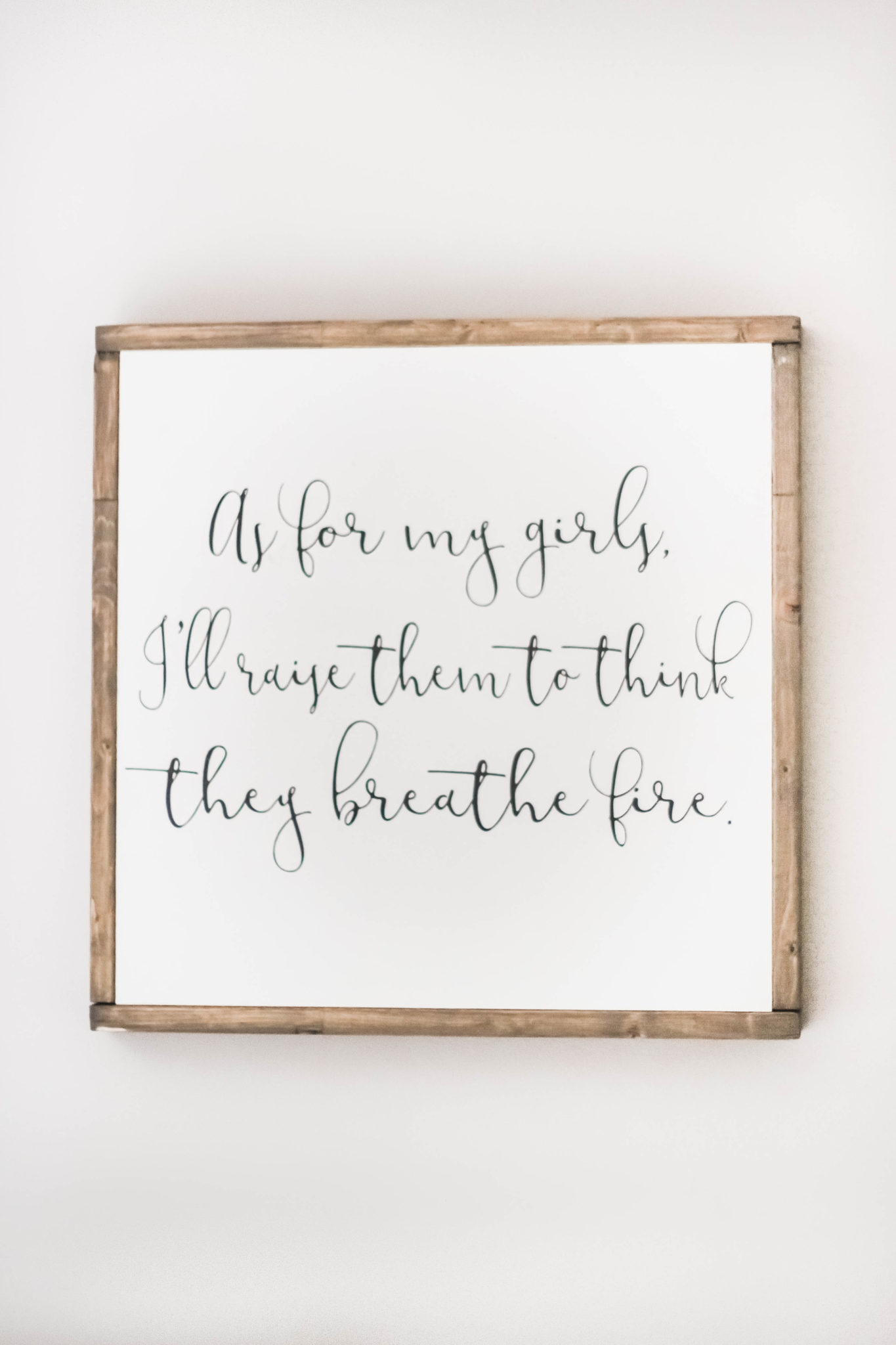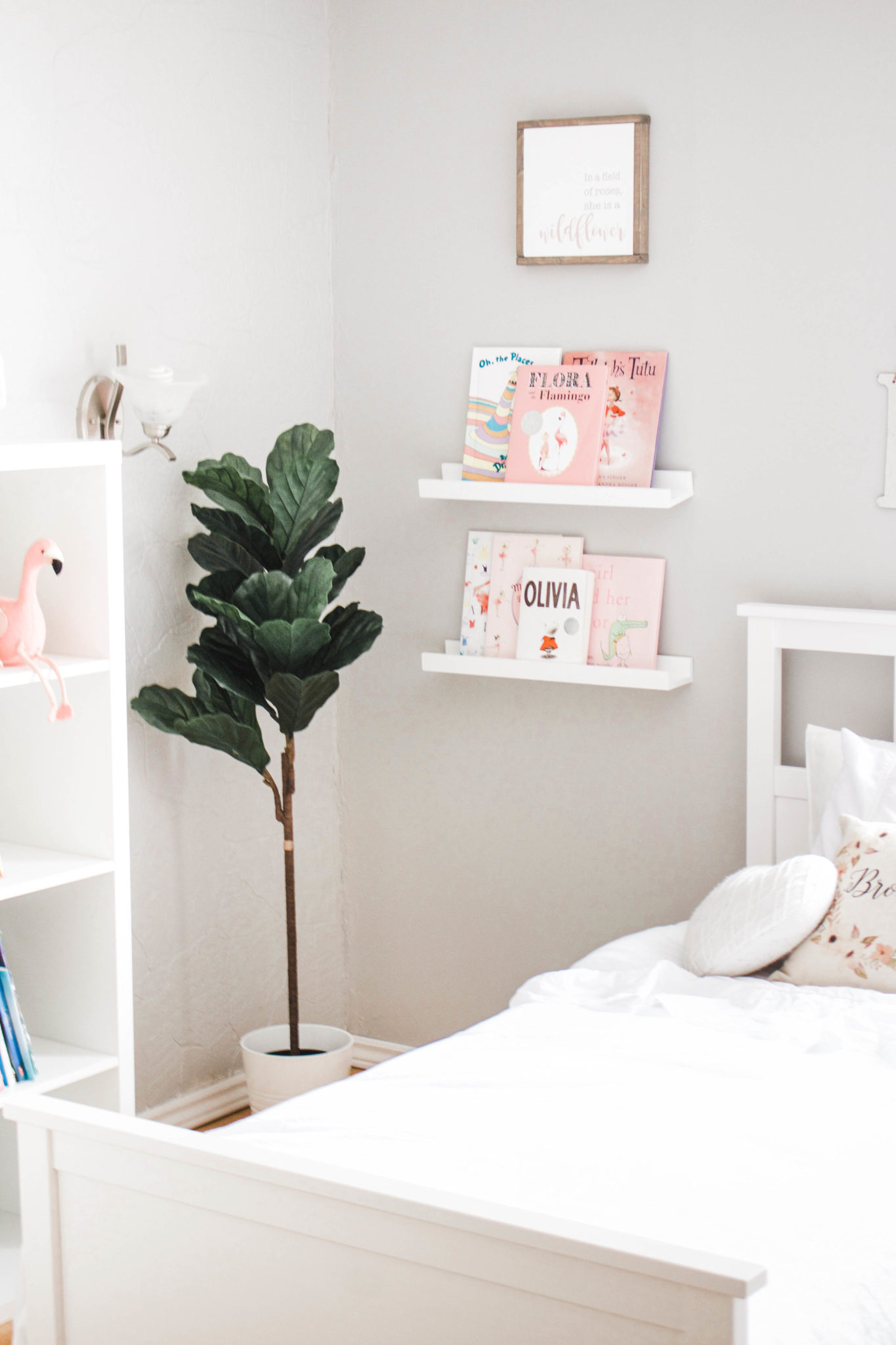 I like to add a touch of greenery to every room in the house. This fiddle leaf tree is the perfect size (ours is 4 feet) and fits perfectly in the corner of the girls' shared bedroom, right by the white floating shelves. It's a modern look and Brooke and Ava love that we're simulating bringing nature indoors.
Kids Book Shelves and Organization
I placed like-coloured books to display on the floating shelves. These pink books are adorable for any little girl. I included: Olivia, Flora and the Flamingo, Tallulah's Tutu, Oh, the Places You'll Go, A Girl and Her Gator, Miss Lina's Ballerinas, and I had a Favourite Dress.
I also love our custom made wooden signs from The Lemonade Stand. And I absolutely love that they are Canadian made! They add a vintage look and they are just so elegant and beautiful. The frames are made out of solid wood and they are sure to last a lifetime.
The small sign on the left reads "In a field of roses, she is a wildflower" and the larger sign on the right reads "As for my girls, I'll raise them to think they breathe fire."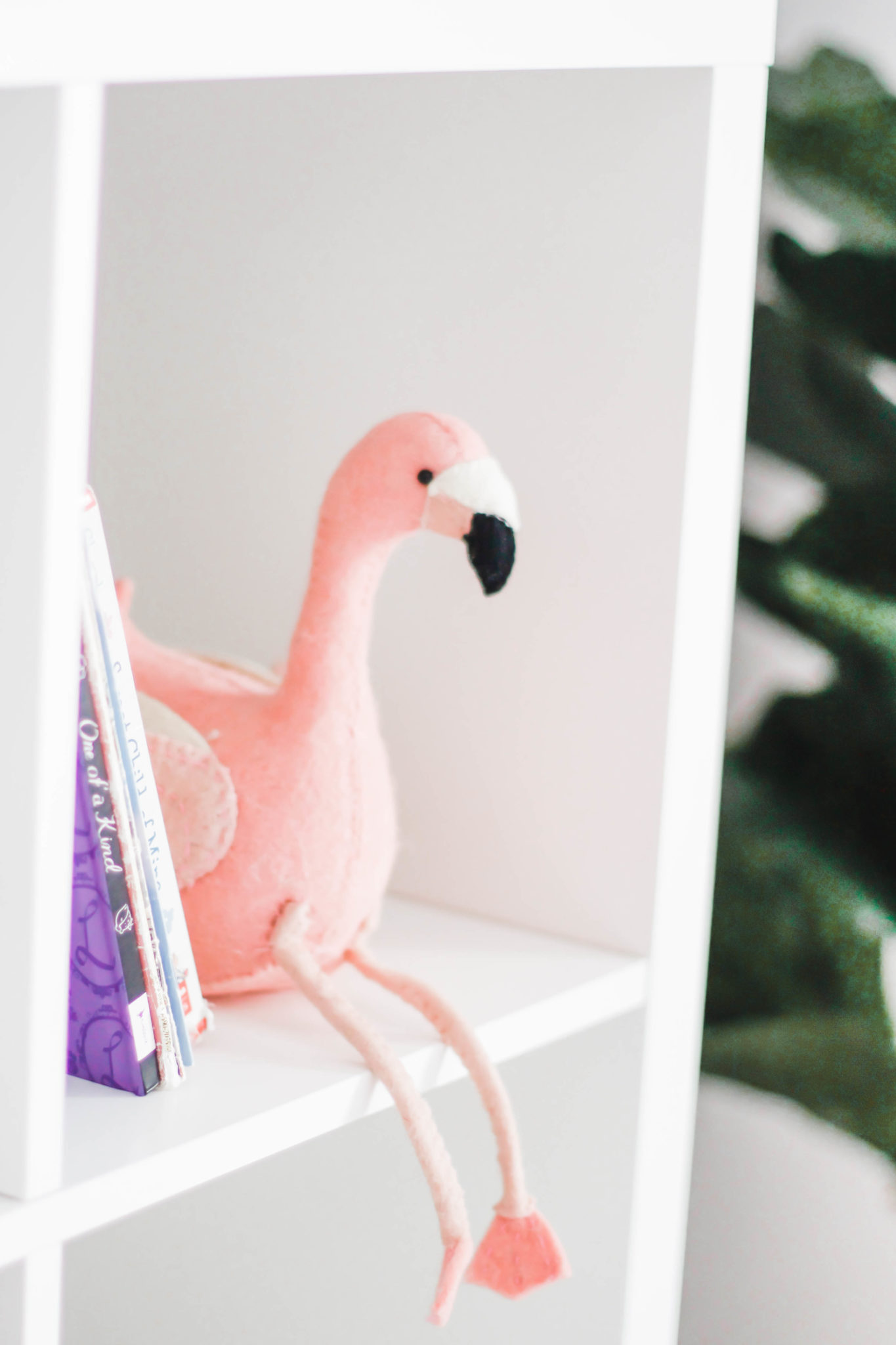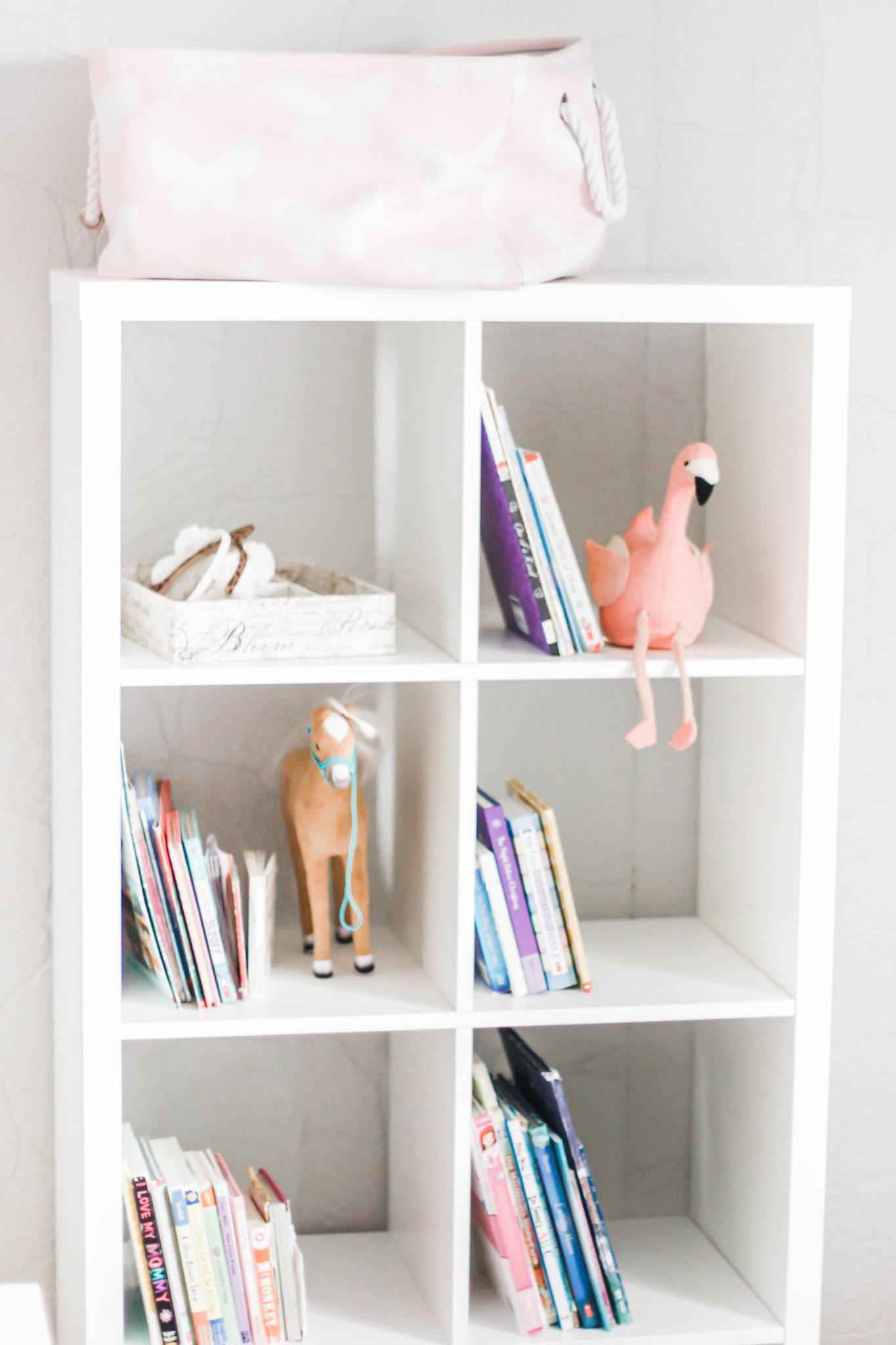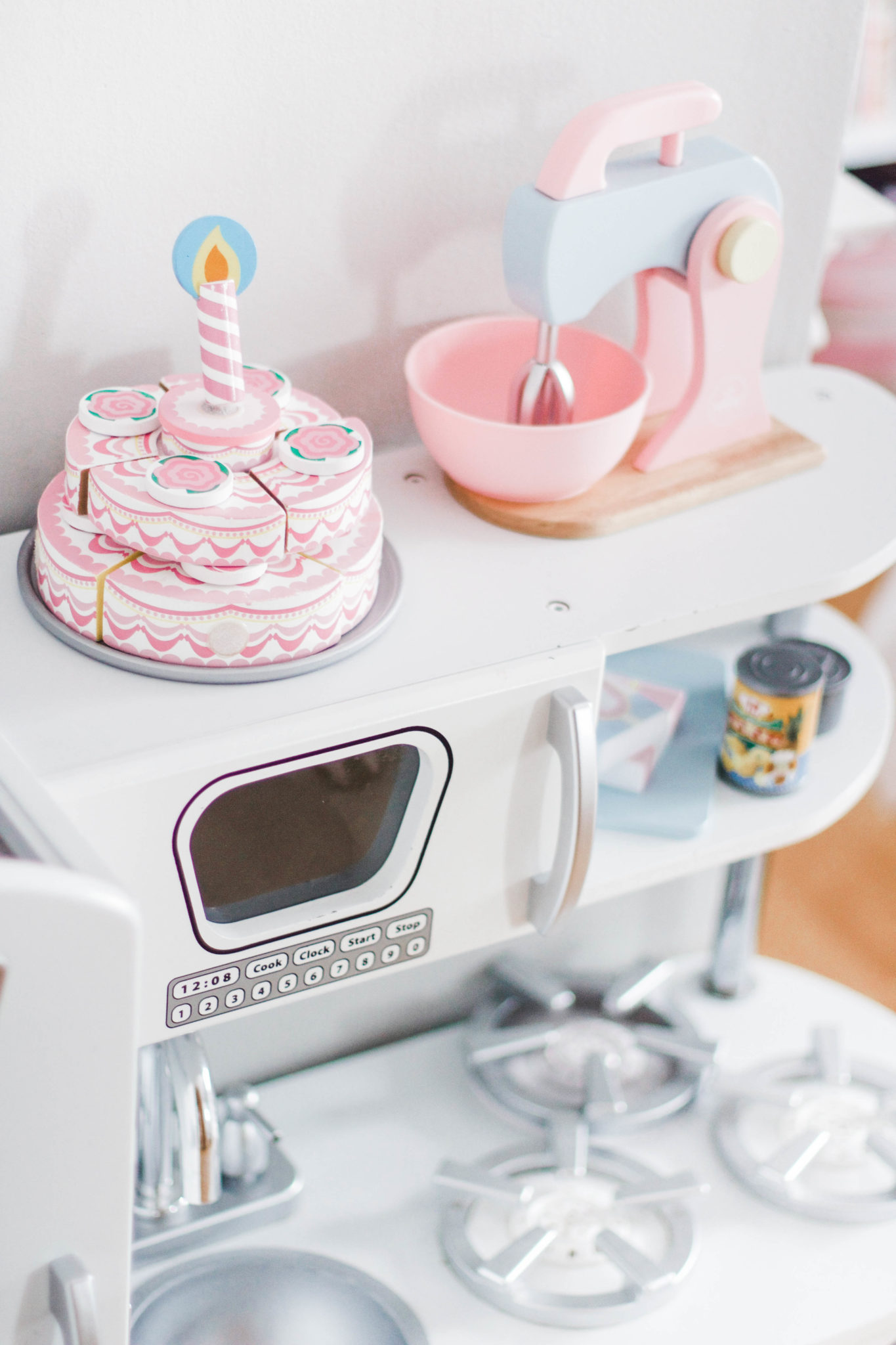 Ikea Kallax Shelf
The bookshelf is actually a white storage unit from Ikea called Kallax.
I added a pink wool flamingo bookend from Anthropologie, and some light pink storage baskets that I snagged from Winners. I found similar styles here and here.
Kidkraft Vintage Play Kitchen
With a little nook in this bedroom, I was able to squeeze in the girls' Kidkraft Vintage Play Kitchen. The girls cannot live without this, they just love to pretend play and mimic everything mommy does.
The adorable pastel coloured mixer is also by KidKraft and the pink and white triple-layer cake and the wooden cookie play set is by Melissa and Doug.
I hope this inspires you for your little girl's room or shared bedroom! I had so much fun decorating and making this bedroom as beautiful and magical as I could.
Furniture:
Hemnes Platform Twin Bed Frames
Mattresses
Hemnes Night Stand (similar)
Frosted Pink Knobs
Kallax Cubed Shelf
White Floating Shelves
Woven Hamper
Decor:
Wool Flamingo Bookend
Pink Striped Storage Baskets
Fiddle Leaf Tree
Hanging Metal Letters
Custom Wood Wall Art
Ruffled Duvet Covers
Custom Pillows by Linen and Ivory
Sheepskin Rug
Night Light
Faux Flower (similar here and here)
Lamp (similar here, here, and here)
Toys:
Vintage Play Kitchen
Pastel Baking Mixer
Triple-Layer Cake
Wooden Cookie Set
Displayed Books:
Olivia,
Flora and the Flamingo,
Tallulah's Tutu,
Oh, the Places You'll Go
A Girl and Her Gator
Miss Lina's Ballerinas
I had a Favourite Dress.