This grilled salmon cucumber salad is full of flavour and it's light and healthy! A delicious seafood salad for lunch or dinner and made in under 15 minutes.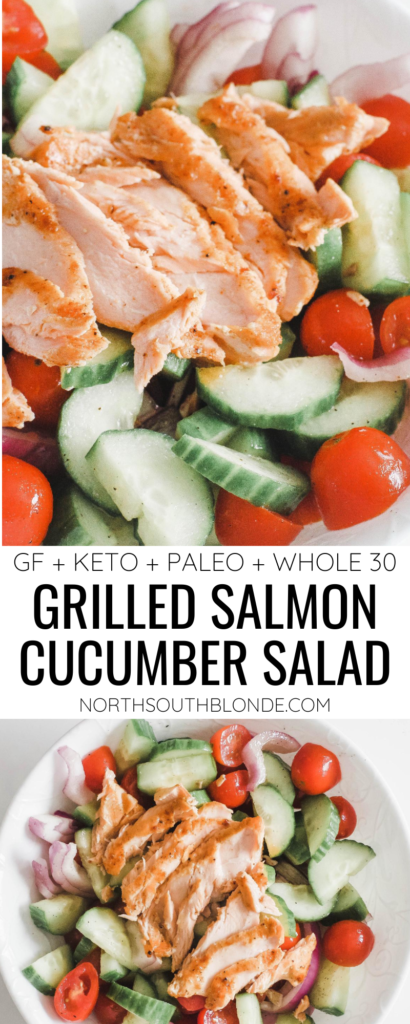 It doesn't feel too much like spring for us here in Northern Ontario, Canada. And although It's slowly warming up outside, I'm in total spring mode inside. I'm also in salad-making-mode and getting my health kick on before summer!
I usually make salads like my blackened chicken and avocado salad, but I wanted to try something different. I absolutely love salmon and seafood in general, and I've never tried to incorporate salad and seafood together before.
Rest assured, this salad is a dream come true. It turned out to be absolutely delicious and I know that you are going to love it too!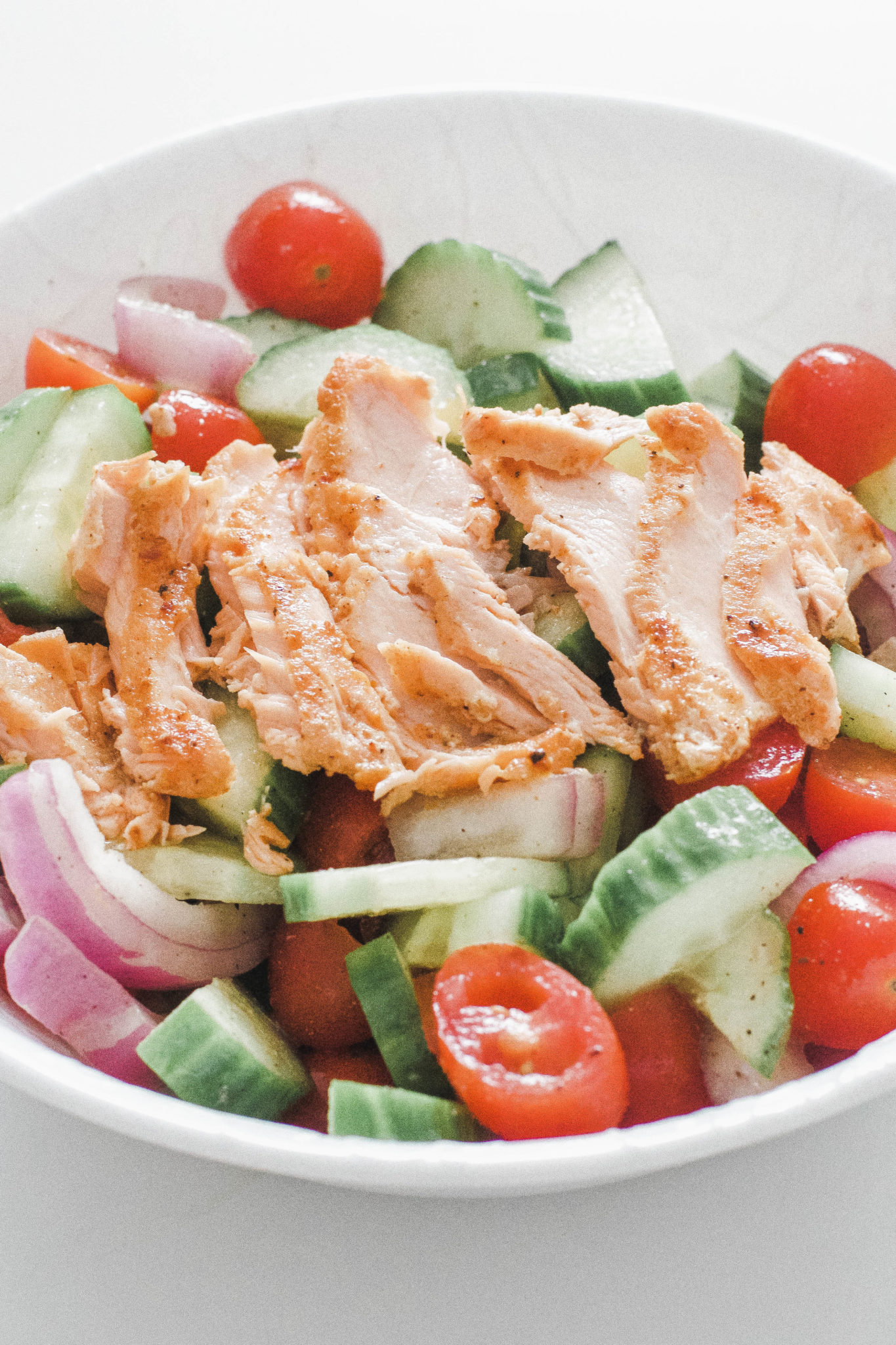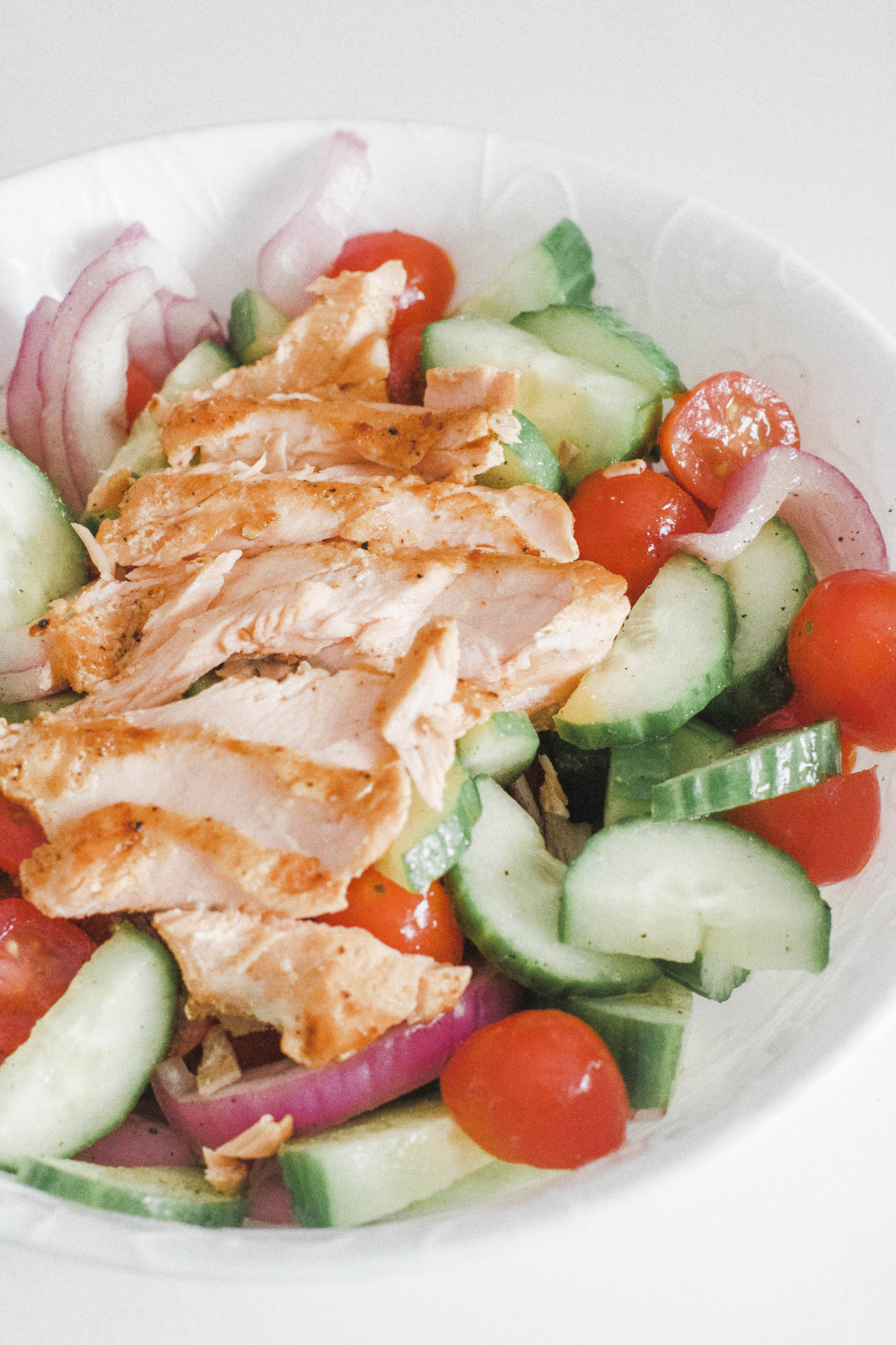 Grilled Salmon Cucumber Salad
This grilled salmon cucumber salad is so simple, you could probably make it in your sleep (don't do that, I'm just saying). I love simple salads and I'm a strong believer that a few of the right ingredients go a long way.
This quick and easy recipe is great for when you're on the go, meal prepping, or just looking for a light, yet satisfying, healthy meal.
Seafood Seasoning
Would you believe that I seasoned the salmon with one bottle of seasoning? I used this Seafood Seasoning Blend with some olive oil and fried the salmon! You can grill it on the BBQ too.
Healthy Seafood Salad
Turn this into a wholesome family dinner by adding rice for the kids.
Cilantro lime rice is a great side dish to serve with this salad, if you're looking to add grains into the mix. But it really isn't needed as this salad is plenty filling enough.
I love that the salmon alone nourishes with vitamins, protein, and omega-3 fatty acids (helping with brain function and development).
It's a super food enriched meal that can be made exactly how you like it.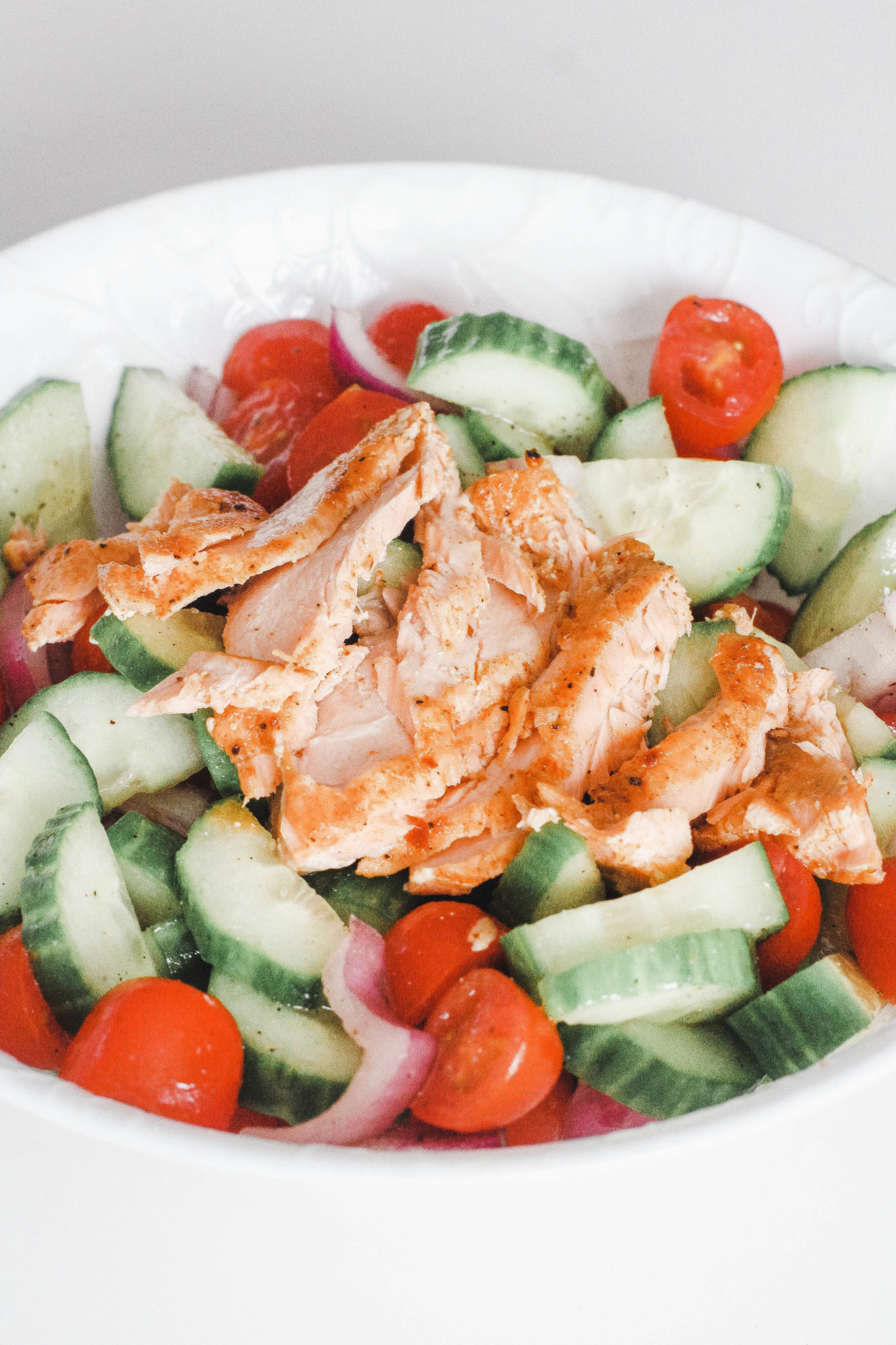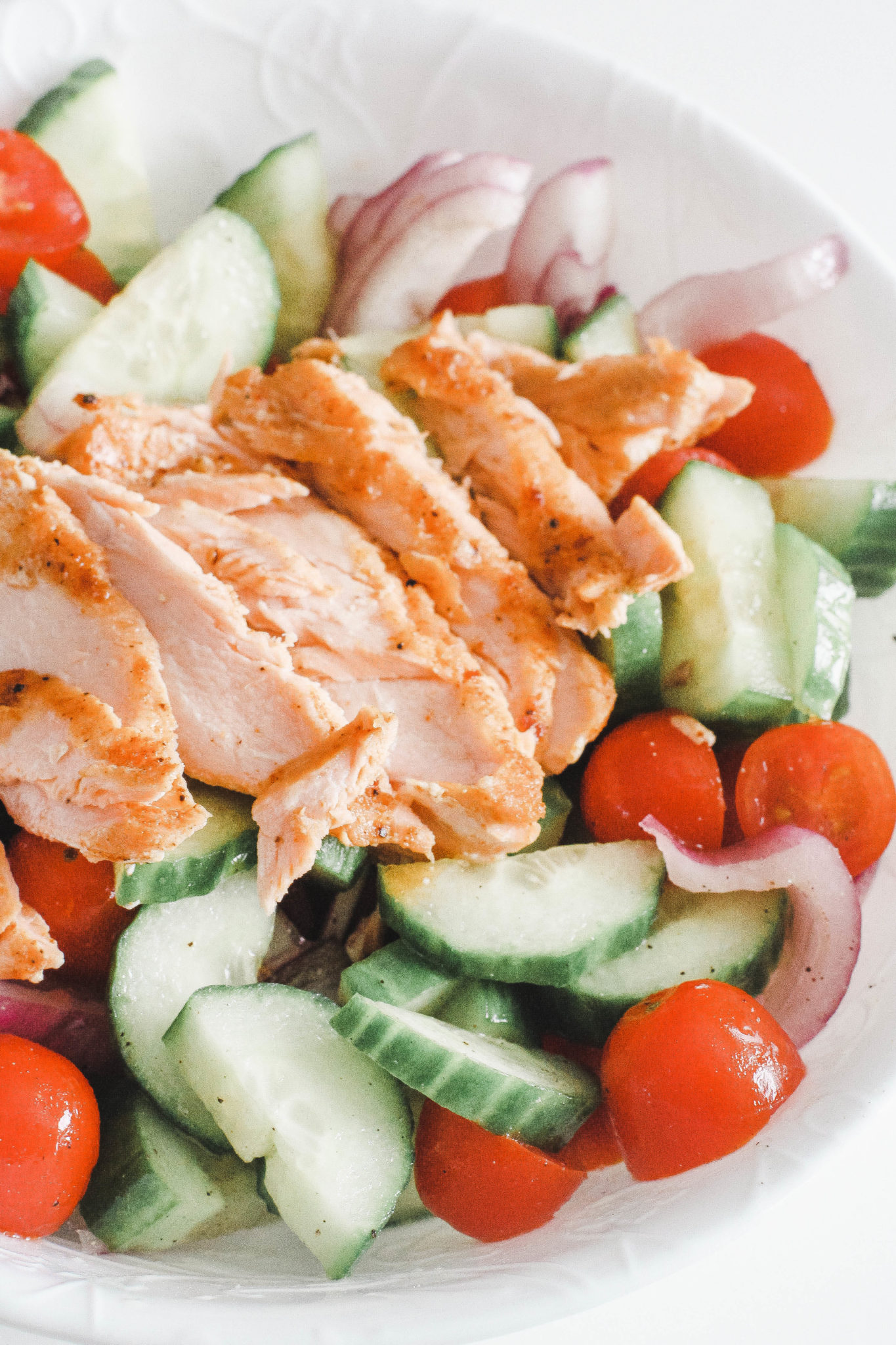 That's it! I still can't believe how quick and easy it is to make this mouth-watering meal. Now, it's your turn to give it a try! I'd love to know how yours turns out. Leave a comment below or tag @northsouthblonde on Instagram!

Grilled Salmon Cucumber Salad
Instructions
Remove skin and wash the salmon fillet. Cut salmon into 2-4 pieces and place in a frying pan over medium heat. 

Drizzle olive oil and some of the seafood seasoning on top of the fillets. Cook for 4 minutes per side, flipping and sprinkling the rest of the seasoning on the other side. Skip the oil if grilling on a grill. 

Add chopped cucumber, cherry tomatoes, and red onion to a large salad bowl. Add salt, pepper, and olive oil and toss the salad together. 

Cut the salmon into strips and place on top of the salad, portion as desired. Enjoy! 
Notes
Be sure to use a paleo, whole 30, gluten-free seafood seasoning blend like this one (which is also low carb and keto friendly). 
1 Serving or half the salad = 6 Net Carbs
Nutrition
Calories:
285
kcal
|
Carbohydrates:
8
g
|
Protein:
19
g
|
Fat:
20
g
|
Saturated Fat:
3
g
|
Cholesterol:
47
mg
|
Sodium:
50
mg
|
Potassium:
800
mg
|
Fiber:
2
g
|
Sugar:
5
g
|
Vitamin A:
494
IU
|
Vitamin C:
23
mg
|
Calcium:
43
mg
|
Iron:
1
mg
Shop What You'll Need: