You don't have to stress about what to pack in your child's lunch anymore with Welch's Fruit Rolls. These affordable lunchbox ideas are quick and easy, and, most of all, kid approved!
This post is sponsored by Welch's® Fruit Rolls. I am being compensated for this post. All comments and opinions are my own.

Making School Lunch for a Kindergartener
When my daughter, Brooke, started school in September, it was very new and overwhelming for all of us. I didn't know what to expect or, how she would adjust, and I constantly worried about her. More specifically, I would have thoughts on whether or not I gave her the perfect lunch, to keep her belly full for the rest of the school day.
I eventually got over that hump of anxiety and constant worrying about Brooke's first year of school. It's normal to feel that way and it's very important to talk to other moms who are going through the same thing. You don't have to feel alone.
---
---
School Lunchbox Snacks
At the beginning of the school year, I would pack way too much food in Brooke's lunch. I was worried that she wasn't eating enough. It took some trial and error to find out the right amount of food to give, remembering what she was eating and not eating, and offering her choices in the morning. Welch's Fruit Rolls are always her first choice for making lunchtime a joyful experience and, for myself, it's one less item to worry about when I make her lunch.
Motherhood isn't perfect and lunches don't have to be either. Just know that you are doing the best you can and you are doing a great job. As long as your child has all of the food groups offered to them, that's what matters. As long as their lunchbox is full, way to go for providing them exactly what they need.
Don't stress out about another lunchbox ever again.
One Week of Easy Lunchbox Ideas For Kids:

Monday
Jam sandwich
Fish crackers
Marble cheese
Sliced banana
Grapes
Welch's Fruit Rolls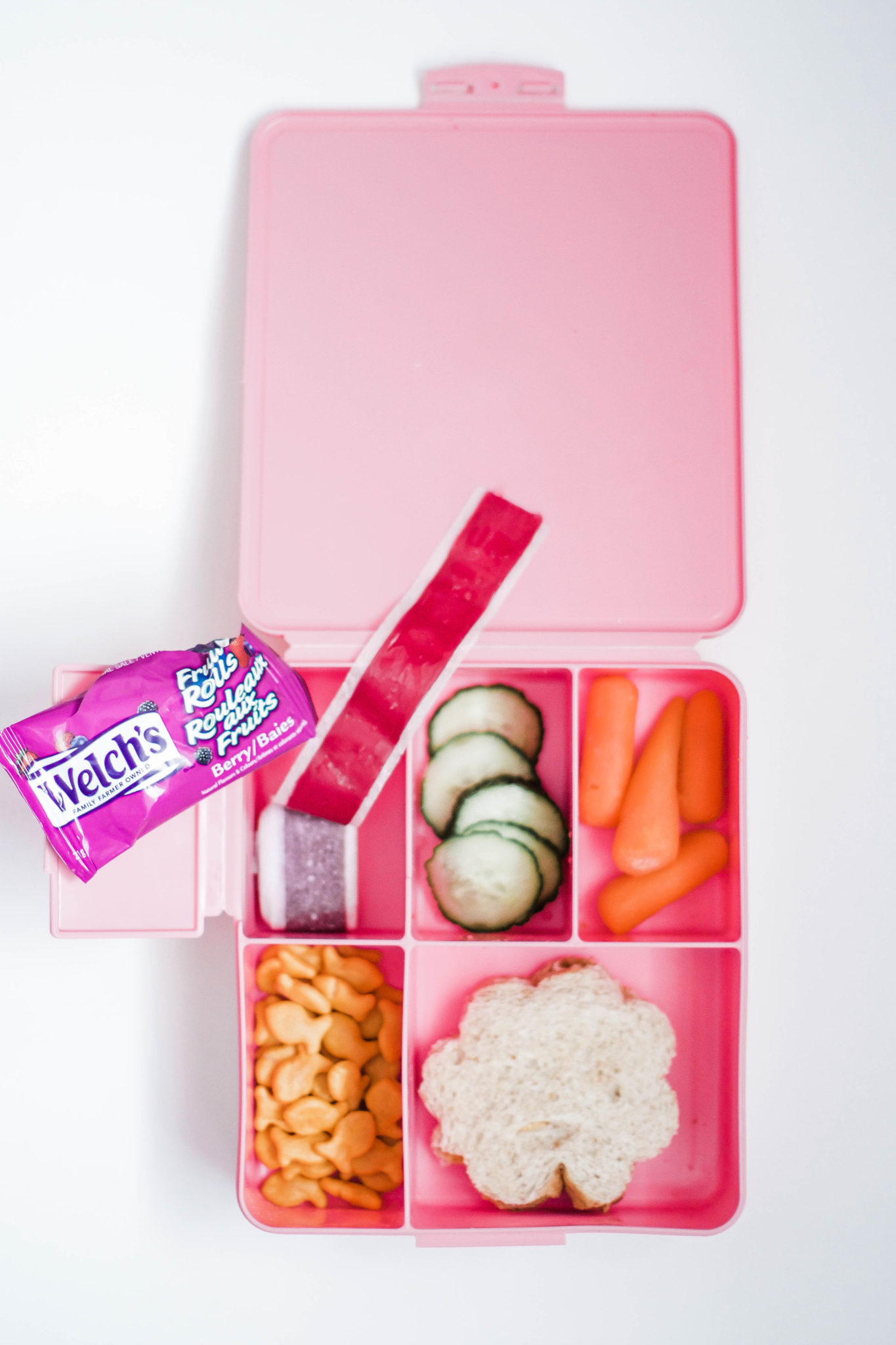 Tuesday
Ham and cheese sandwich
Fish crackers
Baby carrots
Cucumber
Welch's Fruit Rolls
Wednesday
Grilled cheese
Strawberries
Celery
Dry cereal
Welch's Fruit Rolls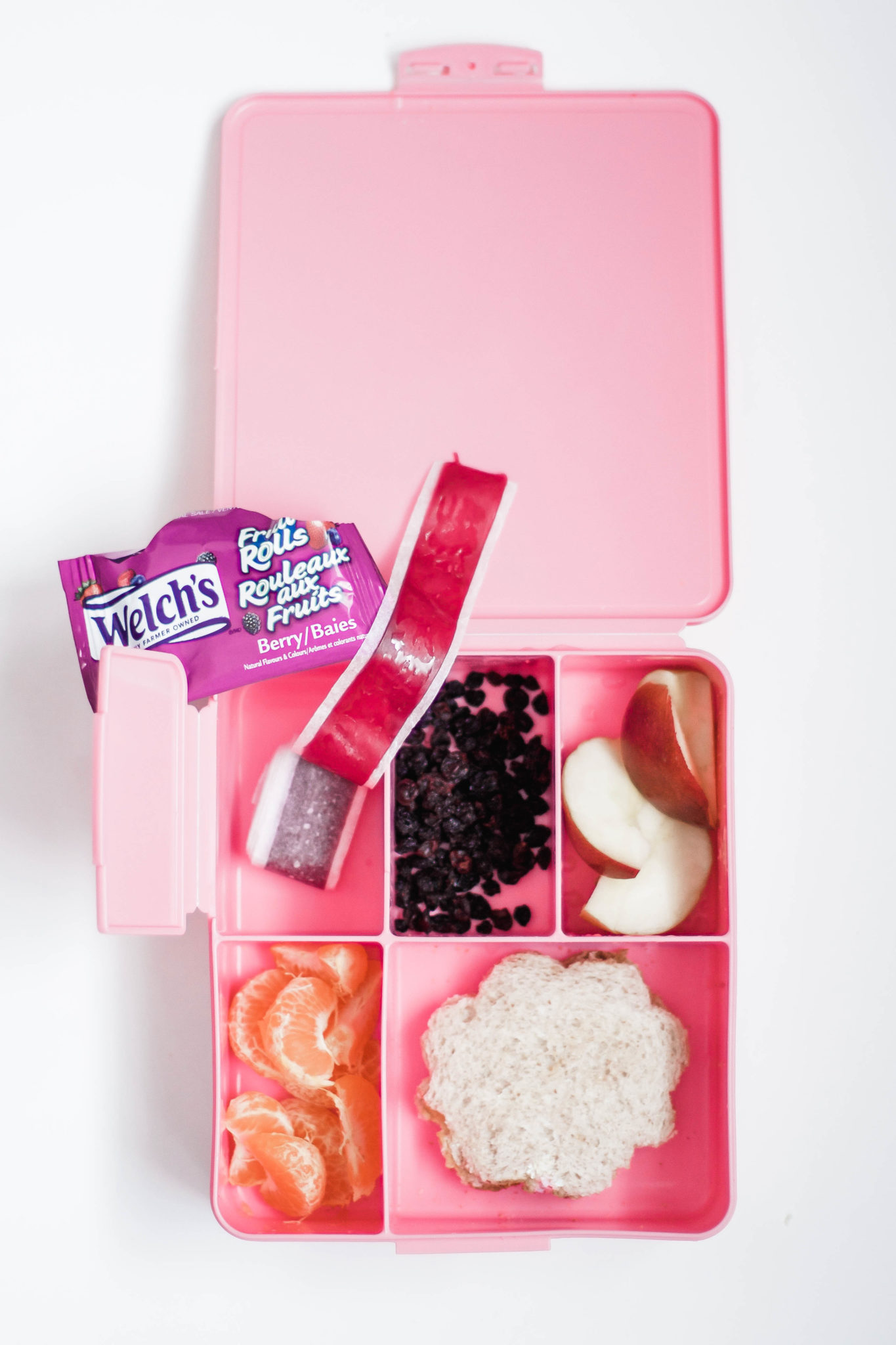 Thursday
Peanut-free peanut butter sandwich
Clementine
Apple slices
Raisins
Welch's Fruit Rolls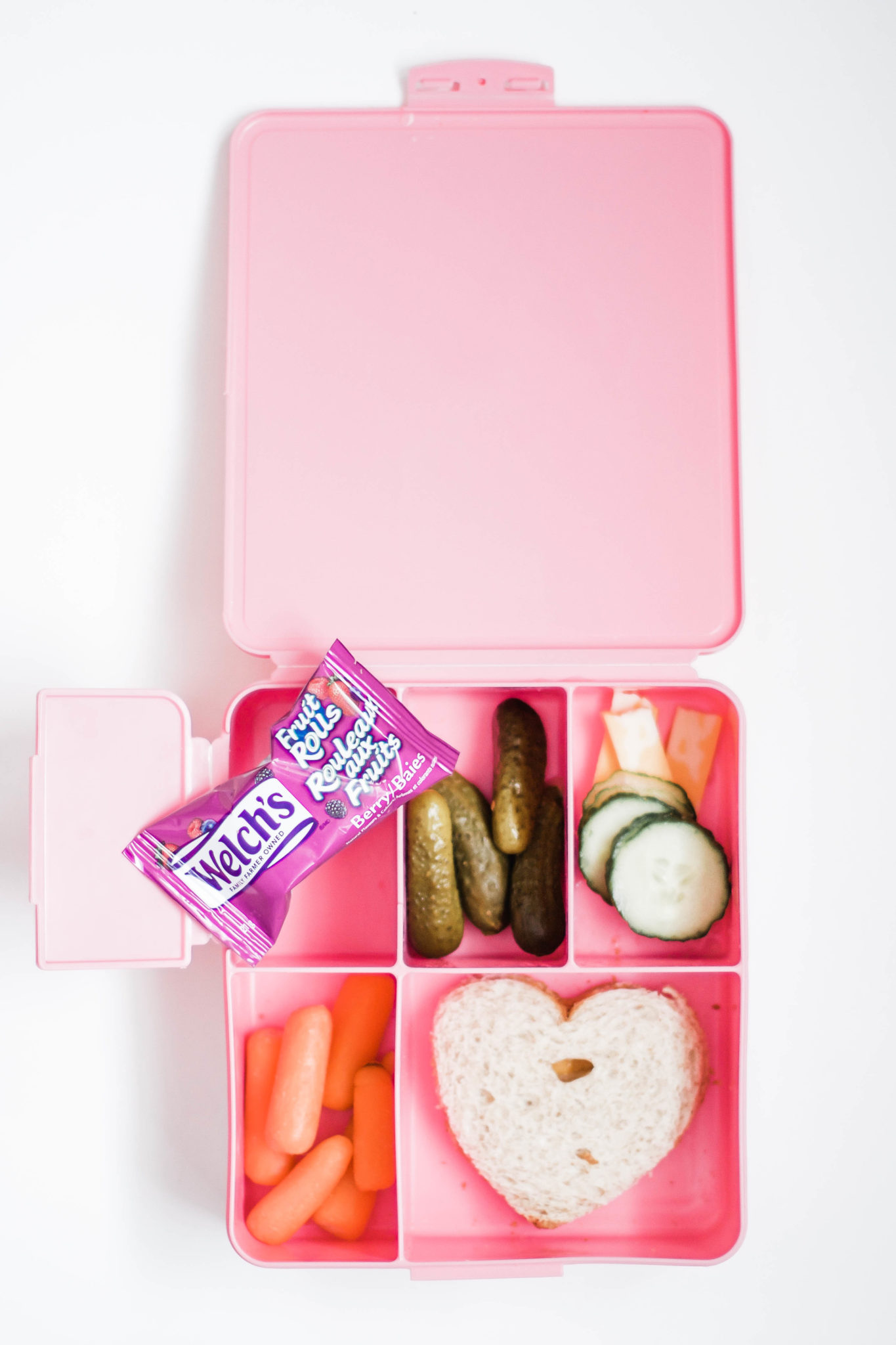 Friday
Nut-free butter and jam sandwich
Baby carrots
Cucumber
Marble cheese
Pickles
Welch's Fruit Rolls
And that's it! Simple and easy lunchbox ideas that the kids are bound to enjoy. Keep in mind that I use a pink bento box for Brooke's lunches because all I have to do is wash it instead of spending money on plastic bags. They are earth-friendly and a great investment that should last for years.
Welch's Fruit Rolls
I can't help but throw Welch's Fruit Rolls in Brooke's lunchbox every time because they're such a fun snack that my daughters really enjoy. They are made with real fruit and I just love the compact packaging. They fit perfectly in Brooke's lunchbox, in any compartment. I like to put the fruit rolls under the compartment with the flap so that she opens it and sees the surprise every time!
Not only does my whole family love the delicious taste but they have 100% daily value of Vitamin C and 25% daily value of vitamins A and E too. They are great for any occasion and we love them especially when travelling, making trips with the kids that much easier. You can find Welch's Fruit Rolls at your local Walmart!
If there are lunchbox items listed above that you would like to change up, here are more food options for replacement:
Lunchbox Alternative Fruit Options:
Kiwi
Mango
Avocado
Blackberries
Blueberries
Raspberries
Cherries
Dates
Figs
Cantaloupe
Watermelon
Papaya
Peach
Pear
Plum
Pineapple
Lunchbox Alternative Veggies:
Tomatoes
Broccoli
Peas
Cauliflower
Pepper
Radishes
Corn
Rreen beans
Cabbage
Beets
Sweet potatoes
Butternut squash
Yams
Pumpkin
Zucchini
Other Lunchbox Foods:
Granola
Dried fruits
Fig cookies
Soda crackers
Rice
Wraps
Potatoes
Tuna
Eggs
Meats
Hummus
Dips
Seeds
I hope this inspires you to you come up with stress-free lunch ideas for your own children. I know it can be difficult for busy moms to stay organized. Hopefully these lunch ideas allow for quick and easy mornings for you and your family.
Does your child have a favourite Welch's product? I'd love to know which one in the comments below!
Click this link for a printable coupon of $1 off Welch's Fruit Rolls!

Shop The Post