Blackened Chicken and Avocado Salad is the easiest and healthiest meal you will ever make. In less than 20 minutes, you'll have a nutrient packed, delicious and filling lunch or dinner that aids in weight loss.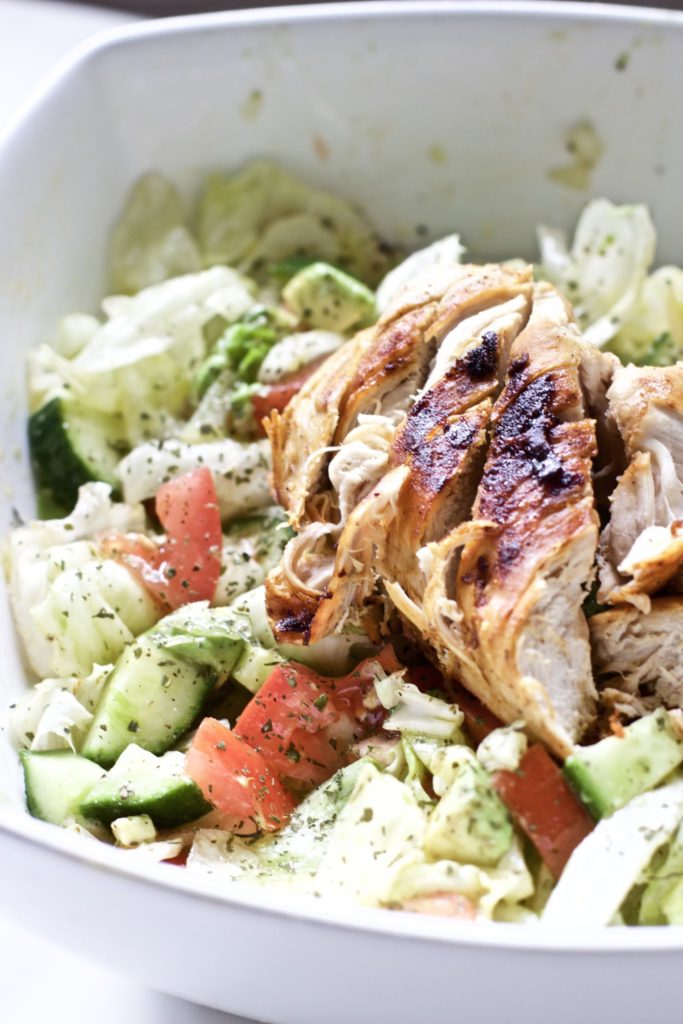 Salads never tasted this good. And I'll say it again, and again. This avocado salad is light, low carb, and low calorie. It's perfect for those warmer months or if you simply want to eat healthier.
Whether you are lounging on the patio with a glass of wine, or serving guests, this salad is everything.
A Low Carb Keto Chicken Salad
Light. Fresh. Flavourful.
It's so important to add colourful foods to your diet. Bright greens are considered superfoods. In other words, brain food. They do your body good and you will see amazing results when you incorporate these foods every day.
Skip on the croutons and high calorie salad dressings. But remember, full fat is better than low fat with added sugar.
If you'd like to use your favourite salad dressing, be sure to read the label first and check the number of grams of sugar it contains. High sugars or carbs will add unnecessary calories and stall your weight loss. It's best to dress your own salad!
You can easily incorporate this salad into your meal planning if weight loss is your goal. You'll want to eliminate sugar and eat very little carbs. Your only intake of carbs should come from low glycemic fruits (like berries) and vegetables (like cruciferous vegetables and leafy greens).
More Recipes for Weight Loss:

Perfectly Seasoned Blackened Chicken Ingredients
You are bound to have the core spices of this recipe in your pantry. All you will need for the most deliciously flavoured chicken ever is:
paprika
garlic powder
chilli powder
cumin
salt and pepper
extra virgin olive oil
How to Make Blackened Chicken
You can coat the chicken and let marinate in the fridge for at least an hour, prior to cooking, or just coat and cook right away. The flavour will still be out of this world!
I usually fry about four pieces of chicken in a deep frying pan (you can go ahead and use a cast iron skillet instead), using one piece of chicken for the salad and saving the rest for later.
Tips for Blackened Chicken Avocado Salad
Blackened chicken simply means using the perfect blend of spices garnering a ton of bursting flavour. And good cooking technique helps, as well.
If you have the time, try to marinate your chicken in the blend of olive oil and spices in the fridge for at least an hour.
Cook the seasoned chicken on medium heat, first with the lid on the pan for the first 10 minutes, and then take the lid off and continue to cook to crisp up the outer layer.
Slice your cooked chicken horizontally and then using a spatula, lift and place on top of the salad. You can separate the chicken and mix it into the salad, if desired.
You're welcome to add your favourite ingredients like–bacon, olives, shredded carrots, balsamic vinegar, parmesan cheese or feta cheese, etc.
What to Serve Blackened Chicken Salad With
Nothing beats this refreshing, summer salad with mouth watering flavours from the grill. You can easily serve this dish with more healthy veggies like my Garlic Parmesan Eggplant, or Bacon Wrapped Asparagus and Sweet Potato Fries.
---
Want to Try a Vegan Option? Try this Vegan Chicken Salad
---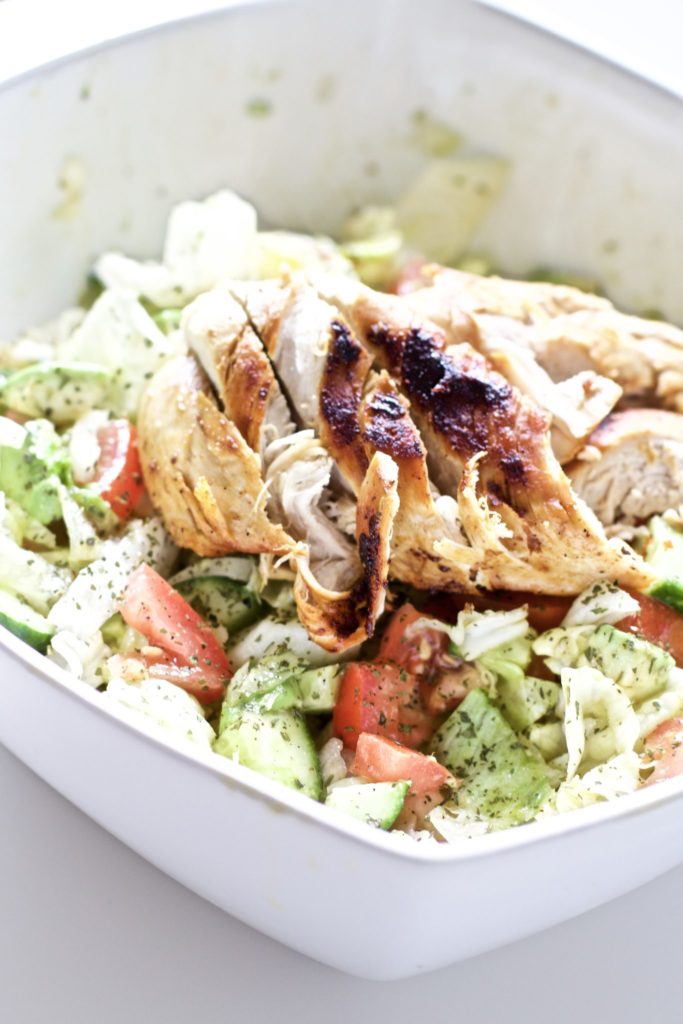 How to Make Avocado Salad
You can use baby spinach, arugula, or romaine lettuce, and some fresh red onion, tomatoes and avocados.
We are in the process of growing our fresh herbs (cilantro, dill, basil, and more). I can't wait to use them and preserve them for future recipes. The cilantro you see in this salad is dried cilantro. It's not the same as fresh, but it works.
Also, my husband used the last red onion so I was stuck using white onion. I recommend using red for salads.
More Chicken Recipes You'll Love:
It's a salad. So, adding different ingredients each time will definitely work. I've had strawberry and almond salads, and wow. It all depends on your taste buds and also making salads exciting to eat.
There are just so many ways you can make salads crunchy and filling. On top of it all, you can finally be satisfied after eating a salad, and most definitely proud of yourself for eating it!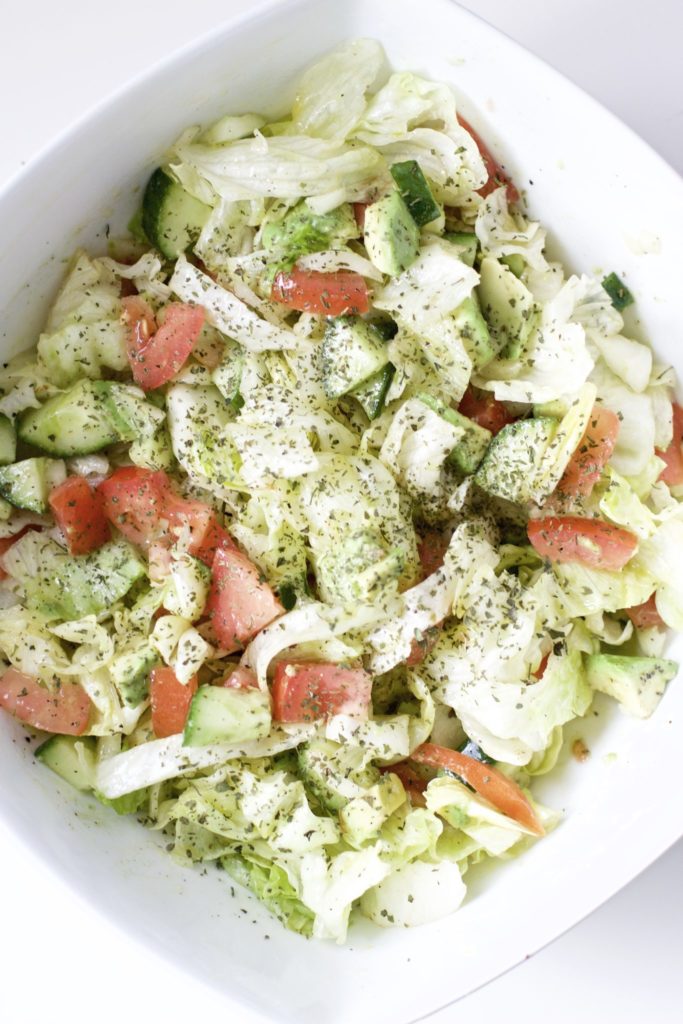 Good Healthy Fats for Weight Loss
Hello avocados. They provide the healthy fats you need in your life to live your best life. With more potassium than a banana and a load of dietary fibre, they are remarkably healthy and the first choice when adding to smoothies (like this everyday post-workout smoothie) or salads.
Health Benefits of Avocados Include:
low in sugar and high in fibre, improving digestion and blood sugar levels
reduces risk of heart disease, cancer, and lowers cholesterol
high antioxidants to fight aging, boost immunity, and improve vision from its beta-carotene
promotes bone health and better absorbency of calcium
provides folate which helps women carry healthy babies
provides you with a full feeling after consumption, aiding in weight loss
Pin it for later:

Get My 7-Day Fat Burning Meal Plan

Blackened Chicken and Avocado Salad (Gluten-Free, Paleo, Whole 30)
Instructions
Defrost chicken prior to starting. Wash and pat dry. In a small bowl, mix together the paprika, garlic powder, chili powder, cumin, salt, pepper and olive oil. Coat the chicken and cook on medium heat in a frying pan until no longer pink in center (approximately 15 minutes, depending on thickness).

Wash, dry, and chop lettuce. Peel, pit, and chop the avocados as well as the tomato, onion, cucumber into desired size. Usually about 1/2 inch pieces. Add all the ingredients to a large salad bowl, drizzling the olive oil and sprinkling the salt, pepper, and cilantro. Toss with tongs.

Remove the chicken and cut diagonally into strips, place on top of salad and serve immediately.
Notes
One serving = 6 net carbs
Nutrition
Calories:
314
kcal
|
Carbohydrates:
14
g
|
Protein:
15
g
|
Fat:
24
g
|
Saturated Fat:
3
g
|
Cholesterol:
36
mg
|
Sodium:
373
mg
|
Potassium:
890
mg
|
Fiber:
8
g
|
Sugar:
3
g
|
Vitamin A:
2664
IU
|
Vitamin C:
18
mg
|
Calcium:
32
mg
|
Iron:
1
mg
Shop The Post