This pineapple blueberry smoothie is a tropical drink that can be enjoyed all year around. A refreshing treat full of antioxidants that nourishes the body for optimal health.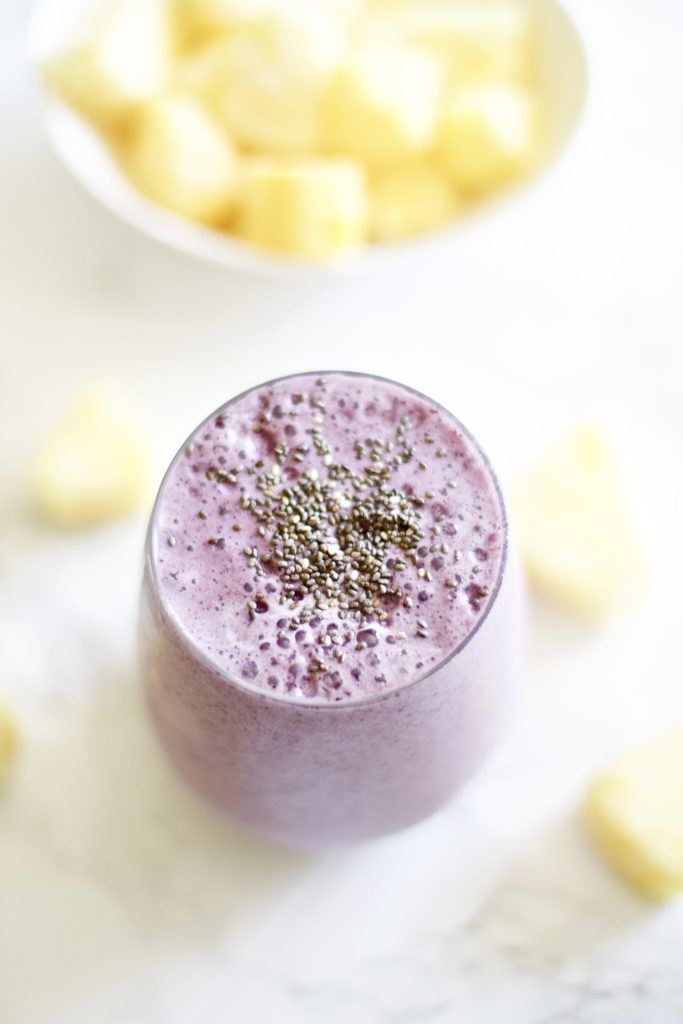 A Tropical Smoothie
There are plenty of ways to stay hydrated this summer without loading up on sugar and calories. This blueberry pineapple smoothie is a summer staple.
It's delicious, full of natural fruit flavours and sweetness, and is extremely good for you.
When I'm not sipping on my rosé wine slushy, I'm working on my fitness with the kids and enjoying quick and healthy smoothies like this one.
Pineapple Blueberry Smoothie With Chia Seeds
I love that all you will need for this smoothie is a convenient bag of frozen pineapple chunks because buying frozen guarantees that your fruit never goes bad. And you can use it every day without chopping anything up.
You can buy chia seeds in your local grocery store's health section. I like to order a great big bag of it over at Amazon. They're great for many, many health benefits.
Simply add a tablespoon of chia seeds to your smoothie, smoothie bowl, oatmeal, or cereal.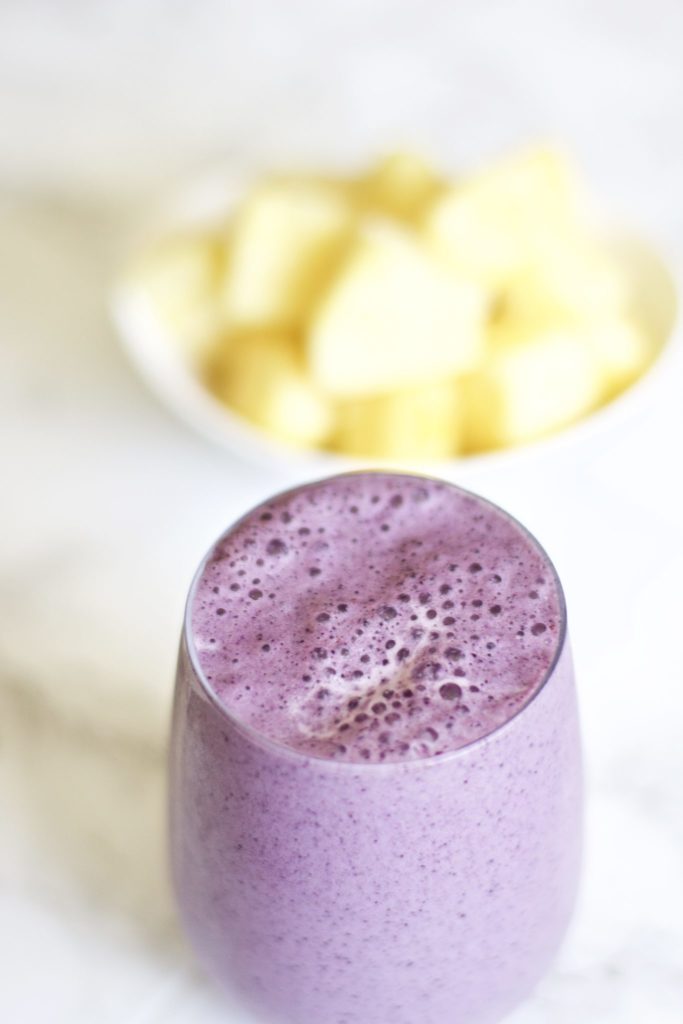 Health Benefits of a Pineapple Blueberry Smoothie
Reduces risk of cancer
Has antioxidants which boosts immunity and promotes youthfulness
Fights against inflammation, joint pain, and heart disease
Contains minerals for strong bones and connective tissues
Excellent source of fibre and aids in digestion
Helps sore muscles recover after surgery or exercise
Health Benefits of Chia Seeds
Excellent source of omega-3 fatty acids which is essential for brain and heart performance, as well as lowering blood pressure
Rich in antioxidants to fight aging and boost your immune system
Source of fibre, iron, calcium, and protein (a must if consuming a vegan/vegetarian diet)
Protects against heart attacks and strokes
They can be consumed raw or cooked, soaked into another food like almond milk, before eating.

Healthy Vegan Milk Alternatives
Switching up smoothie ingredients is as easy as customizing a bowl of oatmeal to your liking. And the benefits of going with a plant-based milk are for good cause.
My favourite milk alternative is unsweetened vanilla almond milk because I personally love the flavour of vanilla.
Here are other gluten-free and vegan milk alternatives you can use:
ALTERNATIVE SWEETENERS FOR YOUR SMOOTHIE
Honey or pure maple syrup is refined sugar free and a great choice for a healthier smoothie sweetener.
However, you may also opt for a zero calorie, zero carb sweetener such as: liquid stevia, powdered stevia, monk fruit sweetener, or natural erythritol.

A Healthy Pineapple Blueberry Smoothie That Tastes Good
Whether you are looking for an after workout snack, or a powerful smoothie to hydrate you in the warmer months, this is it. The pineapple contains the nutrition you need for muscle repair and bone strength.
Its high amounts of vitamin C will keep your immune system working at its best. And, it helps with digestion – a perfect way to finish a meal and sit back and relax in the sunshine.
And the best part about it is the taste.
Thanks to the juicy pineapple, this smoothie is as sweet as can be. You won't be able to taste all of the fibre, and your body will thank you.
Like this recipe? Don't miss these smoothies:
The Best Blender to Make Smoothies
There are so many blenders out there that it can be hard to decide which one to buy for your every day smoothie.
As long as you're making smoothies with a lot of liquid, any blender will be able to take it on like this cheap beehive blender. I've had one for the longest time with absolutely no complaints!
However, if you love blending with frozen fruits and ice cubes, you'll want a high speed professional blender like the Vitamix or a Blandtec. Both are comparably good and worth the investment. You'll even be able to made homemade ice cream!
A Nutritious Smoothie Recipe for Every Day
Hydrate your skin, strengthen your hair and nails, and have more energy this summer with this delicious, easy to make smoothie involving only a few powerful, antioxidant rich ingredients to help you look and feel your best.
Better yet, enjoy it during those bitter, cold winter months to remind you of that warm sunshine! Enjoy.
Pin it for later!


Pineapple Blueberry Smoothie (Vegan, Paleo, Gluten-free, Whole 30)
Ingredients
1

handful

frozen pineapple chunks

1

handful

frozen blueberries

1

cup

almond milk

I use unsweetened

1

ripe banana

1

tbsp

chia seeds
Instructions
Mix in a blender until smooth. If too thick, add more almond milk.
Nutrition
Calories:
121
kcal
|
Carbohydrates:
22
g
|
Protein:
3
g
|
Fat:
4
g
|
Saturated Fat:
1
g
|
Sodium:
164
mg
|
Potassium:
265
mg
|
Fiber:
5
g
|
Sugar:
11
g
|
Vitamin A:
38
IU
|
Vitamin C:
9
mg
|
Calcium:
188
mg
|
Iron:
1
mg
Shop What You'll Need: