I am partnering with B.O.B. Gear for the following review of the B.O.B. Revolution PRO Duallie Stroller. I received a product in exchange for my review and honest opinion. This post may contain affiliate links for your convenience.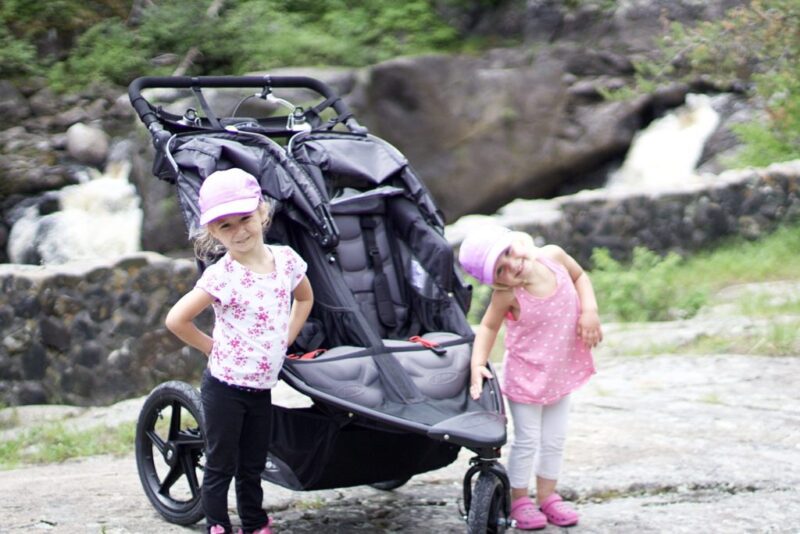 The B.O.B. Revolution PRO Duallie is known as the best all terrain double jogging stroller on the market. Here, you will learn about all of the stroller's features, pros and cons, and how it performs in a rough terrain environment.
First and foremost, I am a mother of two little girls ages three (almost four) and two. I have had my fair share of experiences with different strollers and brands and this is the first time we have ever owned a BOB stroller.
In the past, we've had the Baby Jogger City Elite (a single all terrain jogging stroller) which we loved but needed to upgrade to a double stroller once we had our second daughter.
We then owned a Baby Jogger City Select, which we thought would be great on rough terrain, but when our girls reached the 30 pound mark, it then became extremely hard to push up hills and on gravel roads. Although this stroller has many great features, we now only use it when we visit the city, on even grounds.
Ultimately, we needed a stroller to suit our lifestyle. One that could hold the weight of our girls, while being easy to push on rough terrain. We live in a neighbourhood surrounded by nature, country roads, provincial parks, and rocky trails to hike on. We needed a stroller to rely on, to keep our girls comfortable during our walks, hikes, and adventures. I also wanted to be able to workout with a stroller that would withstand our environment and allow both my children and I to be comfortable with.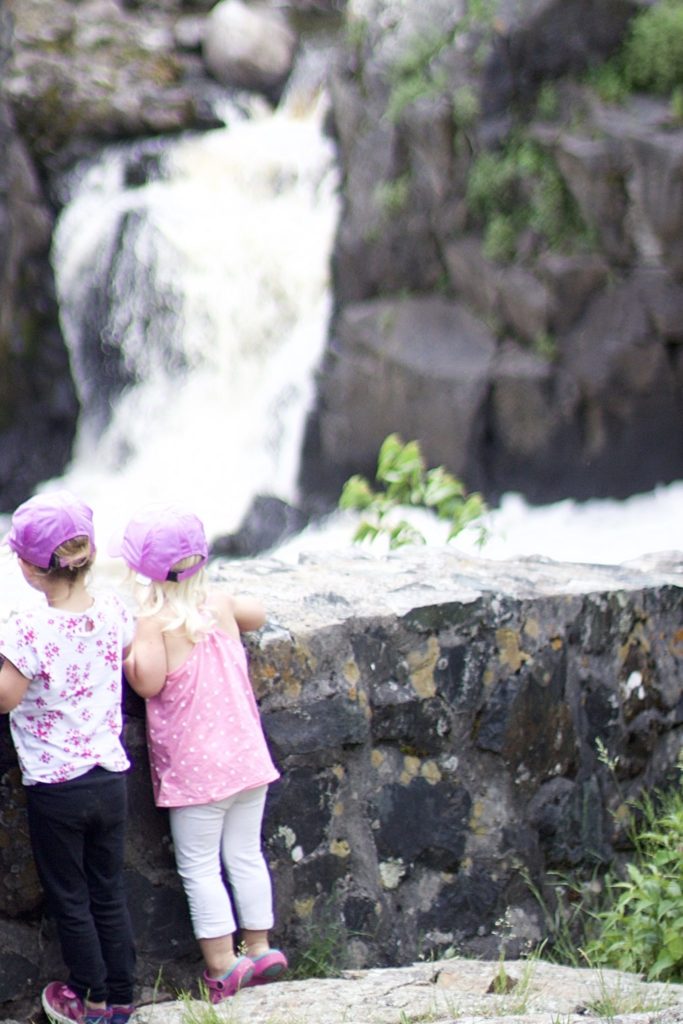 With all of that being said, I know there are many never-ending stroller reviews to read and I know how hard it is to pick the right stroller that suits the wants and needs of you and your family. I will be making the following information quick and easy to get through. Let's jump right in.
Stroller Specifications
Stroller weight: 36.5 lbs
Weight limit: 50 lbs per seat; 100 lb total
Folded dimensions: 39″L x 31″W x 16″H
Pneumatic tire sizes: two 16″ rear tires, 12.5″ front tire
Interior Seat Width: 12.5″ each seat
Overall Length: swivel mode 53.5″, jogging mode 59.5″
Overall Width: 31″
Handle bar height: 33.5″ – 50.5″
Seat to canopy height: 23″

Stroller Features
Adjustable Handlebar – Great for tall moms or dads, or short moms or dads. This makes it that much comfortable for any parent to push this stroller. Choose from 9 positions, a 180° range of motion.
Lock/Swivel Front Wheel – The stroller turns on a dime. When pushing on rough terrain, locking the front wheel allows better stability especially during jogging or running.
Large Pneumatic Tires – Large air filled tires with absorption shocks are what's going to hold your children's weight, and ensure a comfortable and smooth ride over the roughest terrain. Simply fill them up with air using any bike pump.
Adjustable Suspension – With two suspension settings for younger and older children, they will be able to sit back and enjoy the ride whether you take them on uneven paths, gravel roads, or bumpy grass.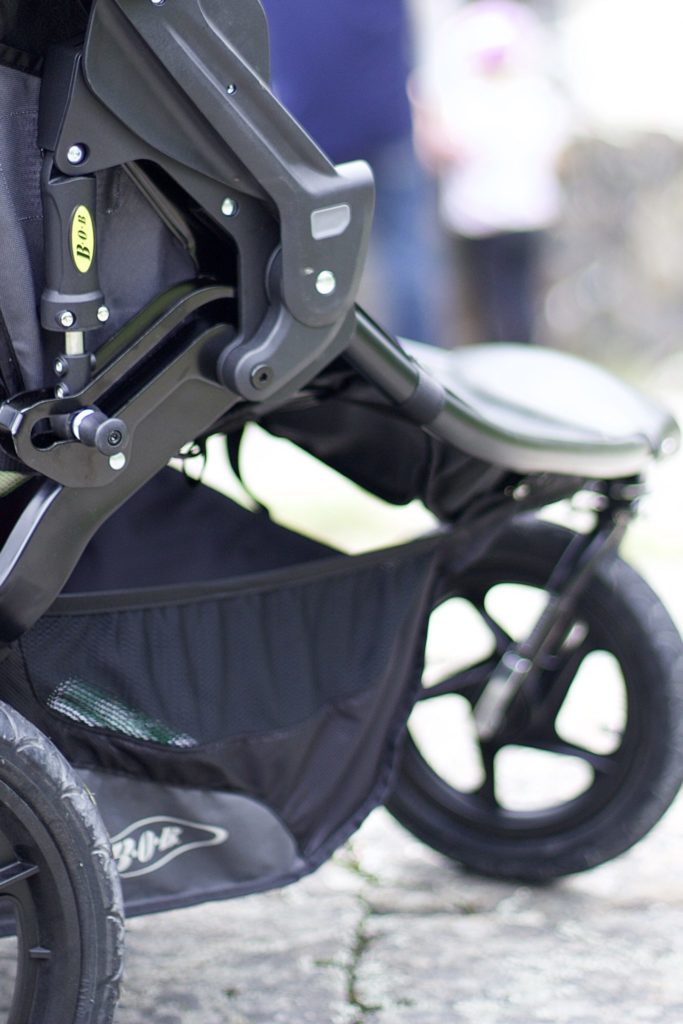 Hand Brake – For running or walking up and down steep hills, you can slow down both you and the stroller by pulling on the hand brake that's attached to the handlebar. A great way to control your speed and stay on path, all while keeping your children safe.
Safety Strap – A must when jogging or running. It's a strap you place over your wrist that let's you hang on to the stroller if your hands ever happen to slip away from the handlebar. Another great way to keep your babies close and safe on any terrain.
Foot Brake – An easy-to-use foot brake allows you to lock your stroller in place and prevent it from moving or rolling away. Rest assured that this foot brake can be set with a kick of the foot (with any shoe on), either up to lock or down to release.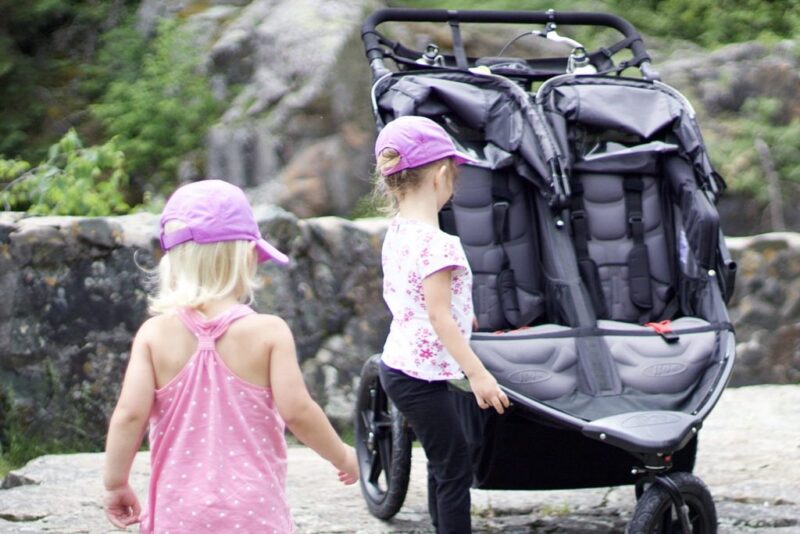 Reclining Seats – The stroller can be used from 8 weeks old! The seats recline 70°, so your baby will be comfy and cozy laying down almost flat. Adjusting the straps at the back of the seats will bring them up or down. The seats are also very roomy, with water resistant cushioning for comfort, and five point harnesses for safety.
*Make sure your baby can hold their head up (6-8months old) before pushing on rough terrain or for jogging.
Large Canopies – Two large canopies can be adjusted separately, they cover the majority of the seats (a 125° range). They also have large peek-a-boo windows, with velcro closures. I would have liked to see magnetic closures instead.
Plenty of Storage – Each seat has a mesh storage on the back – great for keeping essentials such as snacks, wipes, water bottles, etc. There are four mesh pockets on either side on the inside of the seats – perfect for your children's sippy cups or snacks. The large storage basket at the bottom of the stroller can fit a large diaper bag, a beach tote, or tons of your essentials.
Structure – The frame of this stroller is made of high strength aluminum alloy. A strong, lightweight material used to withstand a total of 100 pounds of weight.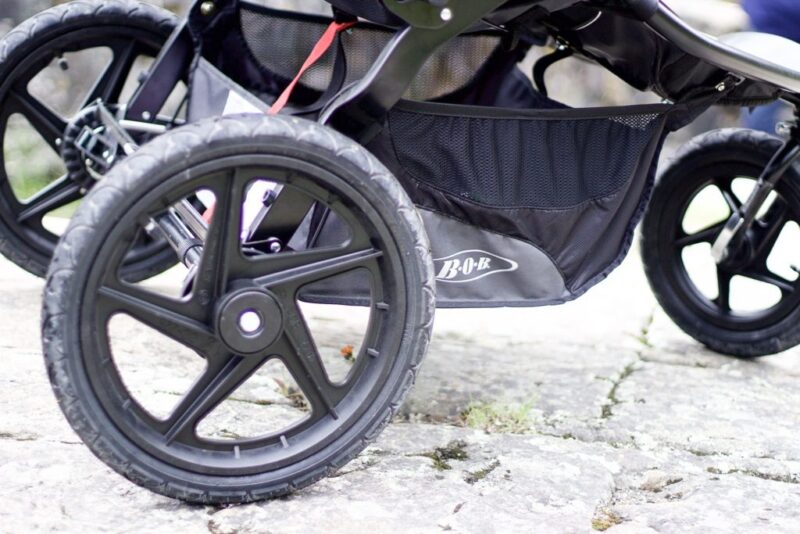 Folding and Storage – The stroller is fairly large. Let's face it, it has to be if it's accommodating a maximum of 100 pounds of baby weight. It involves a two step folding process, where the wheels can be removed for a more compact fold. To my surprise, I was able to fit it in the trunk of my car! Just be aware that it is heavy to transport back and forth. Unless we are taking it for a full day of hiking or at an amusement park, we will be keeping it in our garage for daily use.
Accessories – B.O.B. has an incredible line of accessories to add to this amazing stroller. You can purchase trays, weather covers, cup holders, and also car seat adaptors for a newborn. A must have for us was the attachable handlebar console with two drink holders and a zippered pocket to put your keys and phone. We love it!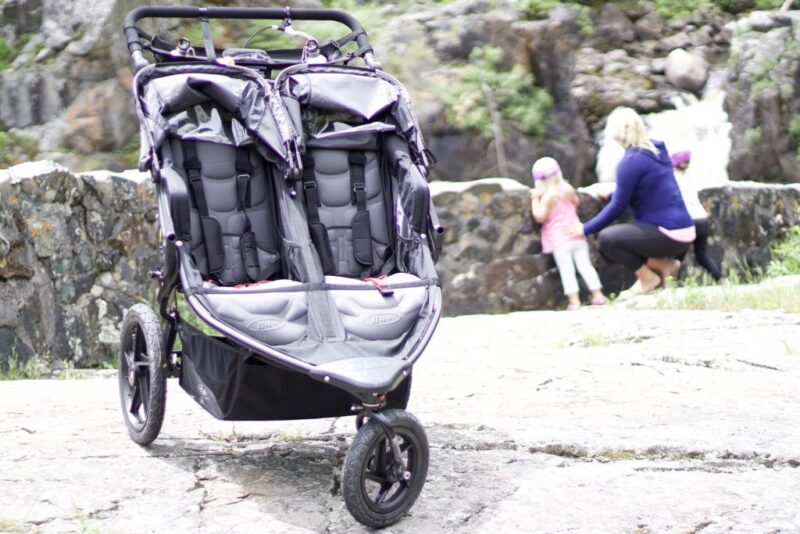 Pros
Locking and swivelling front wheel
Large air filled tires with excellent suspension and shocks handling any terrain
Adjustable handlebar for parents of different heights
Hand brake for full control over speed
Wrist strap for extra added safety
Large canopies with five different positions and see through windows
Reclining, comfortable, and roomy seats with five point harnesses
Cons
Accessories are sold separately
Stroller is large and heavy to transport
No automatic lock to secure once folded
May not fit standard doorways or narrow aisles in stores
Pumping air into the tires as often as needed
Canopy adjustment not so smooth, and velcro window enclosures instead of magnetic
If you like this, you'll love: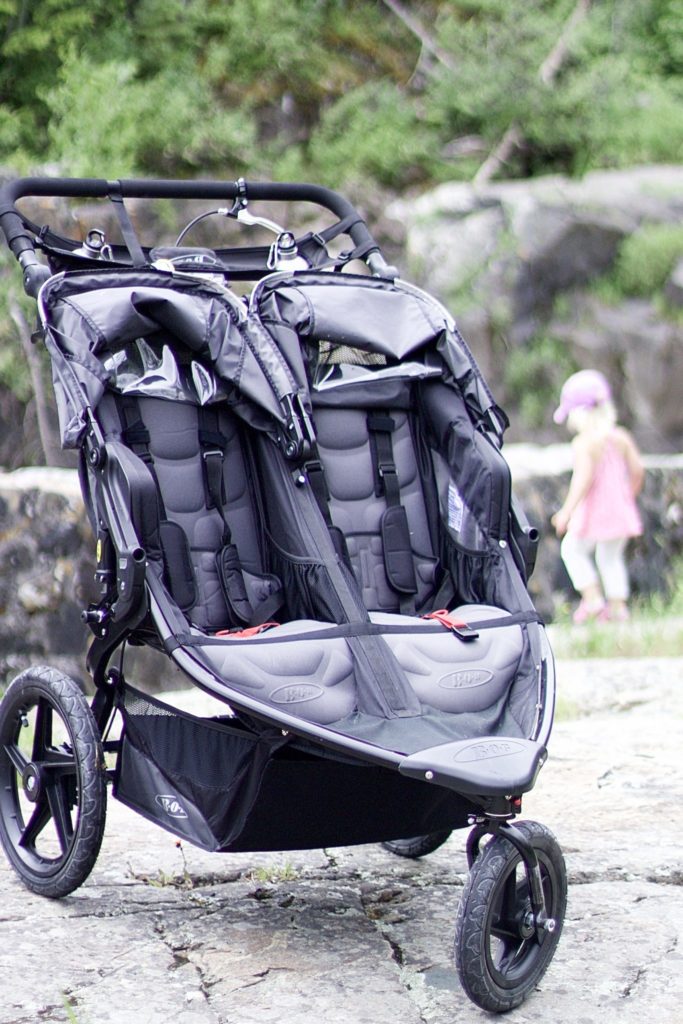 Conclusion
I decided to go with the B.O.B. Revolution PRO Duallie double stroller because I knew what to expect. A strong, tough stroller that can endure nature, and country living at it's finest.
This beast of a stroller may be bulky and too big to stow in the trunk of my car (I actually did manage to fit it in), but I'm okay with that.
Nevertheless, I needed something that's ready to go, ready to simply take out of the garage so I can get moving. I needed to have all three air filled wheels, reliable shocks and suspension, comfortable seats for my girls, and a locking front wheel mechanism for our gravel roads and rocky provincial parks. I also love the fact that I don't have to lean over, since the handlebar is adjustable to fit the height of my husband and I. It's perfect.
If you have any questions, please leave them in the comments below! Let me know how you enjoy your BOB stroller!

Shop This Post

Other Double Strollers By B.O.B.