How to successfully potty train your toddler in three days. A step-by-step guide included, and tips and tricks that are guaranteed to work!
This post contains affiliate links for your convenience, in which I earn a small commission from if you make a purchase through those links, at no extra cost to you.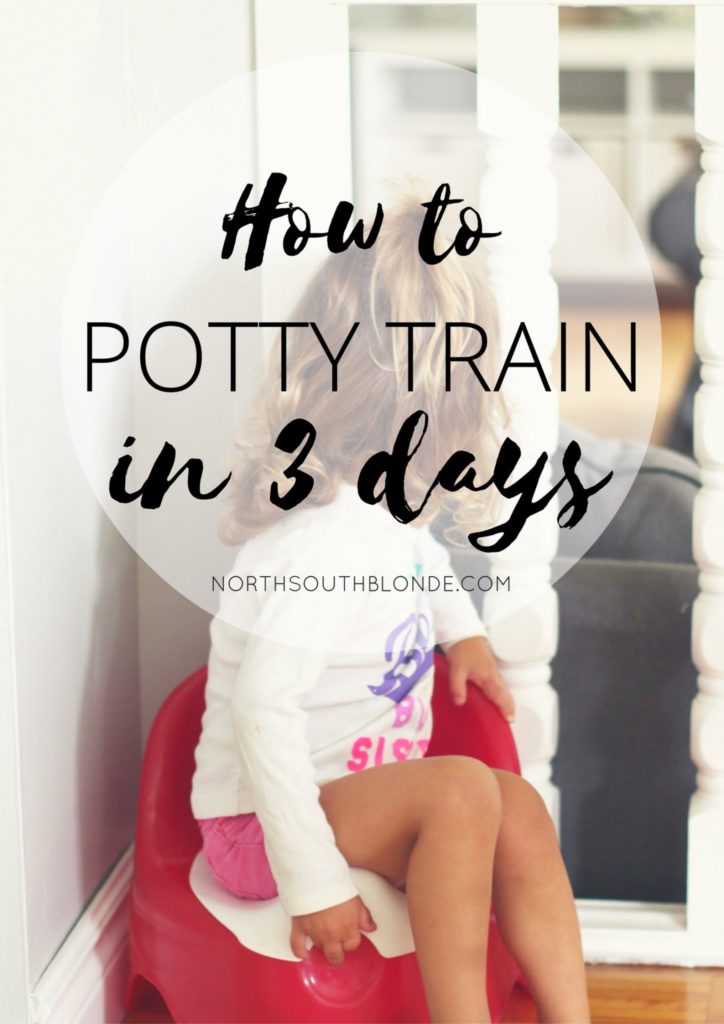 When to Start Potty Training
With my first daughter, I procrastinated potty training her for a long time. I was in no rush because I didn't have any experience teaching it and I had no idea what to expect. Other moms I knew would try to encourage their babies right after they turned one–not me.
I've observed that pressuring a child when they 'just aren't ready' makes them relentless, eventually wanting nothing to do with it.
Related: Five Ways to Soothe a Teething Toddler (without Ibuprofen)
I knew my two-year-old was ready when I woke up one morning thinking "the communication is there."
A one-year-old may be able to understand basic commands, but my two year old had developed her speech so well that I was able to understand when she had to go (with the diaper on).
She was able to tell me "I farted" with a giggle, or "I pooped mom" and "yuck, it stinks" as we all would laugh. That's when I decided to face the music and start her training. And just like that, over a course of a few nights, she had done it! It was incredibly easy and I'm here to share some of my tips and tricks with you all.
Another way to tell when your child is ready to potty train is when they observe you in the bathroom and show interest in doing the same as you.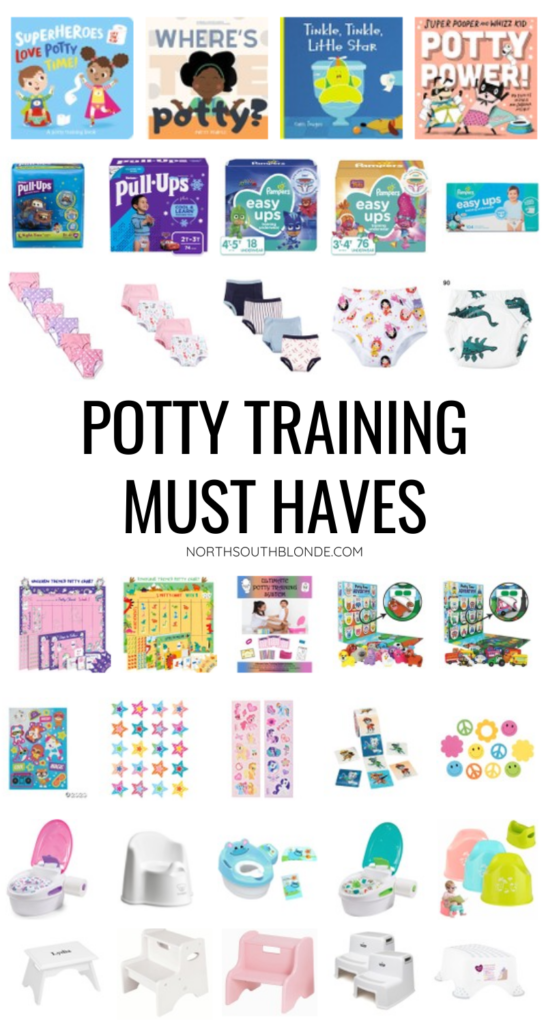 How to Prepare for Potty Training
Get your toddler excited about being diaper-free. There are many potty training books
that you can read to your child at bedtime that explain the whole process and encourage them with cute and comforting storylines.
Get prepared by purchasing some treats like a box of Smarties
or a bag of Jelly Beans
–have them pick out their favourite sweets, as well as fun stickers
to use for encouragement.
If you'd like to refrain from using sugary treats, these lollipops are sugar free and sweetened with stevia–they won't know the difference!
Don't forget about their first pack of undies! My daughter had to have Anna and Elsa on hers
.
Having your child choose their new underwear will help to get them excited and that much ready to learn how to use the bathroom. Brooke wanted to wear her new underwear right away!
Potty Training Books for Toddlers

How to Potty Train in 3 Days
Day One of Potty Training
No more diapers! Yay! Your toddler gets to wear their new underwear for the first time. Explain to them how happy you are that they are growing into a big girl/boy and that there are no more diapers in the house–hooray! Brooke always loved the Pull-Ups' catch phrase "I'm a big kid now" which we would keep repeating in front of her for encouragement.
The next step is to put them on the toilet constantly throughout the day, asking if they have to go potty.
Be sure to keep them well hydrated throughout the day (lots of water, fruits, soup etc) so that they will be peeing often, therefore learning quickly.
Once they have successfully used the potty, praise them! Make a big deal out of it – show them how excited you are by giving positive encouragement. "Wow! You did a great job! I'm so proud of you!" I would say to my two-year-old.
Give your toddler a Smartie or a sticker for their colouring book every time that they use the potty.
I recommend putting pull on training diapers
on during nap-time and nighttime, but if you really want to rid costly diapers, you can buy extra thick, padded underwear
. We would switch between the two quite often to see what my daughter preferred or was most comfortable with.
Pull-Ups or Easy Ups For Potty Training

Toddler Underwear

Potty Training Padded Underwear

Day Two of Potty Training
Repeat all the steps as day one. This time around, your toddler will have gotten the gist of things. Just remember that accidents are normal and will make them feel uncomfortable.
Accidents are bound to happen. Don't yell or get frustrated, the last thing you want is to traumatize your child! Keep explaining and repeating the procedure to them.
Don't forget to put Pull-ups
on at nap-time, nighttime and when you have to run out of the house to refrain from accidents while being out.
Keep doing what you're doing and remember to praise and reward them with stickers and small treats that they love. Continue to say how proud you are of them and that there are no more diapers in the house.
Potty Training Reward Charts

Reward Stickers for Toddlers

Day Three of Potty Training
You'll notice that it will be a lot easier for them to pee on the potty than to poop. Reward him/her with a treat (like Smarties) when they do poo, continue to show them how happy you are. Bribery works, oh yes, it works. Of course, if your concern is treating junk food to your child, try a sweet snack that they love like their favourite oatmeal or almond butter cookies.
After the third day, whenever we were out, I would ask Brooke if she had to pee or poo on the potty every chance we could. In the grocery store for example, we kept her in a Pull-up
the entire time we were out and I would take her to the bathroom when she needed to. She loved the idea of going to the bathroom, using the grown-up toilet just like mommy.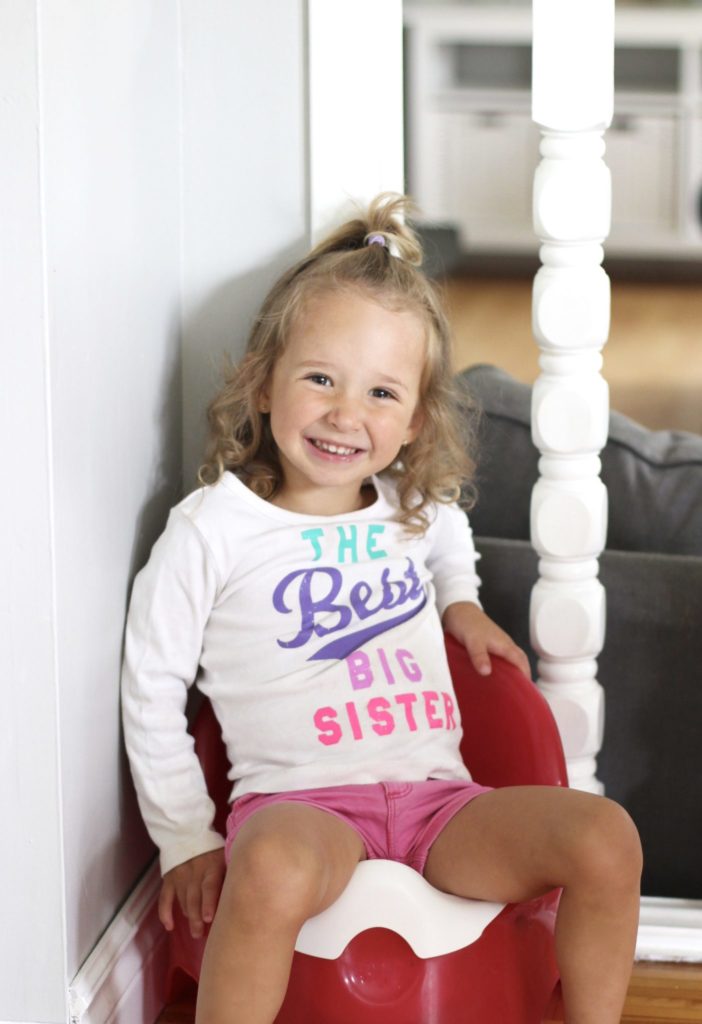 Potty Training at Night
How I got Brooke to stay dry during the night; there were times I simply forgot to put a pull-up on her before bed. And out of those, let's say 10 nights, she was dry for 7 of them.
When she had an accident for the first time she hated it, it made her very uncomfortable so she learned to hold her pee for the entire night! For the days I remembered to put a diaper on her, I would find it dry in the morning 100% of the time. Mom win.
I recommend to rotate using pull-ups at night and use a mattress protector under bedsheets. Don't be afraid of accidents, as I said before, they will feel the discomfort and learn from their mistakes!
For more parenting resources: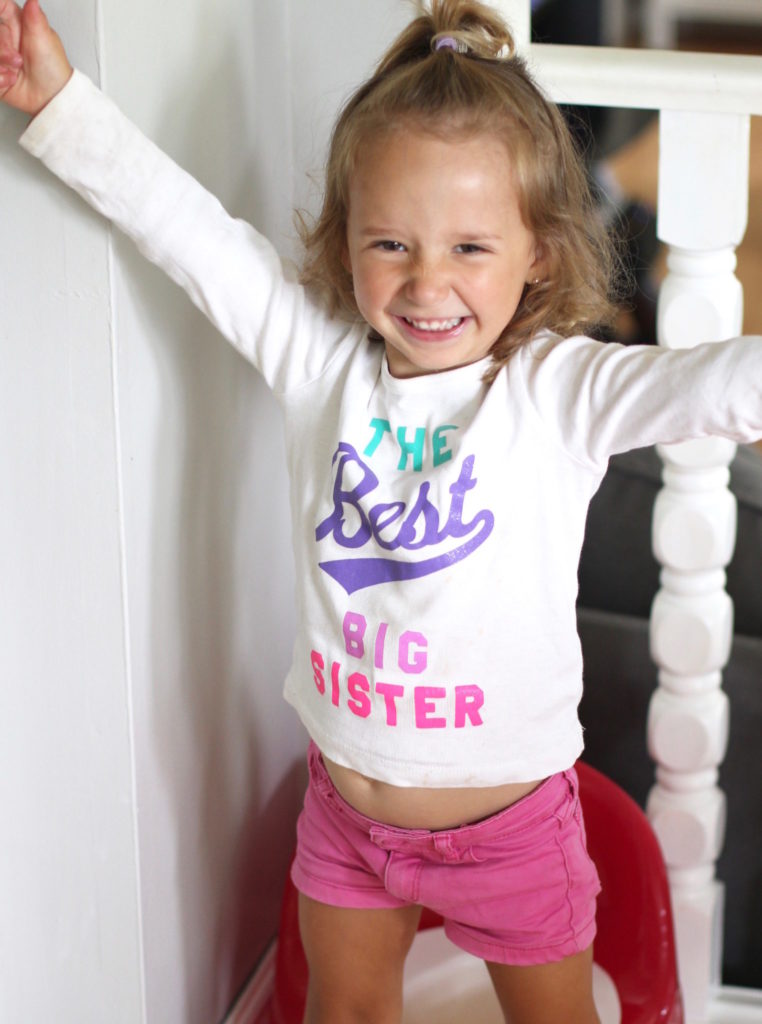 Potty Training Tips
We didn't spend a lot of money on a fancy potty. Ours doesn't play a song or make flushing sounds, it was on sale for about $10 at the time and did the job. Find ours here
.
What worked for us was placing the potty in the kitchen, beside the living room/play room. If I had placed it where they played, my one-year-old would have gotten into it. Also, it was practice for Brooke to stop what she was doing and walk over to the potty as if to use the bathroom.
Flushable wipes help for poops. I trained my daughter to show me her bum after a poop so I could supervise her wiping. "Front to back" is what I taught her, but to this day, I still prefer to wipe her. She will be three next month.
And since my one and a half year old watches everything her big sister does, she has been showing signs that she will be ready to potty train very soon. She sits on the potty and notifies me when she needs to pee. I'm not sure if it will be necessarily easier to train the second child, but I'm sure she will be ready a lot earlier than Brooke was.
Once the training pants are no more, I make sure to ask my daughter to go pee before we leave the house. I'll say "Go pee now because there are no washrooms at the park" or "use the potty now, because we are going on a long drive".
Potties for Infant Potty Training

Step Stools for Toddlers

If you've enjoyed this post, you may also like:
I hope you have enjoyed this post and find it helpful when potty training your toddler.
Do leave any questions in the comments below! Happy potty training!