This is the easiest cookie recipe you're ever going to need. It literally only takes a few minutes to put together and you are bound to have the ingredients in your cupboard every time. These almond butter cookies turn out crispy on the outside, and soft and chewy on the inside – just like from your favourite bakery, these are melt-in-your-mouth goodness that the whole family will enjoy.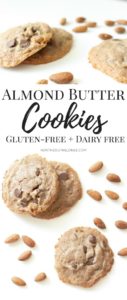 I absolutely love to make healthy snacks for my daughters to indulge in, not having to worry about unknown ingredients like in a store bought box of cookies. I'm all for homemade baked goods – the fewer the ingredients, the better.
Although I wrote a post about Flourless Peanut Butter Cookies (here) last week, which is pretty much the exact same recipe as this one, just with a slightly different ingredient. I chose to use organic almond butter
 for this recipe instead of peanut butter
because it's great for families that have a child with a peanut allergy, and it has a ton of protein for our growing little ones.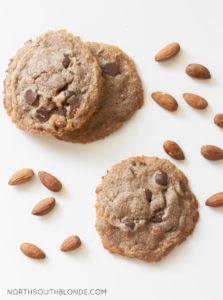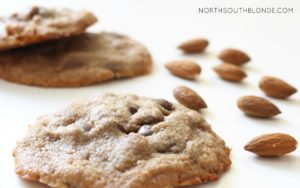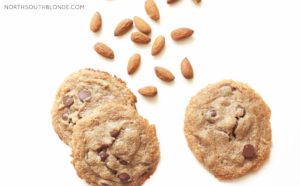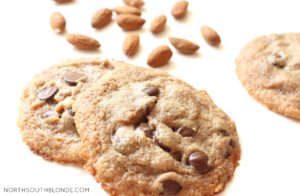 Eating gluten-free and dairy free is always a great idea when deciding what to feed our children. They learn from us. And when they see us eating healthy, they will learn to do the same. A recipe like this is great to replace processed foods in the household and therefore decreases the chances of obesity in our kids.
Almond Butter Cookies (Flourless, Gluten-Free, Dairy Free)
Instructions
Mix together the almond butter, brown sugar, egg, and vanilla in a medium-sized bowl - fold in the chocolate chips.

Scoop batter into 1 inch thick balls and place on a cookie sheet, separating evenly.

Bake at 350 for 6-8 minutes. Cookies will set as they cool down.
*For vegan chocolate chips, I use these
.
Let me know what you think if you try this at home! Leave your feedback in the comments below.
I hope everyone is having a wonderful week! Happy hump day!
Michelle
If you've enjoyed this post, you may also like my No-Bake (Gluten-Free, Vegan, Egg-less) Cookie Dough Balls recipe.