A treat that I guarantee will melt in your mouth. Do you have a weakness for cookie dough? Better yet, do you love sweets but want a healthier alternative? This recipe is gluten-free, vegan, paleo, whole 30, and keto friendly so you can indulge without any guilt!

Keto Cookie Dough Balls
These cookie dough balls are perfect for anyone with a sweet tooth! My two toddler girls are obsessed with them, and I'm okay with that. As a mother, I don't feel bad treating them to these because I know what every ingredient is that's going into the recipe.
Believe it or not, the cookie dough balls taste just like the real thing except with lots of healthy fats and little to no carbs. You can make miniature balls to add to ice cream, puddings, pretty much any of your favourite healthy desserts. Or, just simply eat them on their own!
More Dessert Recipes You'll Love:
Fat Bombs for Weight Loss & Ketosis
When consuming a low carb, ketogenic diet, you are using high fat foods to suppress hunger. Your body no longer uses carbs for energy — it begins to use your body's fat storages to burn for energy, which is the state of ketosis.
The fat in a fat bomb will fill you up and satisfy cravings, all while the body continues to burn its own fat.
Think about it, your body begins to constantly burn its own fat when you are literally just sitting down doing nothing. Of course, it's important to maintain a regular fitness regime by exercising 3-4 times a week (which will speed up your weight loss process).
As long as you are getting your heart rate up and keep your body moving. Always make time for physical activity.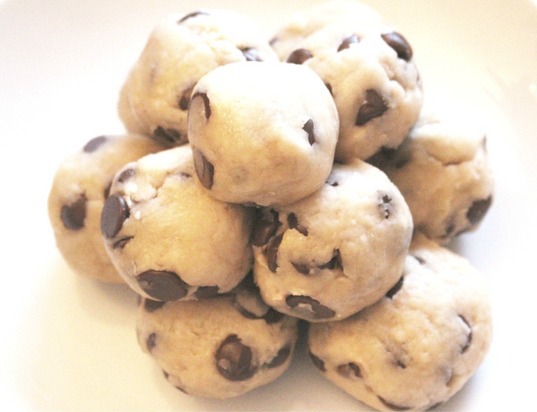 The recipe involves 7 ingredients and only a few simple steps. There is no baking involved, no dairy ingredients, and no eggs. Just vegan, gluten-free, and healthy goodness.
Pop these cookie dough balls in your mouth for a healthy snack or dessert, or get your little ones to help you make them (and eat them too). They are so much fun to shape and they are perfect for any occasion, year round.
Natural Low Carb/Keto Sweeteners to Use
Remember, natural sweeteners are usually more sweet than a regular teaspoon of sugar. Less is more.
This recipe calls for one teaspoon of sweetener, which is equivalent to two teaspoons of sugar. Choose your favourite one to use!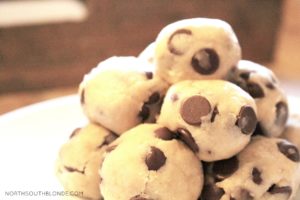 Do You Have to Freeze Cookie Dough Balls?
They will stay fresher for longer when you freeze them. You can easily make smaller size pieces to add to ice cream or your other favourite desserts.
If you would rather keep them in the refrigerator, that's okay too! They will still be okay to eat for a while since there are no eggs in the recipe.
They are good in a container, in the fridge for up to 5 days, or in the freezer bag, in the freezer for about three months.
There you have it! Here's a delicious treat that I'm sure everyone will be asking for seconds. Also, it's so much fun making with kids!
Remember, you don't have to worry about salmonella poisoning because there are no eggs in the mixture. So licking the bowl is a must!
Let me know your thoughts! And if you've enjoyed this post, check out these Chocolate Peanut Butter Balls, I highly recommend!
Michelle
Keto No-Bake Cookie Dough Balls
This recipe is gluten-free, vegan, paleo, whole 30, and keto friendly so you can indulge without any guilt!
Notes
Recipe makes approximately 12 balls
1 serving/1 ball = 85 kcal and 4 net carbs
Nutrition
Calories:
142
kcal
|
Carbohydrates:
6
g
|
Protein:
3
g
|
Fat:
13
g
|
Saturated Fat:
5
g
|
Sodium:
48
mg
|
Fiber:
2
g
|
Sugar:
1
g
|
Calcium:
29
mg
|
Iron:
1
mg
Shop What You'll Need