Stay in ketosis this Christmas with these frosted cheesecake fat bombs. They're absolutely scrumptious, easy to make, low carb, sugar free, and gluten-free!

Keto Frosted Cheesecake Fat Bombs
As we speak, I have a batch of these babies sitting in the freezer, ready for me to take out at any moment, and wrap my mouth around one. Okay, did I take that a little bit too far?
I felt the exact same way when eating these Keto No-Bake Cookie Dough Balls.
I'm not exaggerating when it comes to these 3-ingredient cheesecake fat bombs. Isn't it crazy to think that you're actually allowed to eat cheesecake on the keto diet?!
If you're a returning reader, you know that this blog is all about healthy recipes, ranging from paleo and whole 30 recipes, to plant-based, vegan recipes, and low carb, keto recipes.
You can view all of them, sorted by category as well as by dietary needs, on the Recipe Index Page.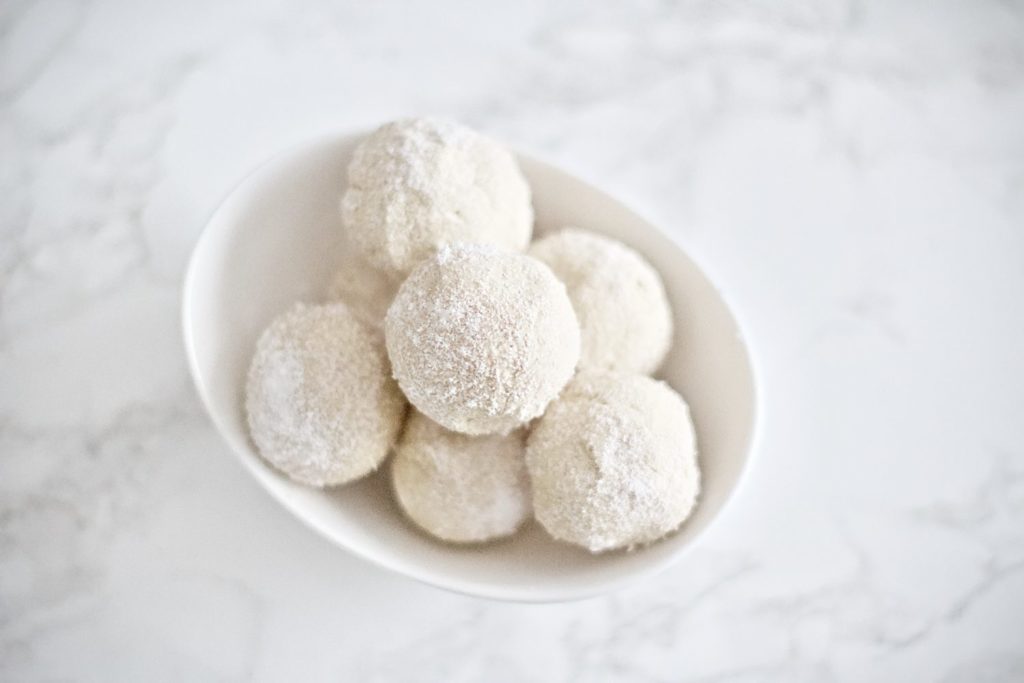 Fat Bombs for Weight Loss & Ketosis
When consuming a low carb, ketogenic diet, you are using high fat foods to suppress hunger. Your body no longer uses carbs for energy — it begins to use your body's fat storages to burn for energy, which is the state of ketosis.
The fat in a fat bomb will fill you up and satisfy cravings, all while the body continues to burn its own fat.
Think about it, your body begins to constantly burn its own fat when you are literally just sitting down doing nothing. Of course, it's important to maintain a regular fitness regime by exercising 3-4 times a week (which will speed up your weight loss process).
As long as you are getting your heart rate up and keep your body moving. Always make time for physical activity.

Low Carb Health Benefits
Having been keto for about a month and a half, I have been seeing nothing short of amazing results. I have clearer skin, lost weight, and lost the brain fog. I feel as though my body is working at its optimal rate, all while relying on its own fat for fuel.
That being said, you will be seeing a lot more keto around here! And I would love to know about your keto journey as well.
For reference, I was inspired to try keto when I found Keto In Canada, a fellow Canadian blogger/youtuber named Joanna. Her real life results were recorded since day one, on her channel, and she is such an inspiration to women.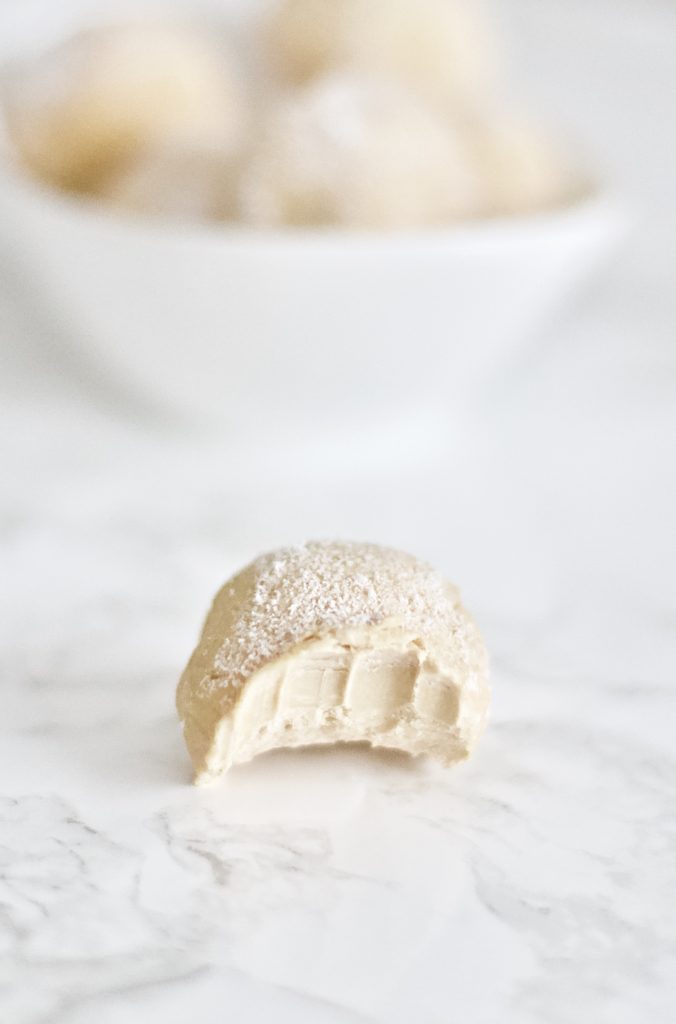 More on Weight Loss:

0 Calorie Keto Sweeteners You Can Use
I used stevia in the batter for this recipe, as well as for sprinkling on top of the fat bombs to get it 'frosted'. Remember, stevia is a lot sweeter than your average spoon of sugar. Less is more.
Almond Butter Alternatives
I'll admit, almond butter can be pretty expensive at the grocery store. There are a few other low carb, keto options that you can replace the almond butter for. You can also try: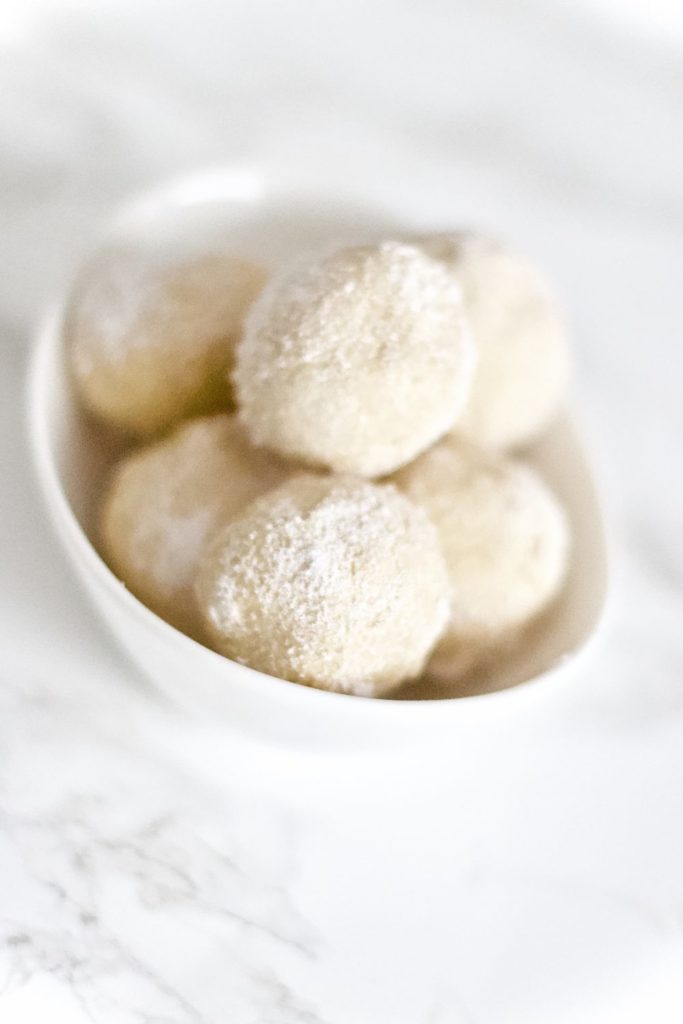 I hope you enjoy these fat bombs as much as I do. Don't forget to tag me on Instagram, I'd love to see how yours turn out!

Shop What You'll Need
Keto Frosted Cheesecake Fat Bombs (3 Ingredients, Sugar Free, GF)
Stay in ketosis this Christmas with these frosted cheesecake fat bombs. They're absolutely scrumptious, easy to make, low carb, sugar free, and gluten-free!
Instructions
Place cream cheese and peanut butter in a large mixing bowl and rest for about an hour, until softened at room temperature.

Add in the stevia. Using a spoon (and some muscle) or an electric hand mixer, mix batter together until smooth.

With your hands, roll and shape batter into 1-inch, bite-sized bombs. Recipe makes 10-15 bombs.

Pour extra stevia into a small bowl and roll each bomb to coat evenly.

Place fat bombs onto a cookie sheet or plate lined with parchment paper, freeze for 1-2 hours, and enjoy! You can store them in an airtight container in the freezer.
Nutrition
Calories:
67
kcal
|
Carbohydrates:
2
g
|
Protein:
3
g
|
Fat:
6
g
|
Saturated Fat:
1
g
|
Cholesterol:
1
mg
|
Sodium:
52
mg
|
Potassium:
74
mg
|
Fiber:
1
g
|
Sugar:
1
g
|
Calcium:
5
mg
|
Iron:
1
mg