A cabbage soup that's simple, low carb, low calorie, and powerful for weight loss. Enjoy its endless health benefits and watch the weight melt off.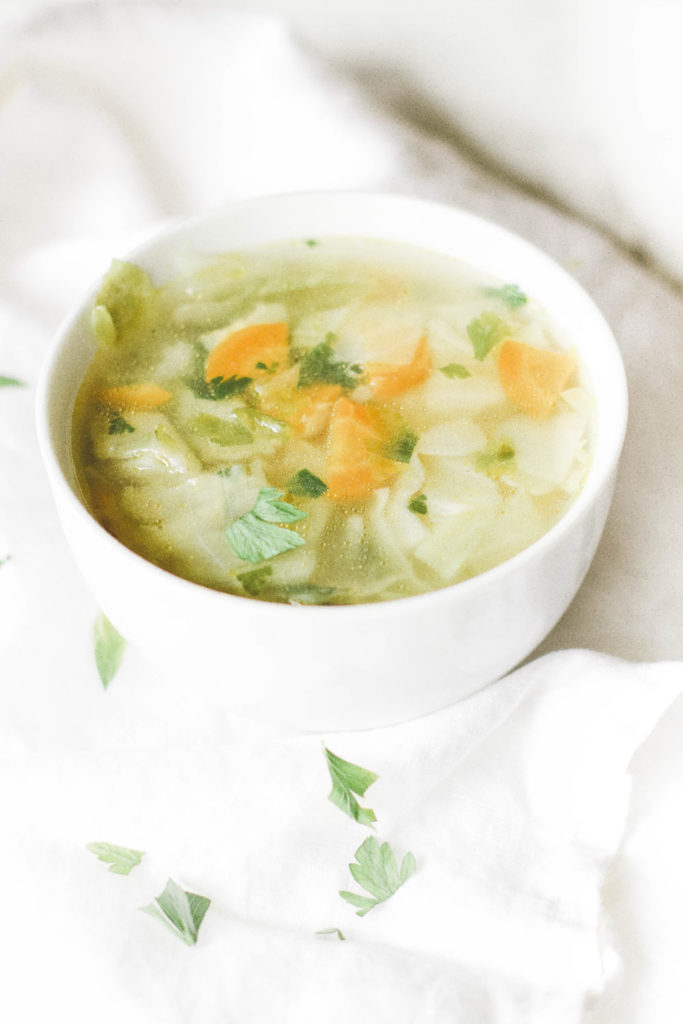 Low Carb Soup for Weight Loss
The whole point behind eating low carb is to train the body to burn fat. If you cut back 500 or more calories a day, you will set your body up to lose approximately one to two pounds each week, regardless of your exercise regime.
Foods like kale, spinach, and cabbage are leafy greens that are low in calories, as well as carbs. I love adding spinach to my eggs in the morning for a quick low carb breakfast packed full of nutrients, and a vegetable packed soup like this cabbage soup is no different.
When you eat very little carbs and no more sugar, your body starts to do amazing things. You'll feel like a brand new person — you'll have more energy, a clearer mind, and have an overall sense of wellbeing.
Fat Burning Keto Soup
You are now training your body to switch from burning carbs for energy to burning its own fat for energy. Fats from foods will be filling for you, and you will be able to stabilize blood sugar levels, mood, energy, and reduce the stress hormone cortisol in the body.
Keep in mind that you'll need to refrain from eating fruits with high amounts of naturally occurring sugar, like bananas. They can actually stall weight loss. Berries like strawberries and blueberries are lower in carbs and sweet enough when cravings hit.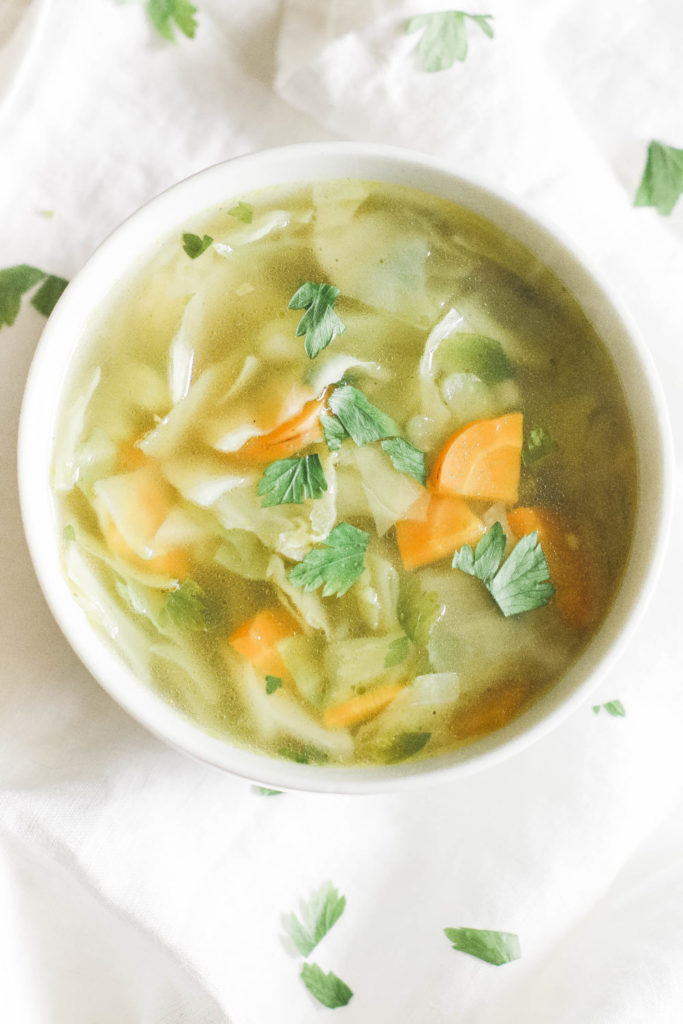 Cabbage Soup Health Benefits
Cabbage is a superfood packed full of nutrients that will do your body good. It's a leafy green, low carb vegetable and is perfect for achieving a healthy weight and maintaining overall wellness.
Here are the health benefits of cabbage:
Improves digestion and aids in weight loss
Lowers blood pressure and stabilizes mood
Causes feelings of fullness and reduces cravings
Cleanses digestive tract
Full of anti-aging antioxidants
Anti-inflammatory agents present
Lowers cholesterol
Prevents heart disease
Improves skin
Improves mental health and brain function
Strengthens the immune system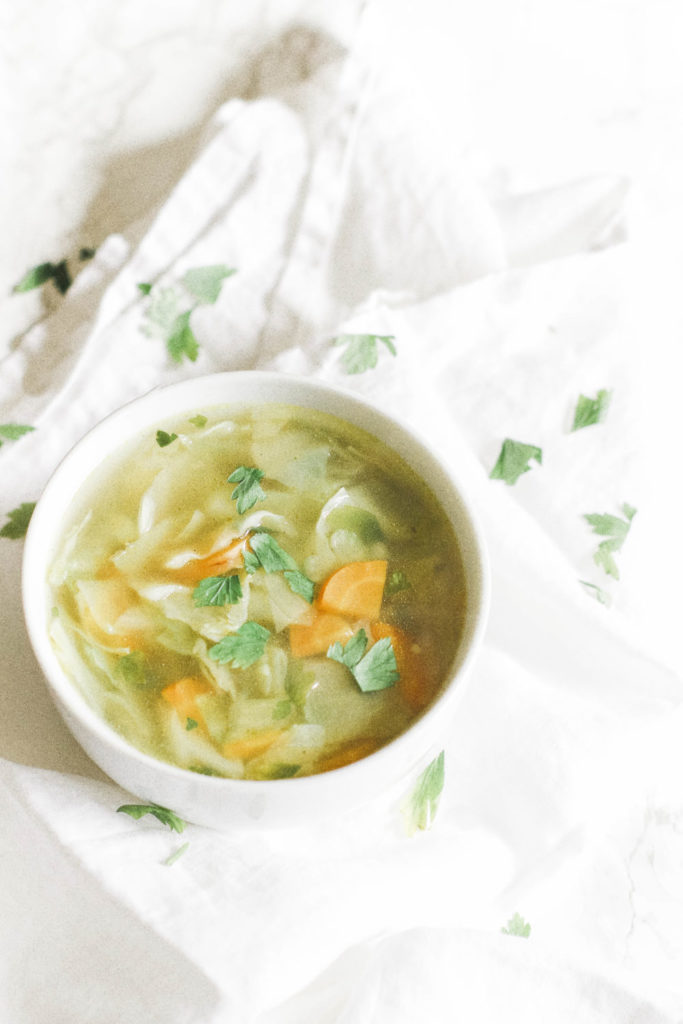 There's Nothing Else Like it
Thanks to all of these health benefits, cabbage is the real winner in this recipe. The superfood, known for aiding in weight loss and weight management, is what makes this cabbage soup so powerful.
Many known diets including the 7 Day Cabbage Soup Diet, and the GM diet, allows one to eat this soup for one week straight.
Fat Burning Cabbage Soup
Unlike other cabbage soup recipes out there, this one is unique because it does not involve tomatoes, which can be high in sugar in large amounts and cause insulin levels to spike — something that is considered if one is a diabetic.
The best part is that you can make it completely your own. Add some more of your favourite spices like thyme and rosemary, if that's the taste you'd prefer.
What's even better about a low carb diet is the cheese! You can top your soup with your favourite cheese and not feel guilty about it one little bit. Maybe some bacon bits would make your heart a little more happy, too.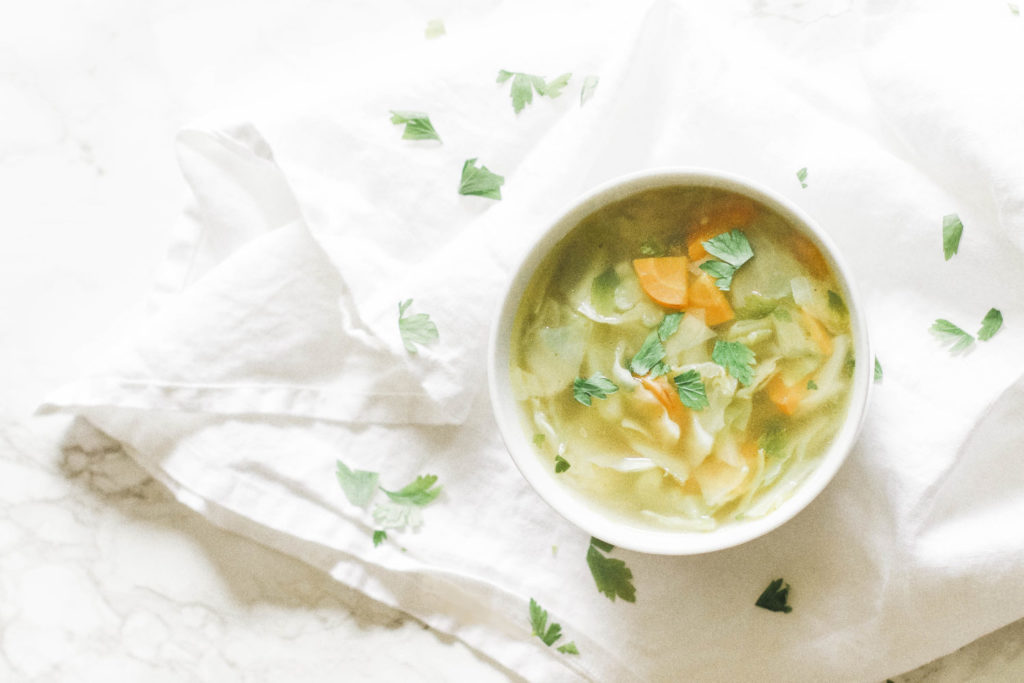 How to Make Keto Cabbage Soup
Pack it with low carb, non-starchy veggies. Cut out the potatoes, pasta and rice.
All you need for this recipe is your base — onions, carrots, celery, and garlic first sautéed in some olive oil (avocado oil or coconut oil works too) in a large soup pot.
Then, add the water, seasonings, and as much cut up cabbage as your heart desires, and a touch of parsley. Simmer for 30-40 minutes and it's literally just that easy.
If you are on a ketogenic diet, remember that this soup cannot be the only thing you're eating, especially when you're counting your macros.
You'll need to add healthy fats and protein to your diet, while also enjoying this wholesome cabbage soup. Have a plate of chicken or fish on the side, and sprinkle some parmesan cheese into the soup for just the right amount of balance and flavour.
More Keto Recipes You'll Love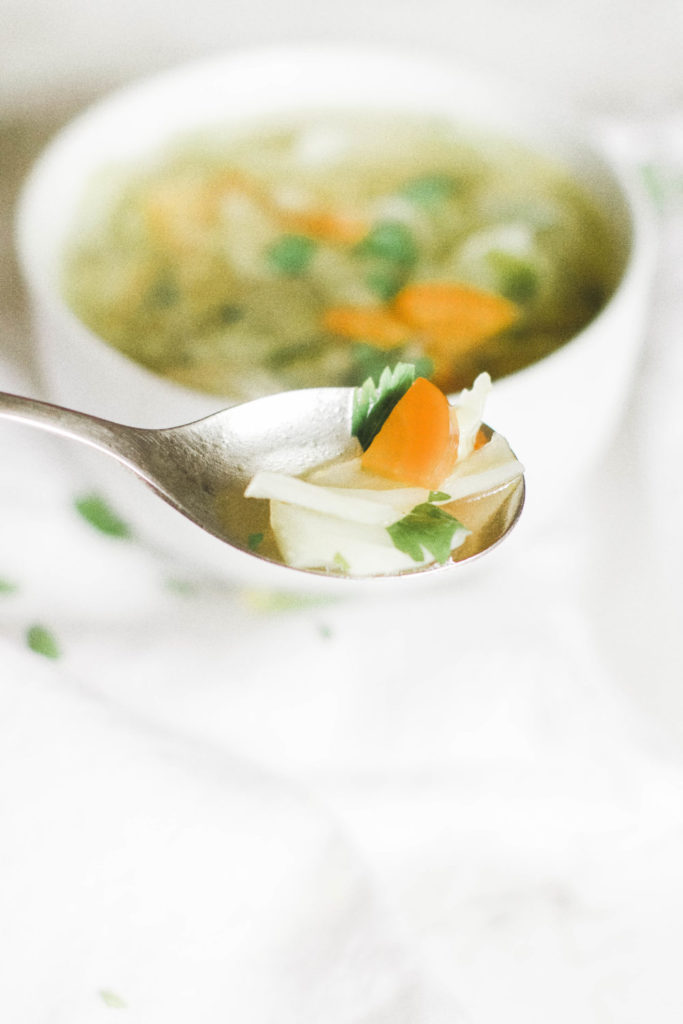 Easy and Healthy for The Whole Family
This large batch of cabbage soup makes about 8-10 bowls. It's a great dinner when feeding the whole family – my kids approve one hundred percent! Healthy, delicious, and convenient.
Simply store in a container in the fridge and warm up to eat any time of the day. It's great to enjoy on chilly days, when you are sick with a cold, or to warm your belly!
I also like to pack this soup in a thermos for the kids' lunches. It's our go-to soup during the winter months and the recipe is so easy that you'll never get it wrong.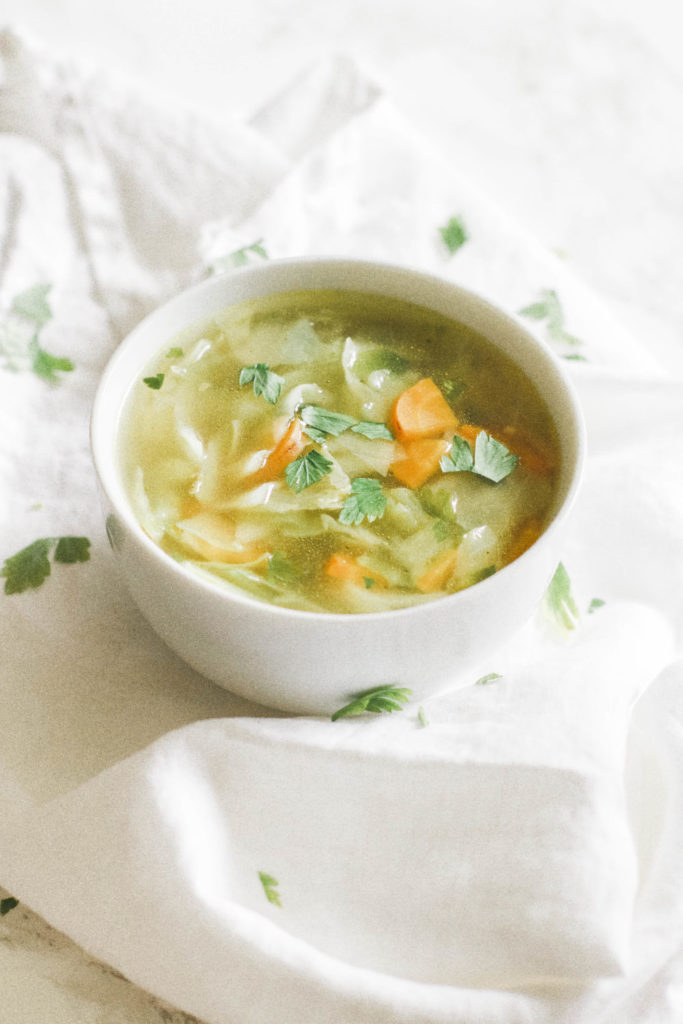 I'm really enjoying eating only ketogenic lately and I would love to know if you are too and how it's been going for you. Be sure to tag me on Instagram, so I can see how your cabbage soup turns out!
GET MY 7-DAY FAT BURNING MEAL PLAN

Fat Burning Cabbage Soup
Gluten-free, keto, paleo, whole 30, and vegan.
Ingredients
1

tbsp

olive oil

extra virgin

1

onion

large

1

carrot

large

2

celery stalks

3

garlic cloves

minced

1/2

cup

parsley

1/4

cabbage

large

8

cups

water

1

pinch

salt

1

pinch

pepper
Instructions
Wash, pat dry, and finely chop vegetables.

In a large soup pot, heat up the olive oil and sauté the onion, carrot, celery, and minced garlic. Cook until onions are translucent and garlic is fragrant.

Add the 8 cups of water. Crumble the chicken cubes by hand and add to the pot. Bring to a boil.

Add in the chopped cabbage, parsley, salt, and pepper to taste. Stir soup to mix well.

Simmer on low for 30-40 minutes. Garnish with fresh parsley, if desired, and serve!
Nutrition
Calories:
22
kcal
|
Carbohydrates:
4
g
|
Protein:
1
g
|
Fat:
1
g
|
Saturated Fat:
1
g
|
Cholesterol:
1
mg
|
Sodium:
270
mg
|
Potassium:
118
mg
|
Fiber:
1
g
|
Sugar:
2
g
|
Vitamin A:
1618
IU
|
Vitamin C:
17
mg
|
Calcium:
34
mg
|
Iron:
1
mg
Shop the post