These scrambled egg stuffed peppers are easy, healthy, and extremely satisfying! A low-carb and whole 30 breakfast to start your day right.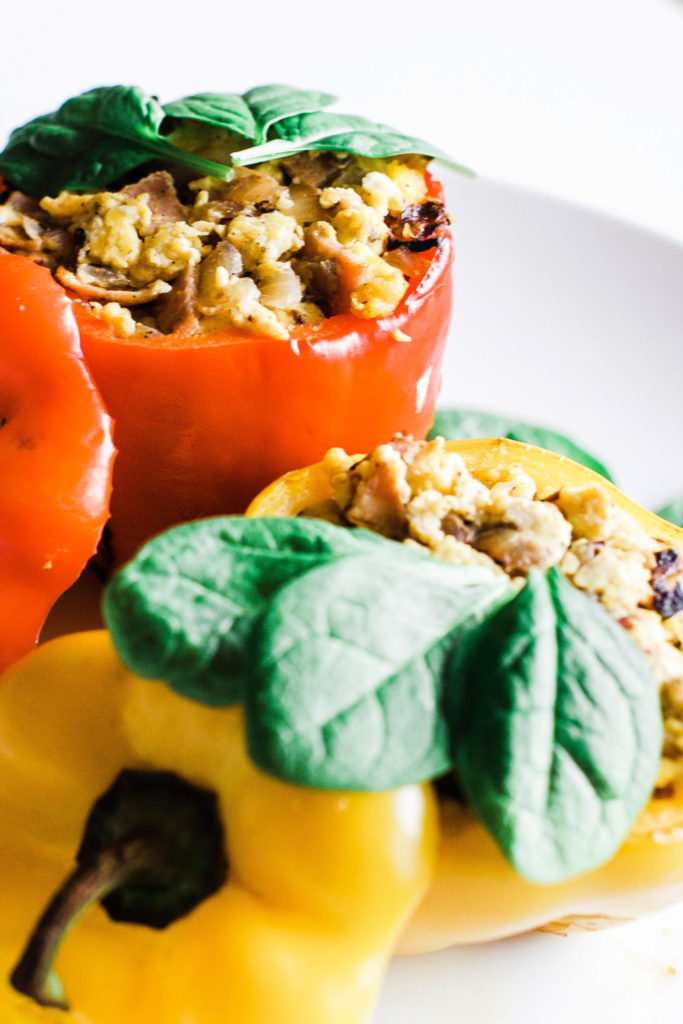 You are what you eat! Plain and simple. If you include high carb foods in your breakfast, like toast, or high sugar cereal, your blood pressure shoots up and you will have to work harder to burn off what you ate. Not to mention, you will surely crash (feel tired and crave more sugar) in the afternoon because of sugar consumption.
If you are going to eat oats in the morning, make sure there is no sugar added and only naturally sweetened like this oatmeal breakfast smoothie, or this healthy oatmeal "cake". For more ideas on how to cut out sugar and sweeten naturally, here are 27 Ways to Make Oatmeal Not Boring.
This recipe, on the other hand, has no sugar at all. Made with bell peppers that are naturally sweet and eggs high in protein, this is a sweet and savoury dish I know that you are going to love.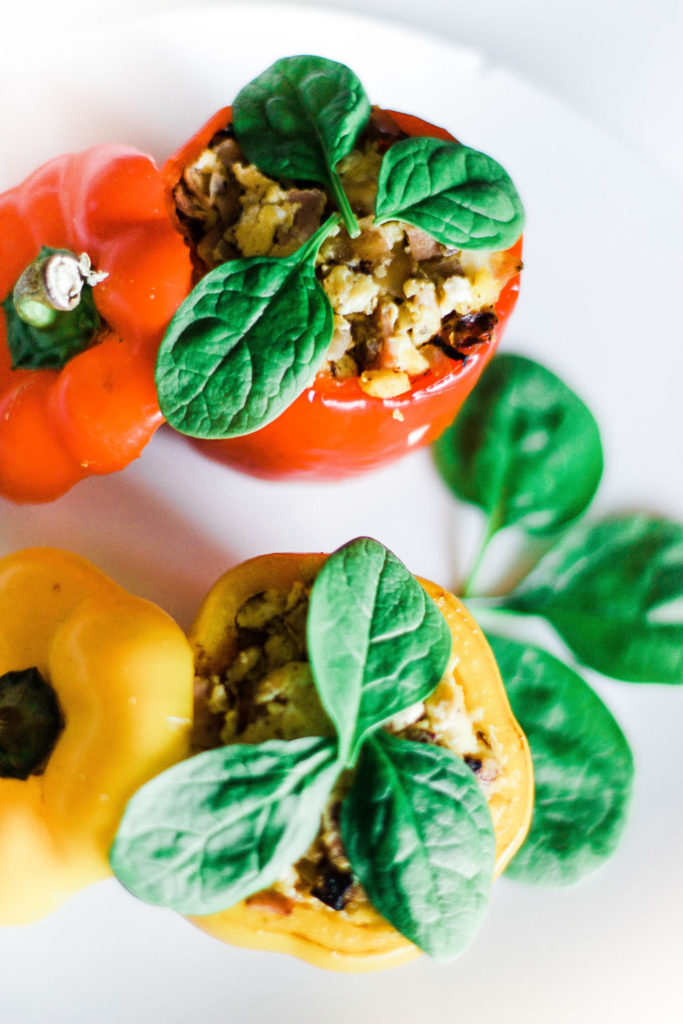 As goes with any scrambled egg recipe, you can use almost anything in the egg mixture while cooking. If you don't like onion, you don't have to use it. Want to add mushrooms? Go ahead! If you have a meat preference, you can use anything you'd like. Ham and bacon are great additions. I use turkey bacon, which is a much more leaner option. You can also add spinach or kale into the scrambled eggs for even more nutrition.
The seasoning for these stuffed peppers, on the other hand, is quite basic. You can change it up to your liking as well. If you want to add a kick, use a bit of cayenne pepper, or top with a few drops of hot sauce on the finished product.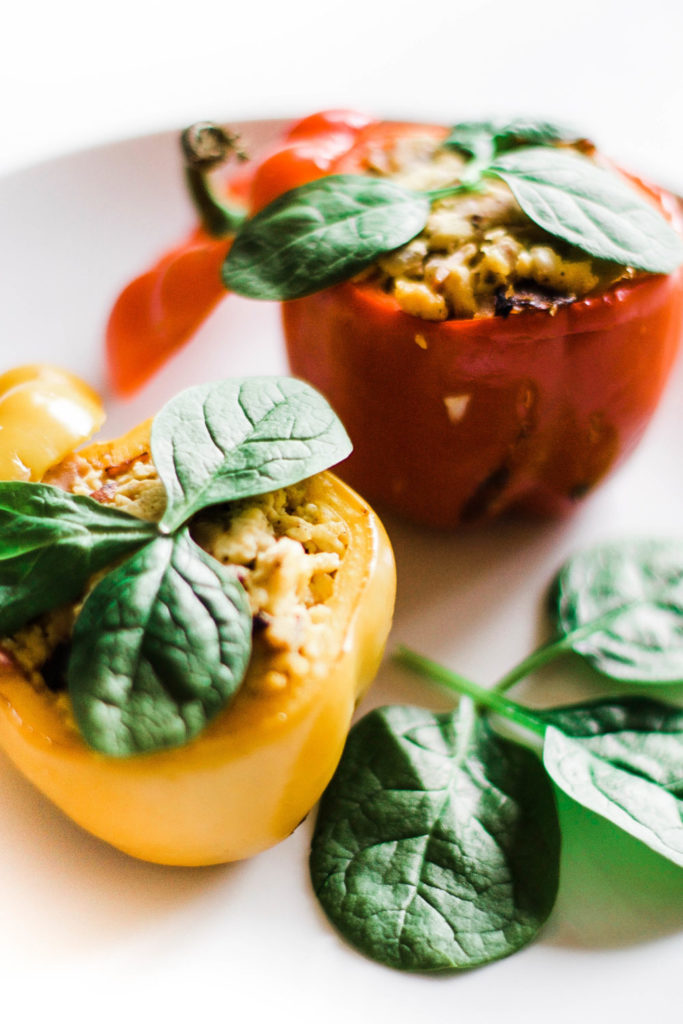 More whole 30 breakfast recipes you'll love: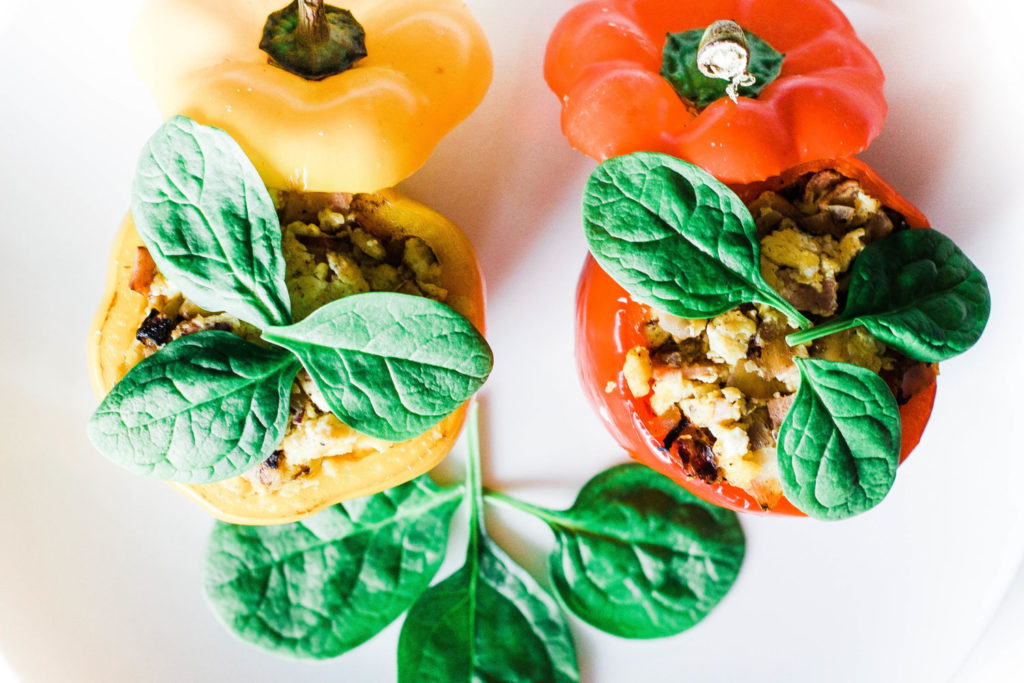 Bon Appétit!

Breakfast Scrambled Egg Stuffed Peppers
Ingredients
Instructions
Chop turkey bacon into small pieces. In a nonstick frying pan, sauté onion and cubed turkey bacon in the olive oil on medium heat, until onions until translucent.

Wash and cut out the tops of the bell peppers. Remove seeds. Do not discard the tops.

Whisk eggs in a bowl (use a whisk or a fork) and add eggs to the pan. While cooking, add salt, pepper, and paprika seasoning to taste, and scramble eggs by mixing occasionally with a spatula. 3-4 minutes.

Arrange peppers on a baking sheet lined with parchment paper or foil. Using a spoon, stuff peppers with scrambled egg filling. Cover peppers with their tops to keep from drying out the eggs while baking. Bake for 25 minutes.

Garnish with preferred greens, like spinach or kale. Drizzle hot sauce, if desired. Serve immediately and enjoy!
Shop What You'll Need:
Pin recipe for later: