Sweet potato breakfast hash is the ultimate breakfast for champions. Easy to make and loaded with protein, fibre, and necessary vitamins to kick start your day.
Pin it!

Sure, you may have loved my Gluten-Free Breakfast Hash, but what's better for you than old fashion, starchy potatoes? Sweet potatoes. The reason being, they have less carbs and calories than regular potatoes and are enriched with vitamins, protein, and dietary fibre.
So instead of eating a bowl of oatmeal, this recipe is all you need to switch things up in a healthy way so that you're ready to start your day. No guilt involved, just a hearty breakfast that will get you going.
And who can say no to bacon? As long as you are buying the right kind and not eating it often, it's more than alright. Make sure the bacon you use has no sugar added. Also, draining or absorbing the bacon grease will help not ingesting all of that artery clogging fat.
More Whole 30 Recipes You'll Love: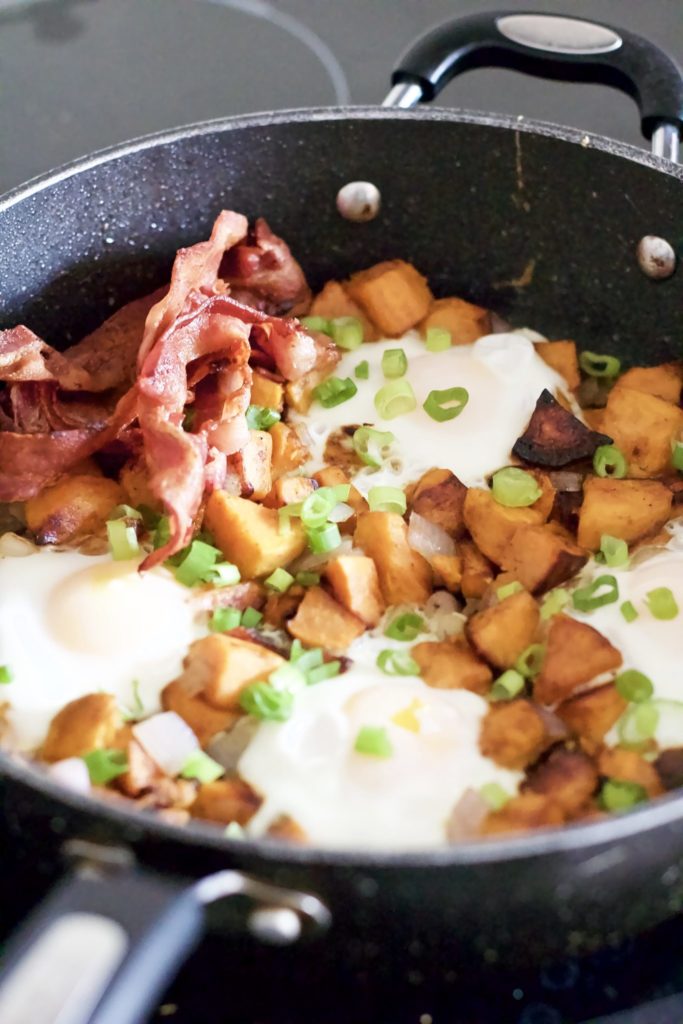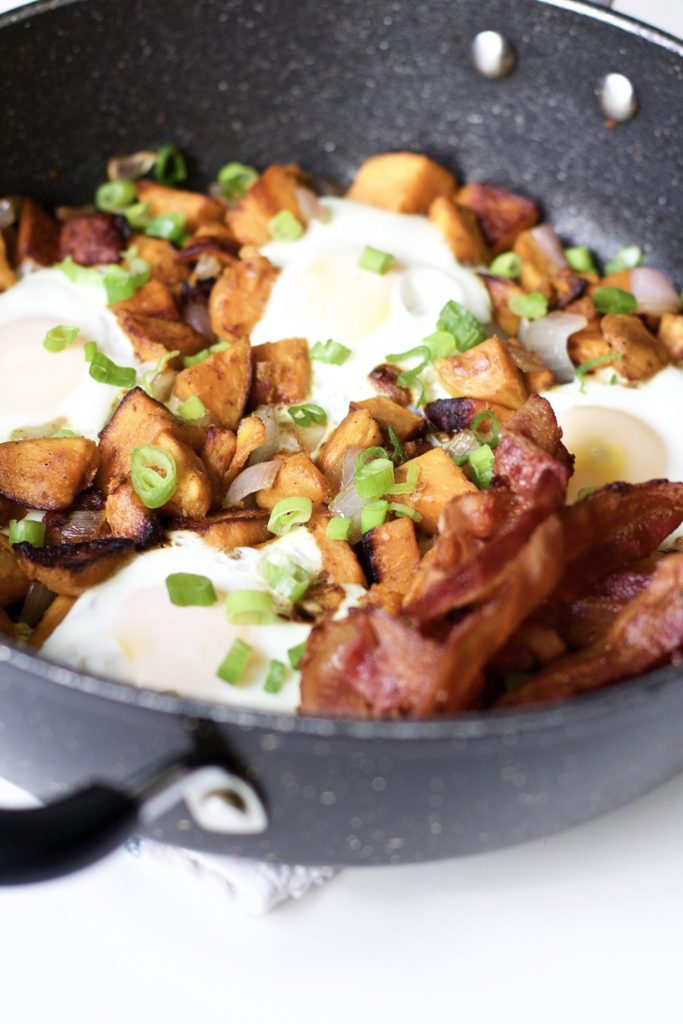 Now, the seasoning of the sweet potatoes is key. And you can also switch that up from time to time. Here, I used a basic blend of sea salt, pepper, and garlic powder.
If you like more of a smokey and spicy flavour, add some cayenne pepper and paprika. Maybe even a touch of thyme for a delicious aroma. The possibilities are endless.
Do you like your egg well done or really runny? No problem here. You control the cooking time by removing the lid of the pan when your eggs are cooked exactly how you like them. Just perfect.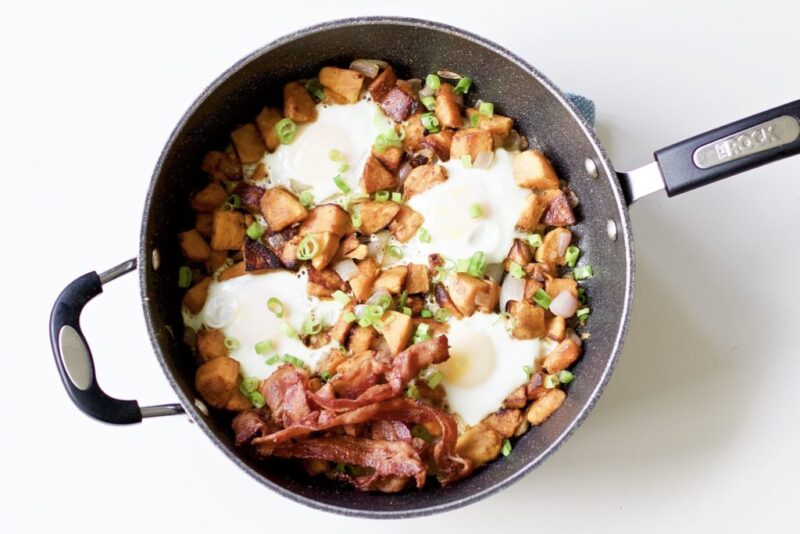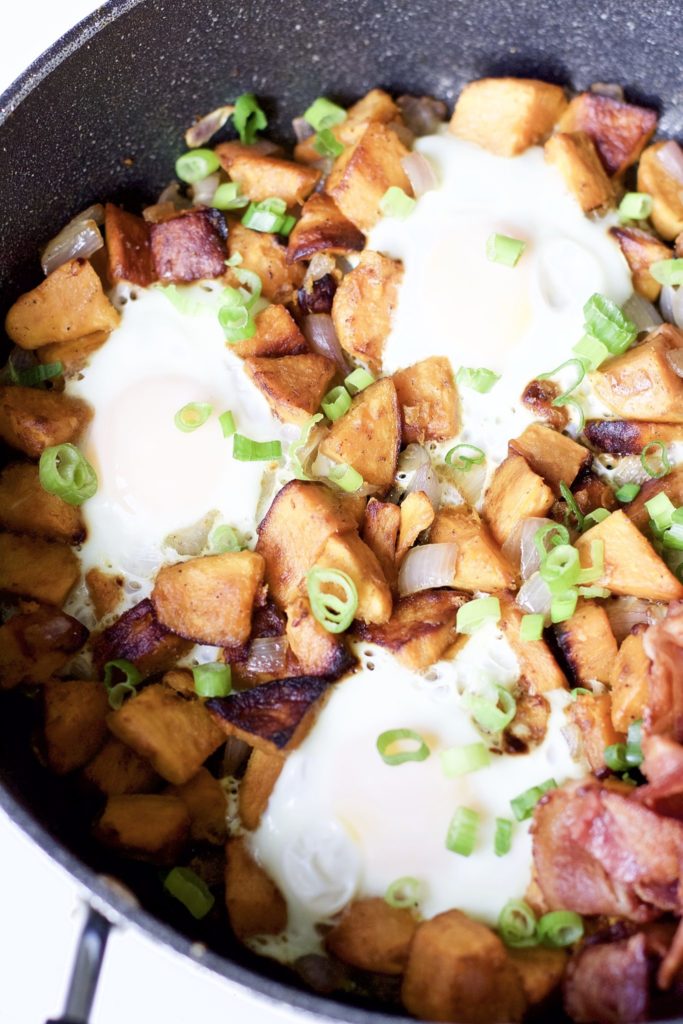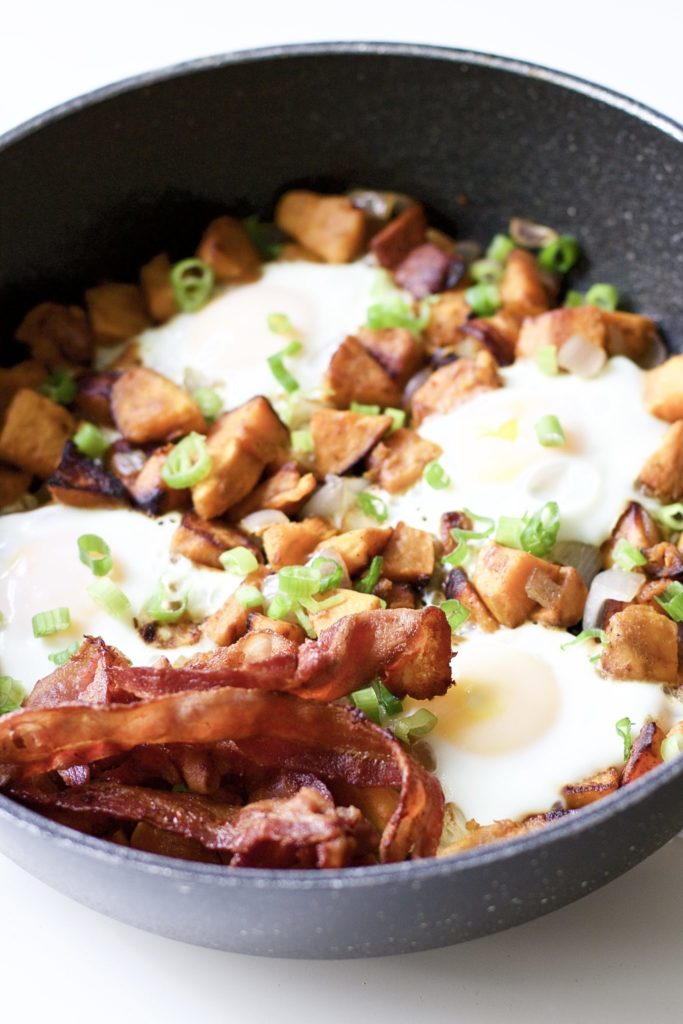 I could go on and on about how delicious and hearty this sweet potato hash is, but I'll leave it up to you to give it a try. It's unbelievably easy to make, literally 20 minutes or less, and great on special occasions when family and friends are over.
These crispy sweet potatoes will not disappoint!

Sweet Potato Breakfast Hash (Gluten-Free, Paleo, Whole 30)
Instructions
Peel sweet potatoes and cut into 1/2 inch thick pieces. Wash well.

In a deep pan, cook sweet potatoes and olive oil on medium heat. The higher the heat, the more you have to constantly stir to keep from burning, avoid cooking on low as the potatoes will become mashed. Cook for 20 minutes.

In a separate pan, spread out bacon and cook until desired crispiness.

Add the shallots and seasonings to the sweet potatoes and cook for 5 minutes more or until onions are translucent.

With a spoon, make 4 wells in the sweet potatoes and crack an egg into each well. Keep on medium heat and cover pan with lid for faster cooking.

Once the whites of the eggs are solid and cooked to your liking, top with chopped scallions and serve with bacon. Be sure to soak bacon before serving. Enjoy!
Shop This Post: