Happy Monday everyone! Today I am starting the week off with a fun mid-morning snack for my daughters that is super easy to make, using only four ingredients and takes about 16 minutes. These cookies are for the peanut butter lovers out there, but can also be made with organic almond butter if anyone in your household has a peanut allergy.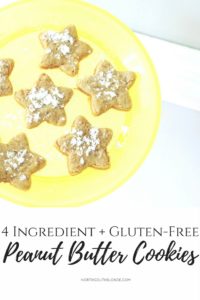 This recipe is gluten-free and full of flavour. I'm not sure how well it would do with a substitute sweetener such as honey or maple syrup, but white or brown sugar did the trick for me. It's nice to have a sweet treat once in a while, with peanut butter – how can you go wrong?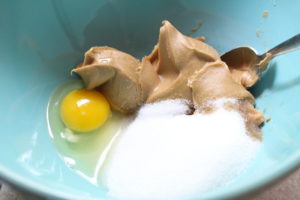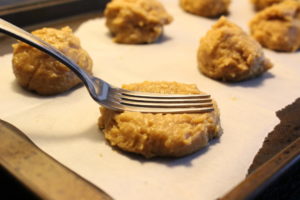 I consider this to be a 'mommy hack' because as I pulled the cookies out of the oven, I decided to make them into fun shapes for my toddlers. And since I don't have cookie cutters in my kitchen, believe it or not I used a play dough cutter. Yes, I washed it. Yes, it worked like a charm.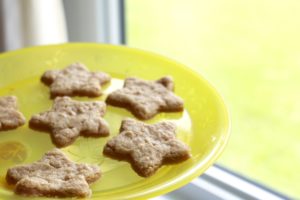 You can also garnish these scrumptious cookies with pretty much what ever you'd like. I used icing sugar, but dairy-free chocolate chips, chopped walnuts, almonds, raisons etc. would also work wonderfully. We all enjoyed these and my little ones loved that they were shaped as "staaaars!"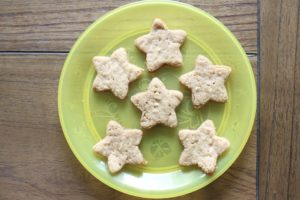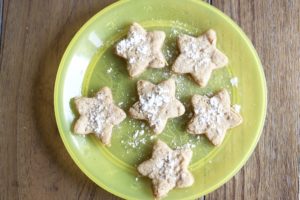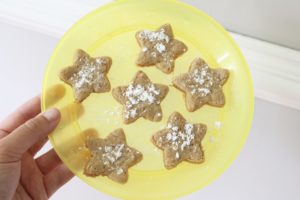 What You Need:
1 cup peanut butter (or almond butter)
1 cup sugar
1 egg
1 tsp vanilla
What You Need to do:
Combine all of the ingredients in a bowl and mix together with a spoon.
Shape batter into 1-inch thick balls and lay them 1 inch apart on a lined cookie sheet with parchment paper; flatten balls with a fork.
 Bake at 325° for 15 minutes.
If you've enjoyed this post, you might also like my No-Bake Chocolate Peanut Butter Balls that is vegan and gluten-free!
I hope you have a lovely week!
Michelle