It was time to try something different for dinner, a meal that's healthy, yet has a lot of flavour. When I was grocery shopping the other day, I chose this jarred butter chicken sauce
 that would make this recipe that much easier.

It reminded me of when I used to live in the city – there was Indian cuisine right next door to my workplace and I would occasionally order their butter chicken take-out during my lunch break. The chicken was laid over a bed of rice and was overall quite spicy, but very creamy and tasty at the same time! I decided to try it myself.
I must admit, the sauce
 I used was incomparable to the authentic, homemade blend used in the dish I used to order. It wasn't nearly as spicy, but it still had the flavour I was looking for. It worked out in the end because my kids ate up all their chicken, without burning their mouths.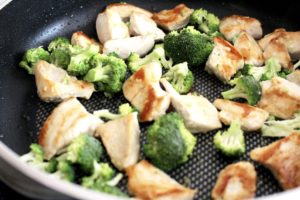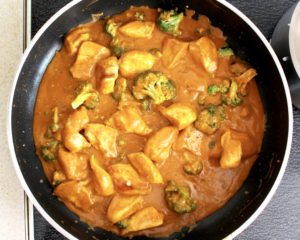 This butter chicken recipe has about 31 grams of protein which is great, but it contains quite a bit of sodium. I recommend eating food high in potassium for dessert such as a banana and greek yogurt to help bring down any bloating you may have.
I'm sure you could use any vegetable you'd like in this dish. I sprinkled some ground cumin for more of a kick. The next time I make this, I want to add some mushrooms, onions, and then fresh parsley to garnish. Here, I used chopped tomatoes and fresh broccoli. It's such a quick and easy recipe to throw together when you're short for time.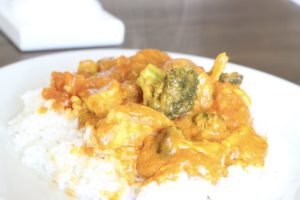 I consider this dish to be light for an entrée, since it is gluten-free and high in fibre. It's perfect for when you want to change things up in the kitchen, considering that we hardly ever eat Indian – this is a delicious, nutritious treat. Don't forget about the many health benefits that the cumin and ginger in this sauce have.
Easy Butter Chicken Recipe
Ingredients
2

tsp

olive oil

2

large boneless skinless chicken breasts

cut into 1-inch thick cubes

2

cups

broccoli

3/4

cup

chopped tomatoes
Instructions
Heat oil in medium non-stick skillet on medium-high heat. Add chicken and cook for 5 minutes.

Add broccoli, cover and cook for 5 minutes on low heat.

Stir in Butter Chicken Sauce and chopped tomatoes. Cook for 5 minutes stirring frequently.

Serve over rice and garnish with fresh parsley (optional)
And there you have it! A dinner in 15 minutes sounds perfect to me, a busy mom of two. I hope you enjoy this just as much as we all did!
Leave your comments below if you would like to see more recipes like this!
Michelle