These chicken burrito bowls taste just like ones you'd get from the Mexican grill Chipotle. Once you discover how to make these at home, you'll never have to eat out again.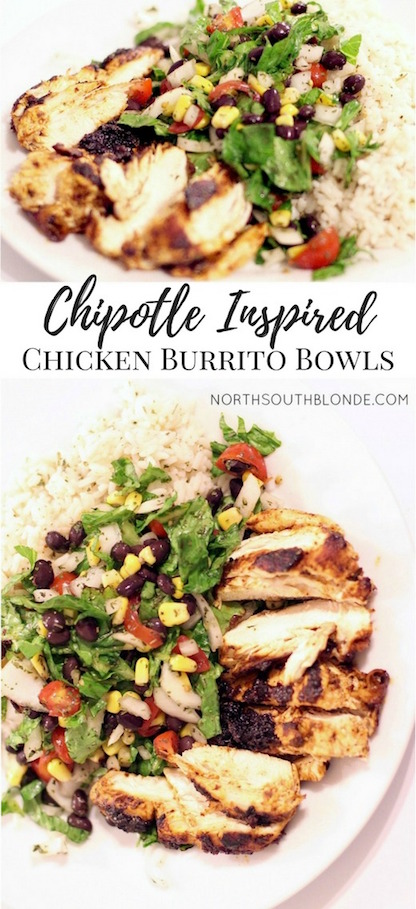 Let me start off by talking about Chipotle, a Mexican grill offering burritos, burrito bowls, tacos, and salads. Need I say more? Mexican food is one of my all-time favourites with dishes full of fibre, protein, and iron.
My family and I hardly ever eat out, but when we do, it would probably be this place over any fast-food joint. They use real, fresh ingredients right in front of you, therefore making their meals a little pricey. So, I wanted to mimic their chicken burrito bowls right at home.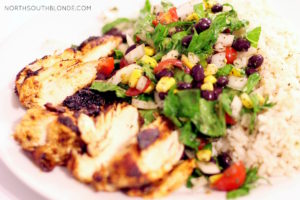 I'm telling you right now, this meal is a lot healthier than buying store bought, pre-packaged taco kits, or any Mexican nacho dish with tortillas, chips, and high fat ground beef. Chicken is known for being a top choice because of how lean it is, while providing you with tons of protein. You can also make this dish with steak, if you prefer. It will be just as good!
I'm going to apologize in advance for using white onions in this recipe, since that's all I had at the time. Red onions will taste the best.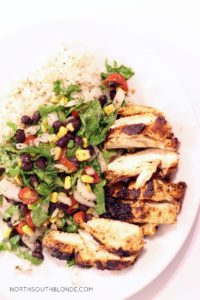 And if you enjoy spicy foods like I do, then you're sure to love this easy butter chicken recipe that has a real kick. Another recipe with a lot of spice. 
To garnish these chicken bowls, you can add avocados, guacamole, salsa
, or sour cream. You can also shred cheddar or cheese of your choice on the top, and add freshly chopped cilantro.
There are so many variations of this dish. Add jalapeños or hot sauce
 to make it hot hot hot. You can also take out the onions entirely for your kids if they aren't a fan.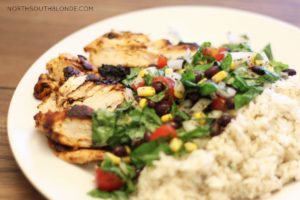 What's great about burrito bowls is that you can place what you want in your bowl. Less rice? More salad? This is a great way for families with different taste preferences to enjoy a meal together.
The cilantro-lime rice is oh-so-delicious and will get the kids eating in no time. Enjoy!
Michelle
Chipotle Inspired Chicken Burrito Bowls
These Chipotle inspired Chicken Burrito Bowls are too die for. They're fresh, healthy, flavourful, and loaded with nutrients. Cilantro-lime rice is absolutely delicious and a great base for any burrito bowl. Customize to your cravings.
Instructions
Cook rice following package instructions, add butter and salt into the water. Keep cooked rice warm and set aside.

While rice is cooking, prepare the chicken. In a small bowl, combine dry spices and stir to mix. In a large bowl, combine the chicken with oil, lime, and add the taco seasoning. Coat chicken, cover, and marinate for 30 minutes in the refrigerator.

Meanwhile, chop the Burrito Salad ingredients and toss together in a bowl. Set aside.

Grill chicken on medium/high heat, about 4 min per side, depending on thickness of chicken. Be sure centre of chicken is not pink and do not over-cook. Set aside.

Fluff rice with a fork, add lime juice and cilantro and toss together. Spoon rice into individual bowls, add Burrito Salad mixture and sliced grilled chicken. Garnish as desired.
Like what you see? Are you in need of healthy recipes that your whole family will enjoy? Sign-up here for nutritional recipes and parenting resources.
Are you in need of healthy recipes that your whole family will enjoy?
Sign-up here for unlimited free access to nutritional recipes and parenting resources.