Meat and Veggie Grilled Kabobs are an easy and healthy crowd pleaser all summer long. Low carb, keto, gluten-free, paleo, and whole 30 friendly.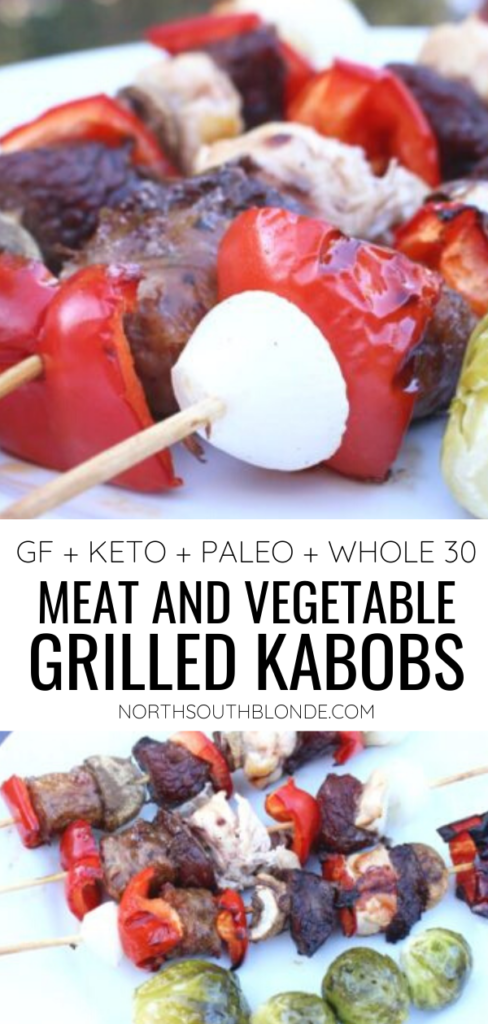 Meat and Vegetable Barbecued Kabobs
Every man's dream–coming home from work to mouthwatering meat skewers on the BBQ with a side of brussels sprouts.
Okay, not their biggest fantasy (unless you add bacon to it) but it's a lot healthier than typical barbecued potatoes, hotdogs, hamburgers, and sausages. Loaded with unnecessary calories and bread.
Skip on the bread! You'll feel so much better.
Low Carb and Keto BBQ Recipe
All you'll need to do is use your favourite meat. Or, use it all, like I did!
You can use steak, chicken, sausage, fish, or shrimp! The possibilities are endless.
Simply have if defrosted in the fridge and ready to go.
Packed with protein from the meat and fiber from the veggies, this is the ultimate summer BBQ recipe.
No breading, no carbs, just light and healthy and grilled to perfection.
A Grilling Recipe for Lunch or Dinner
Make this your main dish for either lunch or dinner, it doesn't matter!
Under that hot sun, it's so convenient to just fire up the grill and get cooking. Quick, easy, and so much flavour like this grilled eggplant side dish!
How to Make Grilled BBQ Kabobs
First thing's first, you'll need skewers. You can use bamboo skewers or stainless steel skewers that can be washed and used over and over.
With your defrosted meat of choice, simply cut your meat into 1-inch thick pieces. I used steak, chicken, and Italian sausage.
Do the same with your rinsed veggies of choice. In this recipe, I used bell peppers, onions, and mushrooms.
Slide your meat and vegetables onto your skewers tightly and then they're ready to be grilled.
How to BBQ Meat and Vegetable Skewers
You'll need to preheat your grill. Depending on which kind you have, preheating usually takes around 10-15 minutes on medium heat.
Place your kabobs evenly spaced apart on your grill. Grill for 10-15 minutes, turning as needed.
Use grilling tongs to turn your kabobs.
Tip: If your kabobs are sticking to the grill, cook for longer before turning.
How Long to BBQ Steak?
When grilling on medium heat, steak should take about 4-5 minutes per side, and same goes with chopped steak and chicken kabobs.
When in doubt, use a meat thermometer.
For steak, the inner temperature should be: 145 F for medium rare, 160 F for medium done, and 170 F for well done.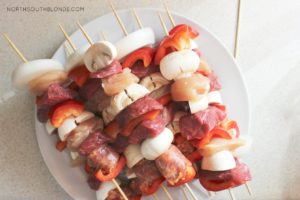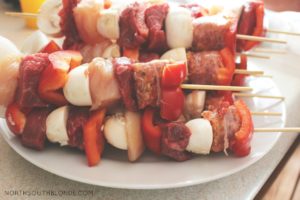 Anyone Can Make BBQ Skewer Kabobs
I'm not very good in the grilling department, I usually leave that up to my husband. I'm always scared of undercooking or blackening the meat and I'm also frightened of the BBQ blowing up when I'm lighting it (one of the reasons why we purchased a badass 4 Burner Grill
).
If I can make these kabobs, I'm sure anyone can.
Other Kabob Ingredients
What's so easy about this dish is that you can use any meat or vegetable you want. You can put brussels sprouts on the skewers as well, but they may take longer to cook.
Try shrimp or carrots next time, literally anything will work! Oh how much I love shrimp on the BBQ.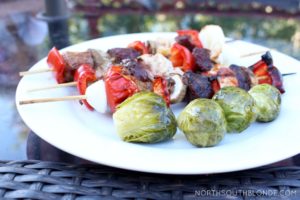 Not to mention, I'm a total sports fanatic–these kabobs are more than appropriate when celebrating and watching the Rio Olympics. Go Canada go!
Grilling Recipes You'll Also Love:
Meat Lovers' Barbecued Kabobs
Instructions
Chop the first 6 ingredients into 1 inch thick pieces.

Grill kabobs on medium heat, turning as needed (10-15 minutes) or until meat is cooked through and vegetables are tender.
Nutrition
Calories:
387
kcal
|
Carbohydrates:
8
g
|
Protein:
40
g
|
Fat:
22
g
|
Saturated Fat:
9
g
|
Cholesterol:
116
mg
|
Sodium:
226
mg
|
Potassium:
895
mg
|
Fiber:
2
g
|
Sugar:
5
g
|
Vitamin A:
1897
IU
|
Vitamin C:
80
mg
|
Calcium:
21
mg
|
Iron:
3
mg
Shop What You'll Need