Portobello Mushroom Bacon Burgers are extremely juicy, delicious, and healthy. The ultimate paleo meal that's low in carbs and high in protein.

Transitioning to a paleo or whole 30 diet can be quite difficult, especially when you have to avoid dairy, grains, sugar, and salt. The question is, how can one prepare a filling, hearty meal without all of those tasty carbs?
These portobello mushroom burgers do exactly that. They're high in protein and will satisfy your cravings all in one.
Also, my husband just happened to go crazy over these. Who said eating healthy has to be limited to salads only?! Although, my blackened chicken avocado salad from last week was also pretty amazing! Get the recipe here.
Hamburger Bun Replacement
For this recipe, instead of using hamburger buns, I use large and juicy portobello mushrooms. They add a mouthful of satisfying goodness, and they're the perfect size to replace an actual bun!
No bread, no carbs, no gluten.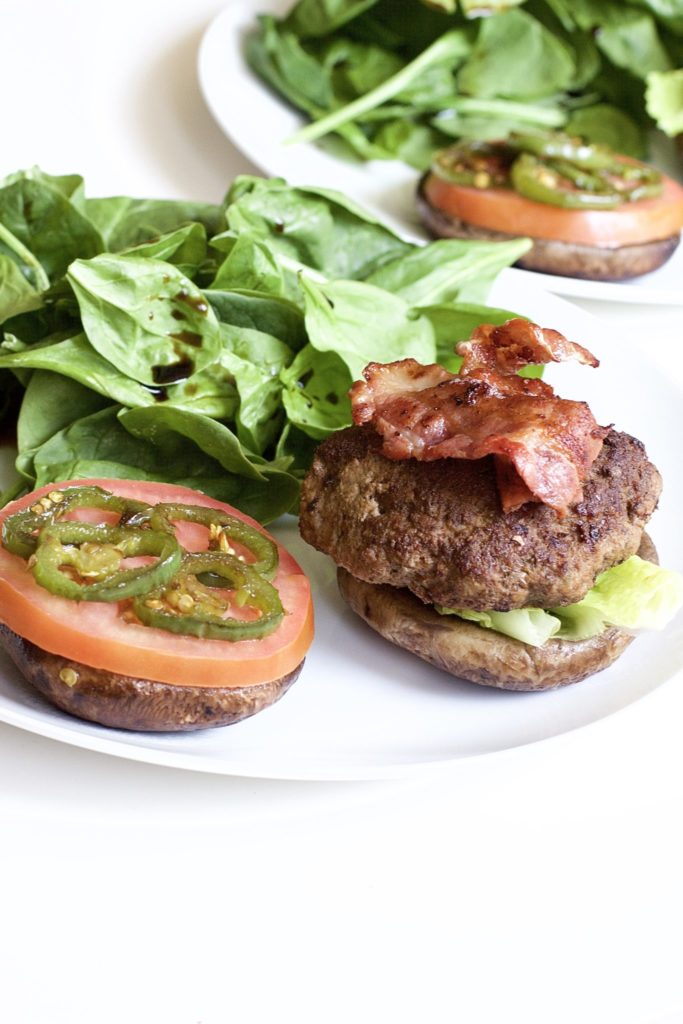 Low Carb and Keto Portobello Mushrooms
Portobello mushrooms are naturally low in carbs and a great alternative to bread when one aims to lose weight.
Health benefits of portobello mushrooms include:
Contains Selenium which is known to prevent cancer
High in potassium and lowers blood pressure
Provides fibre on a low carb diet
Anti-aging and combats inflammation
Contains antioxidants to boost immunity
Contains riboflavin (vitamin B2) which will kick your body into ketosis by breaking down carbs, sugars and fats to produce energy, in turn, burning fat.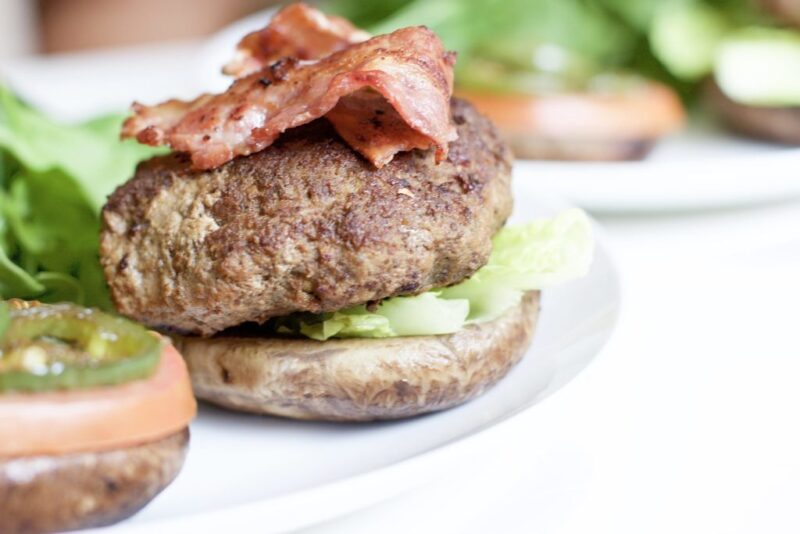 How to Make Homemade Burgers
And did I mention these are made with homemade burgers? Even more juicy goodness!
I use extra lean ground beef and I also recommend using ground turkey because turkey burgers are just as delicious. It's also much more lean than beef.
Most homemade burger recipes call for breadcrumbs, to bind the beef together. You can easily substitute breadcrumbs by using almond flour instead. It helps add the right amount of crunchiness to your burgers!
Some people also enjoy adding ketchup to their burger mixture. If you do, try using a sugar free ketchup or just skip it.
Homemade Burger Recipe
In a large bowl, using your hands, mix the ground beef, salt, pepper, garlic powder, red pepper flakes (optional), paprika, olive oil, egg, and almond flour.
Form 1/2 inch thick burger patties.
Press a whole halfway through the centre of each patty with your thumb, this will help the burgers stay flat when cooking.
Cook or grill burgers 5-6 minutes per side or until browned to your liking.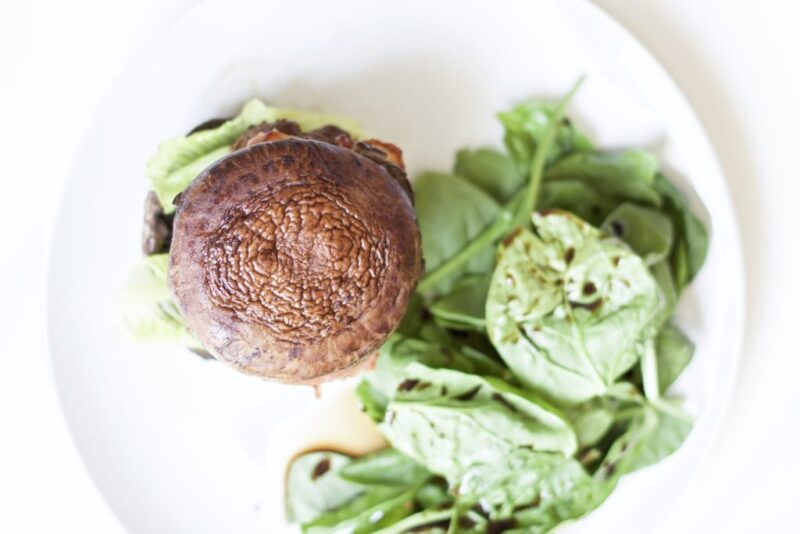 More paleo recipes you'll love:

Healthy Portobello Mushroom Burgers
When avoiding heavy carbs like bread, you'll notice a difference right away–how you feel, how you look, and ultimately having more energy and confidence. Don't be fooled by the meat in this recipe because it's packed full of protein to fuel your body.
Just remember to eliminate the dairy (no cheddar cheese for topping), skip the ketchup (mustard is a great paleo alternative), and make sure the bacon has no added sugar or salt.
Enjoy these juicy, mouth watering homemade burgers that are layered on top of portobello mushrooms. They are the ultimate paleo lunch or dinner this summer that everyone will love.
Remember to tag me on Instagram and share your food with me!

Portobello Mushroom Bacon Burgers (Gluten-Free, Paleo, Whole 30)
Ingredients
Portobello Mushroom Bun Replacement
Instructions
Wash and cut the stems off of the portobello mushrooms. Heat a frying pan with olive oil over medium and fry mushrooms covered for 3-5 minutes per side or until soft and tender. Remove and set aside.

Cook bacon to desired crispiness. Remove and wrap in paper towels to absorb grease.

In a large mixing bowl combine ground beef, sea salt, pepper, garlic powder, pepper flakes, paprika, olive oil, egg, and almond flour. With clean hands, knead the mixture until well combined. Shape the mixture into 1/2 inch thick patties, or thinner, poking a whole halfway through the middle using your thumb (this will help keep the burgers flat when cooking).

Cook burgers 5-6 minutes per side or until browned through. Let stand for just under 5 minutes and place between portobello mushrooms. Top burgers with the bacon, red onion, tomato, romaine lettuce, sautéed jalapeños, and mustard. Toppings are all optional. Serve with a balsamic salad or vegetables of choice and enjoy!
Notes
1 Burger = Approximately 6 Net Carbs
Nutrition
Calories:
410
kcal
|
Carbohydrates:
9
g
|
Protein:
31
g
|
Fat:
29
g
|
Saturated Fat:
6
g
|
Cholesterol:
112
mg
|
Sodium:
112
mg
|
Potassium:
1032
mg
|
Fiber:
3
g
|
Sugar:
5
g
|
Vitamin A:
417
IU
|
Calcium:
36
mg
|
Iron:
4
mg
Shop This Post: