In these blueberry banana cinnamon pancakes, there's no dairy, sugar, or gluten — just delicious and fluffy pancakes. Talk about low calories. Healthy never tasted so good!

Healthy Blueberry Banana Cinnamon Pancakes
Let's just say that I was never a morning person until I had kids. Seriously, if it were't for them, I would be sleeping in right now, as we speak.
So, in order for me to really enjoy my mornings, besides sipping on a cold cup of coffee, I'll mix up a batch of homemade pancakes for my daughters. It makes them happy and gives me purpose (while I sip on my oatmeal breakfast smoothie at the same time).
Or, you can enjoy these pancakes with your family, because you'll know that they are made with wholesome, nutritious ingredients that are refined sugar free. No mom shame in that.
Just a heads up, this is a pancake recipe made from scratch, meaning no boxed mixture used. I control every ingredient going into these pancakes, therefore I know what's healthy and what's not when feeding my family.
The bottom line is I'll wake up extra early for this recipe any day. Healthy never tasted so good.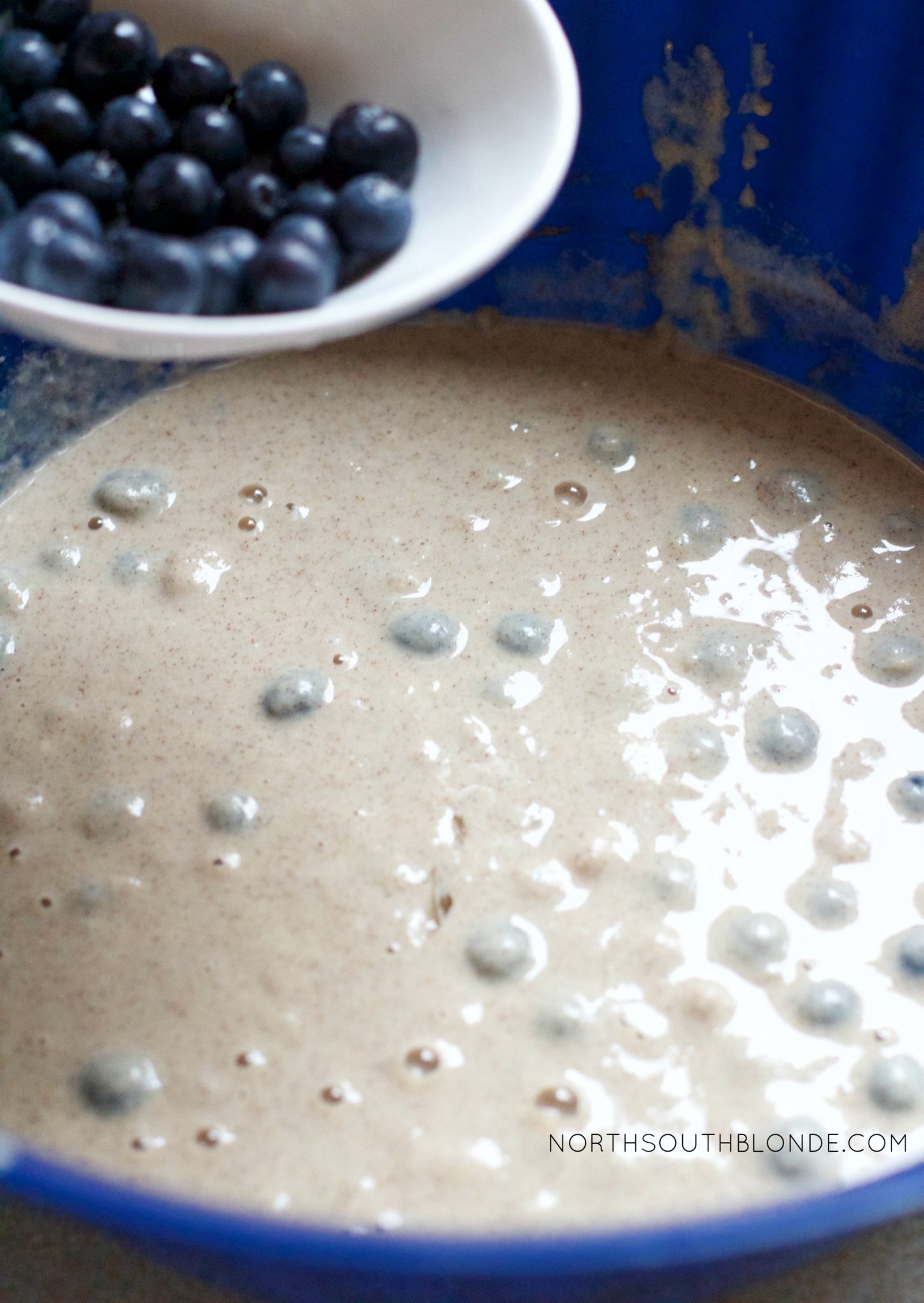 Gluten-Free, Vegan, and Paleo Ingredients
Maybe you do have blueberries, bananas, baking powder, brown rice flour, almond milk, cinnamon, flaxseed, and salt sitting around in your kitchen. And if you don't, experiment!
Pancakes are so fun to whip together with whatever you've got!
Let the kids mix up the ingredients in a large bowl (or just do it yourself if you need to be out the door quickly).
More Toddler Food Recipes You'll Love:
This is a delicious and healthy breakfast recipe for the upcoming holiday season. Whether you have guests over or you just want to indulge, mix these bad boys up and fry them without the guilt.
Top with light whipped cream, yogurt, pure maple syrup, a sprinkle of icing sugar, or more cinnamon. I love how fluffy these turn out!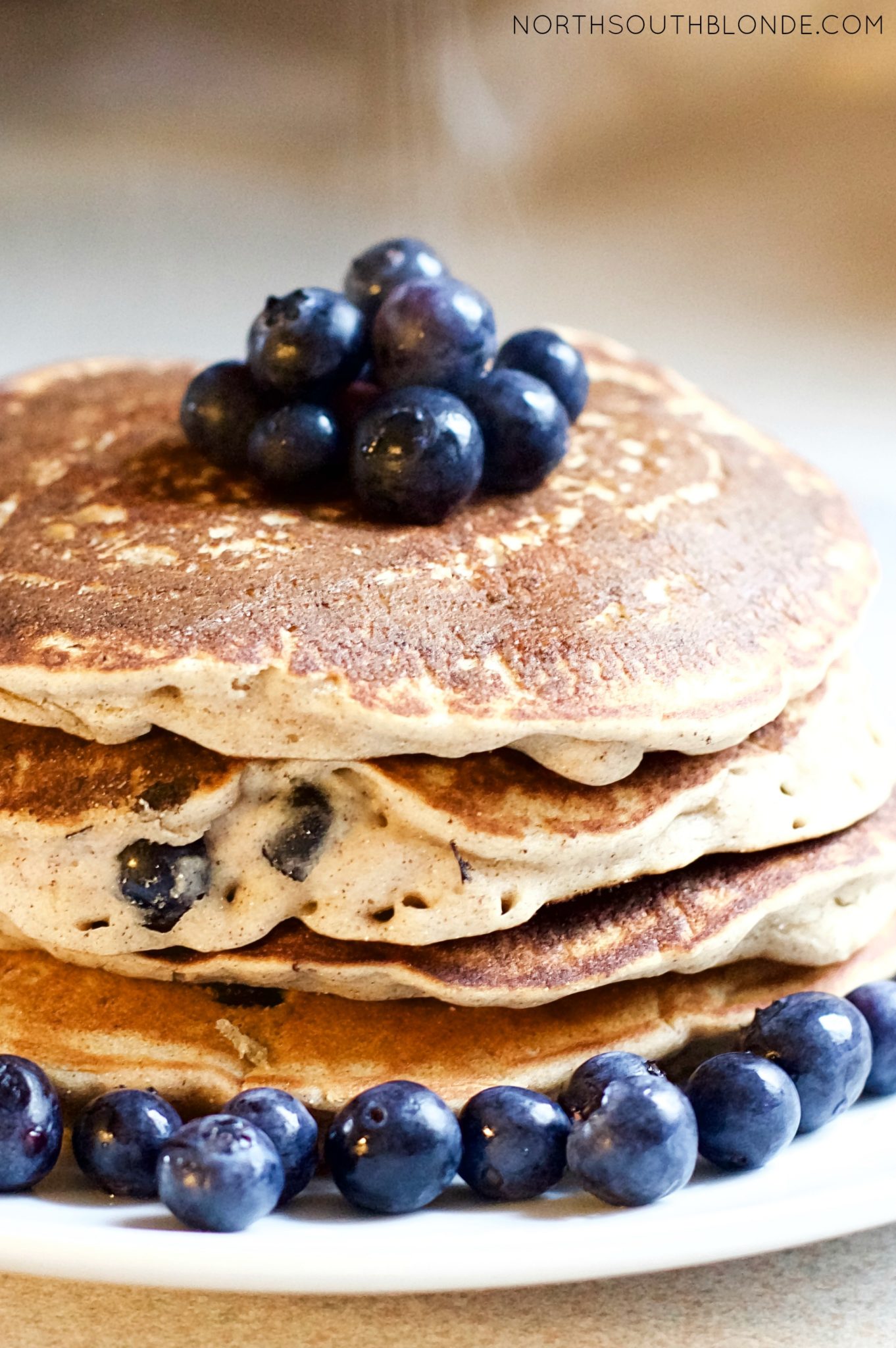 Vegan Flaxseed Egg Replacement
Flaxseeds have many essential nutrients including omega-3 fats, protein, and dietary fibre. They help with lowering blood pressure, cholesterol, and aid in digestion. And also a great source of antioxidants to help fight against aging and keep your immune system working in tip top shape. Sign me up!
For vegans, use a tablespoon of ground flaxseed
and 3 tablespoons of water to replace one egg.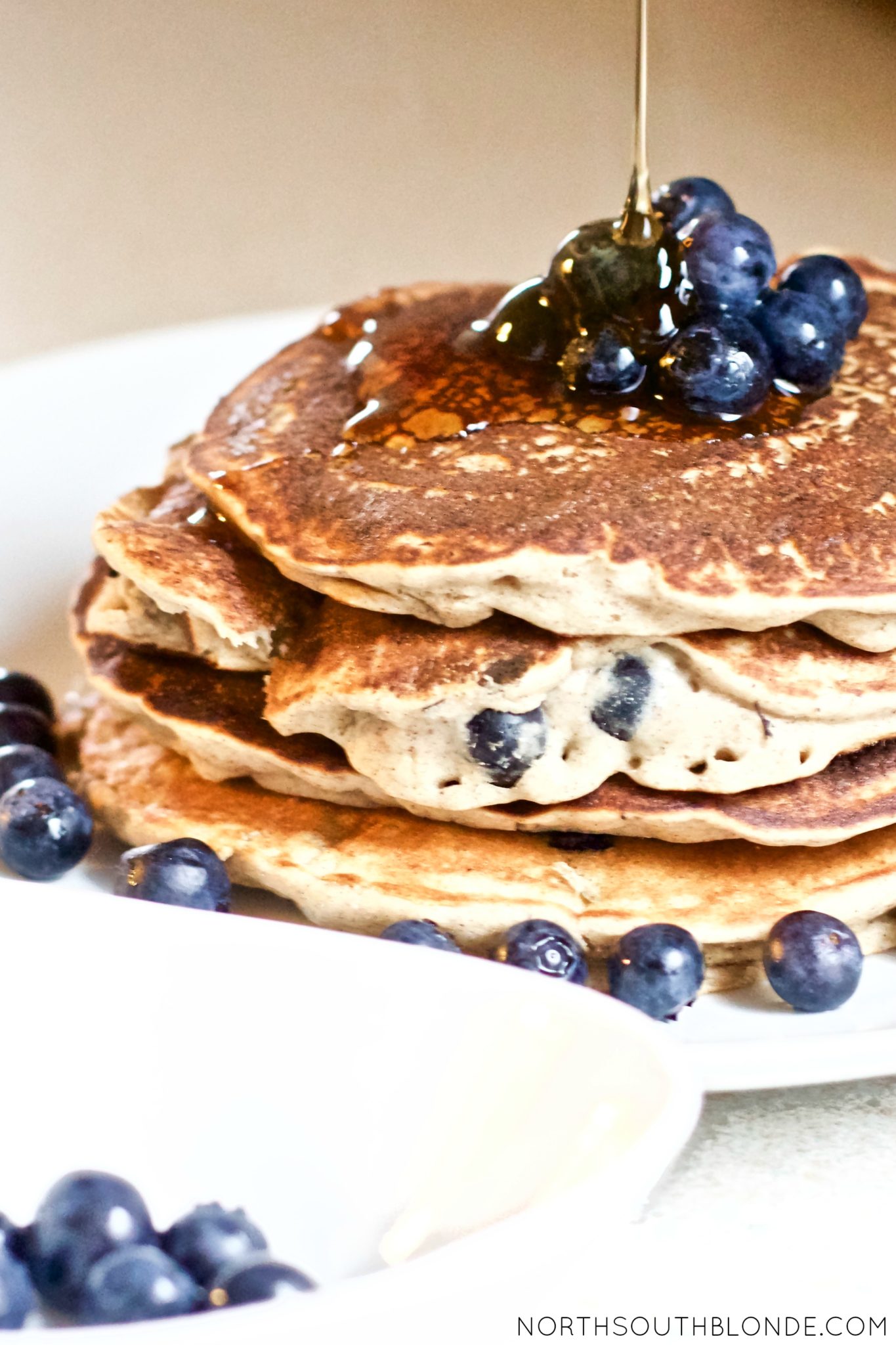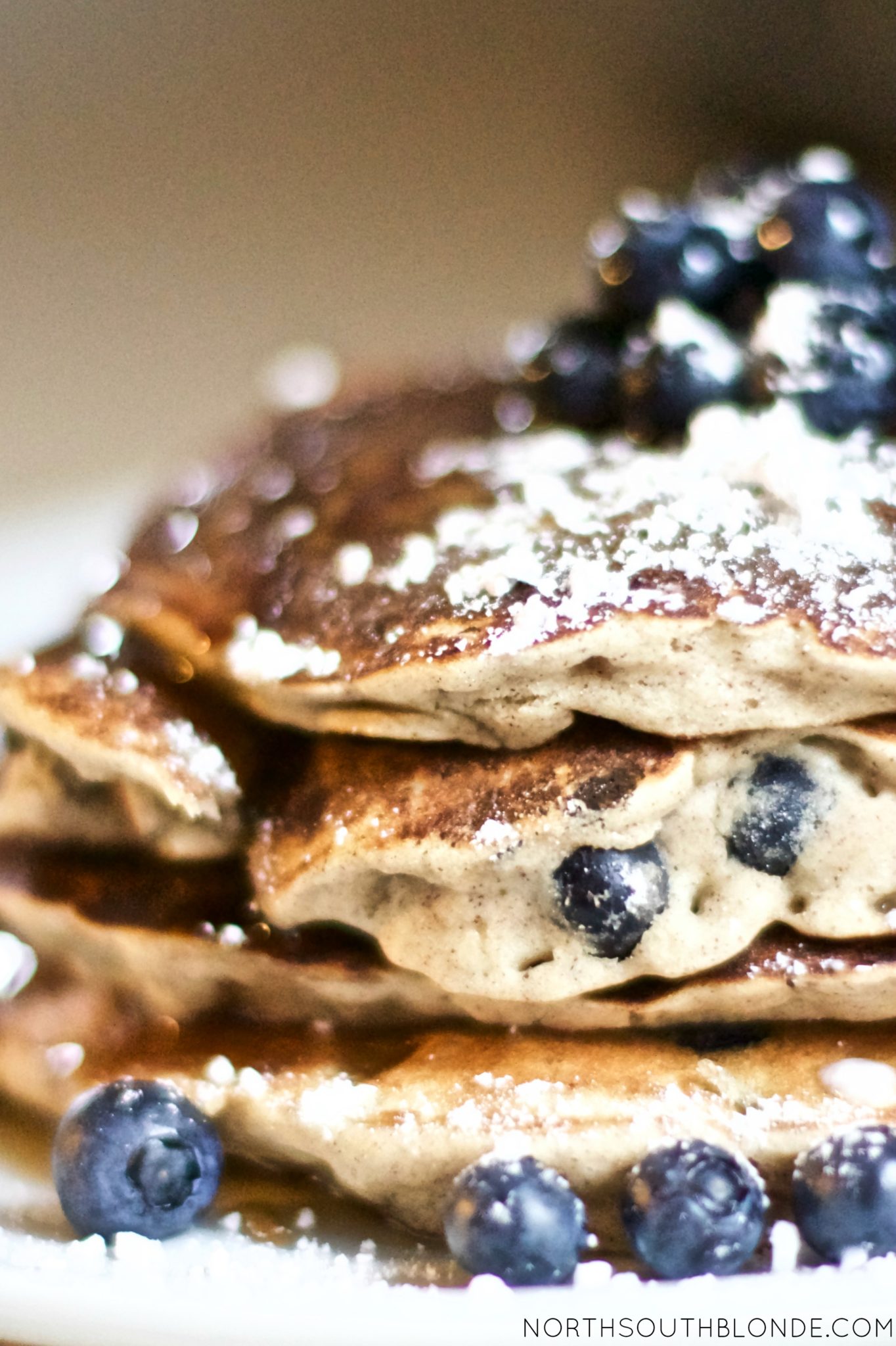 Tips for Perfect Pancakes Every Time
Consistency is key. Depending which gluten-free flour you are using, you may have to thicken your batter by adding more flour. You don't want an over-watery consistency.
I used frozen blueberries for this recipe, because hey, it's more convenient for this momma over here. However, using fresh blueberries will help them from adding wetness to the batter.
Be sure to coat your pan with butter, or coconut oil (if vegan) and heat to medium high before pouring the batter into the pan. Take a peak under the pancake by lifting it slightly with a spatula to see if it has browned before flipping.
The thicker the pancake that was poured, the longer it will take to cook through.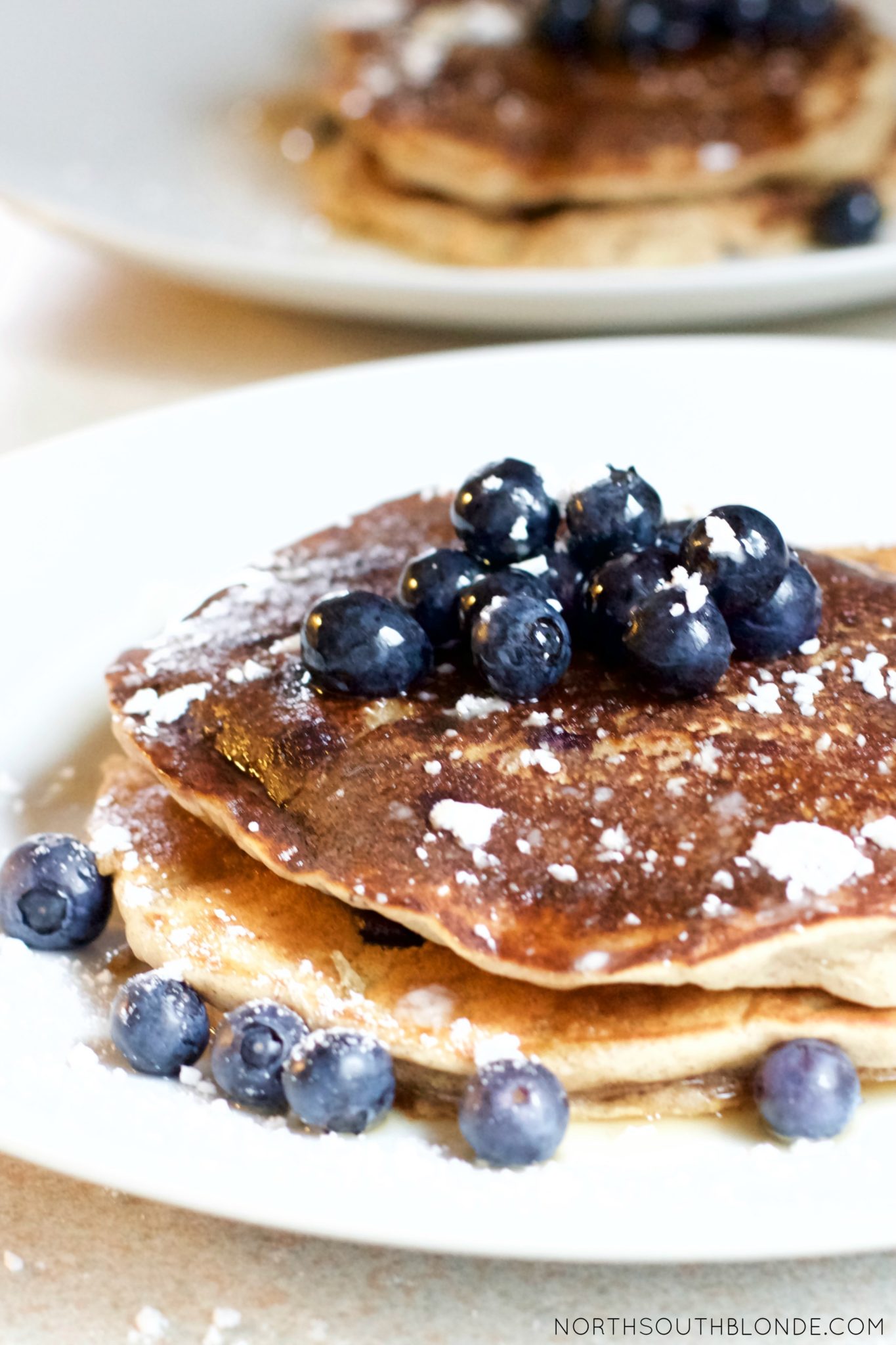 Shop What You'll Need:

Blueberry Banana Cinnamon Pancakes (Vegan, Gluten-Free, Paleo)
Ingredients
1

cup

blueberries

1

large ripe banana

1

cup

almond flour

if using another gluten-free flour, you may need to add more almond milk

½

teaspoons

baking powder

1

egg OR flax egg

1 tbsp ground flaxseed with 3 tbsp water

pinch

salt
Instructions
Mix all of the ingredients in a large mixing bowl.

Heat a non-stick frying pan with a tsp of coconut oil or cooking spray, on medium-high heat. Once the pan is hot, pour in the batter to form whichever size of pancake you'd like - large or small for the littles. Cook for a few minutes on each side until golden brown in colour. Make sure heat isn't set high so pancakes don't burn. Use a spatula to check doneness underneath. Remove and serve and repeat for remainder of batter.
Notes
1 Serving = Approximately 10 Net Carbs
Nutrition
Calories:
153
kcal
|
Carbohydrates:
13
g
|
Protein:
5
g
|
Fat:
10
g
|
Saturated Fat:
1
g
|
Cholesterol:
27
mg
|
Sodium:
52
mg
|
Potassium:
133
mg
|
Fiber:
3
g
|
Sugar:
6
g
|
Vitamin A:
66
IU
|
Vitamin C:
4
mg
|
Calcium:
99
mg
|
Iron:
1
mg