How easy is it to make a breakfast smoothie when you're on the go? So easy! And trust me with this one, it tastes so yummy that you won't believe how fast the kids gulp it down.
There are so many healthy benefits and nutrients packed into one glass. You'll feel full and have energy to start your day.
The ingredients are organic, superfoods that are high in fibre, dairy free, sugar free, and gluten-free as well.

An Easy & Healthy Breakfast Smoothie
When I get up in the morning, all I really care about is having my coffee and feeding the kids. No, I'm not up for having pancakes, Eggo's, Cheerios, or peanut butter on toast, or bland oats (read here how to make oatmeal not boring).
I need something nutritious and healthy that is quick to make. This is it! It only takes five minutes and it's sweet! There are literally so many variations to this smoothie – add any kind of fruit you prefer.
The great thing about it is that my daughters finish it faster than I do! (It's healthy for them too).
Health Benefits of Mixed Berries
Reduces risk of cancer
Has antioxidants which boosts immunity and promotes youthfulness
Lowers blood pressure and blood sugar levels
Fights against inflammation and heart disease
Excellent source of fibre for easier weight management
Improves skin
Lowers cholesterol
Consumed in a wide variety of diets (low carb, keto, paleo, whole 30, vegan, gluten-free, etc)
A good source of energy-boosting carbs
Health Benefits of Chia Seeds
Chia Seeds can be consumed raw or cooked, and soaked into a liquid like almond milk before eating.
Here are the many health benefits you'll reap by simply adding a tablespoon of chia seeds to your smoothie:
Excellent source of omega-3 fatty acids which are essential for brain and heart performance, as well as lowering blood pressure and in turn, provides energy
Rich in antioxidants to fight aging and boost your immune system
Source of fibre, iron, calcium, and protein (a must if consuming a vegan diet)
Protects against heart attacks and strokes
Dairy Free Milk Options
Switching up smoothie ingredients is as easy as customizing a bowl of oatmeal to your liking. And the benefits of going with a plant-based milk are for good cause.
My favourite milk alternative is unsweetened vanilla almond milk because I personally love the flavour of vanilla.
Here are other gluten-free and vegan milk alternatives you can use: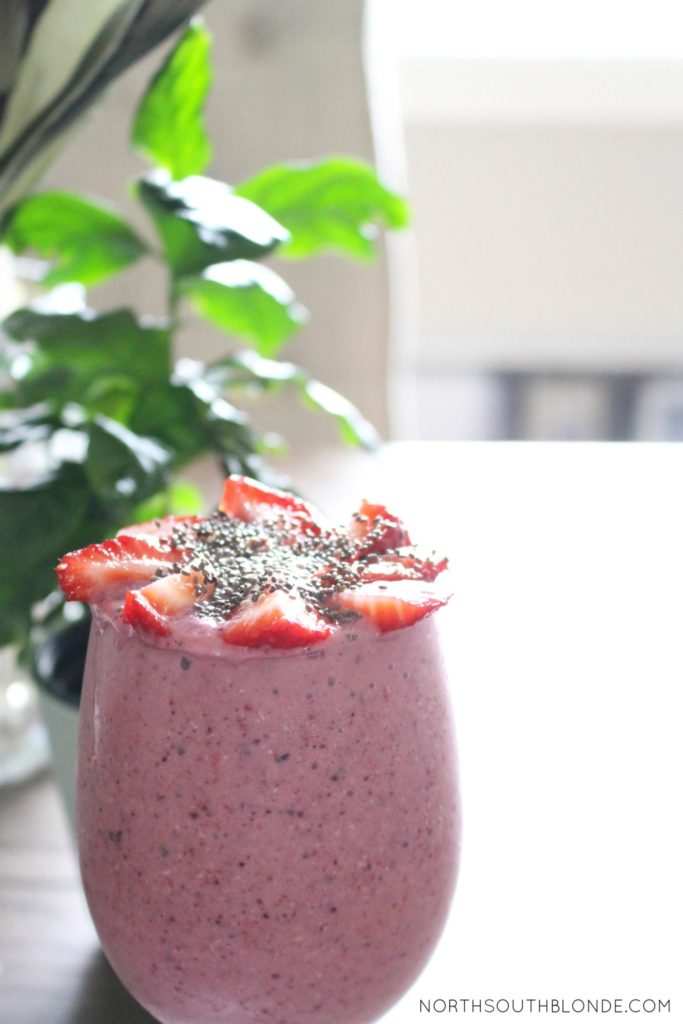 Can You Eat Oatmeal Raw?
The simple answer is, yes. However, it will taste better when soaked in a liquid such as milk or water — which makes for the perfect smoothie ingredient.
You can buy chia seeds in your local grocery store's health section or nuts and seeds section. I like to order a great big bag of it over at Amazon.
Simply add a tablespoon of chia seeds to your smoothie, smoothie bowl, oatmeal, or cereal.
Health Benefits of Oats
Full of antioxidants to fight aging and free radicals, and boost immunity
Excelled source of fibre
Aids in weight loss
Lowers blood sugar levels and cholesterol
Improves heart health and gut health, for easier digestion
Filling and acts as a hunger suppressant to avoid snacking
Good carbs which break down into energy to power through your day
If you struggle with consuming oatmeal on a daily basis, you'll want to read 27 Ways to Make Oatmeal Not Boring.
Alternative Sweeteners for Your Smoothie
Honey or pure maple syrup is refined sugar free and a great choice for a healthier smoothie sweetener.
However, you may also opt for a zero calorie, zero carb sweetener such as: liquid stevia, powdered stevia, monk fruit sweetener, or natural erythritol.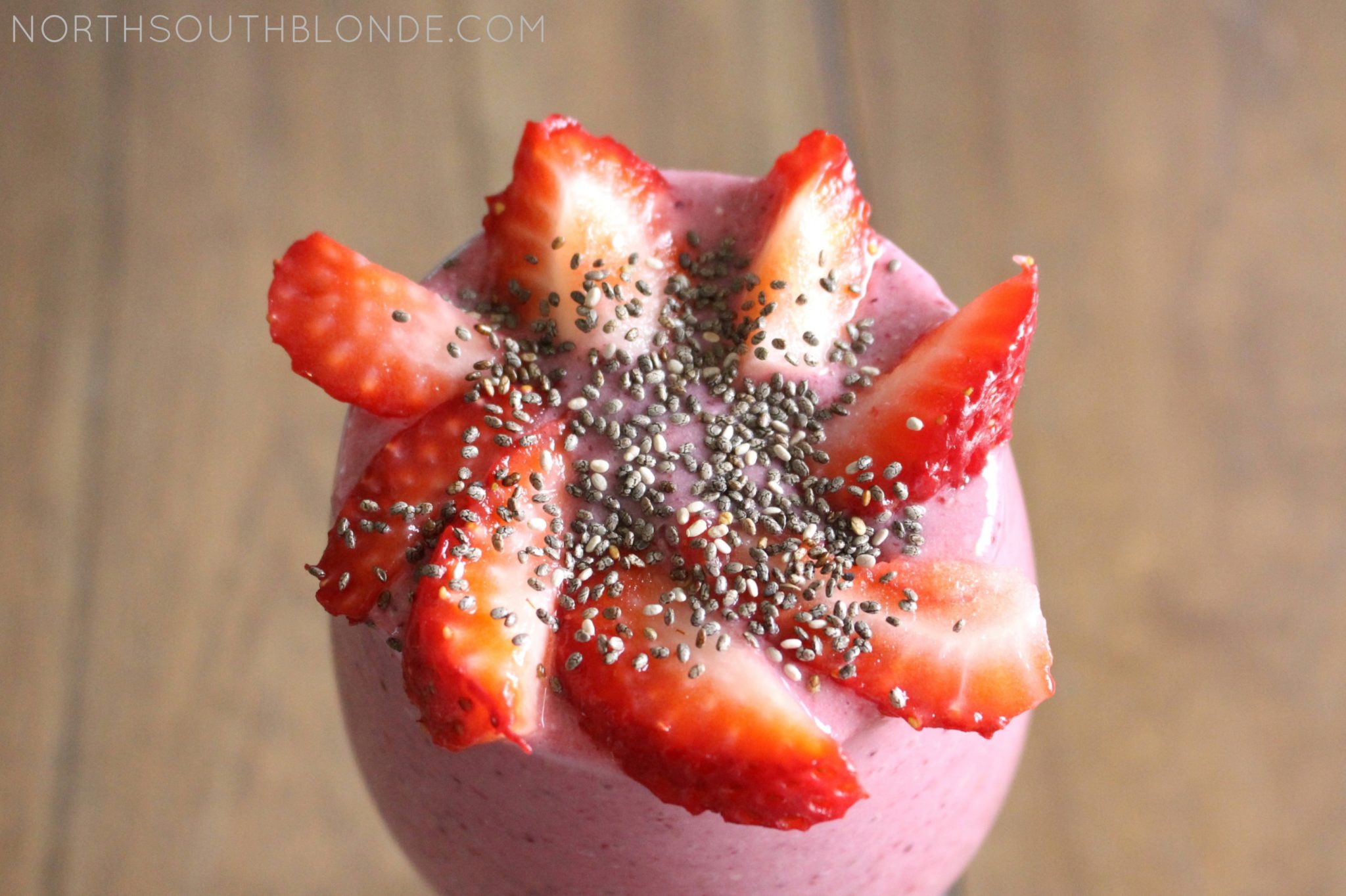 More Smoothie Recipes You'll Love:
Need More Natural Energy?
Sometimes, a natural, highly absorbable supplement from Soul Life is what you need.
Many of us have deficiencies that aren't recognized from a standard routine blood test. And there are numerous causes of a lack of energy; whether it may be a mineral deficiency or an under-active thyroid. A tell-tale sign is having heavy periods, or experiencing extreme fatigue during periods. Low thyroid is also seen in men who are tired all the time!
Sometimes, all it is, is a simple supplementation of a quality, highly absorbed supplement compound with trace minerals and key nutrients that are essential to function. Get your body working optimally again with Cellenda and Rekick by Soul Life. You can throw out everything else in your medicine cabinet, including all of those supplements you bought on a whim from Walmart. I promise.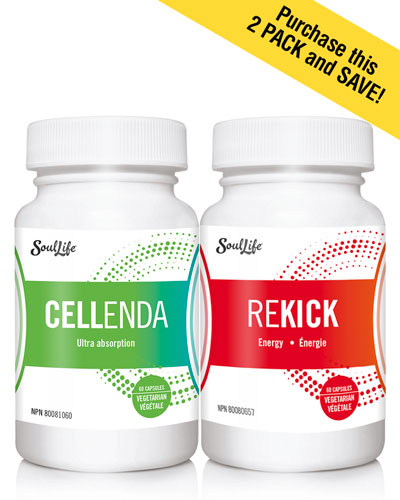 For more information about natural healing and all things wellness, come and join my second Instagram account @northandwellness.
This smoothis is a delicious way to start off your day. This smoothie is fast and easy to make and will give you the energy boost you need in the morning. No caffeine. Lots of antioxidants and fibre. It's tasty enough for the whole family to enjoy.

Energy Boosting Oatmeal Berry Breakfast Smoothie
1 frozen banana 1 cup of water 1 cup frozen mixed berries 1 cup rolled oats 1 tbsp raw honey 1 tsp of chia seeds
Instructions
Using a blender, blend together until smooth.
Shop What You'll Need:
0 Calorie Low Carb Sweeteners to Add: