This oven roasted crispy Italian broccoli has amazing flavours and is made with low carb breading that makes this main dish or side dish satisfyingly filling. Gluten-free, keto, vegan, paleo, and whole 30 compliant!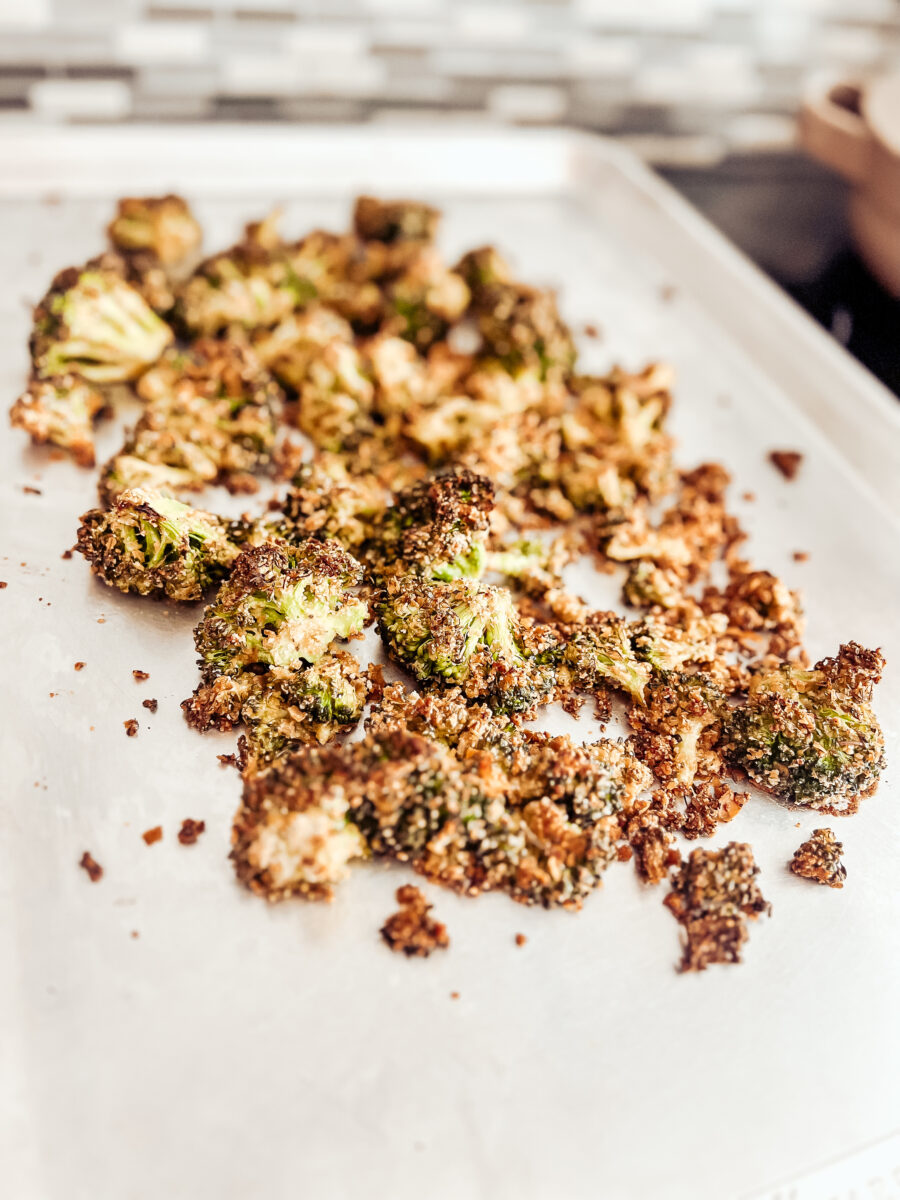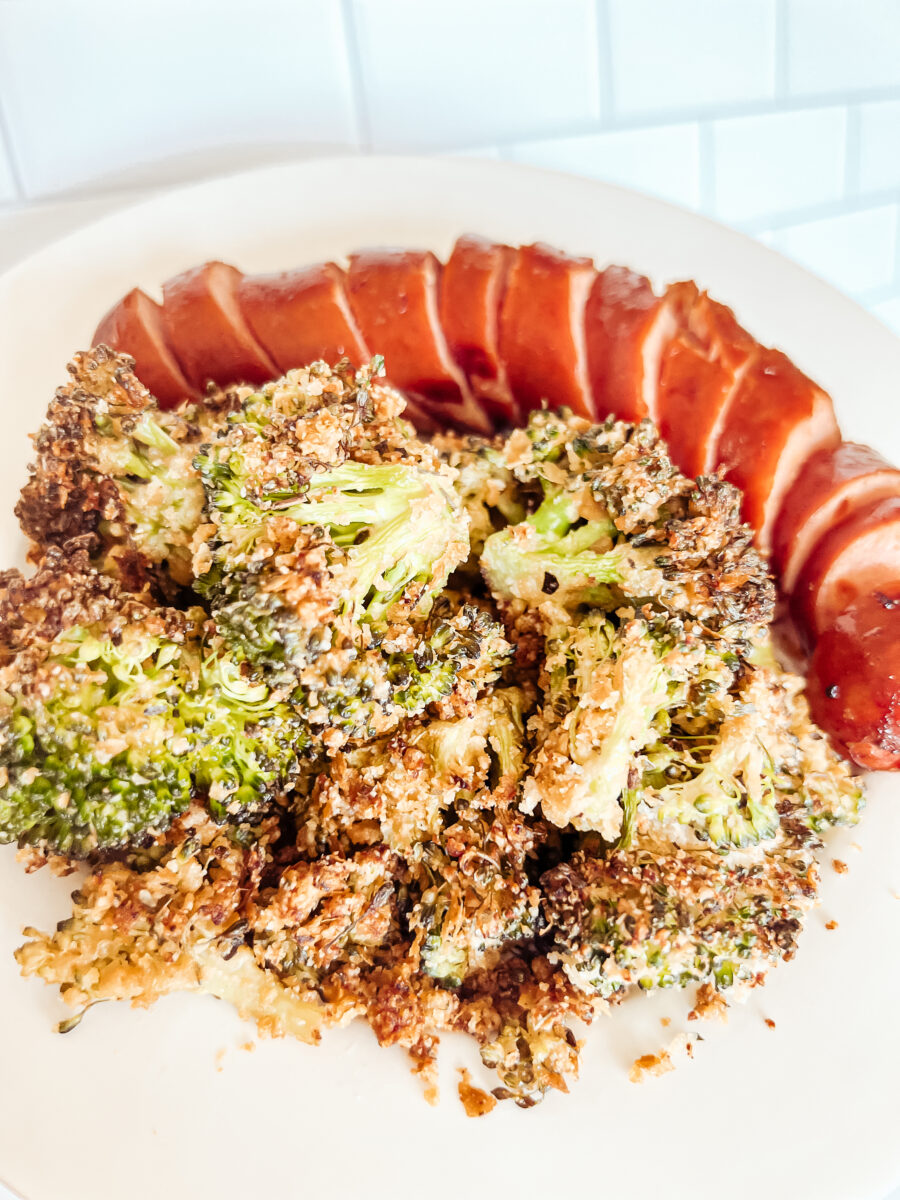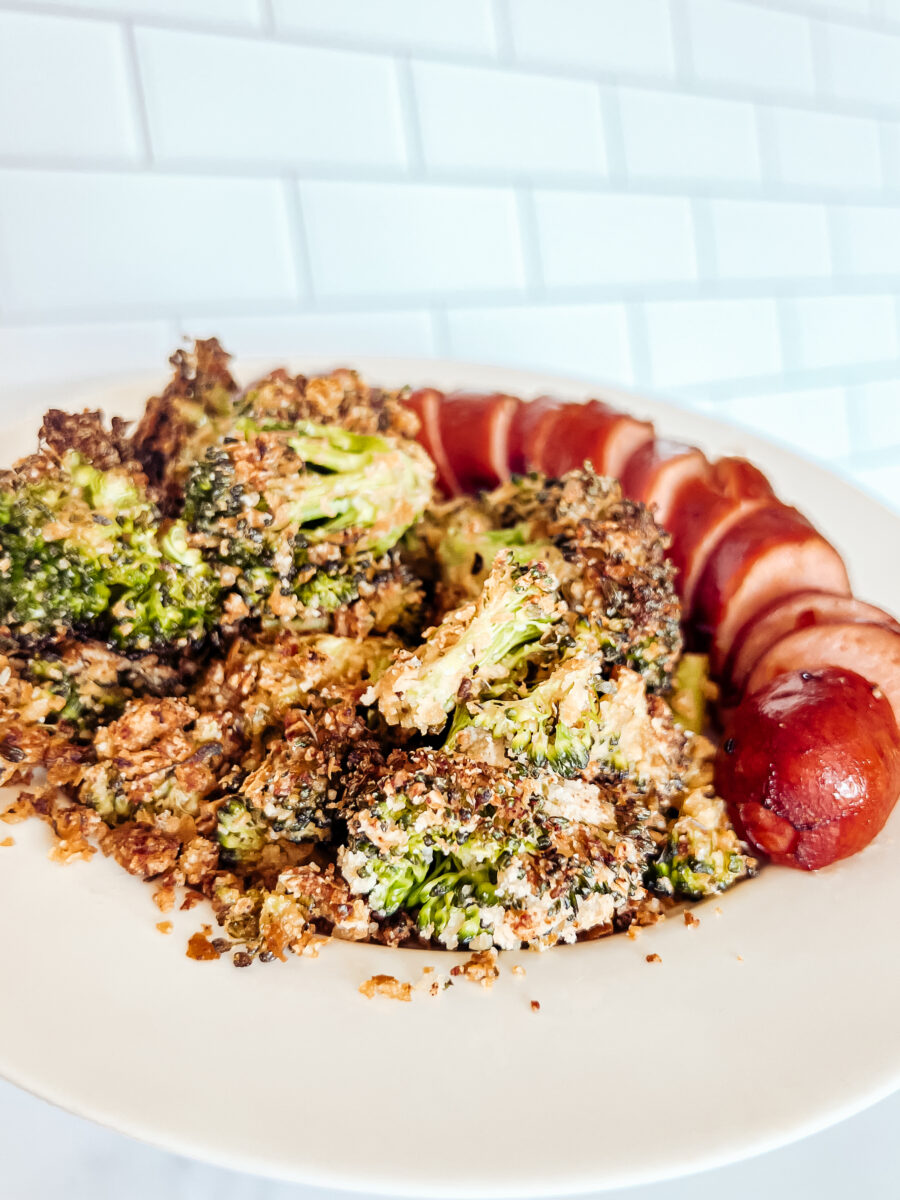 Oven Roasted Crispy Italian Broccoli
This broccoli can be enjoyed on its own because it's that good and that filling. Trust me.
Serve at your next pot luck, serve on the patio, meal prep, or just enjoy for a healthy weeknight family dinner.
The crispiness of the low carb "breading" and flavourful Italian herb seasoning is a match made in heaven that is sure to please the crowd.
Gluten-Free, Keto, Vegan, Paleo, & Whole 30 Compliant
This recipe is as healthy as healthy gets with clean ingredients to keep inflammation at its lowest.
We're talking sugar free, gluten free and dairy free, yet you won't be able to tell!
More Healthy Side Dishes to Try:

Italian Broccoli Side Dish Ingredients
This recipe involves only a few ingredients and is so easy to make, I promise you won't get it wrong!
Here's what you'll need:
Fresh heads on broccoli
olive oil
almond flour
nutritional yeast
Italian seasoning blend
Salt and pepper
Garlic powder
Onion powder

How to Make Roasted Crispy Italian Broccoli
This is the easy part! All you have to do is wash the broccoli and cut in florets, and toss with the rest of the ingredients in a large bowl. Bake for 15-20 minutes until perfectly golden and scrumptious!
Additional Recipe Add-ins
Bacon because it adds to the flavour and crispiness! Just make sure you use sugar free.
Parmesan Cheese if not dairy free.
Make it saucy with ranch, mayo, or a garlic aioli.
Apple cider vinegar can also work to give it a more summer tasting dish while reaping those health benefits
Nuts and or cranberries are great to add in as well
---
---
Nutritional Yeast (Cheese Substitute) Health Benefits
A new ingredient I've been using a lot in our kitchen lately is nutritional yeast. You can easily add it to eggs, vegetables, potatoes, and even popcorn. It gives the flavour of cheese without the dairy and with a ton of added nutritional benefits.
Just one tablespoon gives you 640% of the recommended daily B1, 480% of B6, and 130% of B12.
One serving can replace your vitamin B complex capsule. Many of us are deficient and don't even know it! Try adding nutritional yeast to your diet and see how much your attention and focus improves.
Great for converting carbs to energy (burning fat) and for optimal brain health and memory.
A great source of folic acid, selenium and zinc, all of which are needed for a strong immune system.
It also contains fibre which is great for regular digestion and weight loss.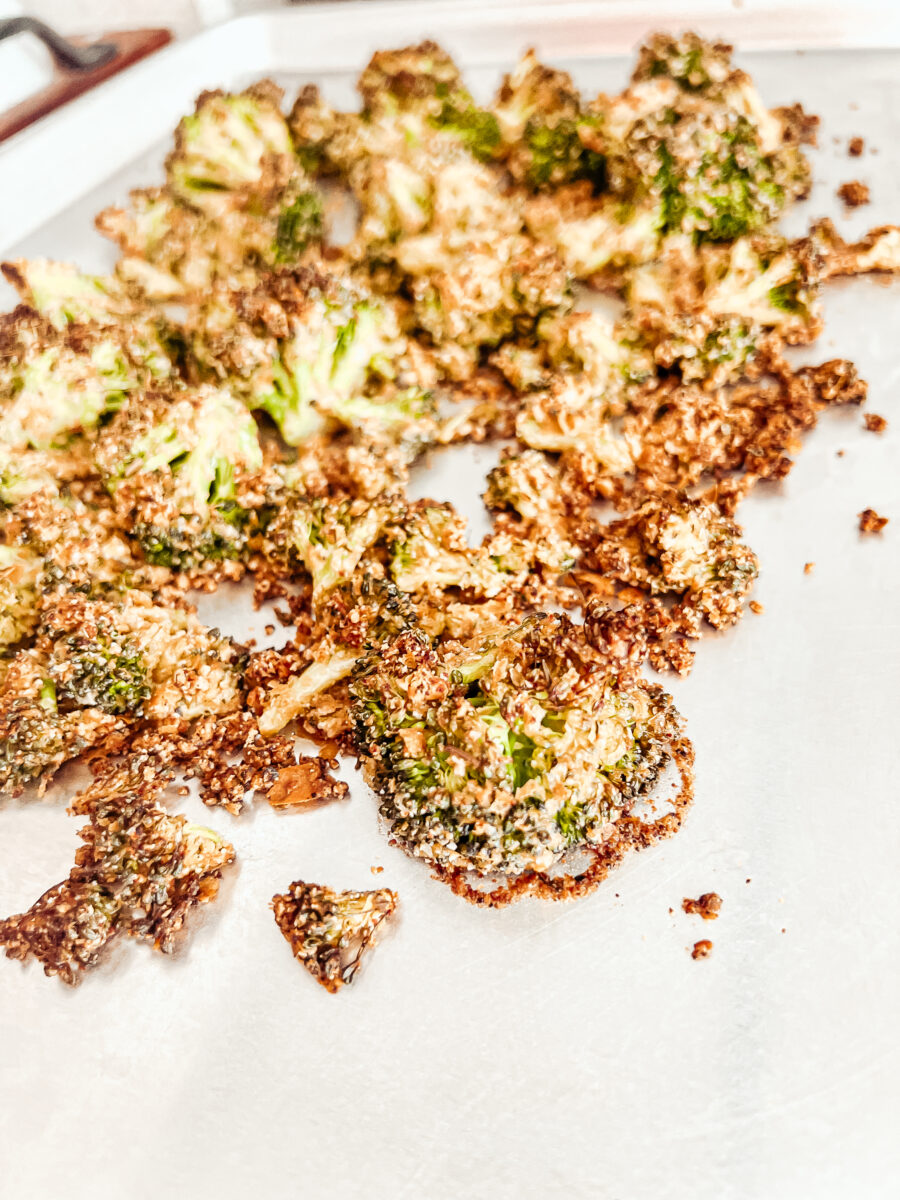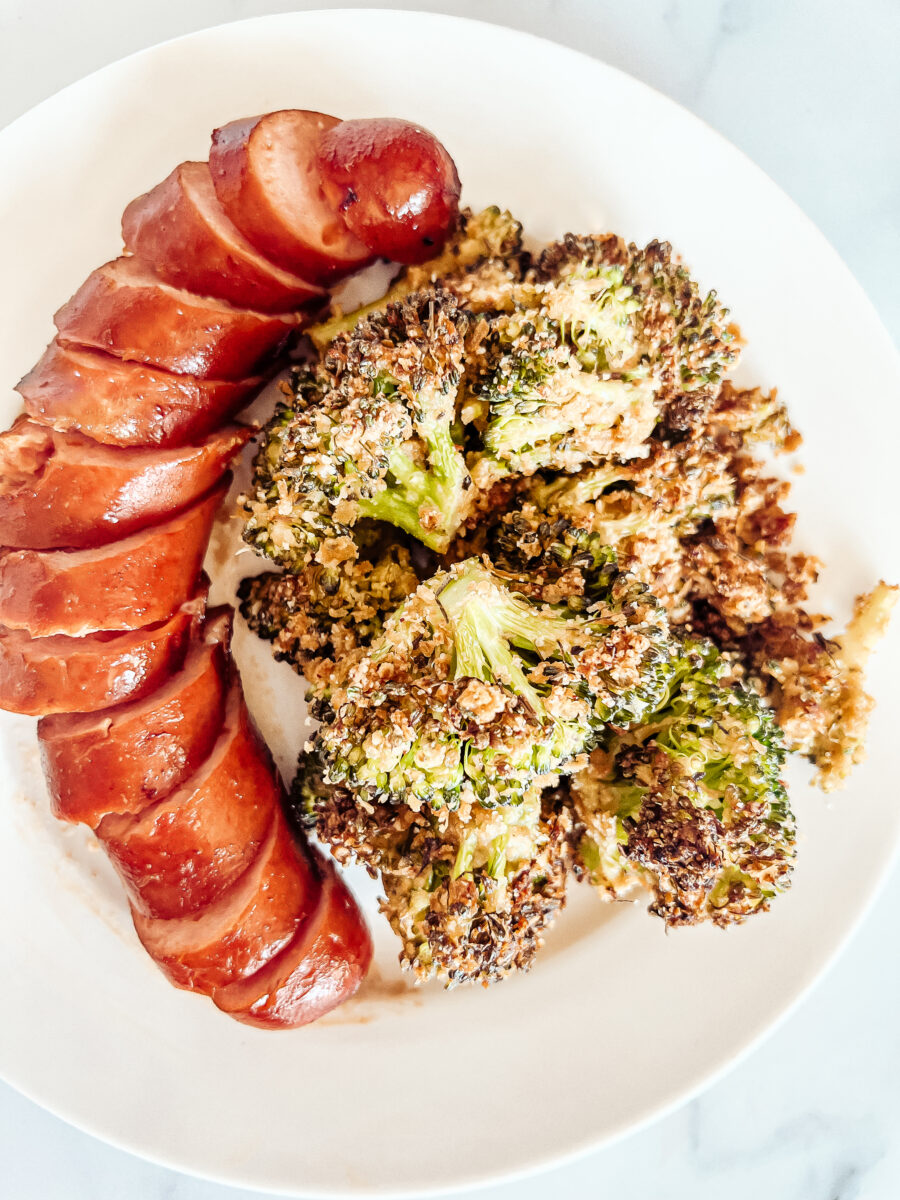 Main Dish Recipes to Eat With Italian Broccoli
Helpful Tips
It's definitely hard to get this recipe wrong, and it doesn't take much work in the kitchen! For perfectly crispy broccoli, be sure to toss in plenty of olive oil before roasting. This allows the seasoning and low carb breading to stick and form that perfect crust.
Lots of seasonings and crumbs will drop while tossing together, just be sure to scoop it all up and add to the baking sheet to bake with the florets.
Scatter the florets on the baking sheet so that they cook evenly.
Store in an airtight container in the fridge for up to five days.
Made this recipe? I'd love to see! Please tag me on Instagram @northsouthblonde and I will share to my stories! Be sure to follow along for more healthy recipes.
Roasted Crispy Italian Broccoli
This oven roasted crispy Italian broccoli is a main dish or side dish that's satisfyingly filling. Gluten-free, keto, vegan, paleo, whole 30!
Instructions
Wash and cut broccoli into equal sized florets. Toss in a large bowl with the rest of the ingredients.

Lay onto a baking sheet spread apart evenly, pouring any seasoning or crumbs from the bottom of the bowl on top of florets.

Bake for 15-20 minutes or until golden and crispy. Enjoy!
Notes
One serving is approximately 6-10 net carbs
Nutrition
Calories:
237
kcal
|
Carbohydrates:
14
g
|
Protein:
8
g
|
Fat:
18
g
|
Saturated Fat:
2
g
|
Polyunsaturated Fat:
2
g
|
Monounsaturated Fat:
10
g
|
Sodium:
203
mg
|
Potassium:
615
mg
|
Fiber:
6
g
|
Sugar:
3
g
|
Vitamin A:
1069
IU
|
Vitamin C:
152
mg
|
Calcium:
106
mg
|
Iron:
2
mg
Shop Recipe Ingredients
Pin Recipe For Later