This easy Keto Broccoli Salad is a classic side dish and a summer favourite! Full of flavour and crunch, while naturally gluten-free, low carb, healthy and satisfying.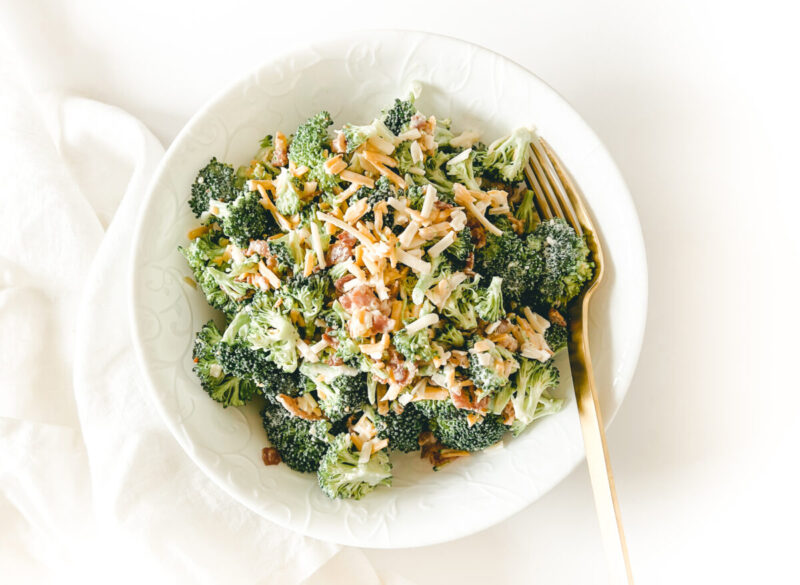 Broccoli Salad Summer Side Dish
Broccoli Salad is always a favourite summer side dish because it's quick and easy to make and hits the spot with any refreshing beverage on a hot day. Little cooking involved, fresh, healthy, and delicious. Plus, it's a great way to get in high fibre veggies when enjoying a low carb diet.
Whether you are spending a day at the cottage or lake, or BBQing with family and friends, you'll want to bring this flavourful salad right along to serve as a mouthwatering side everyone will love. Some other great salads to serve are my Cucumber Salad, Sweet Pear Salad, or Avocado Salad.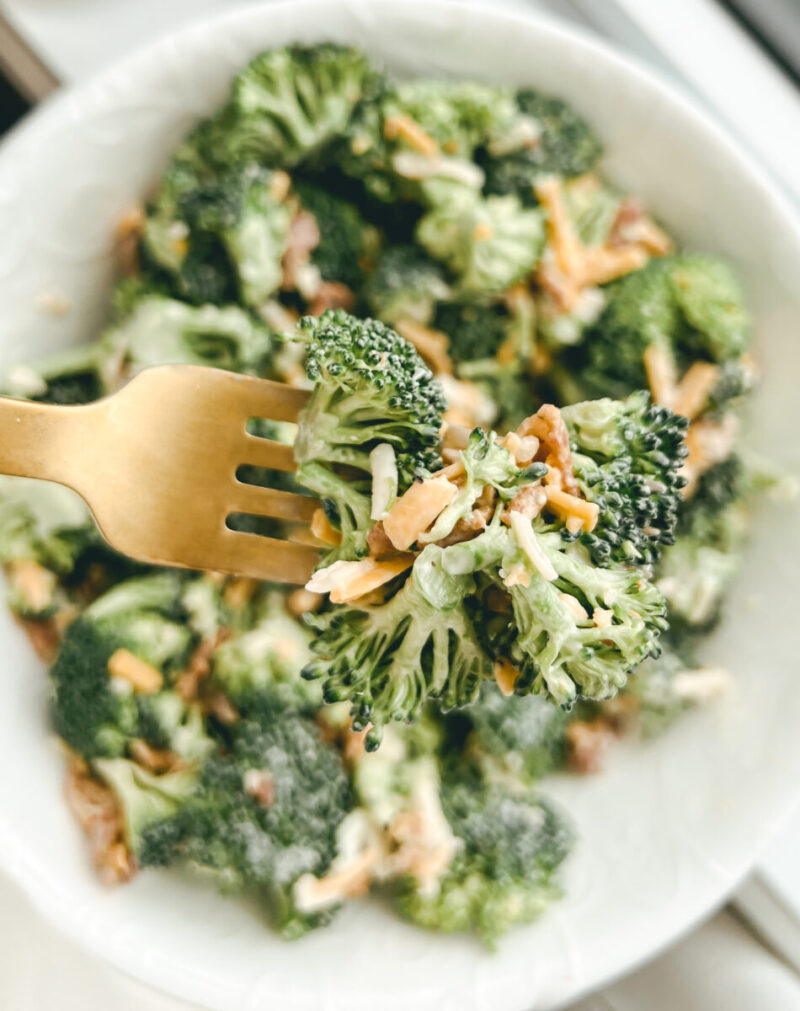 Keto Broccoli Salad Ingredients
This salad is made with simple ingredients you probably already have on hand! And if not, you can make a quick list for the grocery store. Easy and simple!
Broccoli
Cheddar Cheese
Bacon
Red Onion
Mayo
Apple Cider Vinegar
Lemon Juice
Salt and Pepper
Some additional ingredients you may want to add:
preferred nuts and seeds (sunflower seeds, walnuts)
cranberries
poppy seeds
sweetener
fresh fruit (like strawberries or pears)
raisins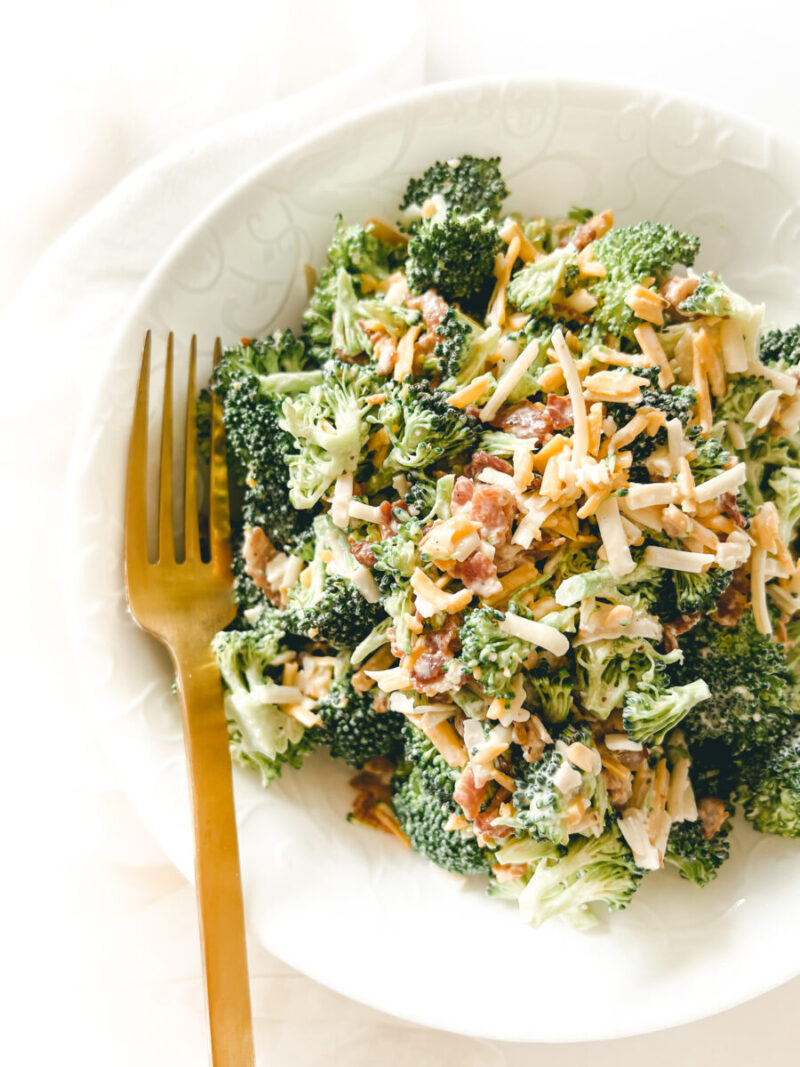 How to Make Keto Broccoli Salad
Keep in mind that any additional ingredients you add to this recipe may increase the carb count, if that's something you are being mindful of!
Rinse broccoli well, dry, and remove stems
Chop broccoli into bite-sized florets
Dice bacon and cook, drain and cool
Toss all of the ingredients in a large salad bowl
Chill in the refrigerator for 1-2 hours before serving
This recipe makes approximately 4 servings, each serving being ******* net carbs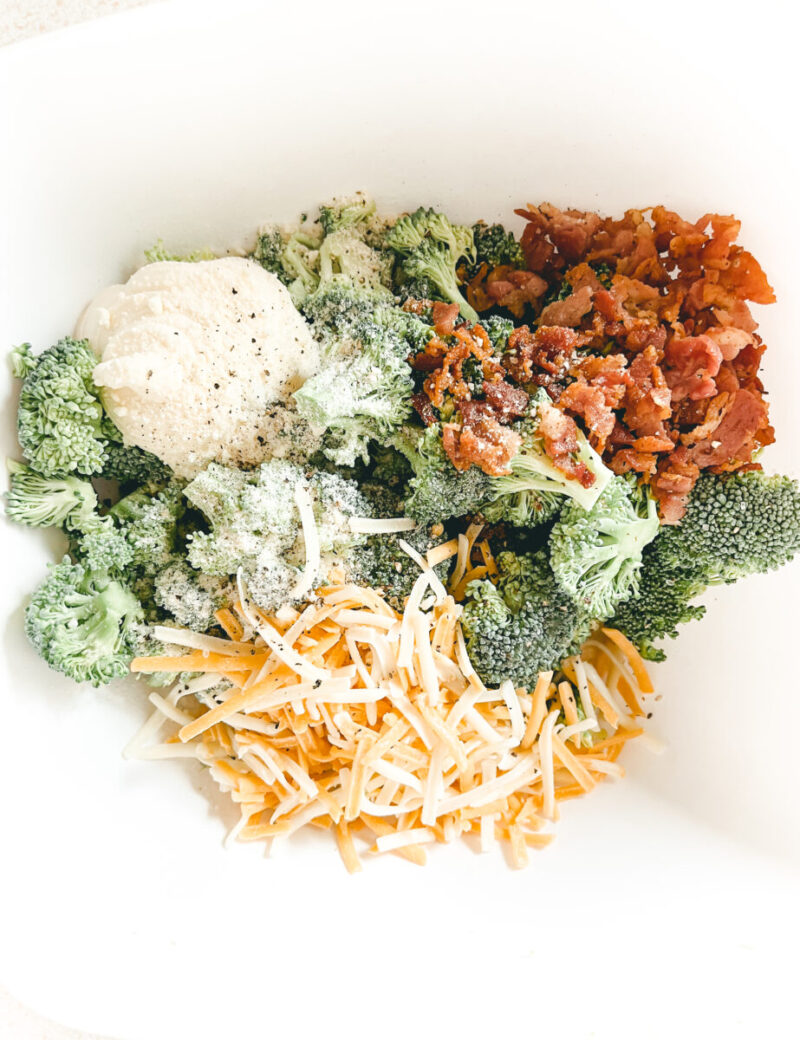 Recipe Tips
No need to cook broccoli, this is a raw broccoli salad!
Use fresh heads of broccoli, rinsed, patted dry, with the stems removed.
Don't skip on the cheddar cheese and parmesan! It is a match made in heaven with the broccoli.
As for the bacon, you can always switch up your protein by subbing in chicken, sausage, and even steak!
The onion is an optional addition for flavour, you can slice lengthways or dice them.
The dressing of this salad is very minimal, but you are welcome to add in some olive or avocado oil and extra seasonings.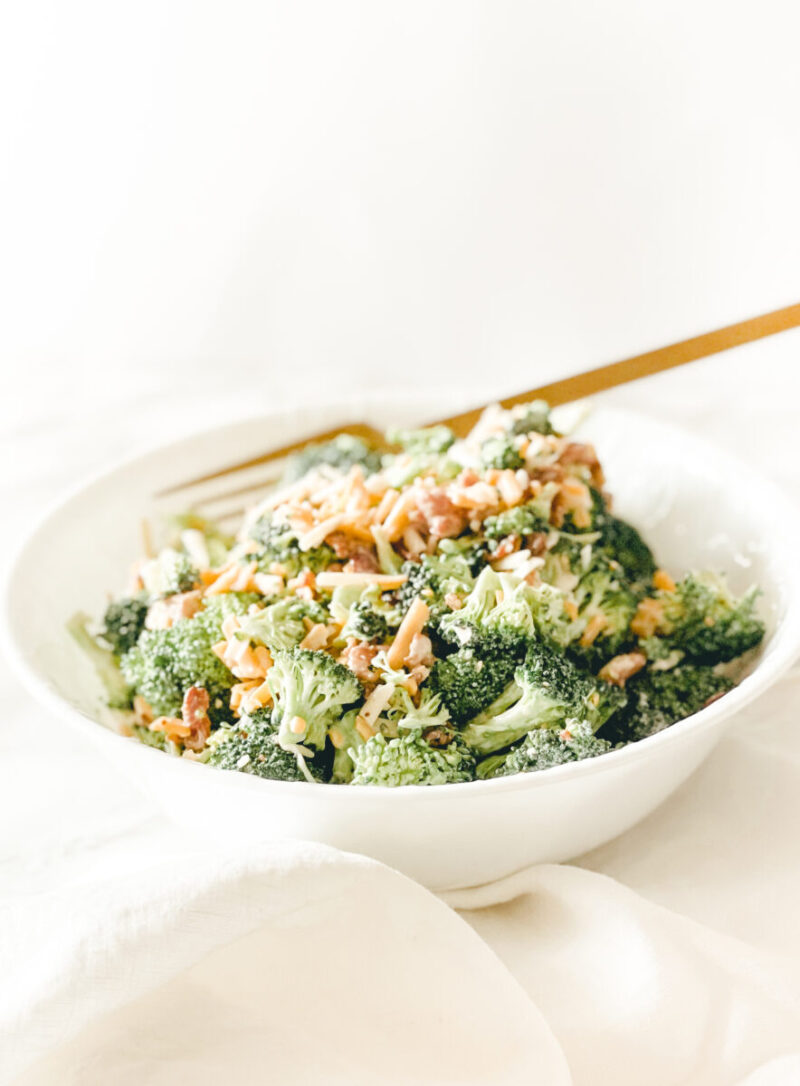 What to Serve With a Broccoli Salad Side
Salad is meant for a hot spring or summer day, sitting on the patio, and spending time with loved ones in the sunshine. They're light and healthy, perfect for a BBQ or weeknight family dinner, and are best served with nutritious source of protein. Here are some ideas:
BBQ — think steak, salmon, chicken (wings, breast, whole chicken, thighs, legs), pork chops, corn on the cob, meat and veggie skewers
Picnic — think sandwiches, wraps, charcuterie boards, wine, and more cheese
Party — Serve with alongside my spinach artichoke dip, more raw veggies and dip, charcuterie boards, low carb tortillas, chips, and crackers
Chicken — oven baked, roasted, grilled, or air fried
Seafood — Salmon, trout, cod, shrimp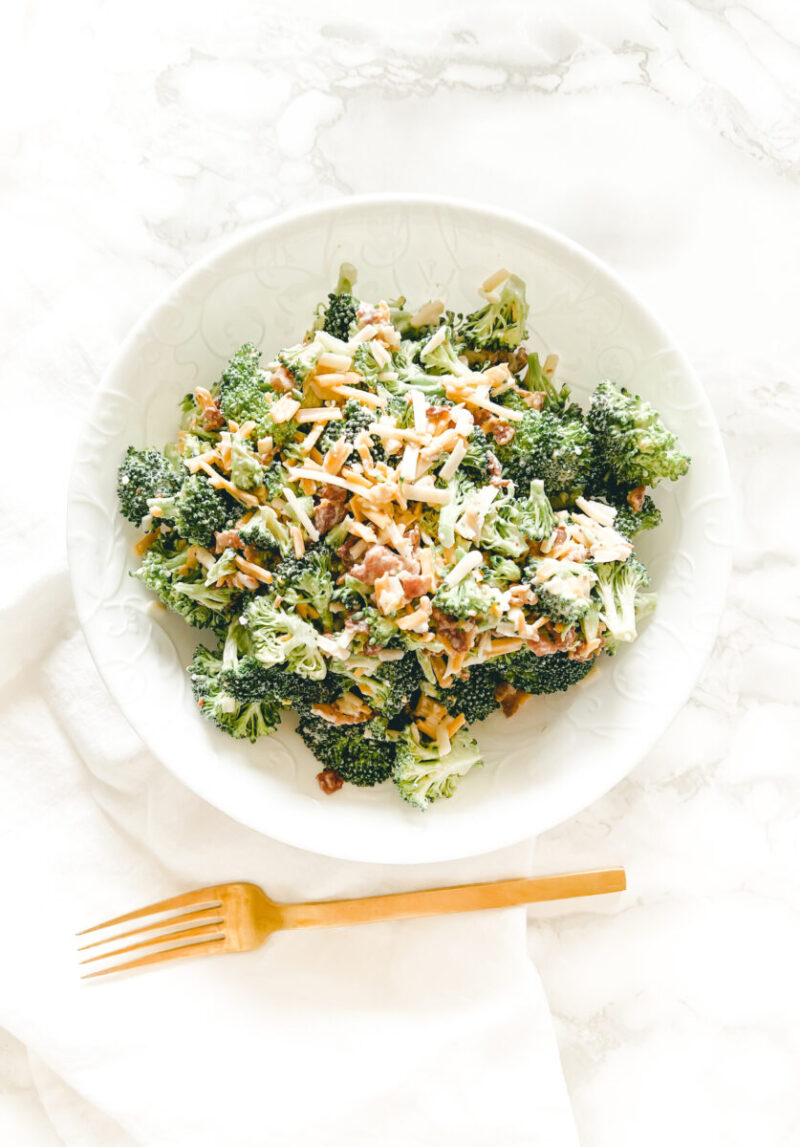 Keto Broccoli Salad FAQS
Do I need to cook or blanche the broccoli?
No, you do not need to cook the broccoli at all. By serving it raw, you get to experience the satisfying crunchy taste of raw veggies, while maintaining all nutrient absorption.
Do I have to rinse and dry the broccoli beforehand?
It is recommended to rinse the broccoli to remove pesticides, impurities and dirt, as well as drying so that you are not left with soggy broccoli. Simply pat dry with a paper towel and then cut into florets.
Can this be made dairy-free or vegan?
Yes, if you are vegan or dairy-free, you would need to use a dairy-free cheese of choice and sub vegan parmesan and vegan mayo.
Is this recipe truly low carb and keto friendly?
Absolutely! This broccoli salad is a high fibre, high fat dish that keeps you full and satiated. If you were to add extra ingredients like nuts, seeds and fruit (some low or high in carbs), you would be adding to the carb count.
How long does it stay fresh in the fridge?
The longer the salad sits, the creamier and the better. I would keep it refrigerated for about 4 days, giving it a quick toss before serving. But don't you worry, it will be long gone before then!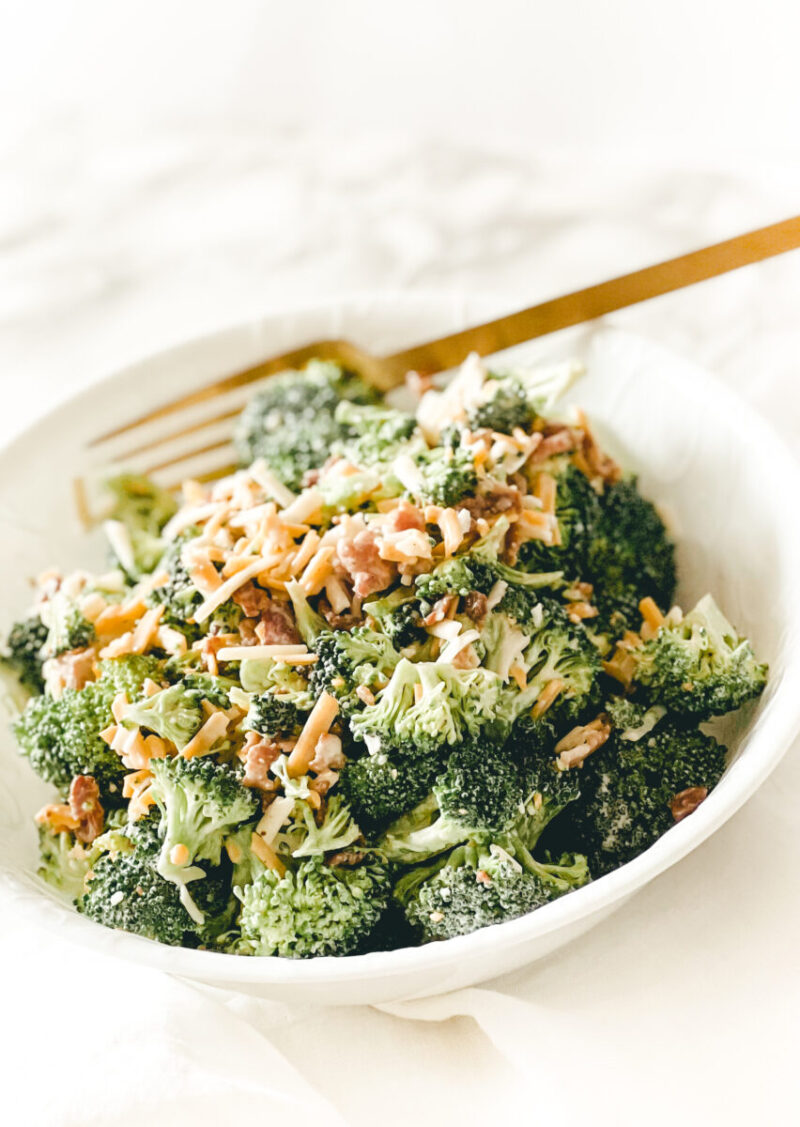 More Healthy Salads You'll Love:
Easy Keto Broccoli Salad
This easy Keto Broccoli Salad is a classic side dish for summer! Full of flavour and naturally gluten-free, low carb, healthy and satisfying.
Instructions
Wash broccoli, pat dry, then remove all stems and chop into bite-sized florets

Chop bacon into bits and cook until desired doneness, about 10 mins on medium heat stirring often, until nice and crispy. Place on a paper towel to soak and cool.

Assemble the salad by adding all ingredients to a large bowl. Toss until well combined and set in the fridge for 1-2 hours to set. Serve!
Notes
Dairy-free Alternatives: sub vegan cheese, vegan parmesan and vegan mayo
Carb Count: 1 serving = approximately 8 Net Carbs
Store: in an airtight container in the fridge for 4-5 days
Mayo alternatives: greek yogurt or ranch
Nutrition
Calories:
286
kcal
|
Carbohydrates:
12
g
|
Protein:
10
g
|
Fat:
23
g
|
Saturated Fat:
7
g
|
Polyunsaturated Fat:
8
g
|
Monounsaturated Fat:
7
g
|
Trans Fat:
1
g
|
Cholesterol:
31
mg
|
Sodium:
367
mg
|
Potassium:
549
mg
|
Fiber:
4
g
|
Sugar:
3
g
|
Vitamin A:
1068
IU
|
Vitamin C:
136
mg
|
Calcium:
157
mg
|
Iron:
1
mg
Buy The 7-Day Fat Burning Meal Plan
Shop The Post