This Bone Broth Recipe has a plethora of health benefits. It accelerates weight loss, digestion, gut healing, detox, collagen production, anti-aging and much more.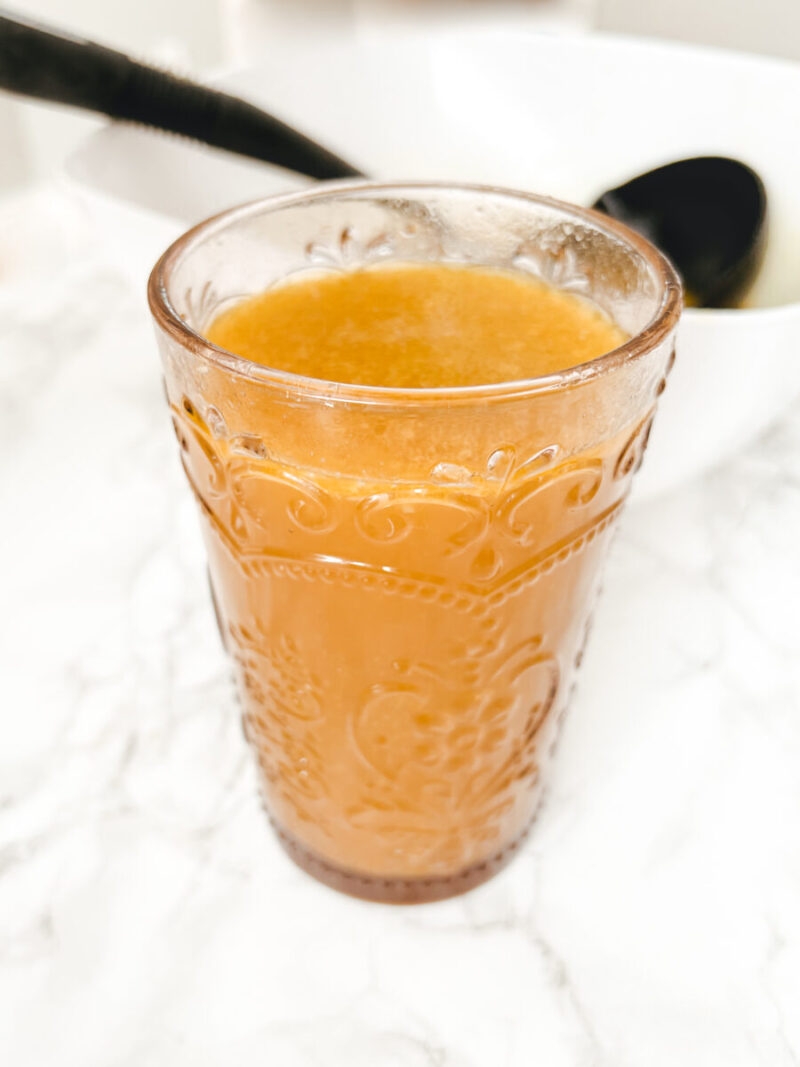 Easy Homemade Bone Broth Recipe
Not only a winter recipe and not only for dieters, bone broth is the base of many recipes and can be enjoyed just by itself when on the go.
It's known worldwide and consumed for centuries by our ancestors because it's easy to make and heals the body in many ways. Athletes drink it to recover, some take it to detox the colon, and moms everywhere give it to their kids because it's convenient, warm and comforting.
Homemade bone broth is also way more affordable than what it is marketed for online and in store. It's incredibly nourishing for overall health and best made from scratch and simmered either by stovetop or in a slow cooker (both methods are noted in this recipe).
"Liquid Gold"
This recipe in particular has so much delicious flavour that it's amazingly satisfying and it's all you'll need to reap the benefits that bone broth is famously known for.
The health claims are true — bone broth heals, protects, and strengthens pretty much everything in the body. It's been used for centuries for a reason! And the hype for it is real because it garners real results thanks to its naturally high amounts of protein, amino acids (proline and glycine), collagen, and calcium.
The high amount of gelatin found in bone broth contains collagen, which is the main protein found in our bones and connective tissues. This is what makes bone broth such a superfood.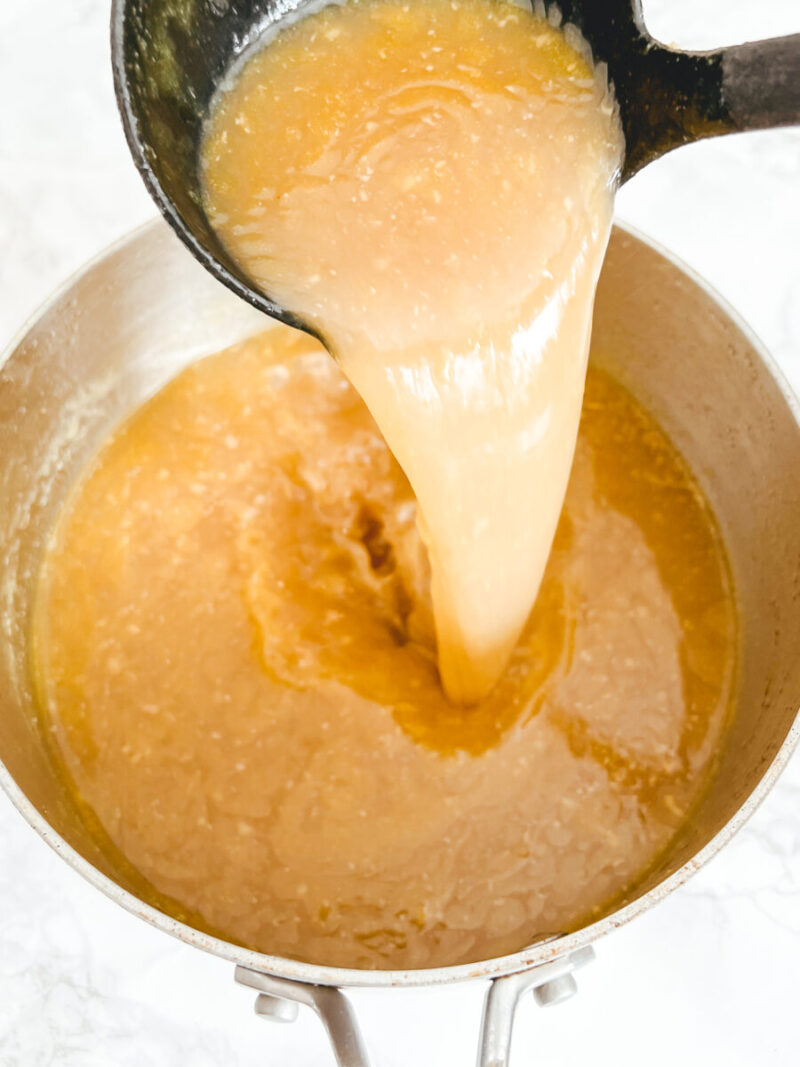 The Many Health Benefits of Bone Broth
Recommended by doctors, naturopathic doctors, nutritionists and health coaches everywhere, and here is why:
Reduces cellulite and stretch marks, promotes youthfulness
Reverses wrinkles and signs of aging (known as "natural botox")
Promotes digestion by clearing out the digestive tract
Detoxes the liver
Amazing for arthritis, bone and joint health, muscle building and recovery
Hair, skin, nails (growth, strength, lustre)
Immunity booster
Metabolism and weight loss accelerator
Builds and repairs connective tissues
Promotes brain health and mental clarity
Reduces inflammation in the body
Improves Sleep
Hydrates the body

Bone Broth Ingredients
The easiest part of this is gathering your leftover bones and veggie scraps from weeknight meals. You can place them in a container and store in the fridge or the freezer until you're ready to make a batch of broth.
To get all of the flavour and all of the maximum nutrient absorption, here's what you'll need for the most delicious bone broth:
Leftover bones and cartilage from animal bones (I personally find chicken bones to have the best flavour)
Vegetables or leftover veggie scraps (onion, carrots, celery)
Garlic
Herbs and spices (I like to add in ginger, turmeric, and a few bay leaves)
Apple Cider Vinegar
Water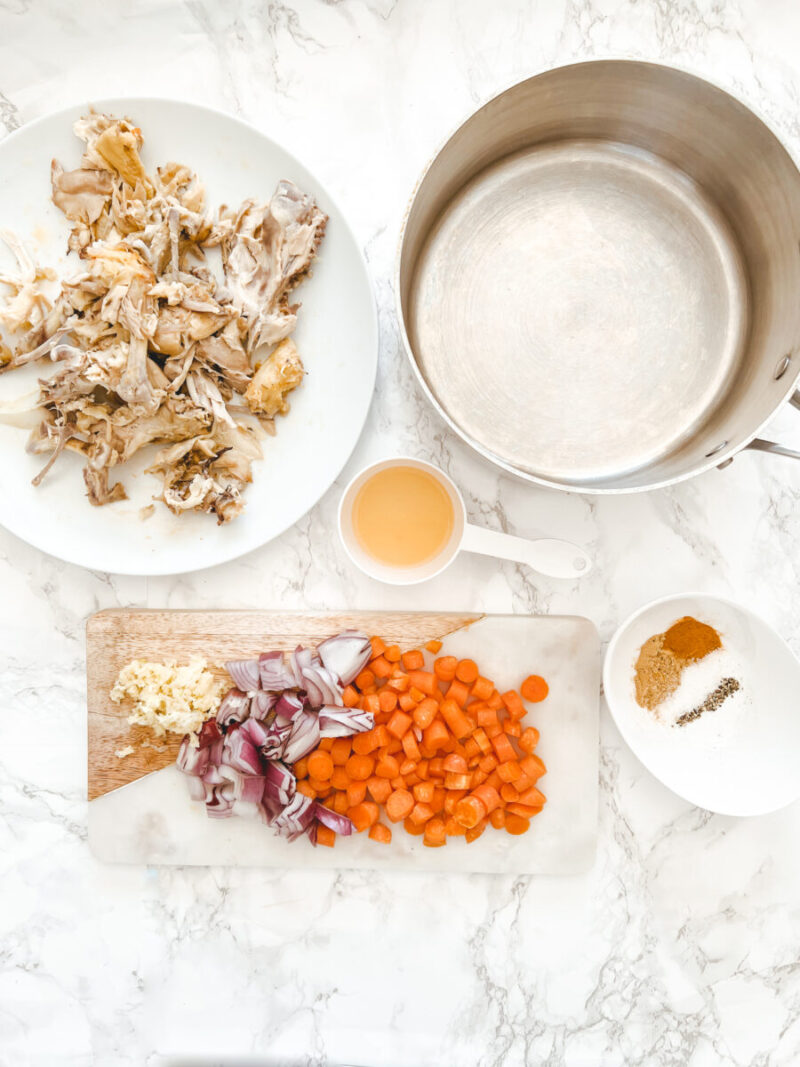 How to Make Bone Broth
It's actually very easy to make. In order to make bone broth, you'll need to gather all of your ingredients beforehand and prepare for a 12 hour simmering period at the minimum.
Simply add all of your ingredients and water into a large pot, bring to a boil, and then simmer on low heat for at least 12 hours.
If you're using a crockpot or slow cooker, you'll want to cook on low for 12 hours.
Can I skip The Apple Cider Vinegar?
The goal is to have a gel-like consistency of bone broth at the end of it all. The apple cider vinegar (or lemon, or red wine vinegar) is used in bone broth recipes to extract all of the nutrients, including the collagen and amino acids from the bones during the cooking process.
By adding an acidic ingredient, this combined with the long cooking time and high gelatin content will naturally thicken the broth to a gel-like consistency when cooled. When heated, the broth reverts right back into a liquid. This is a good thing and should be exactly what to strive for when making a batch of bone broth — that's how you'll know it's rich in gelatin and full of nutrients.
So no, don't skip on the ACV!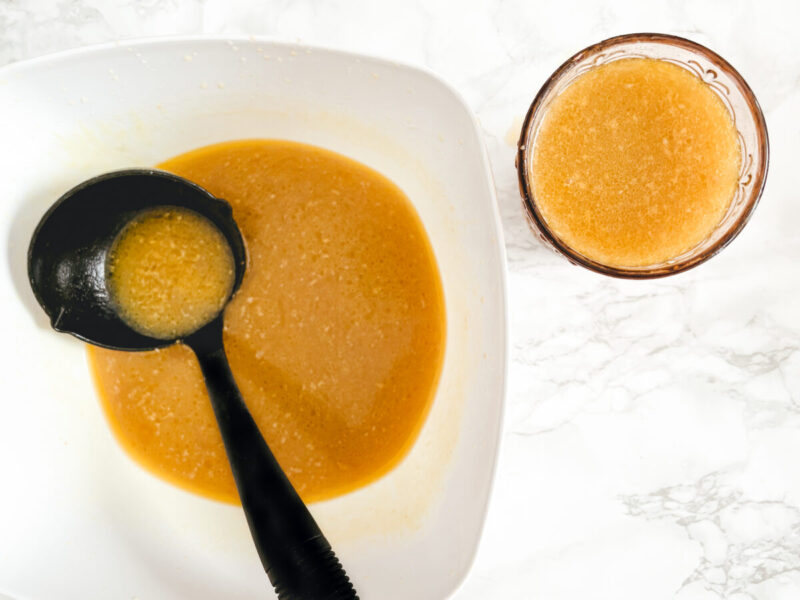 What If My Bone Broth Doesn't Gel?
Don't sweat it. Your bone broth is still going to be rich in collagen and nutrients. Sometimes it may be due to the ratio of liquid to bones, or it could also be the types of bones that you use. Some bones have higher collagen than others, for example, conventionally raised chickens have less collagen in their bones and joints than marrow-rich beef bones which are high in gelatin.
Which Bones Can I Use?
You can use any kind of leftover bones you have on hand. Use the bones from a turkey dinner, a roasted chicken, or from beef, pork or lamb.
Chicken bones are the most common leftovers we have in our home, and we love the the taste of chicken bone broth over any of the others. All nutrient production is equally the same no matter which you choose to use.
Try to use high quality meat bones from grass-fed pasture raised animals.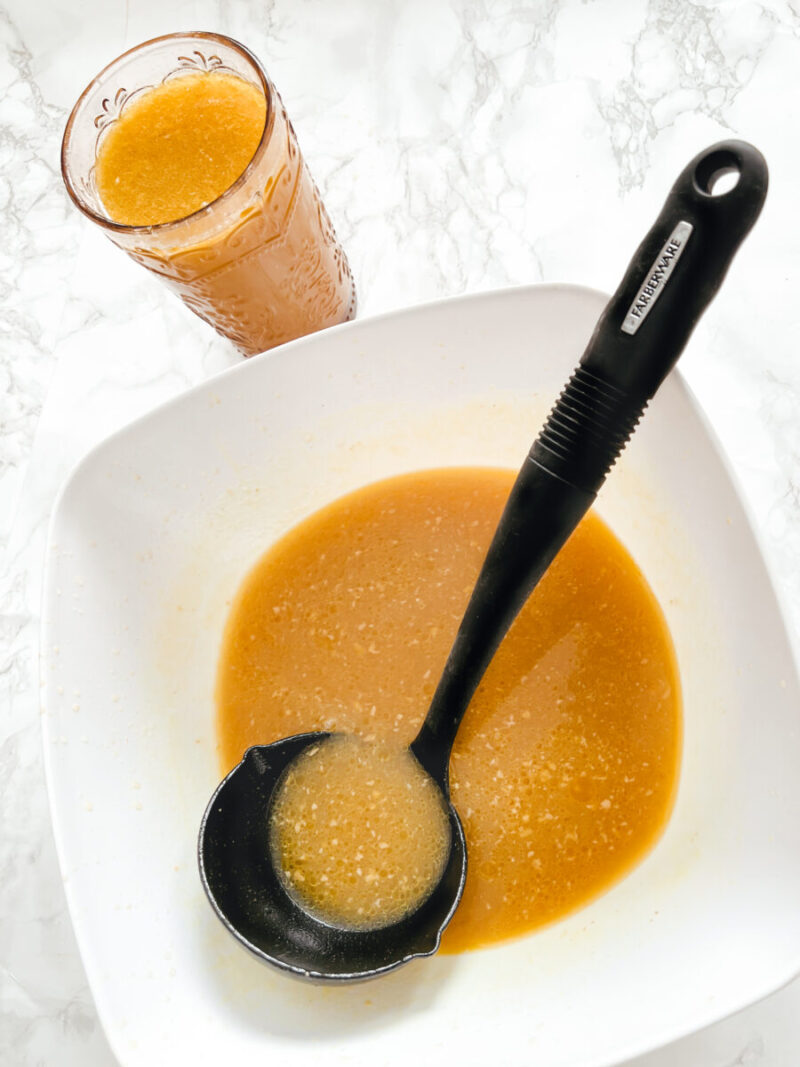 How to Use Bone Broth
Warm it up in your favourite bowl or mug and sip it down, as you would your favourite tea.
Keep in the fridge for up to five days and reheat whenever your heart desires. Or freeze the broth for later as it makes for the perfect base for soups and stews. Either freeze in ice cube trays (for easier reheating and for single portions) or in freezer bags.
Anywhere you would use "chicken stock" or "bouillon chicken cube and water", you would simply sub in your homemade bone broth.
Some of my favourite ways to incorporate chicken broth in my cooking would be to use it in jambalaya, chili, sweet potato & chicken stew, and my favourite for weight loss Fat Burning Cabbage Soup.
More On Health and Weight Loss:
Bone Broth Recipe
With natural collagen and a plethora of health benefits. It accelerates weight loss, digestion, gut health and healing, detox, anti-aging and more
Ingredients
2

carrots

medium

2

celery stalks

medium

1

onion

large

4

cloves

garlic

3.5

lbs

chicken bones

(or other animal bones)

1

tbsp

ginger

ground

1

tsp

turmeric

ground

2

tbsp

apple cider vinegar

(you can also use lemon juice or red wine vinegar)

1/2

tsp

sea salt

1/8

tsp

pepper

water

filtered (enough to fill your pot and cover all ingredients)

1-2

bay leaves

(add in any extra herbs or spices to your taste)
Instructions
Rinse veggies, roughly chop them, and mince garlic

In a large pot or slow cooker, combine all ingredients. Use enough water to cover ingredients. If using the stovetop, bring to a boil, then reduce heat to low, cover, and allow to simmer for at least 12 hours. Do the same in a slow cooker, cooking on low heat setting for 12 hours.

After the 12 hour simmering period, filter out the bones and vegetables either with a colander or a cheese cloth if you have one on top of a container of choice, and cool. Strain a few times until everything is removed, squeezing the ingredients by hand to extract all of the liquid.

Reheat on the stovetop until warm or use in a recipe that calls for chicken stock. Enjoy!
Notes
Cooking time can be anywhere from 12-72 hours. The longer cooking time and the addition of apple cider vinegar produces more of a gelatinized, collagen dense bone broth.
Store in a sealed container of choice in the fridge for up to 5 days.
Freeze in ice cube trays or freezer bags for up to 6 months.
1 Cup of broth = Approximately 1 Net Carb
Be sure to rate this recipe if you've enjoyed it!
Nutrition
Calories:
9
kcal
|
Carbohydrates:
2
g
|
Protein:
1
g
|
Fat:
1
g
|
Saturated Fat:
1
g
|
Polyunsaturated Fat:
1
g
|
Monounsaturated Fat:
1
g
|
Sodium:
90
mg
|
Potassium:
52
mg
|
Fiber:
1
g
|
Sugar:
1
g
|
Vitamin A:
1459
IU
|
Vitamin C:
1
mg
|
Calcium:
7
mg
|
Iron:
1
mg
Shop What You'll Need to Make Bone Broth
Pin The Recipe To Pinterest