Collagen & Protein Oh Henry Chocolate Bars are the ultimate healthy treat and every peanut and chocolate lover's dream. They're no bake, gluten-free, dairy-free, sugar free, low carb and keto friendly.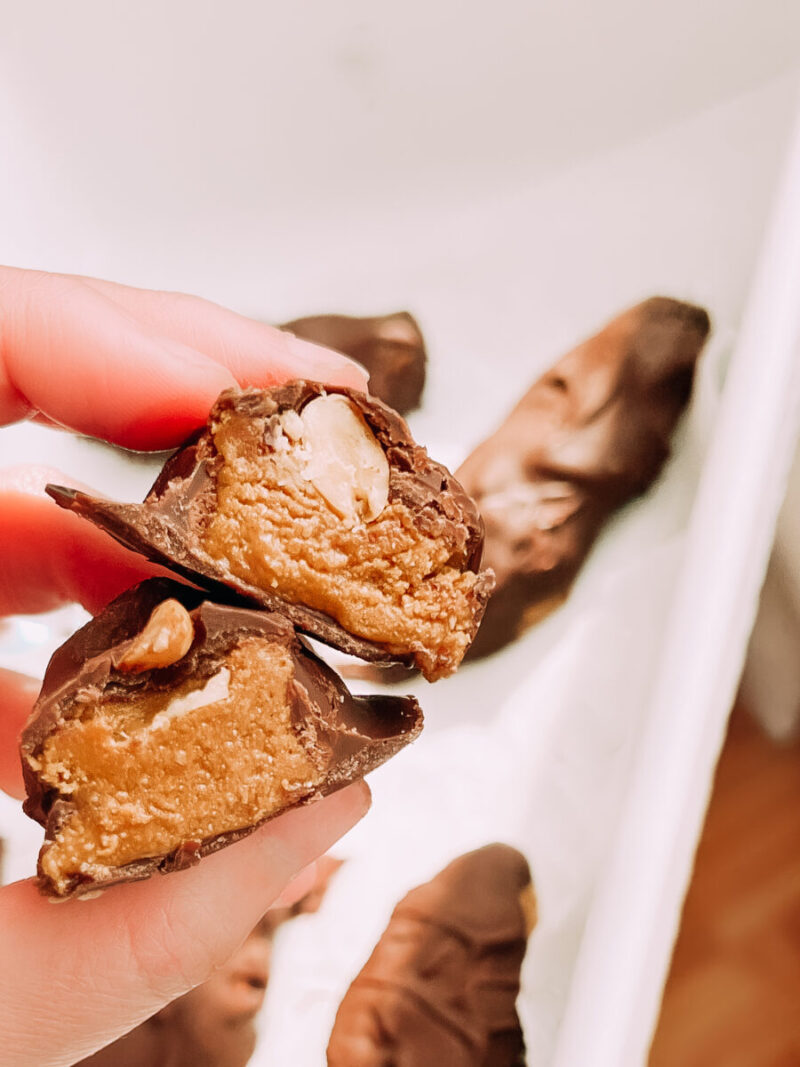 Healthy, Gluten-Free, Dairy-Free Oh Henry Chocolate Bars
Many of us have sensitive stomaches, with poor digestion, leaky gut and other issues that seem to worsen with age. Many underlying issues can cause these problems like a build up of candida yeast in our gut that can be reversed with a protocol of cutting out gluten and sugar, maybe you need a parasite cleanse or a heavy metal detox (my favourite mineral based supplements that do all of that and more).
But who says you can't enjoy your favourite chocolate bars?
You can totally stay gluten-free, low carb, and dairy free to keep those tummy troubles at bay, as long as you've got the right ingredients.
It's a lot easier than you'd think.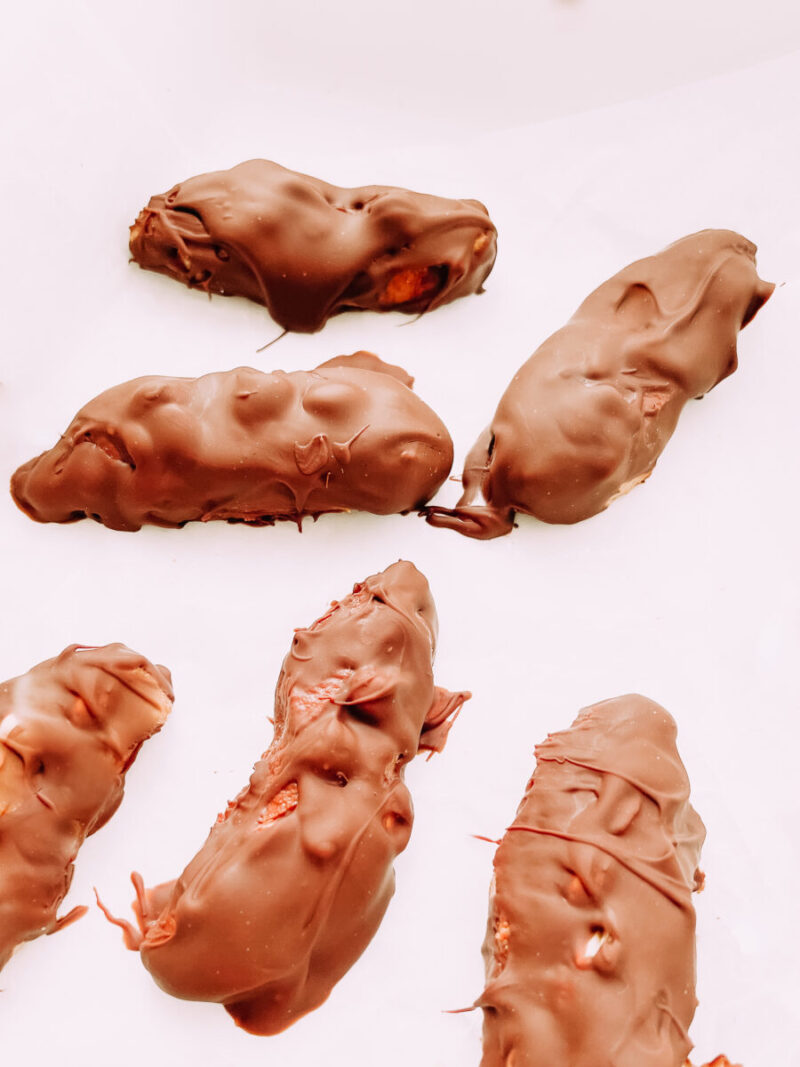 Supplement With A Collagen & Protein Snack
In this Oh Henry Bar recipe, I use a scoop of vanilla flavoured MCT powder and a scoop or two of high quality collagen peptides. You can switch out the MCT for your favourite plant-based vanilla protein powder — right now I'm loving Livwell's Vanilla Protein Powder. Their protein is clean, organic, raw, plant-based, bioavailable for maximum absorption and digestion, with no heavy metals and a heck of a lot of amino acids to benefit from.
It really comes down to what you expect to get out of your healthy chocolate bars. Choose the MCT powder for fullness, brain health, function and focus. Or, choose the protein for fullness, sweet-tooth-satisfaction without the sugar, muscle building, strength, recovery, and sustaining energy.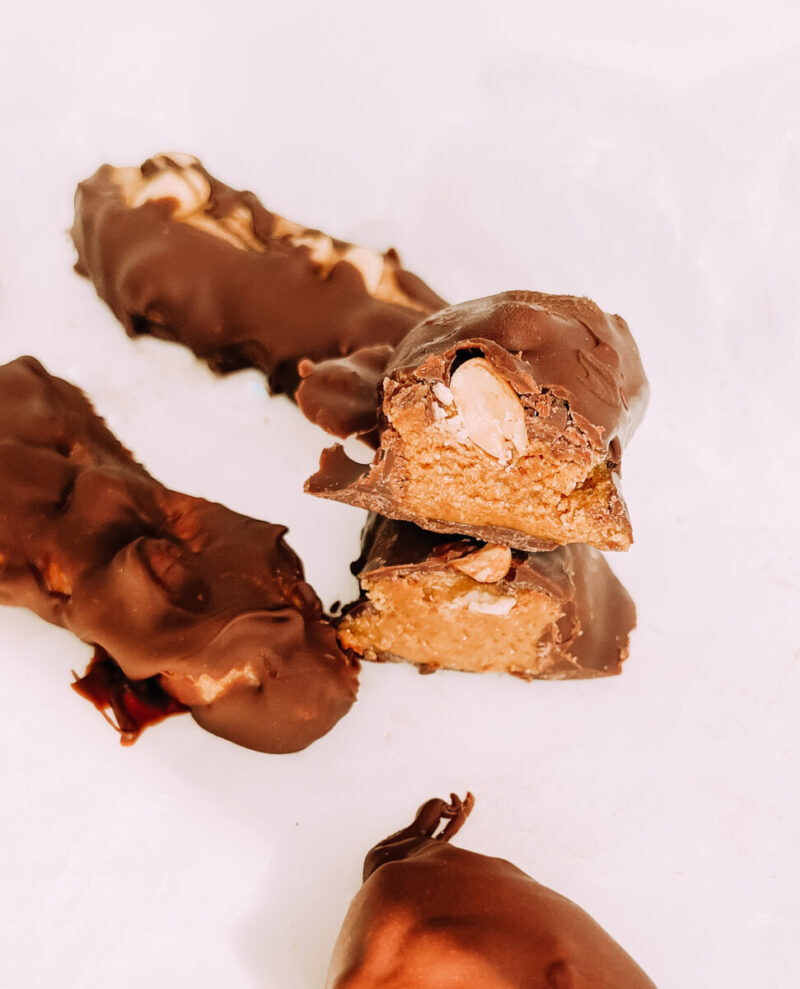 Natural Plant-Based Muscle and Brain Fuel
Again, if you switch to a high quality protein powder, there's no going a day without it. As mentioned, I've found Livwell Protein to have outstanding benefits including having amino acids inside for mood balance, energy, omega 3 fatty acids for brain fuel, promoting healthy circulation and collagen formation, immunity, heart health, and balancing hormones all in one. It allows you to swap out the MCT once in a while, while you reap all of the benefits of plant-based protein and I'm all for it.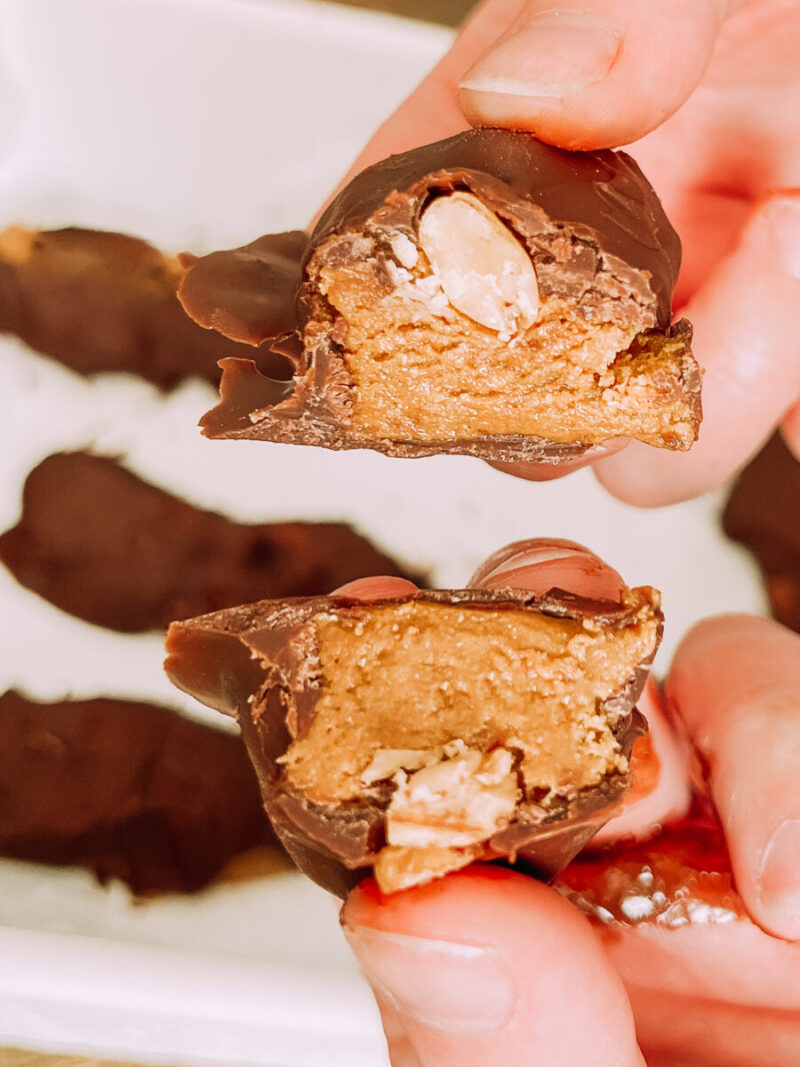 Oh Henry Bars Ingredients
Oh Henry Nougat Filling:
Layer of Peanuts:
Chocolate Coating:

How to Make Oh Henry Bars – A No Bake Dessert
The recipe is very simple as long as you remember to freeze in order to firm up the molded filling, and then again to harden the chocolate coating at the end. It adds time to the process but is of course very well worth it!
Mix the nougat filling ingredients together in a bowl
Form your bars
Press peanuts into the top of the bars to form a layer
Freeze until firm
Melt oil and chocolate in 30 second intervals in the microwave, stirring each time until fully melted
Coat chocolate bars using a fork to dip the molded bars, and then place the coated bars on a wax/parchment paper lined dish
Freeze until chocolate coating has hardened

Can I Make Oh Henry Bars Vegan?
You may omit the MCT and collagen peptides and use a plant-based protein powder instead. If using a protein powder, try adding a bit at a time while mixing the batter to make sure it doesn't become too dry.
When making the nougat filling, If the batter is too sticky you'll want to add more protein powder, or a tbsp or two of gluten-free flour to make it more moldable as apposed to sticky. If you don't have protein powder on hand, simply replace all of the powders in this recipe with a few tbsp of gluten-free flour (almond or coconut will do).
How to Store Oh Henry Chocolate Bars
The easiest way to store these healthy Oh Henry chocolate bars would be in an airtight container or freezer bag in the freezer. Simply take them out, wait for them to soften slightly and then enjoy!
Otherwise, to enjoy them for the entire week, simply store them in a covered container in the fridge for 4-5 days. If kept out on the counter, they will begin to melt! They are much better stored chilled to be keep intact and fresh.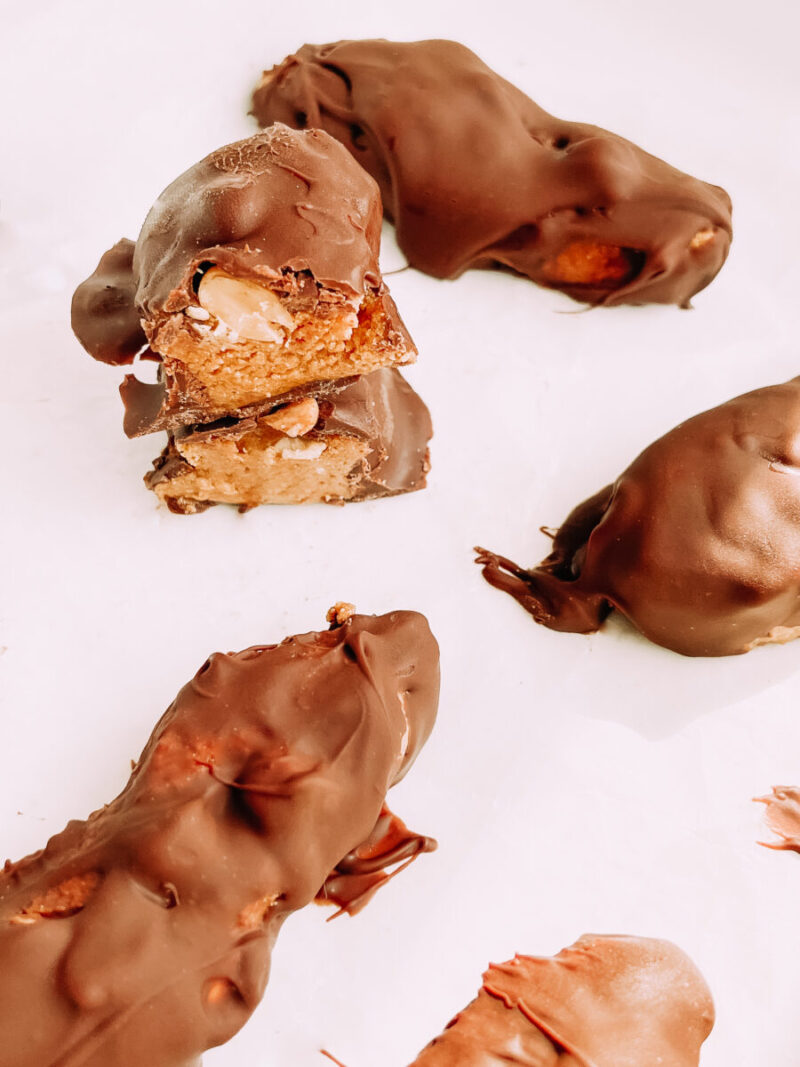 More Gluten-Free Snacks You'll Love:
Rate The Recipe, Review, and Connect With Me!
Be sure to rate and review this recipe below! I highly appreciate your feedback and I'd love to know what recipe you'd like me to share next.
Don't forget to follow along on Instagram! If you make a recipe, be sure to tag me so I can share on my account as well. I'm getting into making fun reels including recipe reels and would love for you to see them and get exclusive access to recipes before they're published here!
Collagen & Protein Oh Henry Chocolate Bars (Healthy, GF, DF, No Bake)
Healthy Oh Henry chocolate bars with added collagen & protein are a dream come true. No bake, gluten-free, dairy-free and keto friendly.
Instructions
Mix nougat filling ingredients in a large bowl to combine

Place batter in the freezer for 5-10 mins until texture is moldable. Use more flour if batter is too sticky to mold. If too dry, add more syrup

Mold the batter into mini chocolate bars. Press peanuts into the bars to form a peanut layer

Freeze bars for 30 mins or until firm

Melt chocolate and oil for 30 second intervals in the microwave/stovetop, stirring until fully melted and smooth

Dip each bar into the chocolate to coat evenly (use a fork for less mess), placing onto a wax/parchment paper lined dish

Place back into the freezer for 10 minutes or so, until chocolate has hardened. Enjoy!
Notes
Store in a container in the fridge for 4-5 days
Store in an airtight container or freezer bag in the freezer for up to 6 months
Each bar is approximately 3 Net Carbs
Nutrition
Calories:
148
kcal
|
Carbohydrates:
6
g
|
Protein:
3
g
|
Fat:
20
g
|
Saturated Fat:
3
g
|
Polyunsaturated Fat:
2
g
|
Monounsaturated Fat:
7
g
|
Sodium:
19
mg
|
Potassium:
62
mg
|
Fiber:
3
g
|
Sugar:
1
g
|
Calcium:
17
mg
|
Iron:
1
mg
CLEAN INGREDIENTS TO SHOP FOR
SHOP CLEAN PLANT-BASED PROTEIN POWDER
Use coupon code "NORTH" for 15% off your order at Livwell