Kickstart your metabolism, fight the common cold or flu, fight aging, and detoxify your body by adding these powerful, flavourful spices for weight loss into your everyday meals.
The 10 Best Herbs and Spices For Weight Loss
By incorporating these specific spices into my own recipes, weight loss and overall well being has become a breeze, along with many other health and healing benefits.
This post contains affiliate links for your convenience.
Anti-Inflammatory Herbs and Spices for Reducing Inflammation
Certain herbs and spices can be beneficial to everyone. Spices for weight loss can not only help to regulate your metabolism and burn fat, but also fight against heart disease, help you easily and quickly recover from the flu, and help clear the airways in your lungs to breathe better.
The following herbs and spices carry many medicinal purposes including natural healing and overall maintenance of good health and optimal wellness.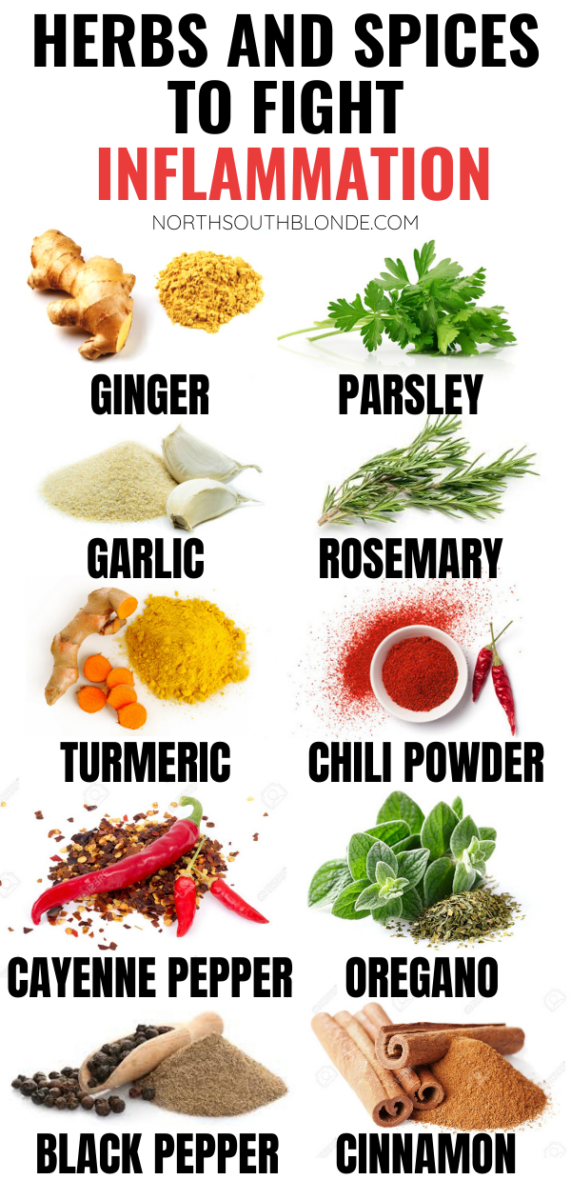 Natural and Holistic Plant Sources for Nutrition
These specific herbs and spices for weight loss are easily accessible in your grocery store. Better yet, you probably have them sitting in your pantry already! Which just goes to show you how easy and inexpensive it can be to make healthy choices in your own home.
The following herbs and spices are all naturally sourced from plants and are easily accessible. They're high in nutrients and easy to incorporate in daily drinks and meals.
Disclosure: Although these spices have been used for decades as natural medicine, keep in mind that this is holistic advice–not professional medical advice. Always consult with your health care provider before diagnosing or treating yourself.
---
Related: Five Ways to Detoxify Your Body
---
1. Ginger
This major antioxidant has loads of capsaicin, an active component in chili peppers that speeds up metabolism and increases calorie burn. It has also been proven to increase feelings of fullness. Ginger is a great remedy for an upset stomach as well, or to relieve nausea.
Ginger is one of the spices for weight loss by suppressing appetite, improving digestion, providing energy, stabilizing blood sugar, as well as reducing inflammation and relieving stress.
You can put ginger in your tea (my favourite combination is green tea with ginger, lemon, and honey), salad dressings, stir-fry sauces, and smoothies.
Recipes That Involve Ginger
I incorporate ginger into my everyday fat burning green smoothie, as well as our family favourite slow cooker butter chicken dinner.
Note: Certain herbs and spices should be limited when pregnant. Although, many pregnant women swear by using ginger to eliminate their nausea symptoms, but only in small amounts. Always consult your health provider first.
2. Parsley
Not only is Parsley one of the most popular spices around, it can do so much more than adding colour to one of your dishes.
Parsley can be quite easy to grown in your own home or in a garden, which makes it that much easier to access and use more frequently.
It's been proven to improve liver metabolism. Let's not forget that our liver is the largest gland in our body, sitting next to our stomach, and is essential for digestion, metabolism and storing nutrients.
Parsley contains antioxidants to keep you youthful, has antibacterial properties, and lowers your risk of getting cancer.
Instead of feeling sluggish, incorporate this flavourful green herb into soups, dips, tomato sauces, on top of grilled fish and all kinds of meat.
Parsley controls appetite and may be more nutritional for you than kale (yes, I said it!) My favourite all-natural vitamins to take to help with gut health, thyroid health, energy, joint pain, digestion, and weight loss are SoulLife's Rekick formula.
Get $20 off SoulLife through my link link!
Recipes That Involve Parsley
I love to add parsley to my Fat Burning Cabbage Soup, and in my tomato sauce like in this Slow Cooker Zucchini Lasagna.
3. Garlic
Though technically a vegetable, garlic is used widely in kitchens as an herb or spice. Coming from an Italian and Ukrainian background, garlic has been used in my family in almost every single dish. And of course, we always use a lot of it.
Garlic has been used for many generations for medicinal purposes as an anti-inflammatory, and also a natural antibiotic. With its strong aroma and versatility, it too has been proven to burn fat.
It is a natural anti-inflammatory, rids respiratory illnesses, detoxifies your body to eliminate toxins, keeps skin looking young, reduces cholesterol, and aids in digestion.
Want to add a little more garlic to your meals? Try putting a couple cloves into your green smoothie. You'll see results.
Recipes That Involve Garlic
Many of my dinner recipes and side dishes include a lot of garlic, like my Garlic Parmesan Grilled Eggplant, and my Spinach Cream Cheese Stuffed Chicken.
4. Rosemary
With its pine like needles and beautiful scent, this herb contains carnosic acid, an antioxidant that boosts weight loss while reducing weight gain and glucose levels in our bodies.
Researchers have also found more concentrated compounds called polyphenols and flavonoids in rosemary than any other herb. These compounds help block a type-2-diabetes enzyme, eliminating chances of developing the disease.
Rosemary is a natural immune booster and antibacterial, improves circulation in the body, detoxifies the liver, is an anti-inflammatory and promotes respiratory health, improves memory and aids in digestion.
Add rosemary to your pasta sauces, combine with olive oil and garlic for flavour, it also goes great with any egg, chicken, or lamb dishes.
Recipes That Involve Rosemary
I love to include this herb in potato dishes like my Parmesan Potato Wedges, and in our Oven Roasted Turkey Dinner.
5. Turmeric
Similarly to ginger, this herb is very popular in East Indian dishes. It contains a phytochemical called curcumin that counteracts any inflammation in our bodies. Our bodies then respond by becoming more receptive to a metabolism-signalling hormone called leptin-–in turn, promoting weight loss.
Being the most powerful of them all, turmeric will fight against aging, allergies, cancer, fungal infections, heart disease, mental illness, and will heal wounds, improve digestion and memory, control blood sugar, and heal the lungs.
You can incorporate turmeric in chicken dishes, meat marinades, stews, rice, milk, coffee, teas, and smoothies.
Colds and flus are the worst. Especially when finding it hard to breathe. I was 3 months pregnant with my third child and developed bronchitis–something many pregnant women can experience since our immune systems are compromised due to caring for the growing fetus inside of us. I made a chamomile tea (caffeine free), and added a dash or turmeric and ginger. It immediately cleared my airways and I was able to breath again. It also completely got rid of my cough and sore throat. Please keep in mind, these are powerful spices and are only safe in small amounts. Always consult with your healthcare provider first.
Recipes That Involve Turmeric
Some of my favourite recipes that include turmeric are my Broccoli Butter Chicken, and adding it into my daily immune boosting Green Smoothie.
6. Chili Powder
A spicy seasoning that, like ginger, contains capsaicin (the heat that causes your nose to run). It also promotes blood flow throughout the body and relieves indigestion and acid reflux.
The more of this spice, the more fat burn.
According to researchers, the compounds found in chili powder boost your metabolism, naturally relieve pain, reduce inflammation, aids in digestion, promotes a healthy heart, and clears the airways.
Common in most Mexican meals, you can add it to enchiladas, burgers, many beef-based stews, a tasty bean salad, and evidently chili. And believe it or not, experts say to sprinkle it on cantaloupe (to spice up your summer).
Recipes That Involve Chili Powder
Some of my favourite recipes involving chili powder are my Cheesy Taco Chicken Casserole, Quinoa Chili, Taco Bowls, Blackened Chicken, Chicken Burritos, Burrito Bowls, and my Spicy Sausage Jambalaya.
7. Cayenne Pepper
A spice that helps with arthritis, ulcers, colds and flus. Cayenne pepper will kick your immune system into gear while fighting off germs.
Once again, it too contains capsaicin–an aspirin-like compound that thins the blood to help prevent heart attacks and strokes. It helps to burn calories while curbing your appetite at the same time, suppresses hunger, lowers blood pressure, relieves pain, and fights cancer.
Just a little bit of cayenne pepper can go a long way, and make any dish the perfect amount of hot and spicy. Add cayenne pepper to chicken, tacos, a delicious salsa, or even a scintillating Mexican-style dessert.
Recipes That Involve Cayenne Pepper
Some of my most popular recipes that contain this spice are my Taco Salad Bowls, Sausage Jambalaya, Chicken Rice and Bean Burritos, and my Blackened Chicken Avocado Salad Recipe.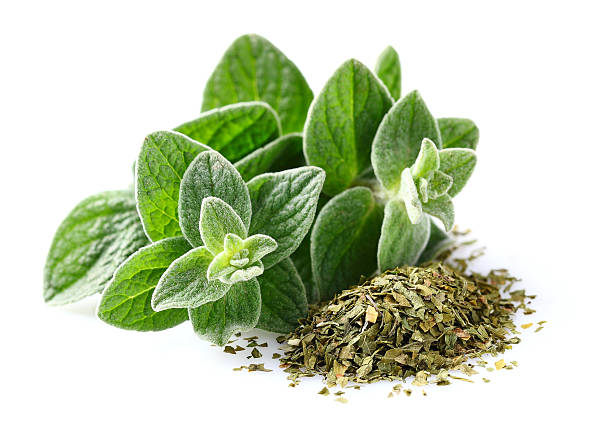 8. Oregano
Oregano is known as an antibacterial agent thanks to its phytonutrients, which can protect your body from illnesses, viruses, and infections. It also contains carvacrol, which is will burn fat in the body.
If you are fighting the flu or a viral infection, for example, you can ingest a few drops of an oil of oregano tincture under the tongue to help soothe a sore throat and promote a quick recovery.
This herb in any form has a ton of antioxidants to fight against aging, and is great for promoting digestion. It's also great for treating headaches, heart conditions, allergies, cold and flu, sinus pain, arthritis.
Incorporate oregano in your cooking by using it in pasta sauces, pizzas, meat dishes, chicken dishes, potato dishes, marinades, stuffing, and salads.
Recipes That Involve Oregano
I love using oregano in my Zucchini Lasagna, Grilled Eggplant, Turkey Soup, Dry Rub Chicken Wings, and my Chicken and Alfredo Zoodles.
9. Black Pepper
Easy to get your hands on and very economical. Korean researchers uncovered piperine, a pungent compound in black pepper, known for its medicinal purposes as well as blasting fat.
Basically, it helps increase nutrient absorption in the body and prohibits new fat cells from forming. And it breaks down fat cells efficiently, which is the main goal here.
Not only that, but pepper also contains antioxidants to fight aging, reduces inflammation, reduces blood sugar and cholesterol levels, fights cancer, and improves brain function and lowers depression.
By promoting intestinal health, the easiest way to aid digestion and reduce gas is shaking some ground black pepper on all of your everyday meals (black pepper steak or chicken are popular dishes). If you're adding a pinch of salt, don't forget to add the pepper!
Recipes That Involve Pepper
I include pepper in almost all of my recipes. Keep in mind, too much pepper can be spicy, so just add a pinch when the kids start to complain about it!
10. Cinnamon
Last but definitely not least, cinnamon — a spice known to lower insulin levels after a meal, which allows fat to be burned rather than stored.
Cinnamon has powerful medicinal benefits and can be easy to incorporate into your meals and drinks.
It has antioxidants that reduce triglyceride levels, help transport glucose into cells smoothly, and thereby reduces risk of heart attack and stroke by thirty percent. The spice is great for lowering stress and blood sugar levels, keeping you youthful, and reducing inflammation.
Cinnamon is one of my favourite toppings for smoothies and desserts. You can also add cinnamon to coffee, tea, milk, yogurt, oatmeal, pancakes, waffles, and fruit.
Recipes That Involve Cinnamon
Some of my favourite desserts involving cinnamon include my Cinnamon Banana Bread, Blueberry Banana Cinnamon Pancakes, Instant Iced Coffee, Oatmeal Apple Crisp, Pumpkin Pancakes, and Carrot Cake Cookies.
Get It In Supplement Form With Soul Life
Don't have fresh spices and herbs on hand? Do you want all of the health benefits in one simple capsule?
Soul Life's Rekick is meant to balance hormones naturally, regulate thyroid function, and reduce inflammation in the body. All ingredients are natural and powerful for the body, holistically speaking.
One of the ingredients in Rekick is Parsley Extract. Parsley contains vitamins A,B,C, K, and trace minerals such as iron, copper, magnesium, and potassium. It helps detoxify, support liver health, directly works with the thyroid in regulating hormones in the body, improves sleep, regulates menstrual flow and stimulates hair growth. Talk about a miracle! And that's only one ingredient in Soul Life's life-changing supplements.
Pin it on Pinterest for later!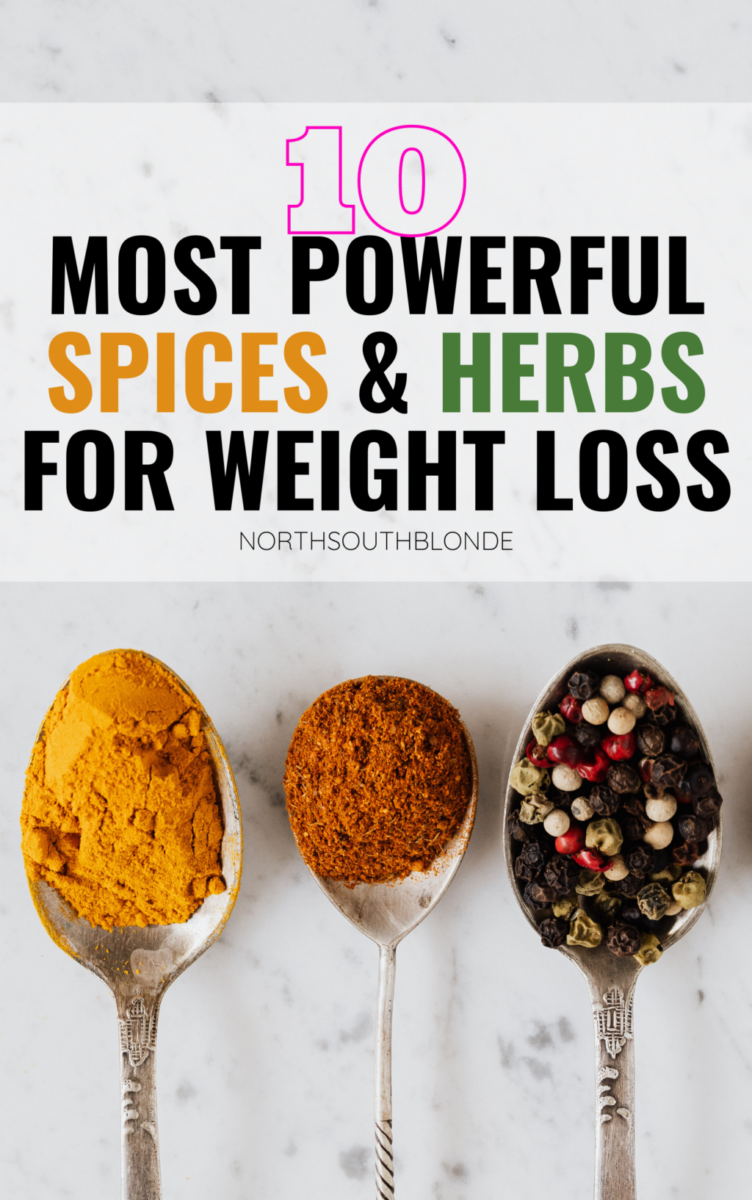 This is information that I have put together for you solely from my own holistic research. Coming from a mother, a homemaker, who cooks homemade meals on the daily for my family and I. Keep in mind, I am not a medical professional, but an everyday mom who is mindful of health and nutrition.
Feel free to share your own experience of what works for you in the comments below.
I hope that you enjoyed reading this and found it beneficial for your own specific health journey. Here's to becoming the healthiest version of yourself inside and out.

Try The 7-Day Fat Burning Meal Plan