If you're in the market for a new probiotic that actually works, I'm here with a recommendation! Routine Probiotics are high quality prebiotic and probiotic supplements specially formulated for women for gut health, weight loss, immunity and more, all with sustainability in mind.
---
Related: Five Ways to Detoxify Your Body
---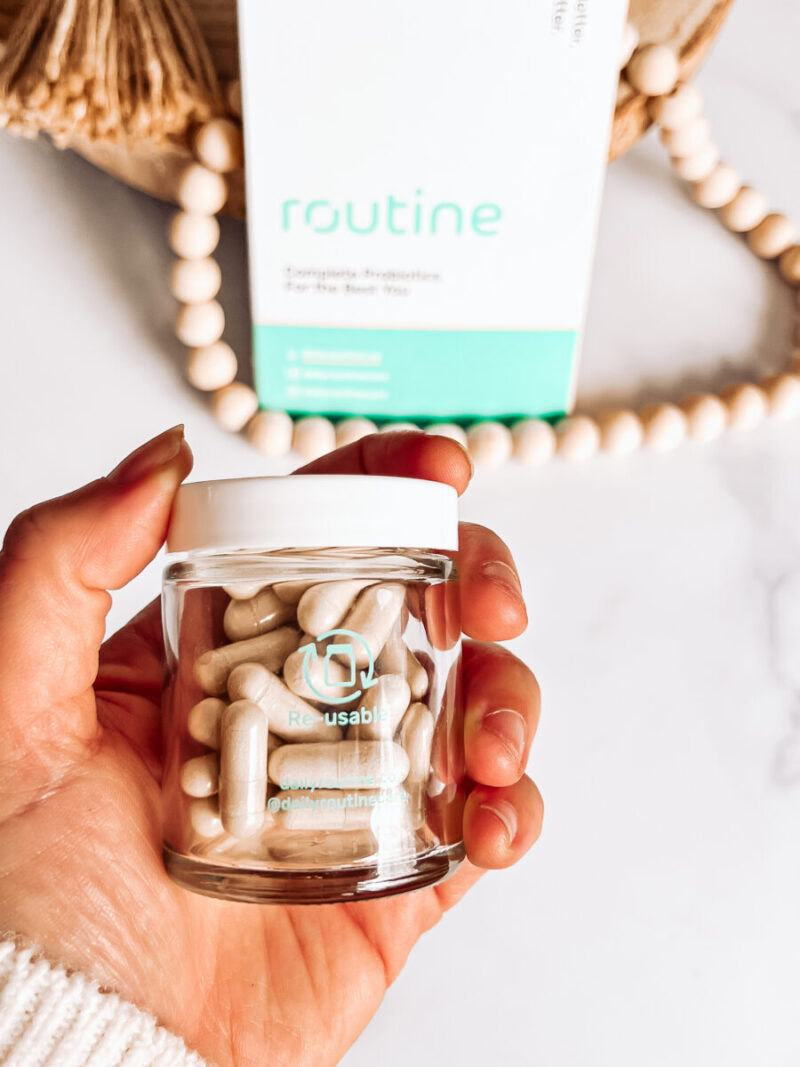 Routine Daily Probiotics Review
When I feel my healthiest, it always comes down to consistency. Exercising regularly, staying on track with healthy meals, healthy fats, proteins, fibre, fasting, and carving out time to nourish my mental health for better sleep and better focus.
Once I get into that groove, I can see the difference almost immediately. My energy's up, my mind is clear, and even my skin looks and feels amazing.
That's why when Routine reached out about trying their daily supplement, I knew this would be a great way to cultivate that consistency. Routine is a prebiotic-probiotic combo that addresses digestion, immunity, vaginal health, and weight all in one capsule. And with some days dominated by work, kids, and everything else, I loved the idea of a daily probiotic being an effortless way to ensure I was staying on top of my health goals.
More than ever people are making gut health a top priority — and for good reason. Women are seeing amazing results ranging from weight loss to increased immunity and feeling overall holistically well. Today I'm breaking down what I love about Routine and a special discount code for you guys.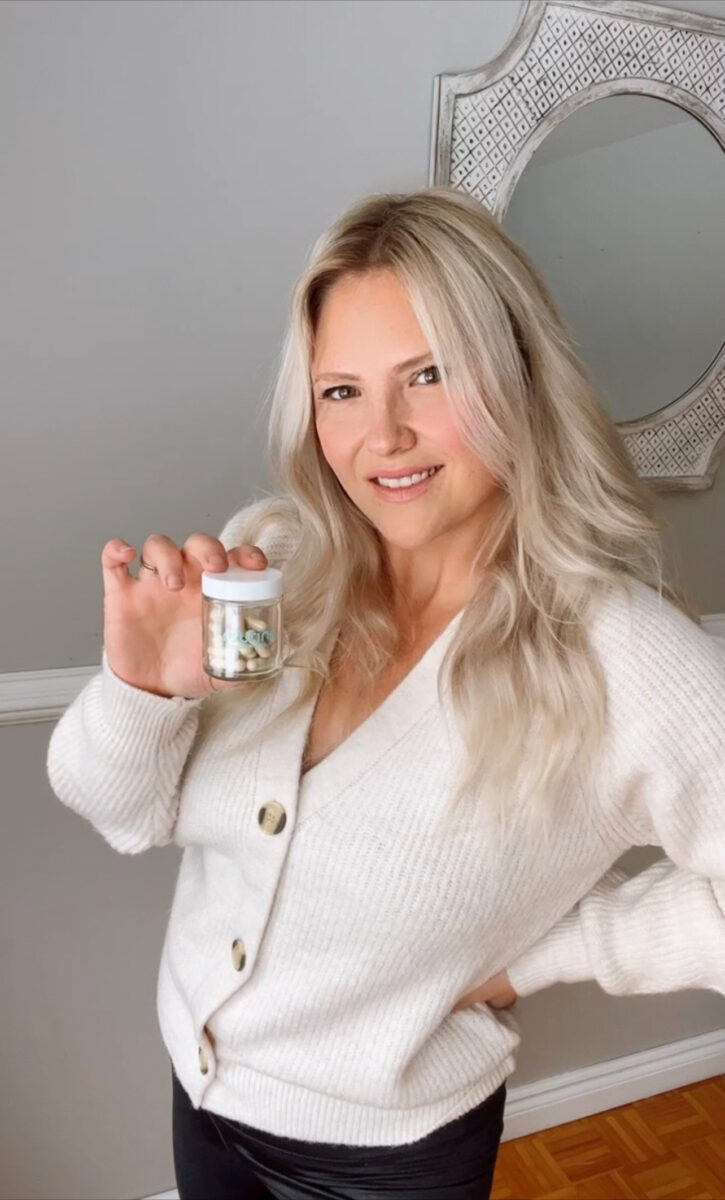 The Best Probiotic for Weight Loss
If you follow me on Instagram, you know that I love supporting high quality supplement brands as well as following my favourite nutritionists, naturopathic doctors, scientists and medical experts for the best wellness tips.
That being said, there is one probiotic strain that I hear recommended by professionals time and time again, and it's B420. This is one of the main strains in Routine, as well as competitor products on the market that claim to help you lose weight.
As some of you may know, any extra weight around the midsection can be due to a number of different factors, but one of the most common reasons is because of the standard American diet, full of processed foods and absurd amounts of sugar and carbs throwing off our hormones, increasing cortisol levels and spiking our insulin and glucose levels.
B420 is the key factor in balancing everything in our gut, especially for pre-diabetics, diabetics and those susceptible to dreadful glucose rollercoasters like the glucose intolerants. You'd be surprised how something so simple can be holding you back from feeling and looking your best.
---
Related: Flat Tummy Co. Meal Replacement Shakes – Do They Really Work?
---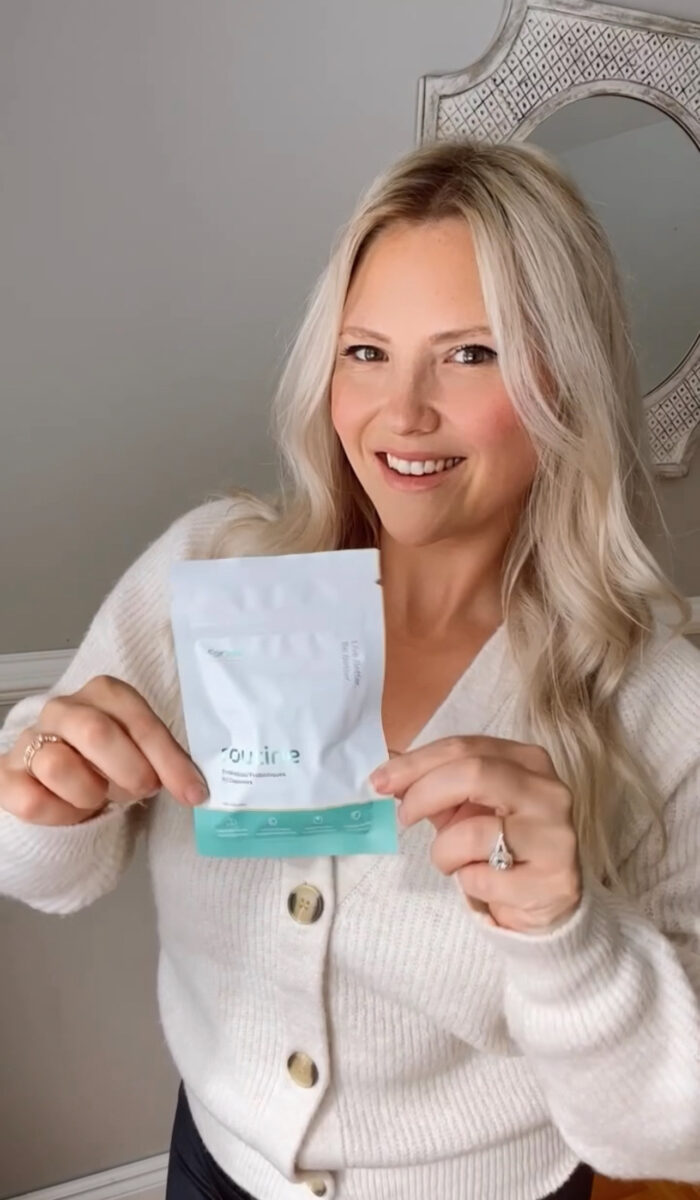 Results are Instant
What I've noticed as soon as I started taking Routine Probiotics is that I felt better almost immediately. I felt less bloated and I felt a boost in energy and immunity. Plus, digestion became much more regular and that totally increases all of the happy juices to the brain like the production of Serotonin.
It's true — when your gut is happy, so is your mood! Your gut is absolutely connected to your brain and when everything is working optimally, so will your mental health.
When Routine reached out to me to try their products, without hesitation I said yes. Sometimes, loading up on yogurt, sauerkraut and kombucha just isn't enough. I truly believe a great probiotic can be life changing for those looking for a healthy GI tract.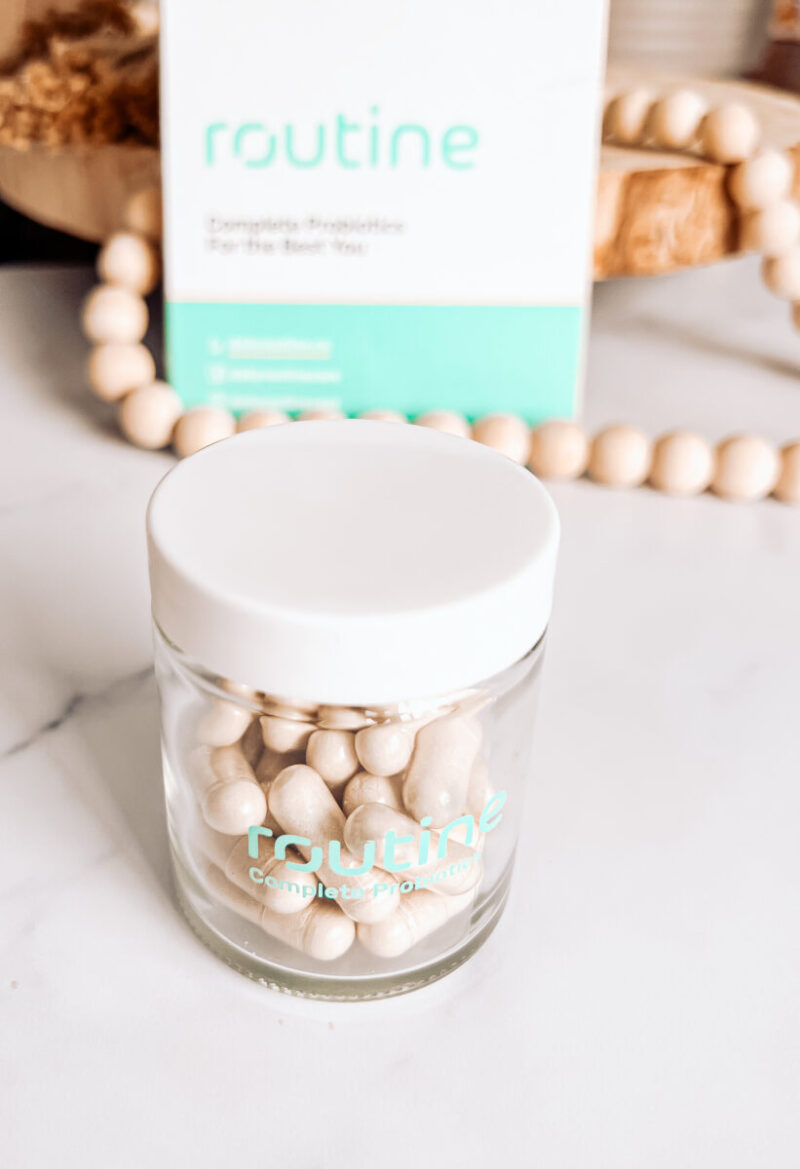 Prebiotic and Probiotic Health Benefits
This brand in particular is vegan, allergen-free, and made without any GMOs, chemicals, or fillers. And since it's a slow-release formula, I have the flexibility to take it anytime — before or after meals, morning, noon, or night.
Improves Gut Health
Strains like Bifidobacterium lactis HN019 are one of the most well studied and increase the "good" bacteria in your gut to aid in regular digestion, all while keeping bad bacteria out. If you deal with any GI issues like constipation or gas, a probiotic can be a major help with getting things moving. Many women who suffer with leaky gut or IBS symptoms benefit from Routine.
Boosts Immune System
Once the kids started back at school, it seemed like we were sick almost all of the time. Routine contains Bifidobacterium lactis Bl-04 which can boost your immune response and in turn reduces risk of upper respiratory tract infections. That means less sick days and quick recoveries all because our gut accounts for 70% of our whole immune system!
Maintains Vaginal Health
Routine uses Lactobacillus rhamnosus HN001 and Lactobacillus acidophilus LA-14, which help keep pH levels in balance, increasing good flora, and relieving any annoying symptoms. That includes preventing yeast infections.
Speeds Up Metabolism and Weight Loss
Bifidobacterium lactis B-420 is known for trimming the waist and body mass, and boost metabolism for weight loss (or weight regulation). It's not a be all end all solution, but it does act a great complement to my other wellness routines and makes it that much easier to reach my goals.
Reduces Stress and Anxiety
Mental health will always be just as important as physical health. One way that Routine can help in this aspect is by incorporating the adaptogen Ashwagandha — an ancient Indian herb that is clinically proven to ease stress and anxiety and promote all-around mental wellness, memory, and clarity.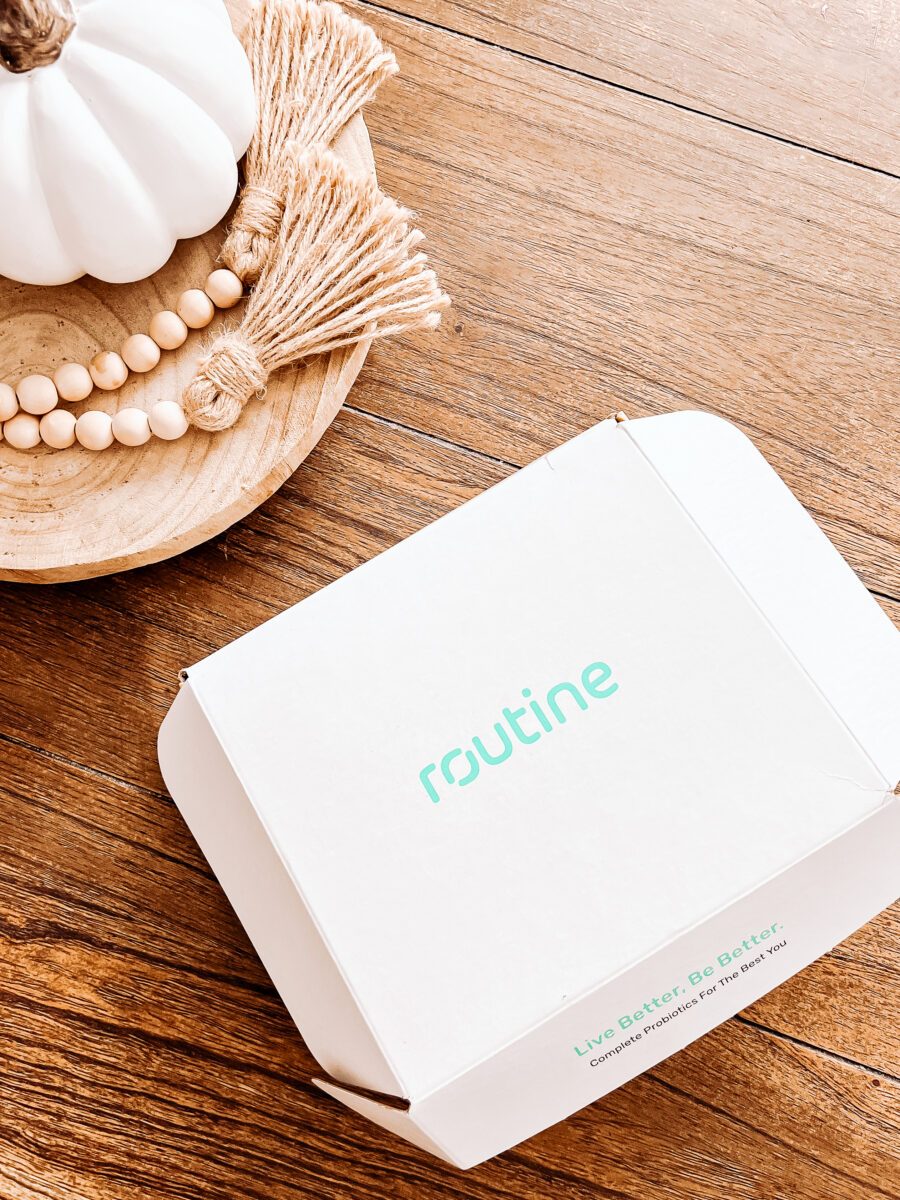 A Sustainable Subscription
One thing to note about this probiotic subscription is the small carbon footprint that it entails. Your package comes with a cute refillable jar with a lid, and the supplements are included in a recyclable package.
Routine is a company that values sustainability and it shows. They are devoted to minimizing environmental impact with their packaging and shipping systems, focusing on high quality supplements that are vegan, gluten-free, and non-GMO.
What You'll Get
Your first purchase will include a compostable pouch that contains a 1-month supply of pre and probiotics, as well as a reusable jar to store them in, all packaged in a recycled cardboard box.
Every order after that will be delivered to you with the supplements in a compostable pouch, within a compostable mailer so that there are no unnecessary materials or packaging for a low carbon footprint.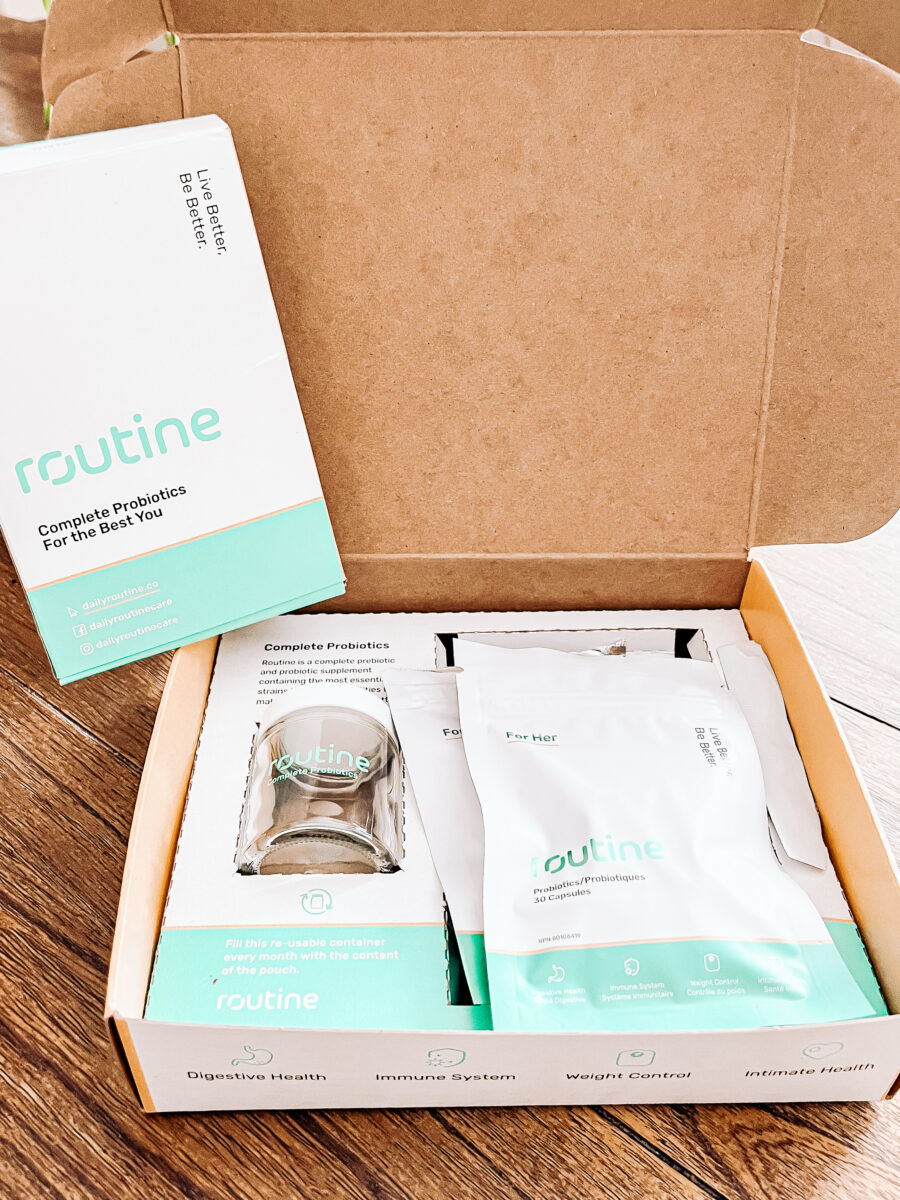 How To Order Routine Daily Probiotics
The easiest way to order would be to have your purchase on auto-ship — a monthly subscription which will save you money in the long run. Set it and forget it kind of deal.
The cost of the subscription is $29.95 a month. If you want to try it first or as needed, the one-time purchase is $39.95.
Two-day shipping is free!
Get 20% off with the code "NORTH"
More on Health and Wellness: