Sharing my personal experience with LASIK eye surgery with LASIK MD. What to expect, preparation, procedure, post-op, recovery tips and more.
Thank you LASIK MD for sponsoring this post. All opinions are my own. Medical procedures vary between patients; please seek a personal consultation with LASIK MD to see if you are a candidate for LASIK eye surgery.
This post is all about my personal experience with LASIK eye surgery. I'll be sharing details on the process, how to prepare, what to expect, the outcome, and the post-op recovery experience. By providing insider information, I hope this will help you determine if LASIK is right for you, how to fully prepare for surgery, what to expect after surgery, and how to recover safely and optimally.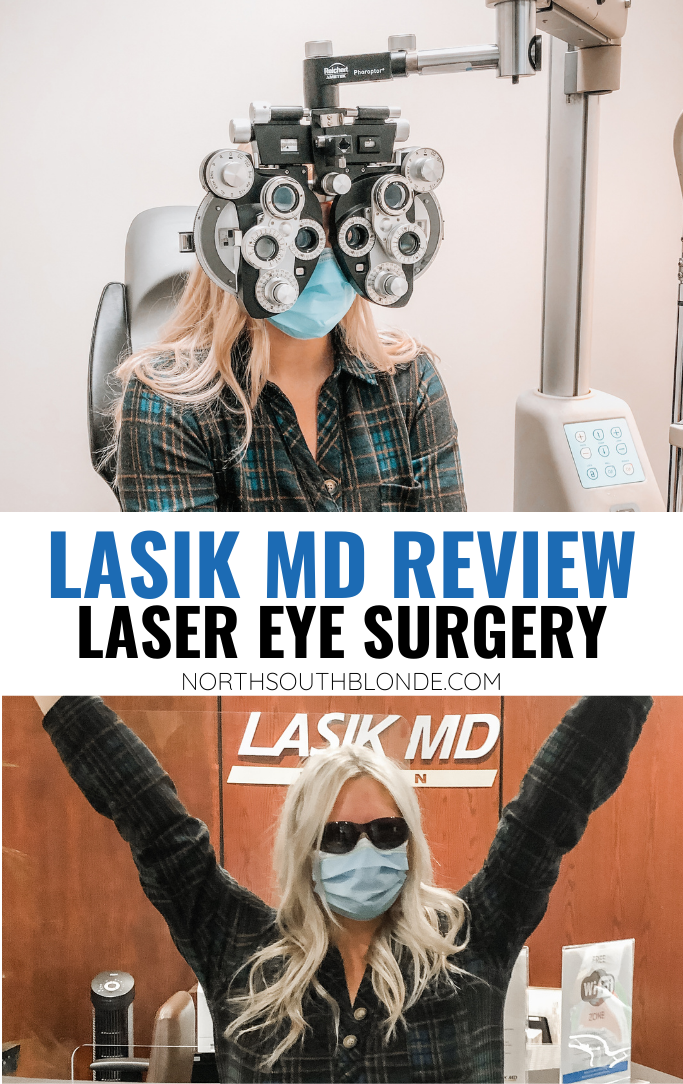 Why I Opted For LASIK Eye Surgery – My Story
My vision started to regress during my teenage years.
I was nearsighted — which means that I had difficulty seeing things far away. I'm talking about street signs when driving, people's faces at a distance — you get the picture.
I've had three children, am now 30 years old and the time has come to finally do LASIK. I've wanted to do the procedure for years. It has been a long time coming and I finally made the decision for myself.
It wasn't safe to drive without glasses, or even play sports safely for that matter. I couldn't watch a performance on vacation, or read the news headlines on my TV without glasses. Heck, I just wanted to be able to see my kids' faces from afar.
I wanted to check on my kids playing in the backyard, if I peered out of the window while making dinner. I was tired of having to look at my phone or computer screen closer and closer as the years went on, because my vision was getting worse every time.
It was debilitating to wake up every day and not have clear vision. It was basically a disability and it was affecting my confidence. I just wanted to be able to see, without foggy glasses, without having to find misplaced glasses, or having to rely on dirty glasses on a daily basis — mom life. From cooking and cleaning to going grocery shopping with a mask (pandemic times), I just didn't want to wear glasses anymore.
I just wanted to be the best mom and partner I could be and I was fed up. I wanted to live a normal life with perfect vision.
More On Wellness:

My Personal Experience With LASIK MD
I decided to go with the LASIK MD Mississauga clinic and I'm so glad that I did! The staff were very friendly and welcoming. They were very understanding that I came a long way to be there and they truly made me feel at home. They were open to answering any questions that I had, considering the whole process would be done in one day. Everything was quick and to the point, which helped subside my nerves.
They helped me with scheduling, preparing for the day, provided me with nearby accommodations, and most of all, provided a safe environment for me.
Even though there are other private clinics that offer the LASIK procedure, I decided to book my surgery with LASIK MD.
LASIK MD is a reputable company who specializes in LASIK eye surgery. They offer amazing prices in comparison to private clinics and offer great coverages at an unbeatable price.
When I heard from other family members and friends who had done the procedure successfully with LASIK MD, I knew I wanted to go with them as well. I love that they have a 20/20 vision guarantee, and have high standards of customer satisfaction post-surgery.
LASIK MD offers a starting cost of $490 for LASIK per eye for surgery. Best of all, they price match and offer the lowest price guaranteed.
Get $300 off Custom Lasik / Contoura Lasik with code: LMD_northsouthblonde
Redeemable at all LASIK MD clinics (except AB and BC clinics). Offer expires May 15, 2023.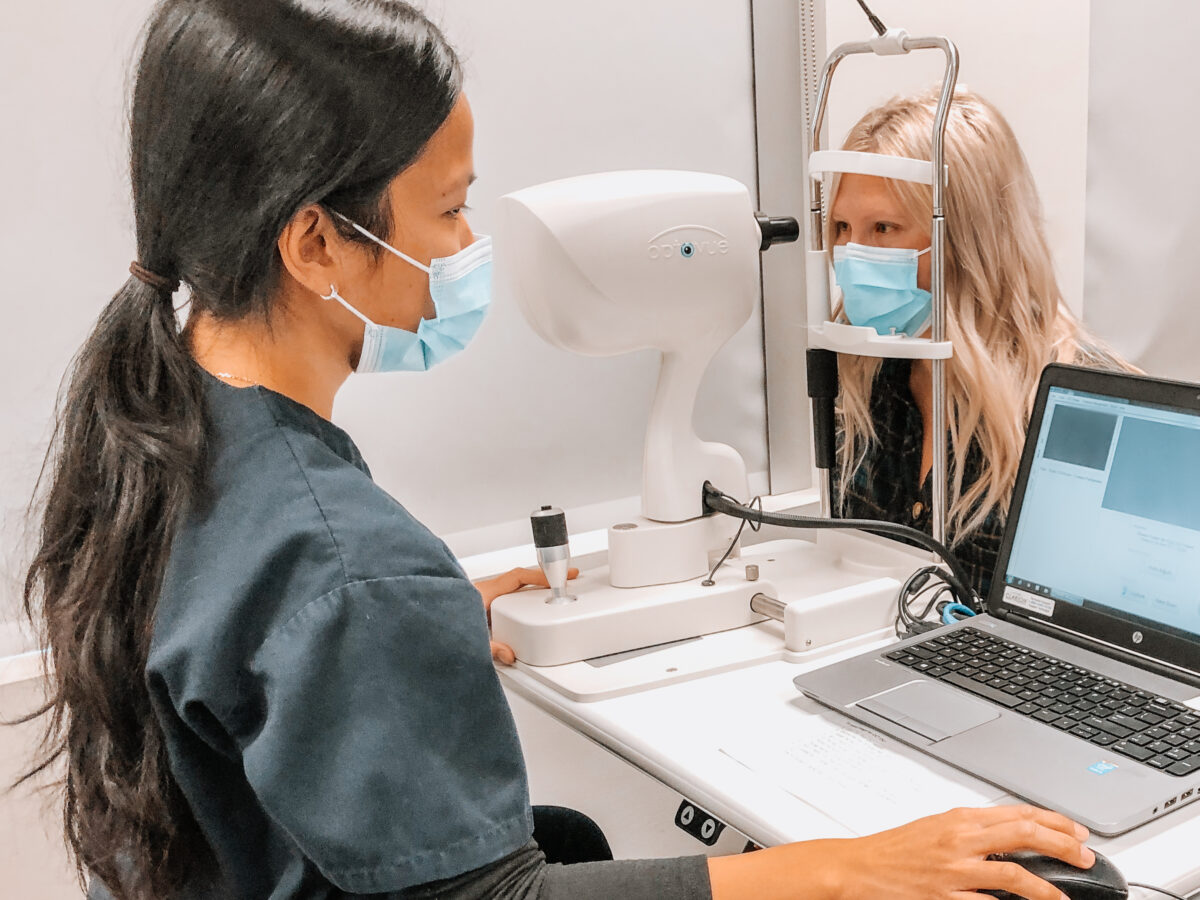 Standard LASIK Vs. Custom LASIK
These two laser eye surgery procedures will be offered to you before surgery, but which one to choose?
I personally went with the custom procedure because I wanted to reap the benefits of better night vision. I've always had trouble driving at night, as oncoming traffic lights would practically blind me. If you go with the standard LASIK procedure, you may experience glares and halos around lights at night.
And then of course, cost comes into play. The price for the standard procedure can be less than the custom. But keep in mind that the prices for standard LASIK fluctuate depending on your personal prescription.
You'll know after the initial consultation and testing whether you are a candidate for eye surgery, and from there, you'll know what the final costs will be. I highly recommend speaking to LASIK MD first hand and completing their patient approval process to see if you are a potential candidate for LASIK.
They were able to let me know my rate of regression which was around 10%. That means after the procedure, that is the rate my eyesight could decline again and it isn't very high. This percentage will help you choose whether or not you'd want lifetime coverage with the company, if say you needed another procedure in a certain number of years after your initial procedure.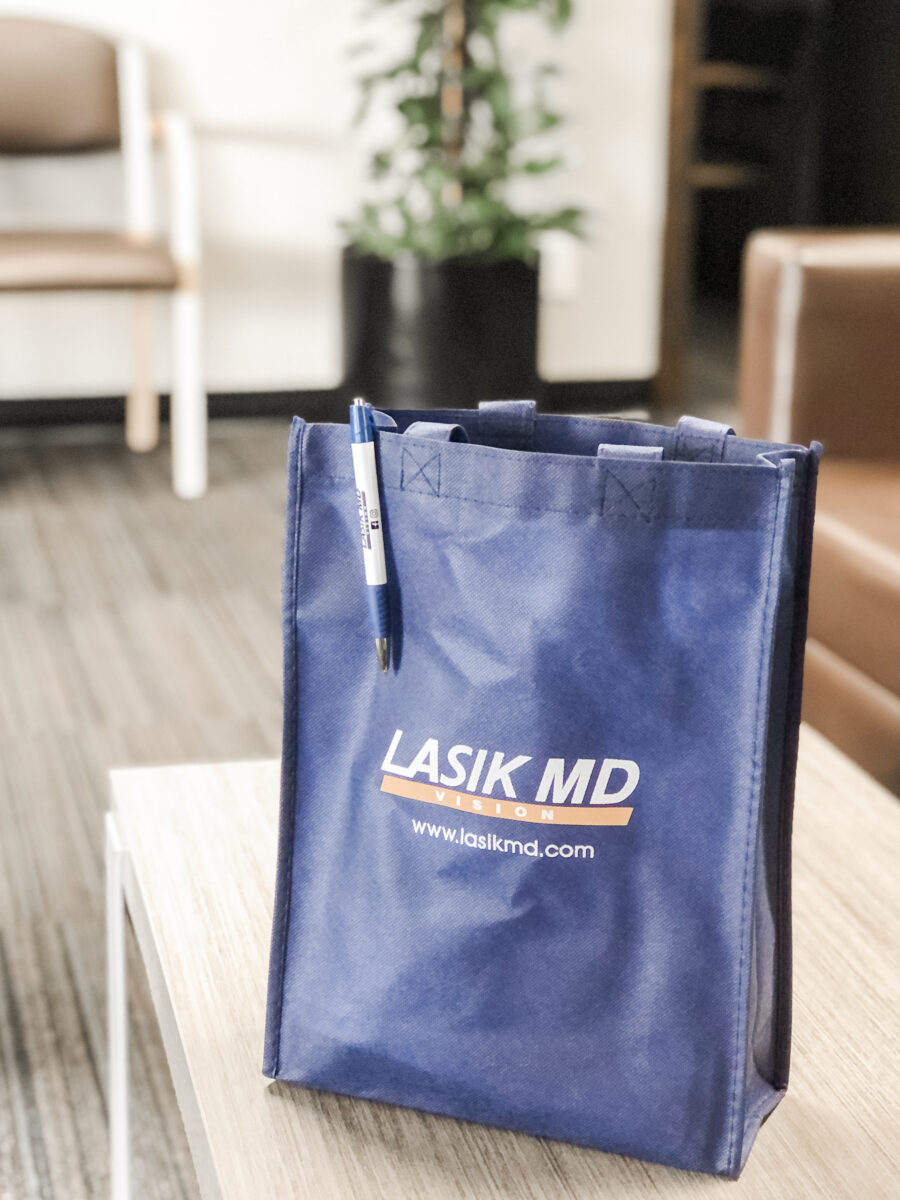 Preparation for Surgery Day
Let's just say, you want to be as comfortable as possible going into surgery. That means, little distractions and having the following days post-surgery lined up for your convenience and comfort.
For me, I had to play the long road trip to the city, my hotel stay, and having close family and friends who would be there for support and care. The first 24 hours after surgery is a crucial time for rest and recovery.
Plan for The Big Day
Schedule an Uber or driver ready to pick you up after surgery

Have a quiet and comfortable place lined up where you'll be staying and resting

Arrange for childcare if you have children

Take a few days off of work for recovery

Have someone by your side to assist you within the 24 hours post-op

Gather prescription drops and meds beforehand. These can also be bought at the clinic on the day of your surgery.

You'll want to be stocked in a big box of

Systane Ultra Lubricant Eye Drops

Place your eye drops in the fridge for a more soothing experience on delicate dry eyes!
Go to bed early, stay calm and relaxed, and practice self care. You got this!

The Day of Surgery
After travelling and resting at my hotel, I was prepared to spend 3-4 hours at the LASIK MD clinic to complete my consultation and laser eye surgery within the same day.
If you live locally to a LASIK MD clinic, you would typically schedule your eye surgery and consultation at two separate dates. The eye procedure itself takes very little time!
I wore leggings and a plaid flannel shirt which provided some warmth. The office and surgery room is kept cold to protect the equipment so you'll want to be comfortable. However, do not wear clothing such as wool as it may generate lint. You'll also want to be in something that will allow you to continue wearing or easily change out of as you get into bed immediately afterwards.
I was fairly comfortable going into surgery. However, if you are very nervous, they will offer you something to calm those nerves going into surgery. The staff provides a hair net to keep hair up and away and then you're all set to go.
During the actual procedure, they give you stress balls to squeeze as you lay down in the surgery room.
Laser eye surgery is actually a very quick procedure, literally taking the laser about 30 seconds per eye, or 5-10 minutes total in the surgery room. There are plenty of staff members in the room to accompany you, and they walk you through the whole procedure with ease. There was great communication with the surgeon and he was very confident with a successful outcome. I couldn't believe how quick the process was and couldn't wait to go back to my hotel to rest and relax.
Here are some tips to keep in mind for the day of your surgery:
Wear warm, comfortable clothing (no wool and no lint)

Refrain from wearing highly scented perfume, hair or skin products (your checklist will tell you this)

Eat a balanced breakfast the morning of surgery

Expect to be at the clinic for 3-4 hours if doing testing and surgery in the same day like I did

Have an Uber or a family member or friend to pick you up after surgery and help care for you as you rest and recover afterwards

What to Expect After LASIK Eye Surgery
Immediately after surgery, my eyes were blurry and watery. It was hard to keep them open. Therefore, the only thing to do was to return to my hotel and lay in bed for the rest of the day. I seldom picked up my phone — to send a quick text to let everyone know I was okay. I called my husband and kids to let them know the surgery went well, and then I went to sleep.
Rest, rest, and most rest. No screen time, no phone, no tv. Just rest your eyes and relax.
Light will be bothersome and it's extremely important to prevent eye strain the 24 hours after surgery. Most people can barely keep their eyes open, and when I did open mine, it was blurry and uncomfortable. So I just kept them closed and rested for the day, having a family member there to help with basic needs.
I kept up with the eye drops scheduling provided. I had to take one antibiotic, one anti-inflammatory, and the Systane drops for hydration. Keeping the eyes hydrated with eye drops and prescription drops are essential for proper eye recovery and to avoiding infection.
LASIK MD makes sure to check up with you at exactly the 24 hour mark after your surgery. This is to check your eye health, and make sure you are on track for a healthy recovery. For me, my eyesight was damn good the day after surgery, except the dry eyes would cause blurry vision and it was a simple fix by upping my hydration drops.
And with each passing day, my vision became clearer.
In the next few days after surgery, I still experienced some blurriness at times, and I noticed that my eyes had to adjust when focusing on things or reading text. Again, I used the eye drops to help. I tried to limit screen time, and rest my eyes as much as possible within that first week of recovery.
It's important to wear the provided sunglasses because your eyes will be very sensitive to light, and will improve with time. They also protect your eyes from wind, dust and debris if you were to step outside. They also act as a barrier to keep you from itching or rubbing your eyes, which will help speed up the recovery process and prevent infection.
I wore the provided sunglasses outside due to light sensitivity, as well as to bed every night to prevent eye rubbing during sleep.
One thing I did notice within the 24 hours post-surgery was that I experienced some slight bruising in my right eye from blood vessels. I was reassured that it was normal and should dissipate over time. Other than that, I am thankful for a smooth recovery one week post-op.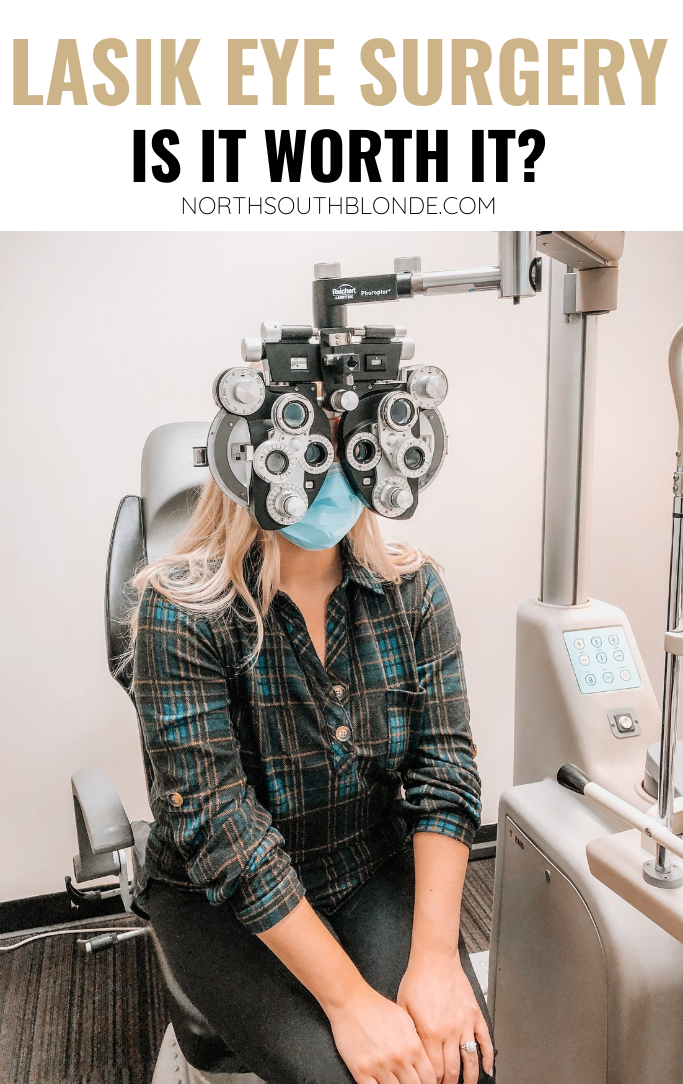 Laser Eye Surgery FAQS
Does My Insurance Cover Laser Eye Surgery?
LASIK eye surgery is an elective surgery as opposed to cosmetic surgery. When inquiring about LASIK eye surgery, you'll want to give your health insurance company a call to ask if your plan will cover the cost of the surgery. Oftentimes, your plan will cover a fraction of the cost, so it's important to know what to expect price wise before going ahead with your surgery.
On the plus side, the cost of surgery is a flat rate (no taxes or hidden fees on top of the total) and is 20% tax deductible as a health expense! This is the case in Ontario, but may vary within other provinces.
Is Financing Available?
Yes, LASIK MD currently offers 0% interest financing with PayBright, over an 18-24 month period or over a 5 year period with a different interest rate.
Will I Be a Candidate?
Most people are, but not everyone is. Before going for a consultation with LASIK MD, make sure your eyes are in good health (no infections), you are not pregnant, and you are over 18 years of age.
LASIK MD is for people with nearsightedness, farsightedness, and astigmatism. After preoperative evaluation, no obligation, you will know whether you will be a candidate for surgery or not.
Does LASIK Hurt?
Not in my case. As mentioned before, the entire procedure was about 10 minutes. Essentially, the surgeon tapes back your eyelashes, gives you numbing drops, clamps back your eyelids and away you go. All you have to do is stare at the green light.
Why LASIK MD?
There are quite a few LASIK MD locations across the GTA in Ontario. Keep in mind, "LASIK" is the type of eye surgery that is offered at many private clinics across Ontario, of which have many different price points. When I found out LASIK MD is a brand of surgeons with its own specialized clinics, I immediately knew they were who I wanted to go with and will trust. Their customer service literally spent over an hour on the phone with me to answer all of my questions and concerns. They made sure to make the procedure as comfortable and seamless as possible, considering I was travelling 6 hours to the city to have it done!
Is LASIK MD Worth It?
I really enjoyed that LASIK MD tailored the whole experience for me and made it as seamless as possible.
I was able to complete the whole process in one day, since I came from out of town, and it was truly an enjoyable experience. Keep in mind that the current process is to have a virtual consultation, where your pre-operative appointment is done virtually. You only need to come into the clinic on the day of your surgery, which is very convenient.
During surgery day, they always confirm candidacy by doing pre-operative testing. For me, their testing was reassuring, the staff were knowledgeable and friendly, and I felt like I was in good hands at the Mississauga LASIK MD clinic.
After my procedure, you simply cannot put a price on clear vision. My life has now changed for the better. I am so happy that I went through with the surgery and it was truly a remarkable experience. Technology and science is amazing. Thank you LASIK MD for correcting my vision, something that's been disabling me for years, and for recycling my old lenses!

Pros and Cons of LASIK Laser Eye Surgery
Pros
Vision is improved within 24 hours after surgery

The procedure is quick

Go home the same day

Saves you money in the long run (no more prescription eyeglasses/sunglasses, or contacts)

Makes life easier, better mood, more confidence, less stress

Perform better at work, in sports, and driving with confidence
Cons
Some may experience dry eyes or eye pain or discomfort during the 24 hour recovery

Healing could take a few weeks, or up to 3 months

Hydration drops sometimes need to be continued indefinitely

Light sensitivity could persist, as well as seeing glares or halos at night (this can be avoided with the custom LASIK procedure)

Some may need another surgery to correct their vision, sometimes in one eye or in both eyes
My final tip for you is to stick to your eye drop regime post surgery. A lot of times, the blurriness and eyestrain subsides with well-hydrated eyes. Dry eyes are the most common complaint after LASIK.
Handle your eyes with delicacy and clean hands. Avoid trauma to the eyes and take good care of your eye health. Stay hydrated with plenty of water at all times.
All in all, I am extremely happy with my experience with LASIK MD! They exceeded my expectations in every way, and they will be who I recommend to all family and friends looking to correct their vision too.
Get $300 off Custom LASIK / Contoura LASIK with code: LMD_northsouthblonde
Redeemable at all LASIK MD clinics (except AB and BC clinics). Offer expires May 15, 2023.