Cinnamon banana bread is incredibly soft and delicious with flavours of fall. An easy, healthy, low carb snack that's perfect to pack for lunch or to enjoy with a coffee at breakfast!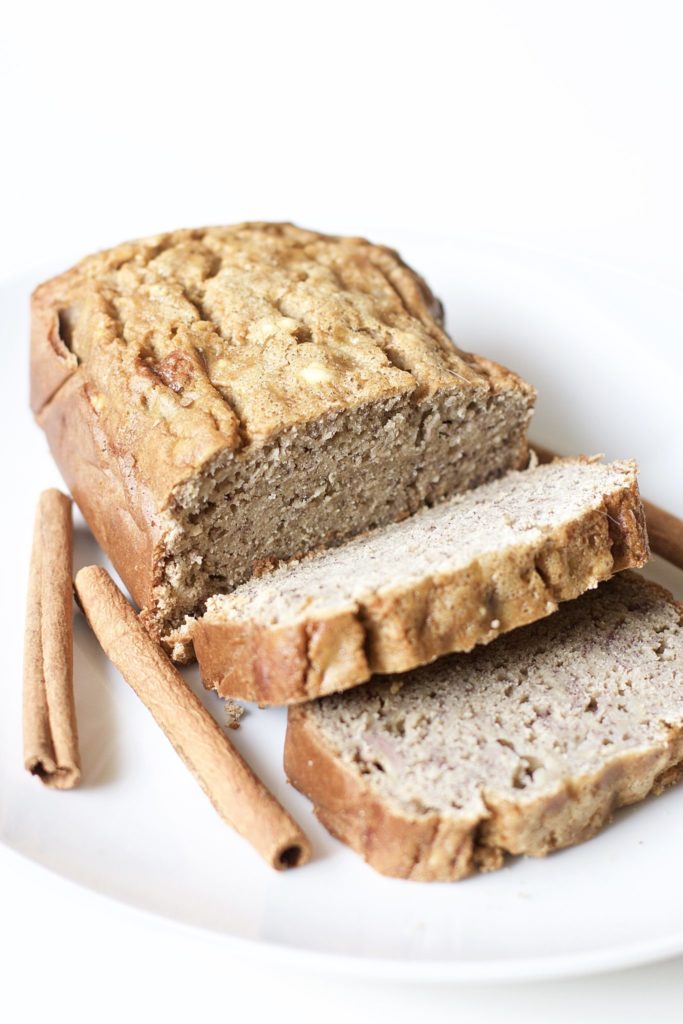 Kid-Friendly Banana Bread
Talk about fall flavours! The weather is cooling down (here is my last post on protecting your skin all year around) and the leaves have already started to fall. All I can think about is baking healthy and delicious smelling wholesome snacks for my family.
My four year old daughter started junior kindergarten last week and I wanted to make a homemade snack to pack in her cute pink bento box and lunch bag. Fresh, wholesome, and naturally sweet. She really enjoyed this filling and satisfying treat, as did the rest of us!
For more lunchbox ideas, see One Week of Easy Lunchbox Ideas For Kids.
Healthy Banana Bread
This is a wholesome breakfast, snack, or dessert that the whole family will enjoy. Not only is it the perfect addition to school lunchboxes, but it's great to slice up the bread and take with you on the go.
It stays fresh in a container and is a great healthy snack when travelling with kids, all day activities and road trips.
This cinnamon banana bread has many health benefits (keep reading below) with powerful nutrients. My favourite benefits are the help it provides to regulate digestion, reduces sodium levels and bloating, and fights those dreadful leg cramps you get in the middle of the night.
Recipes for Weight Loss:
The Best Gluten-Free Banana Bread
You won't need a fancy blender or mixer to combine the ingredients here. Simply use a whisk for the wet ingredients, and a spoon to combine the dry ingredients.
That makes this recipe easy as pie and great for getting the kids involved to help pour and mix the ingredients together.
You'll also need a 4×8 loaf pan, greased, for a perfectly high risen loaf of bread that won't stick. I recommend using coconut oil cooking spray, or regular parchment paper to allow for easy removal.
I love that the ripened bananas make this loaf of bread naturally sweet. Just remember that the more ripened the banana is, the sweeter it will be.
The pure maple syrup in this recipe is absolutely optional, making this capable of being a whole 30 approved recipe.
More recipes you'll love: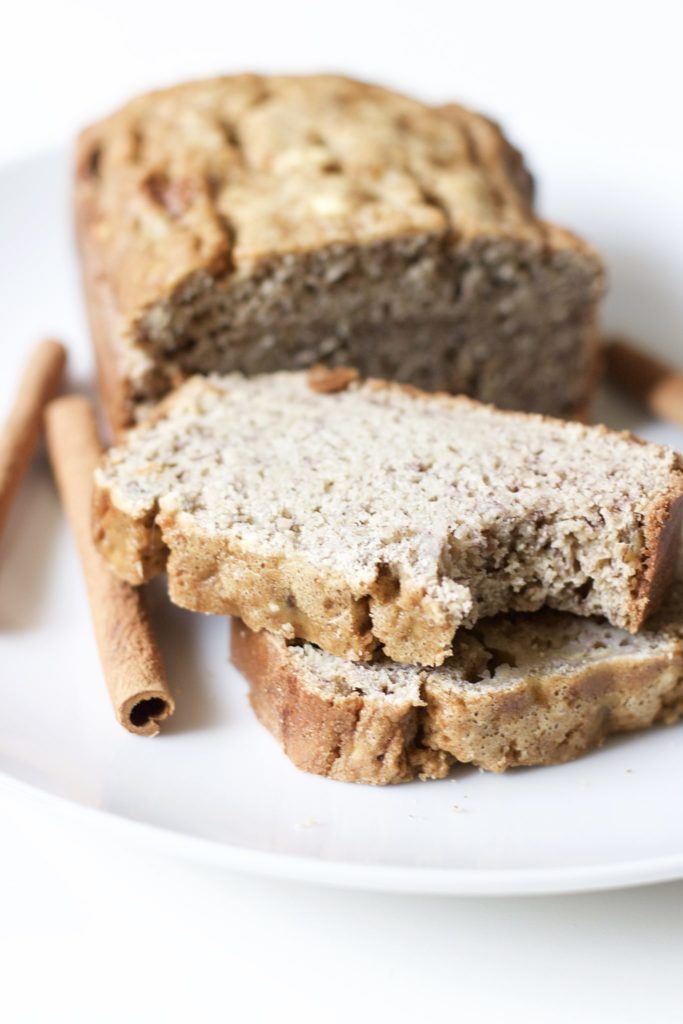 Health Benefits of Cinnamon
When I think of fall, I think of all the invigorating smells and benefits of fall spices — like cinnamon. Cinnamon is a strong spice, either you have a taste for it or you don't. But, if you do (I hope you do), you should try to add it to anything you possibly can.
With its powerful medicinal properties, I like to add cinnamon to my coffee, tea, and any baking recipes if it goes along with it. It's especially a great addition to oatmeal for breakfast and smoothies.
Health benefits of cinnamon include:
Loaded with antioxidants to fight against aging and aid in immune support
Anti-fungal and anti-inflammatory properties — fights off bacteria and a natural pain reliever
Reduces risk of heart disease
Controls blood sugar levels to protect against (or reverse) diabetes by improving sensitivity to insulin
Improves brain function — helping neurotransmitter receptors and motor function to prevent Alzheimer's and Parkinson's Disease
Reduces growth of cancer cells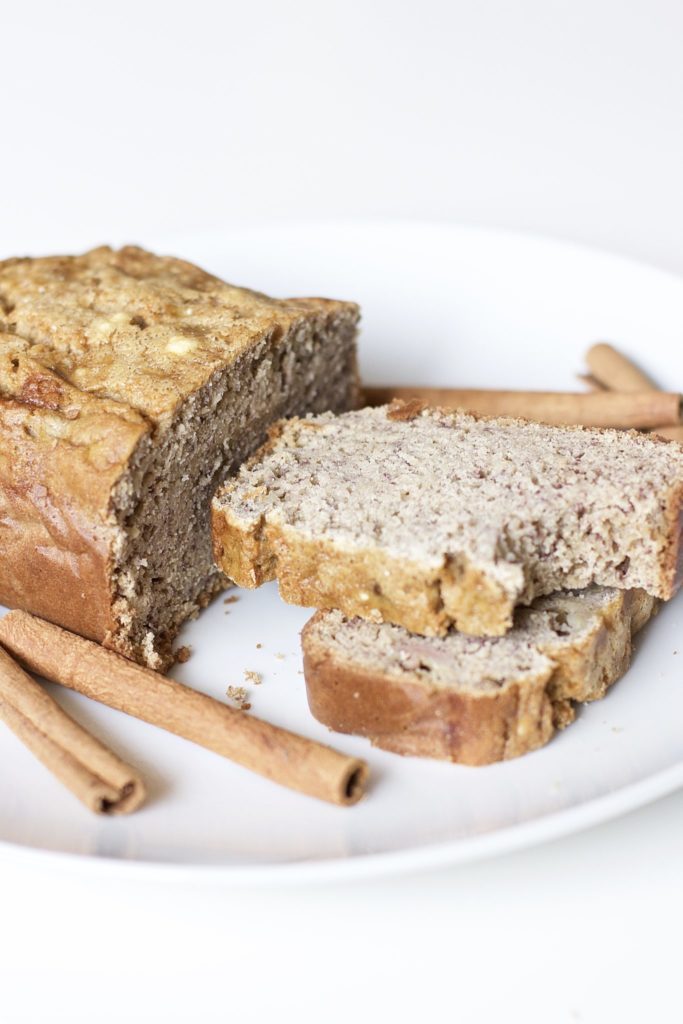 Health Benefits of Bananas
And finally, the real winner of this recipe — ripened bananas. There is nothing sweeter. Naturally, that is.
Keep in mind that bananas are high in natural sugars. One banana has about 24 net carbs, which is high for someone consuming a low carb diet. That's why it should be used as a healthy indulgence once in a while.
Health benefits of bananas include:
High potassium for a healthy heart, and to control the body's electrolyte levels — great for reduces muscle cramps
Controls blood pressure the less ripe the banana is (less sweet)
Source of fibre to help regulate digestion
Contains vitamin B6 for healthy brain function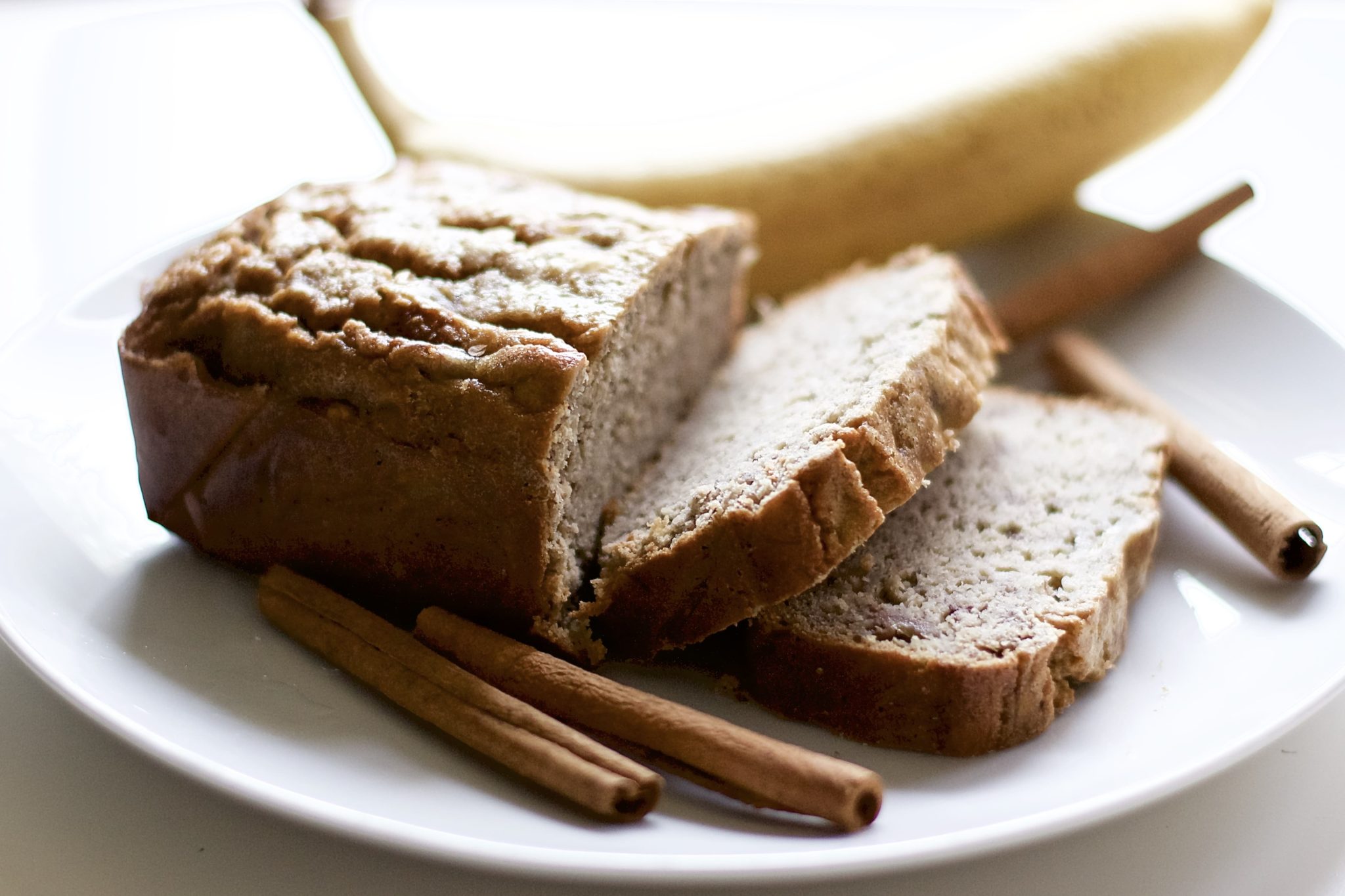 Banana Bread for Breakfast
If you have a sweet tooth on the other hand, go ahead and add more maple syrup to your liking. You can also try honey as a sweetener, as well. Like I said before, the bananas on their own will give it just the right amount of natural sweetness.
From now on, I'll be warming up a slice of this cinnamon banana bread from the fridge, and enjoying it alongside my morning coffee. Life doesn't get much better than that.
Enjoy this banana bread in the morning with your coffee, at lunch, or as a dessert. It's soft, moist, and oh-so-heavenly and I hope you enjoy it as much as I do.
I cannot help myself with this banana bread. See it, eat it. Are you like that too?
You can enjoy it cold or at room temperature, but warming it up makes it that much better.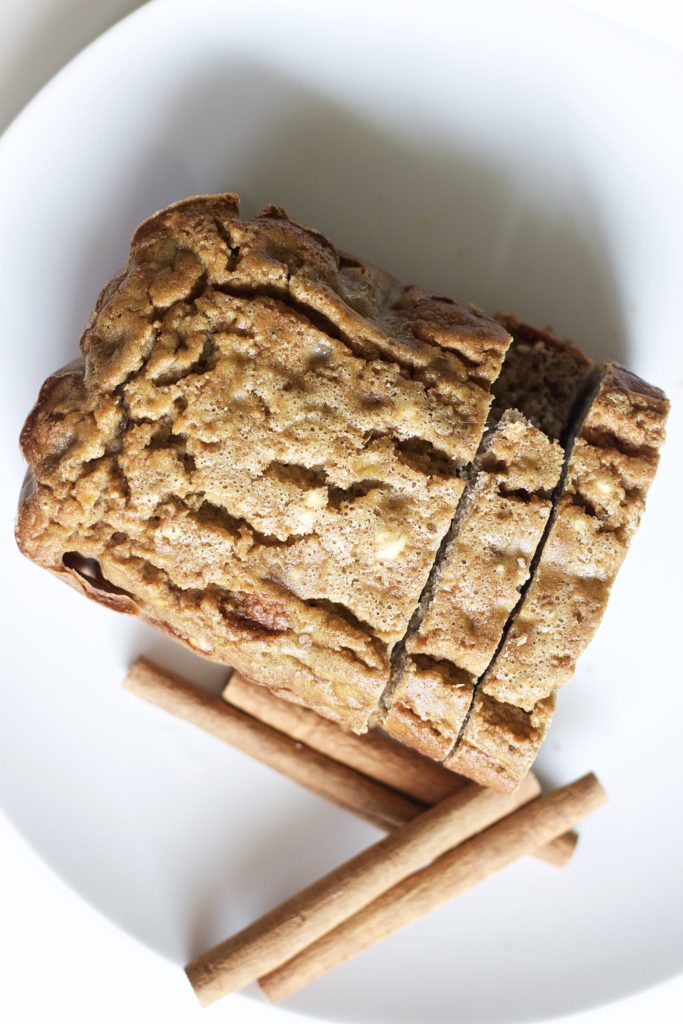 If you share the recipe on Instagram, be sure to hashtag #NorthSouthBlonde and tag me in it! I'd love to see how yours turns out.
Interested in starting a blog of your own? Here's my step-by-step guide for beginners on how to start a profitable blog and earn money in minutes!

Cinnamon Banana Bread (Gluten-Free, Paleo)
Instructions
Preheat oven to 350 degrees

Grease or line a

loaf pan

with parchment paper (this way is easier for removing and clean up).

In a mixing bowl, mash the bananas using a spoon or your hands. Whisk in the eggs, coconut milk, vanilla, and maple syrup.

In another bowl, stir together the dry ingredients. Add to wet ingredients and mix until smooth.

Pour evenly into greased or lined loaf pan and bake for 1 hour. Bread will be golden brown when ready, you can also check by sticking a toothpick in the centre and it comes out clean.
Notes
One slice out of an eight-sliced loaf contains 12 net carbs
Nutrition
Serving:
1
slice
|
Calories:
163
kcal
|
Carbohydrates:
15
g
|
Protein:
6
g
|
Fat:
10
g
|
Saturated Fat:
2
g
|
Cholesterol:
61
mg
|
Sodium:
26
mg
|
Potassium:
214
mg
|
Fiber:
3
g
|
Sugar:
7
g
|
Vitamin A:
108
IU
|
Vitamin C:
3
mg
|
Calcium:
89
mg
|
Iron:
1
mg
Shop What You'll Need