Slow Cooker Zucchini Lasagna is your favourite hearty Italian dinner, without the starchy pasta. Low carb, keto friendly and packed full of nutrients for weight management and weight loss.

Keto Lasagna for Dinner
Lasagna in the slow cooker turns out perfectly moist, with crispy edges at the same time. You get to forget about the timer, set the slow cooker on low and go about your day without any worry.
It's convenient to prep the lasagna in the afternoon so that it's ready just in time for dinner, or when the kiddos get home from school.
Keep in mind that a lasagna in the slow cooker doesn't always stay intact when immediately served. This depends on how much sauce you use or how watery the sauce is. The good news is that it refrigerates well and makes for perfect square slices to be warmed up any day of the week!
More Keto Dinners to Try: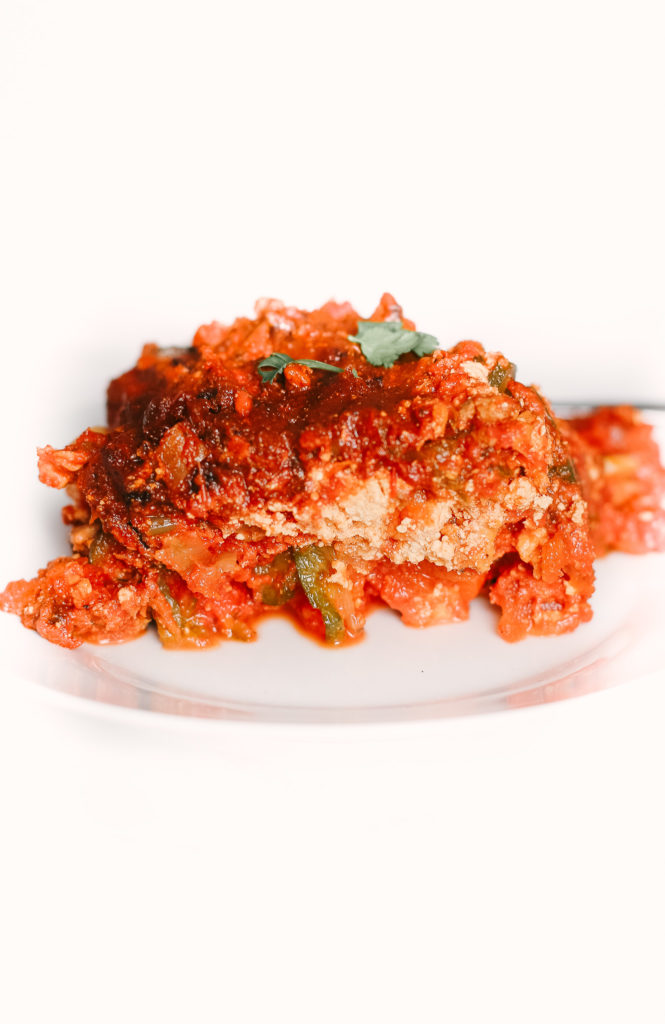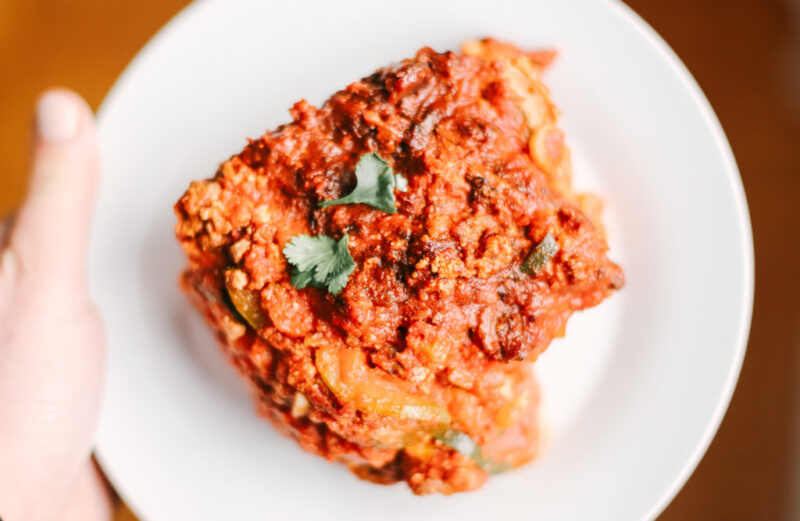 Health Benefits of Zucchini VS Pasta Noodles
If you are feeling tired all the time or you simply aren't able to manage your weight, it's probably because you're consuming too many carbs. What happens when you cut out pasta from your diet is you begin to feel lighter and have more energy.
Switching to a low carb diet has many benefits, such as less mood swings, a clearer mind, stable blood sugar levels and reversing diabetes, to name a few. It's also a great way to incorporate more veggies into your diet.
By replacing pasta with zucchini, you're still able to enjoy your favourite scrumptious pasta dishes and still remain in ketosis or fat burning mode. Zucchini is much lower in carbohydrates and calories in comparison to pasta.
Typically, pasta is known for its empty carbs, containing some protein but incomparable to zucchini in terms of nutrition. Here are the health benefits of eating zucchini:
Zucchini contains essential nutrients like vitamins A, B6, C, K, potassium, folate, and fibre
Decreases risk of stroke and cancer
Lowers blood pressure
Lowers cholesterol
Only 3 net carbs per cup, aiding in weight loss
High in antioxidants to remain youthful and boost immunity
Promotes healthy digestion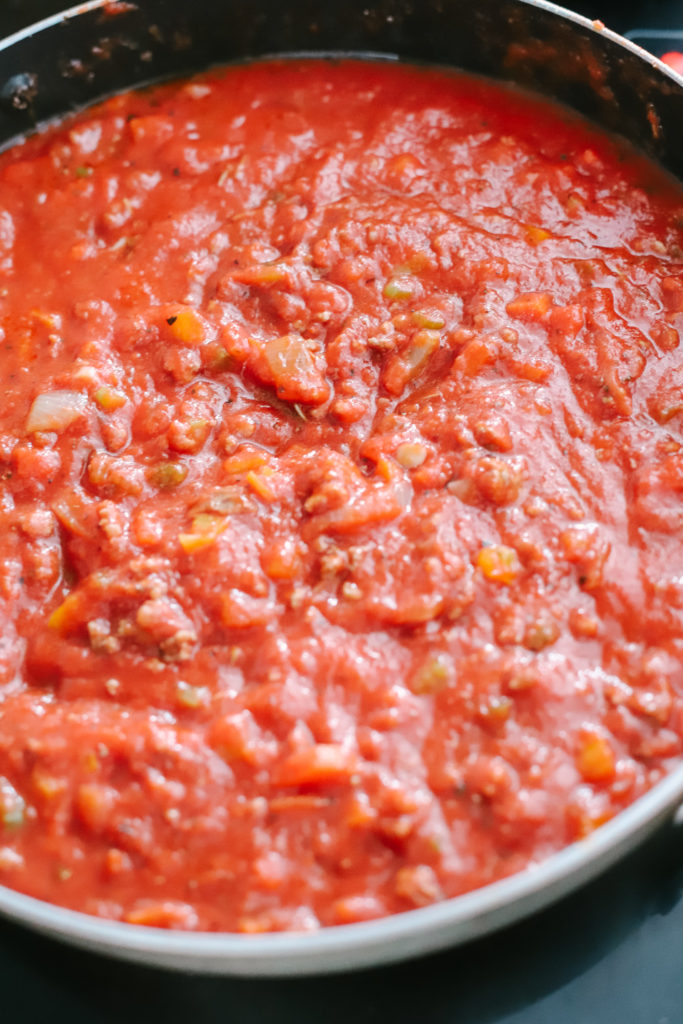 Homemade Hearty Meat and Tomato Sauce
The heart of this recipe is definitely the homemade meat sauce. The meat is optional for sure, but it adds so much texture, and a great source of protein and fat when enjoying a low carb diet. It's chunky, with a ton of cut up vegetables, and really wholesome and filling.
First, you'll need about half a pound of high quality grass fed ground beef (try to buy local beef) and brown in a frying pan. Drain the excess fat. Since the pan is already greased, simply add in chopped onion, celery, carrot, and pepper (optional) and a few cloves of minced garlic.
Sauté until onions are translucent and then add a full jar of no sugar added crushed tomatoes. Throw in a teaspoon of oregano, rosemary, garlic powder, and basil. Add a dash of salt and pepper, about half of a chicken flavoured bouillon cube and throw in one or two bay leaves.
Reduce the sauce for 20 minutes, while you prepare the zucchini and cheese for the slow cooker.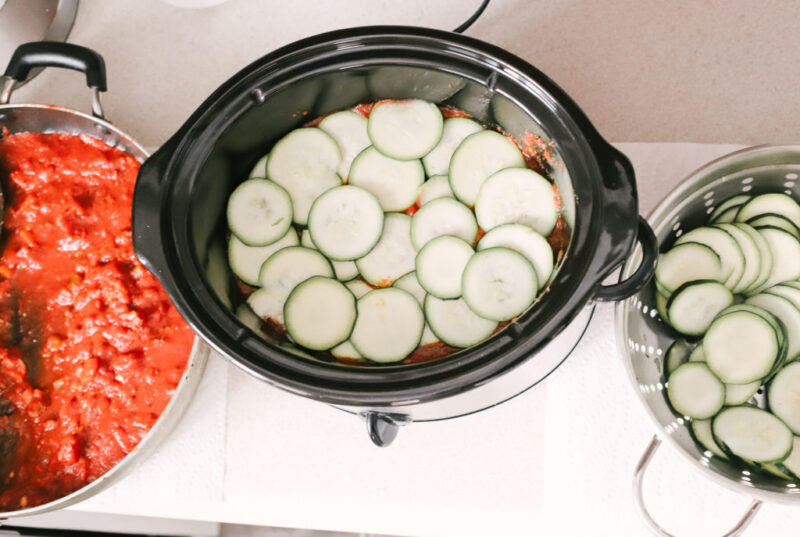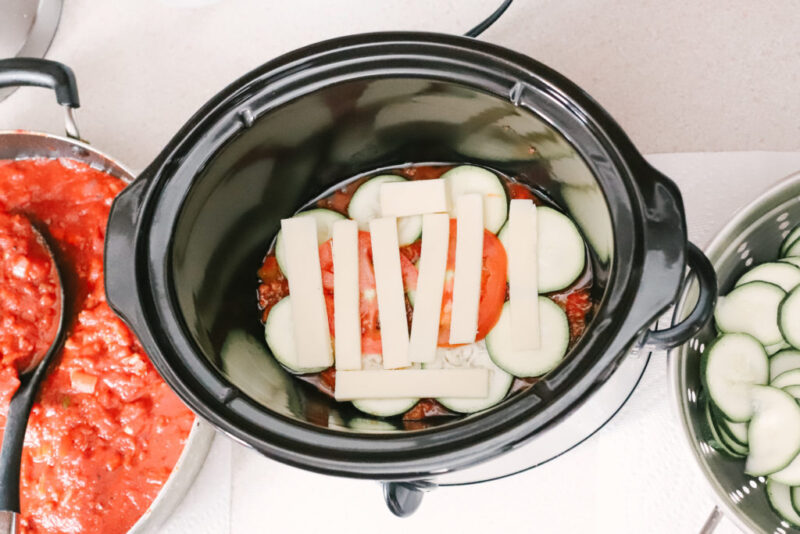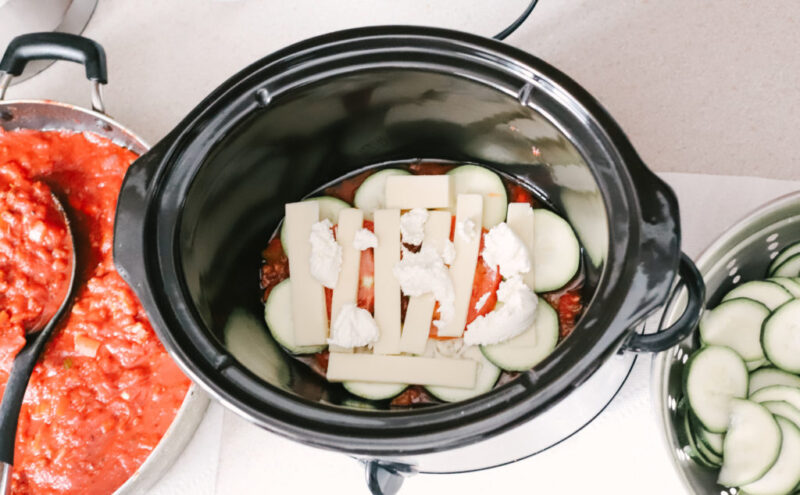 Cook With High Quality Cheese
Avoid processed cheese. Use full fat ricotta, mozzarella and parmesan cheese.
Layering the lasagna in the slow cooker is the fun part! And don't you dare hold back on the cheese.
Can Your Kids Eat Keto Lasagna Too?
Absolutely, the whole family can enjoy this low carb dinner. This zucchini lasagna is a great way to incorporate vegetables in your child's diet by somewhat hiding it in one of their favourite meals.
The consistency of the zucchini is very similar to pasta noodles, so they shouldn't notice too much of a difference. As mentioned above, the zucchini will give your child plenty of nutrients for growing, strong and healthy kids.
Vegetables should always be a first choice when considering what to feed children. In addition, the meat sauce in this recipe is a great source of protein and contributes to a wholesome, hearty meal that will be filling and satisfying for hungry kids.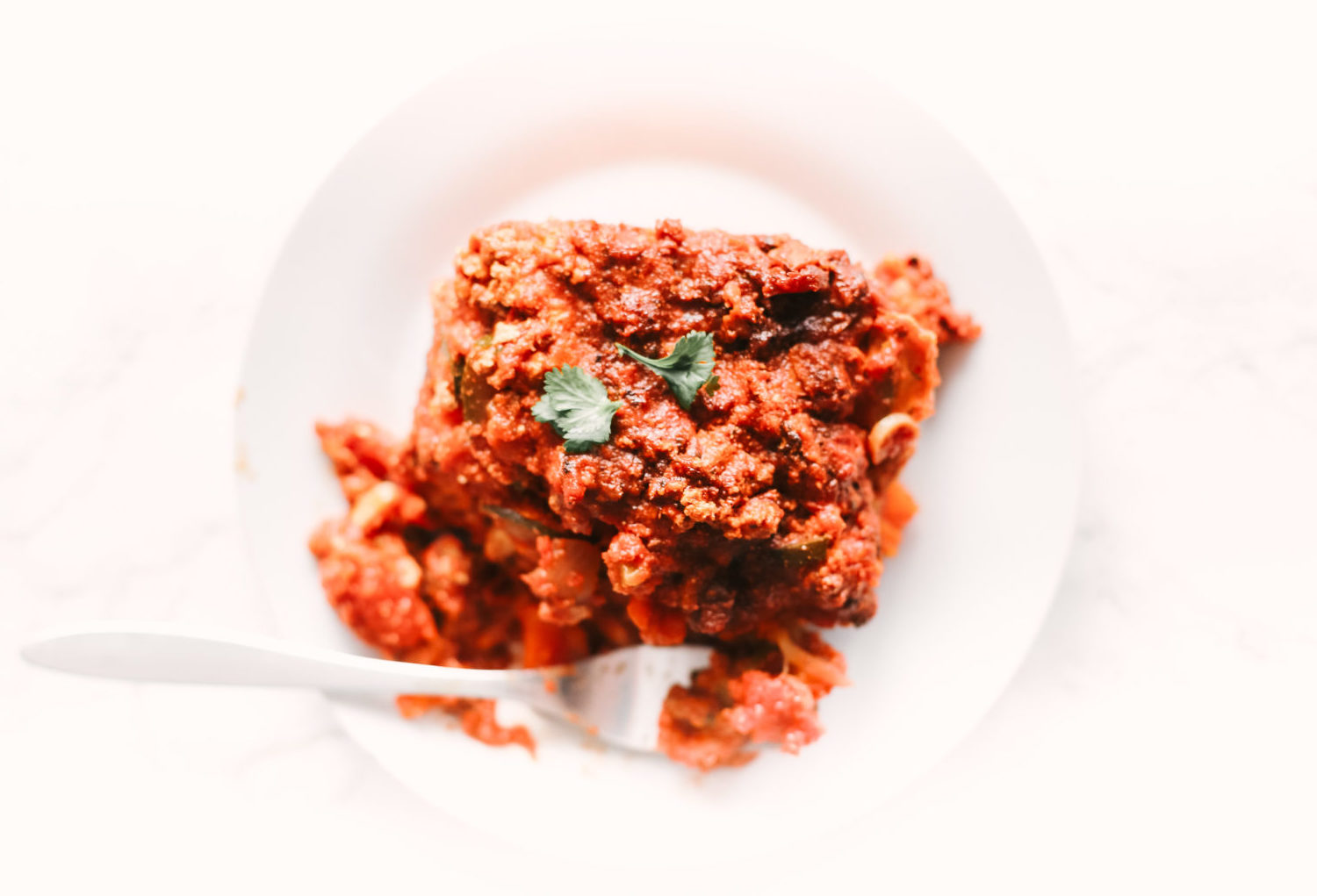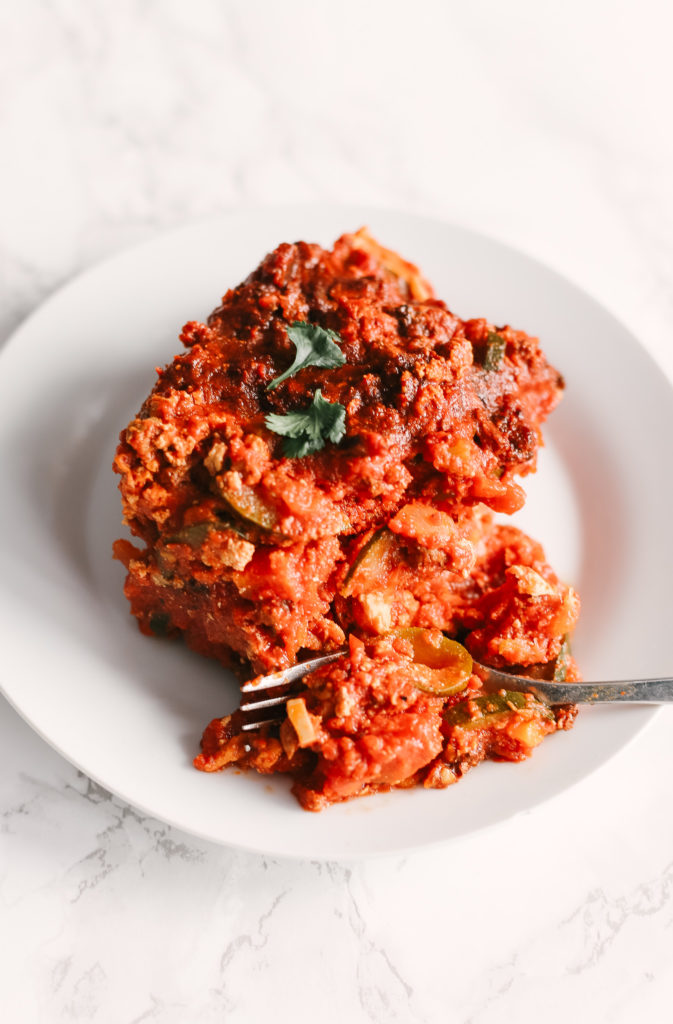 Here's to the end of a very long January. You've got this! Enjoy!

Slow Cooker Zucchini Lasagna
Slow Cooker Zucchini Lasagna is your favourite hearty Italian dinner, without the starchy pasta. Low carb, keto friendly and packed full of nutrients for weight management and weight loss.
Ingredients
Zucchini Lasagna Ingredients
batch

tomato meat sauce

measurements vary depending on size of slow cooker

4

medium

zucchini

1 1/2

cup

mozzarella cheese

1

cup

ricotta cheese

1/2

cup

parmesan cheese

freshly grated

parsley

for garnish
Instructions
Start on The Meat Sauce
In a large pan, brown the ground beef on medium heat. When done, drain the fat and put beef back into the pan.

Add in the chopped onion, carrot, celery, and minced garlic. Cook about 3 minutes or until garlic is fragrant and onions are translucent.

Pour in a jar of strained tomatoes and mix to combine. Add the spices, bouillon cube, and bay leaves. Mix again to combine. Reduce sauce for 20 minutes on low heat.

While the sauce is cooking, prepare the zucchini by washing and cutting into either long, vertical slices, or round slices. Slice the mozzarella cheese.
Layer The Lasagna
At the bottom of your slow cooker, pour a light layer of sauce, about 1/4 inch thick. Lay out slices of zucchini, slightly overlapping each piece. Add a layer of about 7 slices of mozzarella cheese, spread apart, and then add a few dollops of the ricotta. Sprinkle some of the parmesan as well. Repeat the layers until you get to the top.

Cook in the slow cooker on low heat for 8 hours, or on high for 4-6 hours.

Depending on the amount of sauce you used while layering, a serving of lasagna may not stay intact on a plate. You can serve immediately or refrigerate it over night and warm a slice up the following day, which should then hold more shape. Enjoy!
Notes
One serving = 7 net carbs
Store in the fridge for 3-4 days or in the freezer for 4-6 months.
Nutrition
Calories:
218
kcal
|
Carbohydrates:
9
g
|
Protein:
15
g
|
Fat:
14
g
|
Saturated Fat:
7
g
|
Cholesterol:
48
mg
|
Sodium:
277
mg
|
Potassium:
578
mg
|
Fiber:
2
g
|
Sugar:
5
g
|
Vitamin A:
2207
IU
|
Vitamin C:
26
mg
|
Calcium:
188
mg
|
Iron:
2
mg
Shop The Post