The best cauliflower pepperoni pizza recipe you will ever need to get your pizza fix without the guilt on a low carb, ketogenic diet. It's gluten-free with tons of nutrients and perfect for weight loss.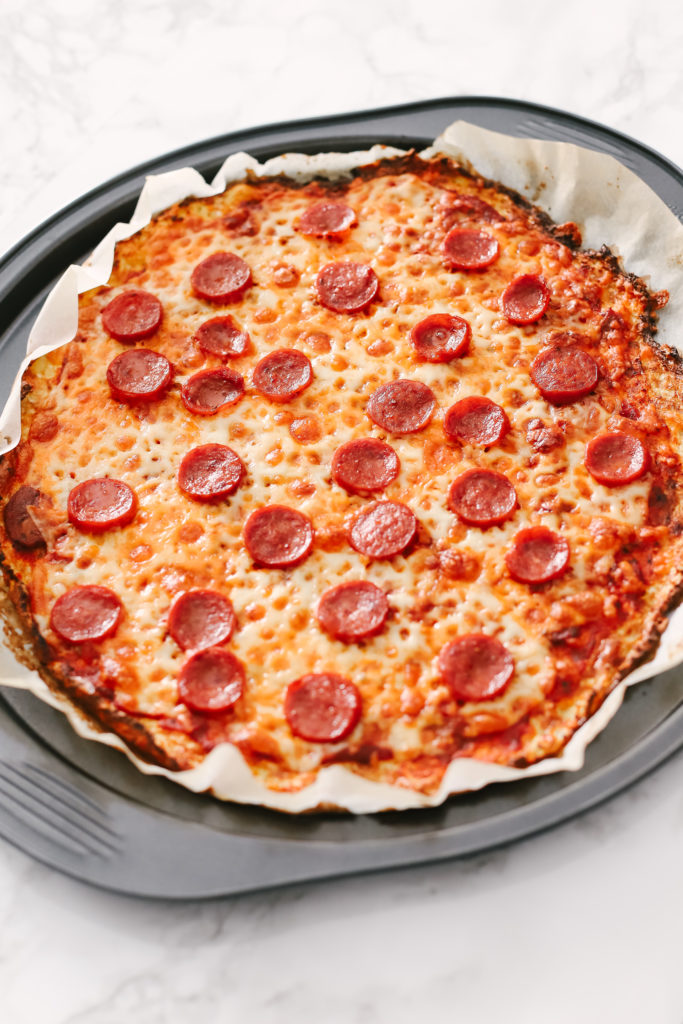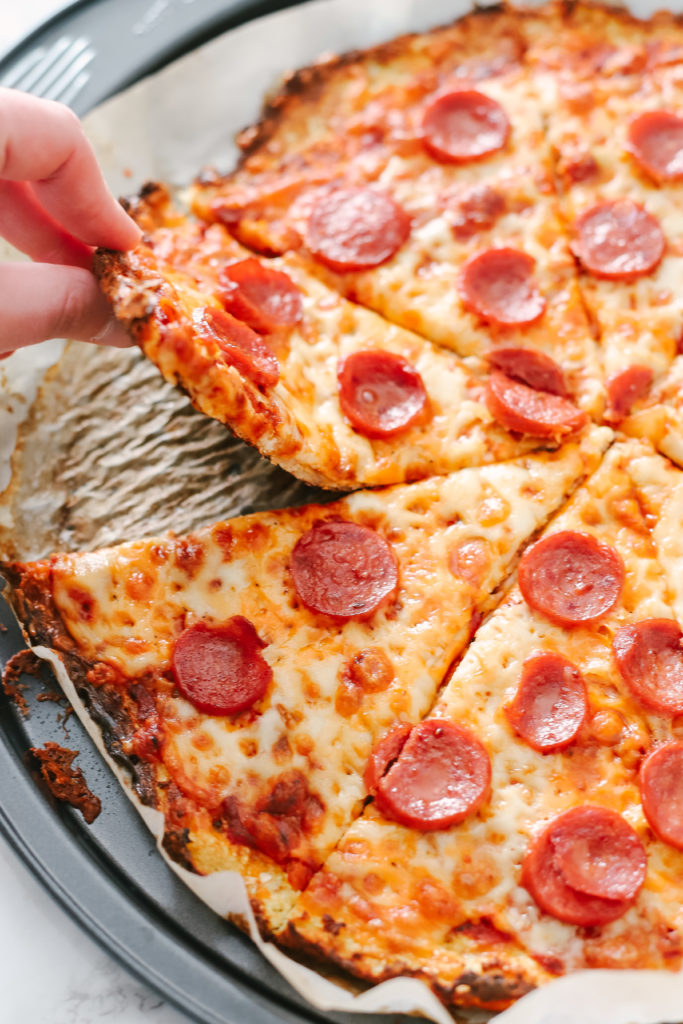 Happy New Year friends! This cauliflower pizza is to celebrate the new year and the new you, without sacrificing your favourite food. You don't have to avoid pizza when undergoing a keto/low carb diet. It's as simple as that.
I really love hearing success stories, when my readers tell me how much better they feel when they've gone low carb. The weight melts off, the mind is clearer, they have more energy, stabilized blood pressure and moods, and so much more.
This time last year, I shared my Easy Chicken and Creamy Alfredo Zoodles which is also an amazingly delicious keto recipe that will be another go-to dinner to make when you're out of ideas. And when you need a really quick fix, you could try this Fat Burning Cabbage Soup by storing a batch in the fridge and warming up a bowl whenever you need.
Not a fan of cauliflower? Try these Low Carb Eggplant Pizzas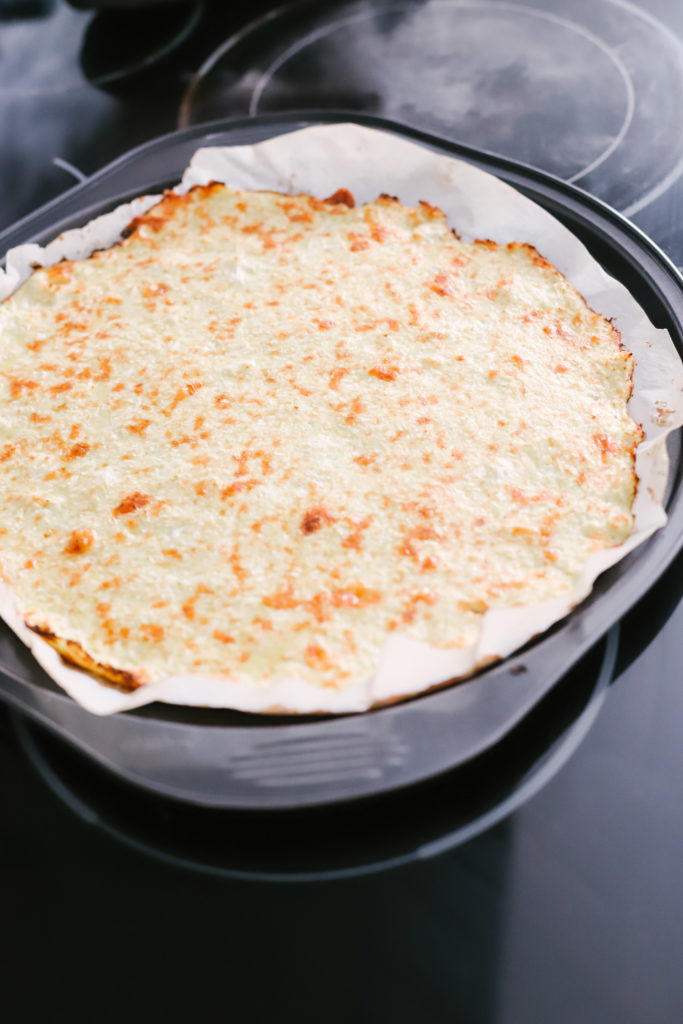 The Perfect Cauliflower Crust
The secret to the perfect cauliflower crust is making sure that the liquid from your cauliflower is extracted first thing after grating. Then, once you've combined the ingredients for the 'dough', you will spread it out into a very thin layer by hand onto a lined pan. This will cook evenly and golden up nicely, mimicking a typical pizza bread crust.
Bake the cauliflower crust before adding your sauce and toppings. This allows for the crust to dry out and crisp up in the oven, prior to adding a wet tomato sauce which would otherwise make for a soggy pizza.
We recently just bought a rounded pizza pan with holes so that heat is evenly distributed when the pizza is baking in the oven and I love the results!
I always bake using parchment paper to avoid the pizza from sticking to the pan and I trim the edges to round the pan because if it sticks out in the oven, it will burn. It also makes cleaning up afterwards that much easier.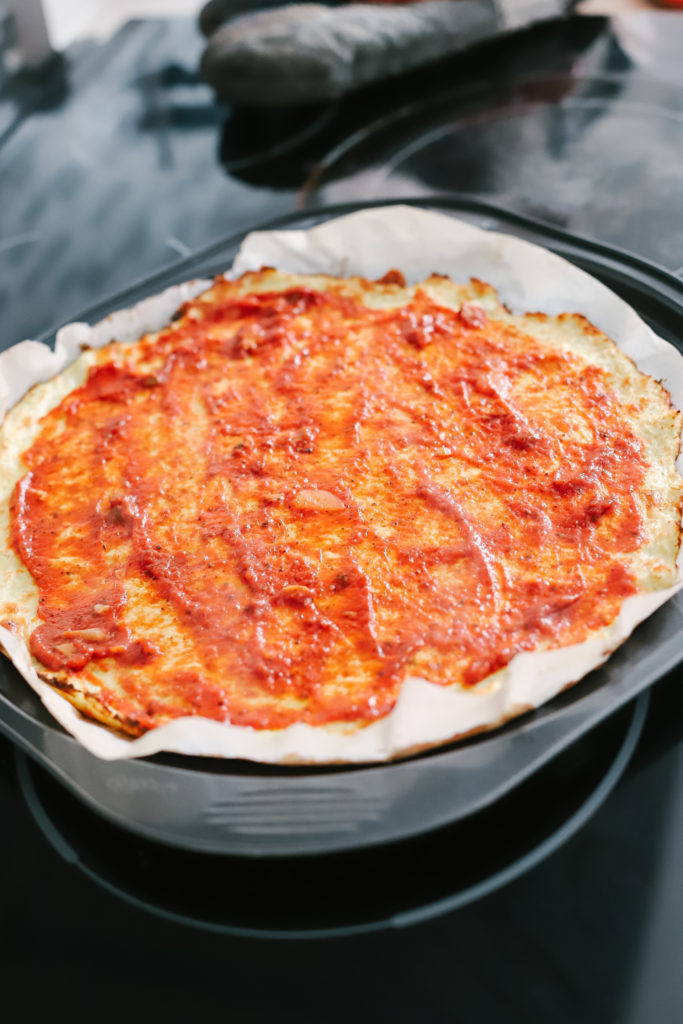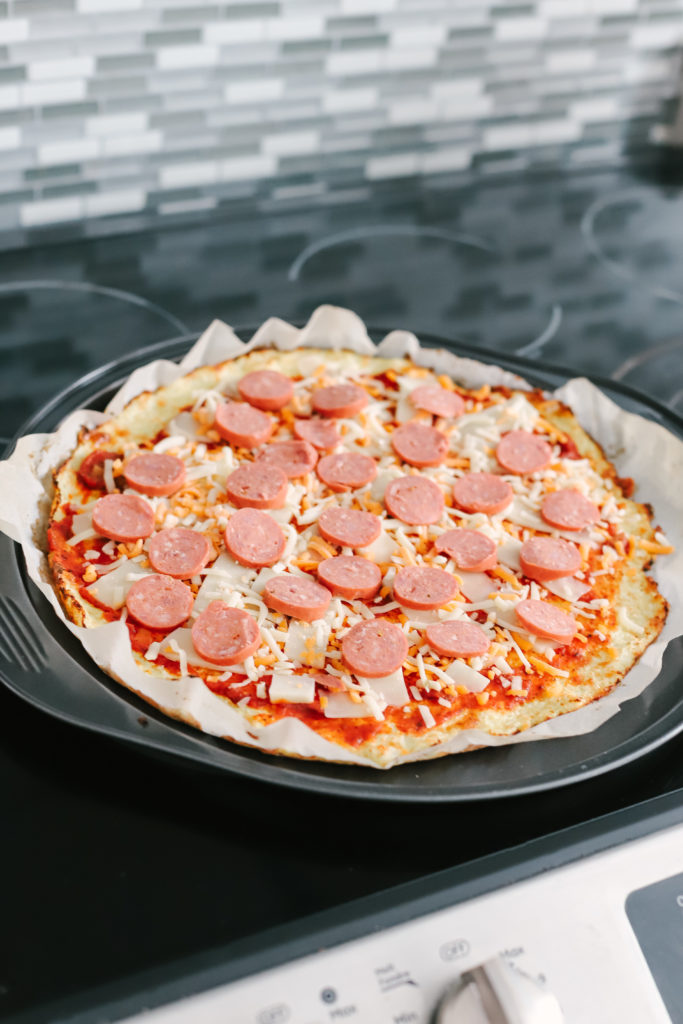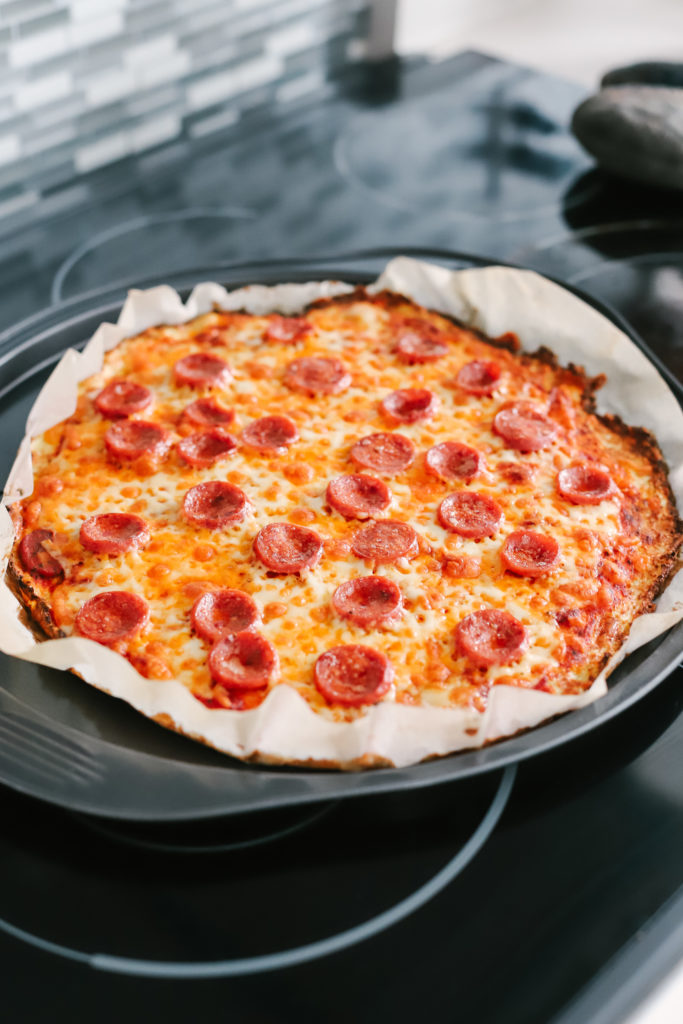 Cauliflower Pizza Crust Toppings
It comes down to preference. Buy a stick of pepperoni and cut it yourself, which saves you a bit of money. You could also add salami, bacon, prosciutto, or ham to the pizza.
You could always veggie it up with some spinach, arugula, peppers, olives, onions, or sun-dried tomatoes.
If you like your pizza spicy, go ahead and add banana peppers, jalapeños, hot sauce, or hot chili flakes.
I love to add feta cheese or parmesan as well. You could even try goat cheese as an alternative or additive to mozzarella. Tell me what your favourite toppings are!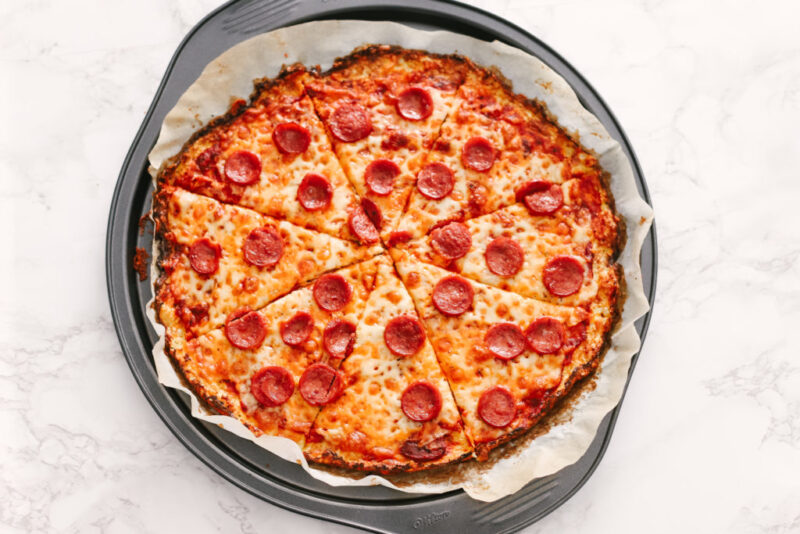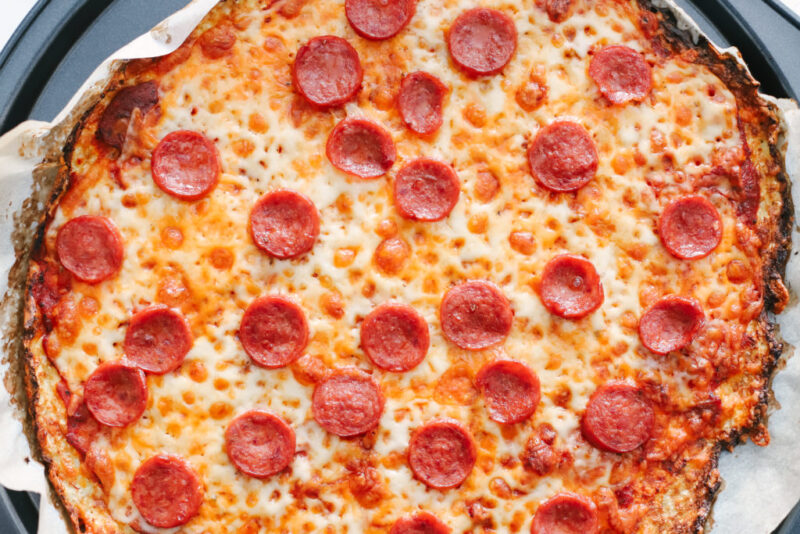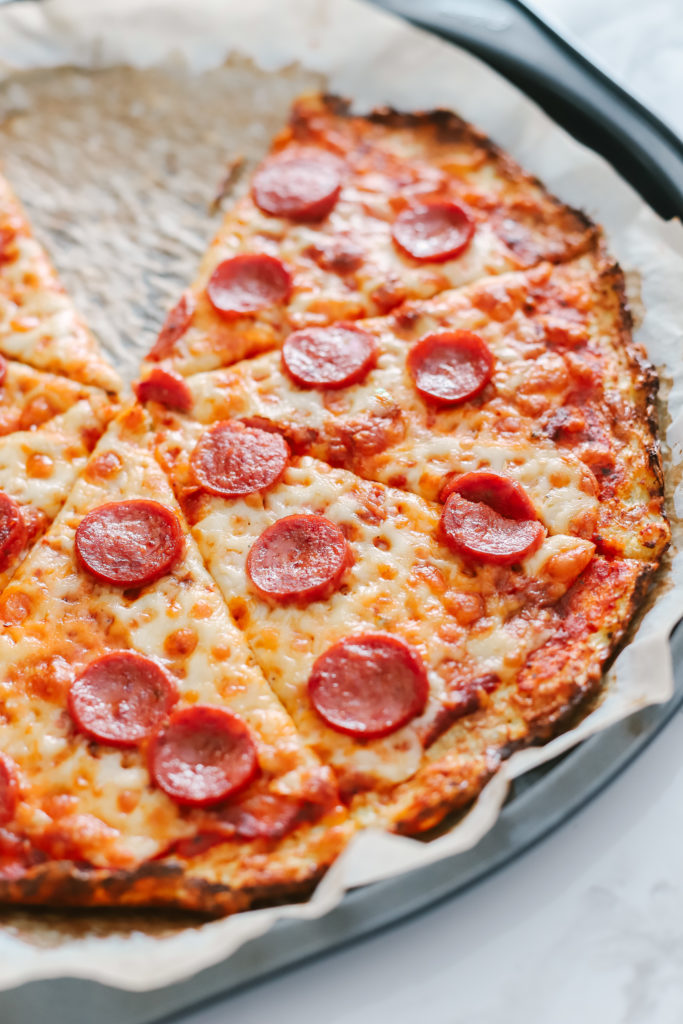 Again, wishing you all the very best in the new year. May you have a healthy, blessed and prosperous 2020. Cheers to a new decade!

Pin for later!

The Best Pepperoni Cauliflower Pizza
The best cauliflower pepperoni pizza recipe to get your pizza fix on a low carb, ketogenic diet. Tons of nutrients and perfect for weight loss.
Equipment
Pizza Pan

Parchment Paper

Pizza Cutter
Ingredients
Cauliflower Crust
1

medium

head of cauliflower

washed, grated up to the stems, and squeezed dry

1

cup

mozzarella cheese

or cheese of preference

1

egg
Pizza Toppings
1/4

cup

tomato sauce

pre-made

1/2

cup

mozzarella cheese

1

handful

pepperoni slices
Instructions
Take a head of cauliflower and break apart the florets piece by piece. Wash in a colander, then use a grater to grate the florets up to the stems into a large bowl. Alternatively, you could use a food processor.

Grate mozzarella cheese into the same bowl. Add the egg and mix with a spoon.

Layer a pizza pan (or cookie sheet) with parchment paper. Trim the edges of the parchment paper to the shape of the pan so it won't burn in the oven. Spoon on the cauliflower mixture and shape and flatten using your hands. Try to make the crust as thin as possible, spreading the mixture from the centre to the outer sides of the pan evenly.

Bake for 20 minutes or until slightly golden. Remove from oven.

Spoon on a very light layer of pre-made tomato sauce. Sprinkle shredded mozzarella cheese and place on pepperonis and desired toppings.

Bake for another 10 minutes, or until desired readiness, checking crust edges being sure not to burn.

Cut pizza according to portion size preference with a pizza cutter and enjoy!
Notes
1 slice = 2 net carbs and 91 calories
Nutrition
Calories:
91
kcal
|
Carbohydrates:
4
g
|
Protein:
7
g
|
Fat:
5
g
|
Saturated Fat:
3
g
|
Cholesterol:
37
mg
|
Sodium:
203
mg
|
Potassium:
264
mg
|
Fiber:
2
g
|
Sugar:
2
g
|
Vitamin A:
205
IU
|
Vitamin C:
35
mg
|
Calcium:
125
mg
|
Iron:
1
mg
Shop What You'll Need