The easiest and healthiest dinner you can make! Zoodles, aka zucchini noodles, are the best dinner alternative to pasta, being keto friendly and low in carbs so you can lose the weight.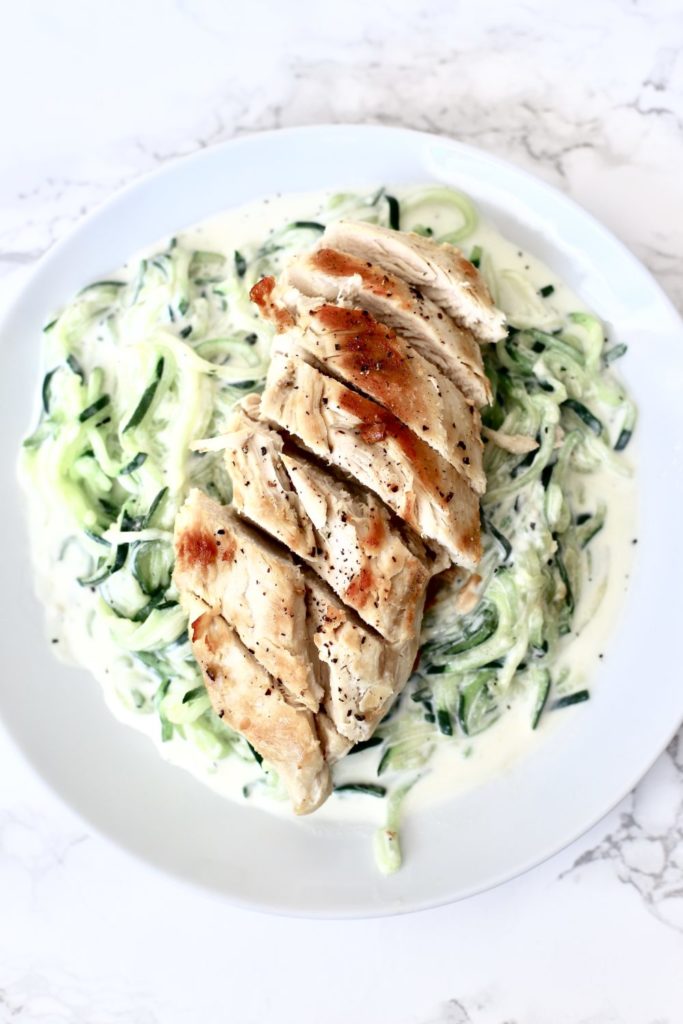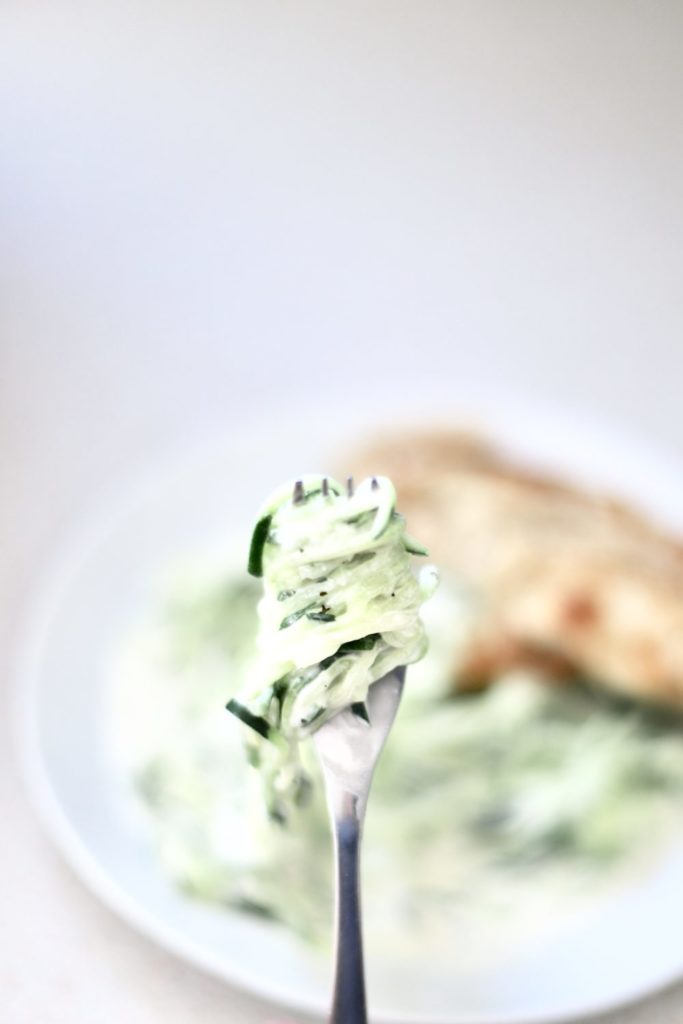 Happy new year, everyone! Today is the first recipe post of 2019 and I can't wait to share it with you because our family is currently obsessed with zoodles!
What are Zoodles?
Zoodles are simply zucchini that has been spiralized into noodles, in turn mimicking spaghetti. There are many tools that you can buy to spiralize vegetables in general, from affordable 'vegetable sharpeners' to professional kitchen gadgets.
Keep in mind that the bigger and technical the gadget, the more time it takes to clean! The one I have and find to be the easiest to use is this 5-blade spiralizer.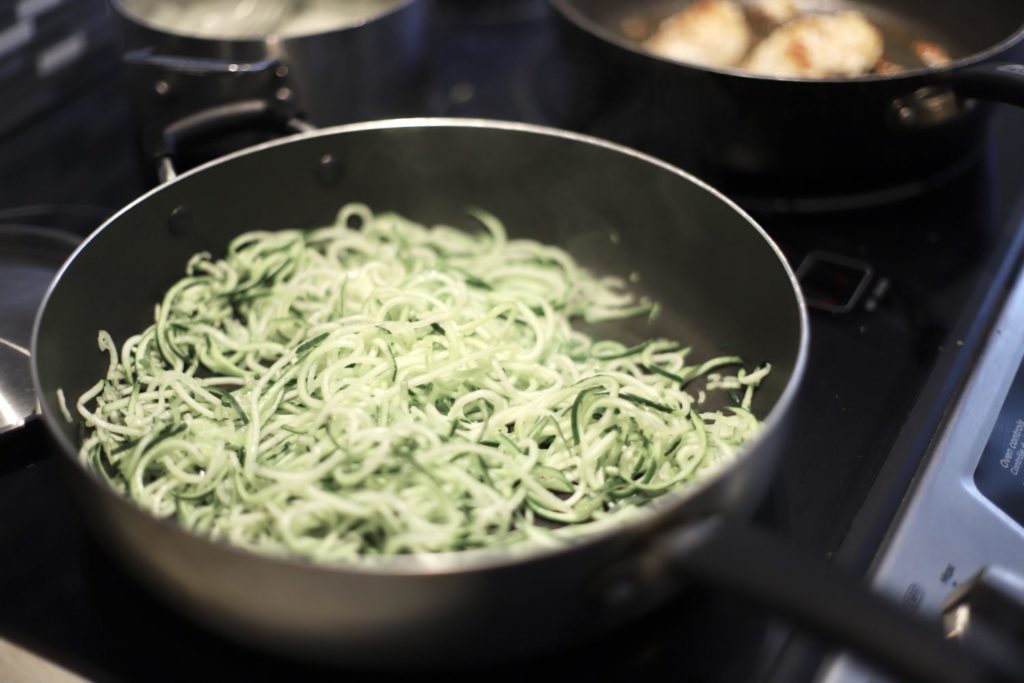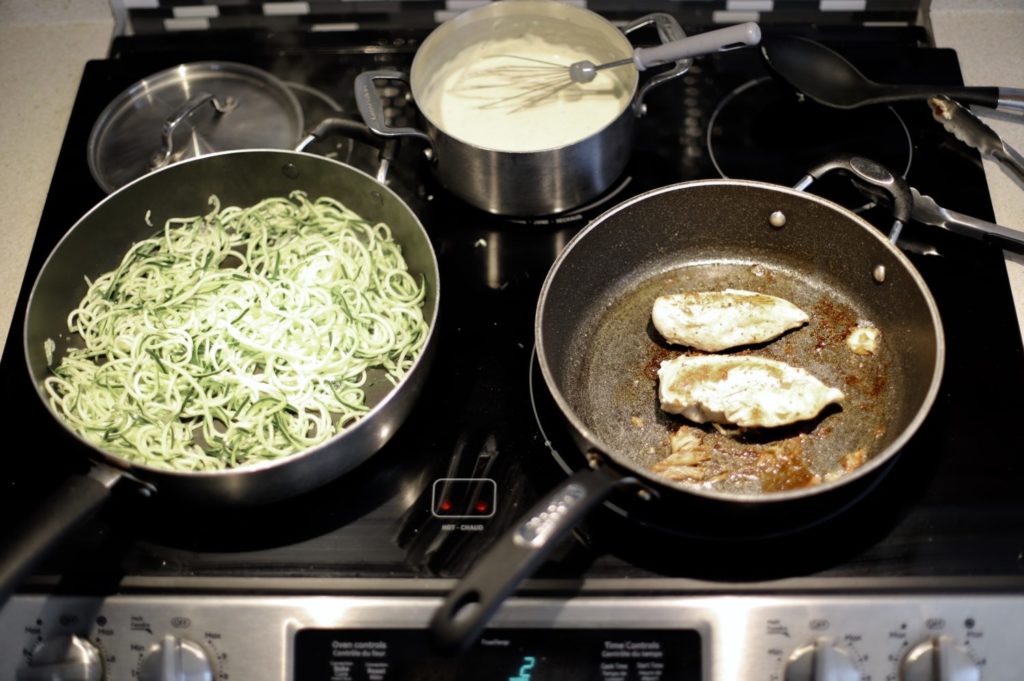 Why Zucchini Noodles?
If you are looking to lose weight or simply to start eating right, for yourself and for your family, zoodles are a great choice as an alternative to pasta. They have tons of nutrients while being low in carbohydrates, which helps you to burn fat.
Health Benefits of Zucchini Zoodles
Similarly to my fat burning cabbage soup, zucchinis are also rich in potassium, vitamins A, B-6, C, and magnesium as well.
Magnesium is essential in our diet for the neural transmitters in our brain to function optimally, in turn reducing the symptoms of anxiety, depression, and many other common illnesses.
To find out more about the effects of diet on our brain, this is a great video to watch!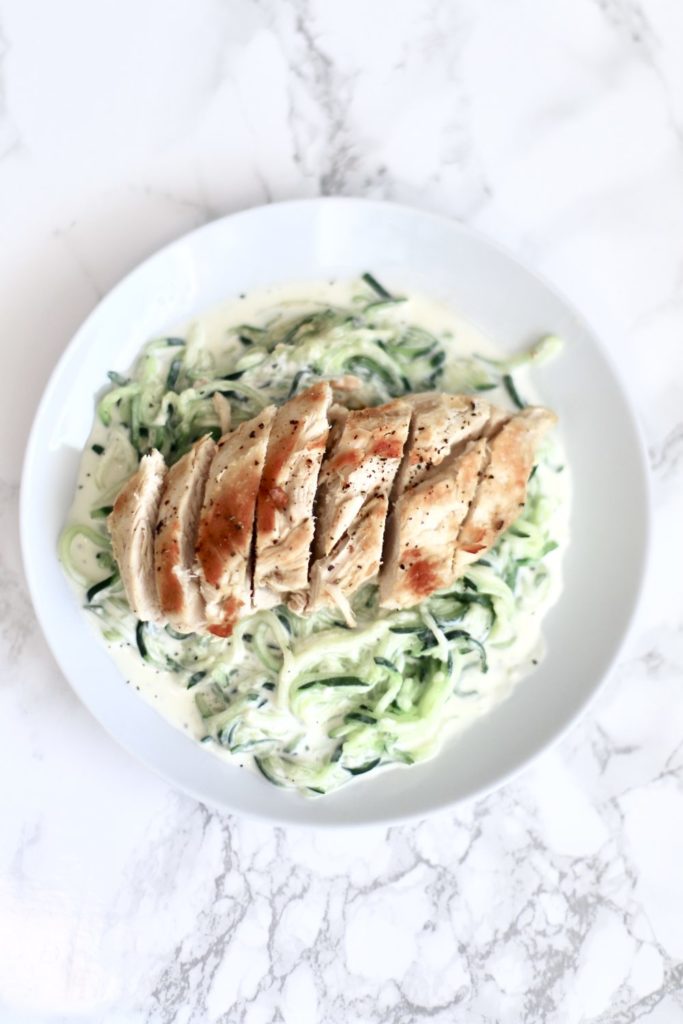 How to Prepare and Cook Zoodles
Just like any other vegetable, it is important to wash them before using. Once spiralized, remember not to be overwhelmed by the volume of noodles you have before cooking as they will 'cook down' to probably half as much!
This recipe calls for three zucchinis for two servings, however, you can use 4-6 zucchinis when feeding a family. You will have plenty of sauce to do so as well.
The next step is to squeeze out all of the water from the zoodles, in a colander in the sink as best as you can. Like eggplant, you can use salt to extract the liquid. Simply sprinkle salt over the noodles and let sit for a while. The more dry the noodles are, the better.
I find the best way to cook zucchini noodles is by pan frying them. The good thing is, it only takes 4-6 minutes to get them al dente, which gives you plenty of time to prepare everything else!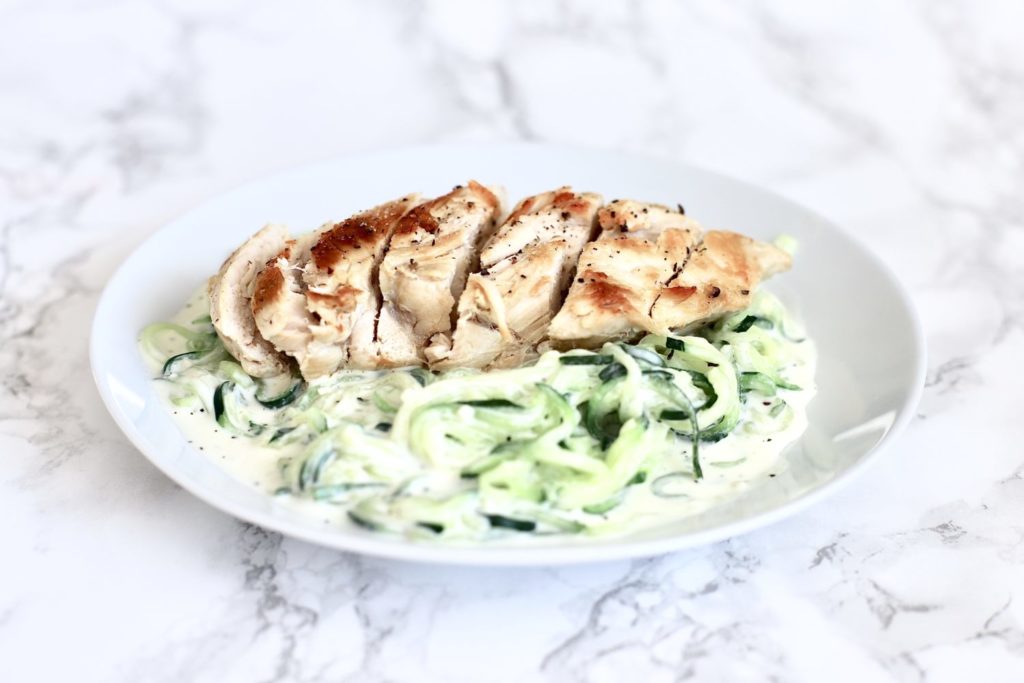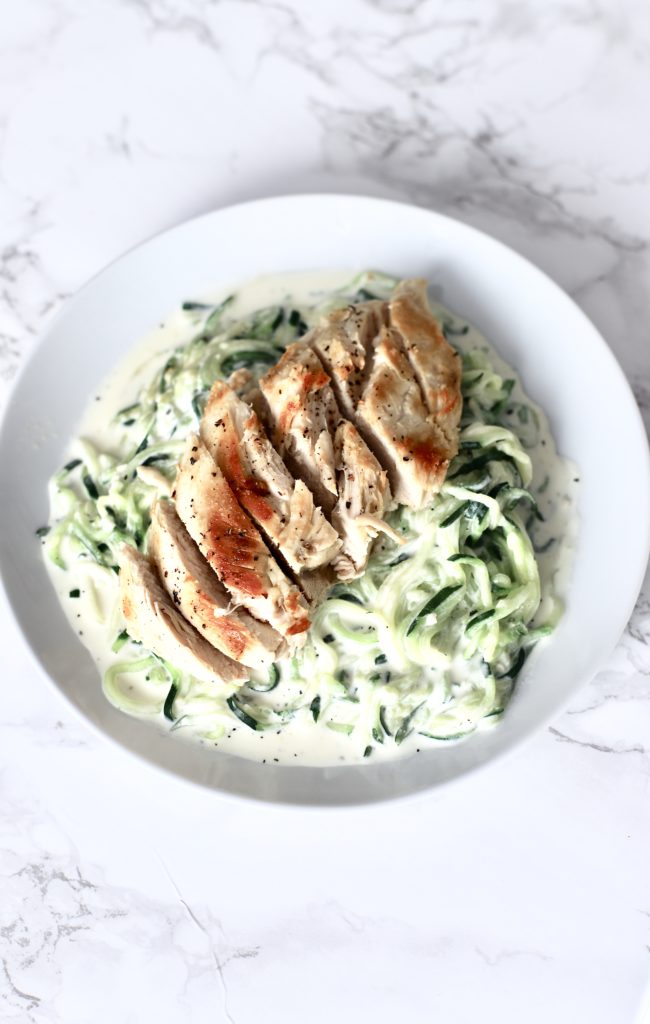 I hope you enjoy this recipe as much as I do! The sauce is full of creamy, cheesy, garlicky goodness! Cheers to reaching your goals in 2019.

Shop Spiralizers
More Low Carb Recipes You'll Love:
Pin for later:

Get My 7-Day Fat Burning Meal Plan
Easy Chicken and Creamy Alfredo Zoodles (Low Carb, Keto, Gluten-Free)
Instructions
Wash zucchini and then spiralize with a spiralizer to form zoodles. Place in a colander and soak with paper towels. You may sprinkle salt and let sit to extract liquid.

Heat coconut oil in a pan and fry chicken breasts on medium heat for 25 minutes, flipping halfway through, or until no long pink inside. Season with salt and pepper, or spices of choice. While cooking the chicken, start on the alfredo sauce and then the zoodles.

In a medium pot, heat butter on medium high heat. Add in the garlic and cook until fragrant, 1 minute. Add the cream, cream cheese, and parmesan. Whisk often and lower heat. Add in spices to taste and whisk until smooth and creamy. Keep warm, whisking every so often to prevent sticking.

In a large frying pan, transfer the zucchini noodles to it and cook on medium heat for 4-6 minutes, until al dente, or as desired.

Place cooked zoodles on a plate and pour desired amount of alfredo sauce on top, and mix in. Slice chicken and place on top of the zoodles. Serve immediately and enjoy!
Notes
1 Serving is approximately 14 Net Carbs
Nutrition
Calories:
1049
kcal
|
Carbohydrates:
17
g
|
Protein:
66
g
|
Fat:
81
g
|
Saturated Fat:
47
g
|
Cholesterol:
392
mg
|
Sodium:
932
mg
|
Potassium:
1794
mg
|
Fiber:
3
g
|
Sugar:
10
g
|
Vitamin A:
3424
IU
|
Vitamin C:
57
mg
|
Calcium:
487
mg
|
Iron:
2
mg