Gluten-Free, Low Carb and Keto Taco Bowls are perfect for weight loss and staying on track. Made with spices right from your cupboard, this lunch or dinner recipe is super easy and will satisfy cravings guilt-free!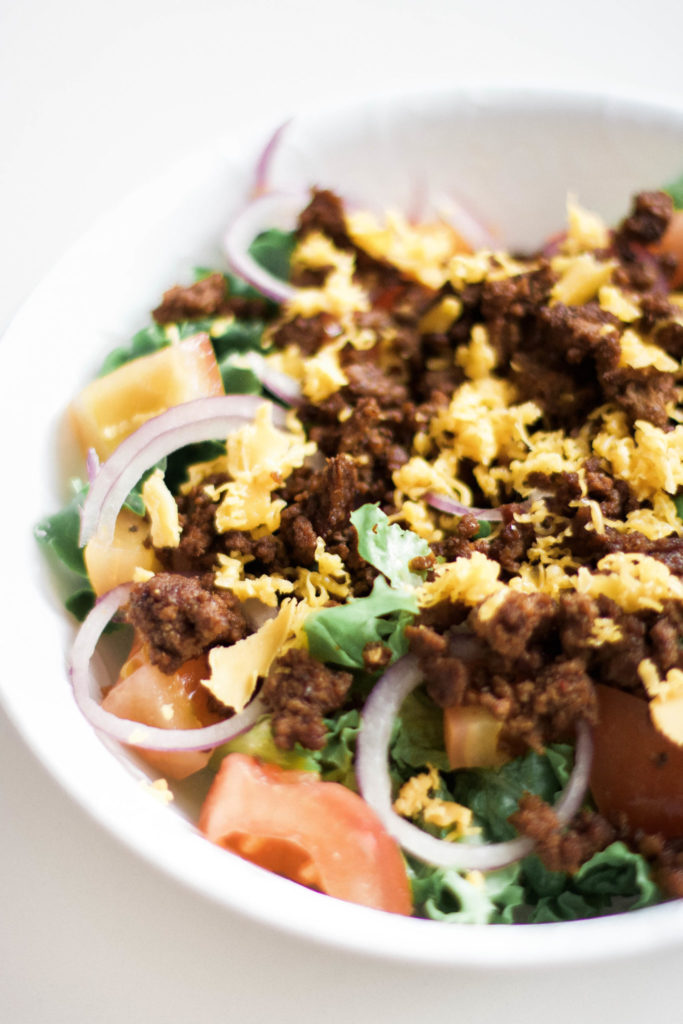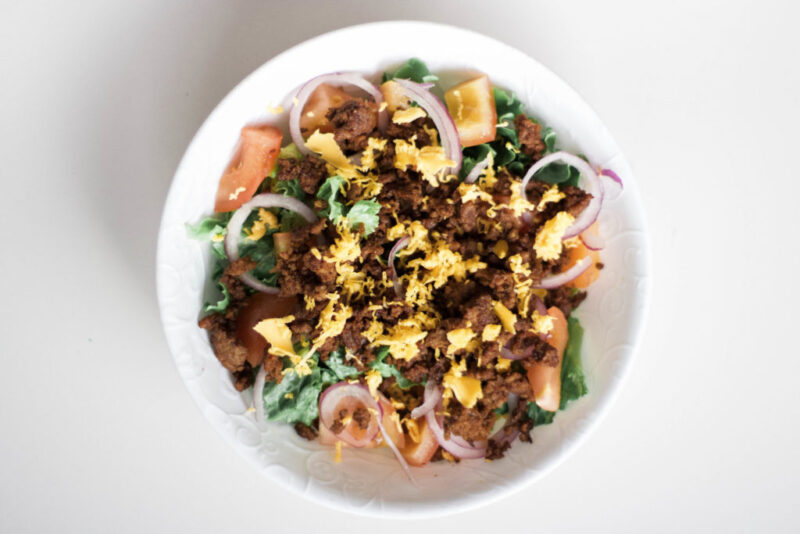 Why can't every night be taco night? Well, it most definitely can be! These taco bowls (similar to my Chipotle Burrito Bowls) are simple to make and nutritious enough to eat on a daily basis. They're light for lunch and satisfying for dinner. A wholesome, high in protein meal that involves only a few ingredients.
The best part about them is that you don't need fatty dressings to make this salad taste good. After all, it is a taco bowl. Simply add freshly cut avocados or avocado dressing. Add guacamole, hot peppers, or hot sauce. The variations are endless and these taco bowls never get old! Mix up the ingredients every now and then and never get bored of eating healthy.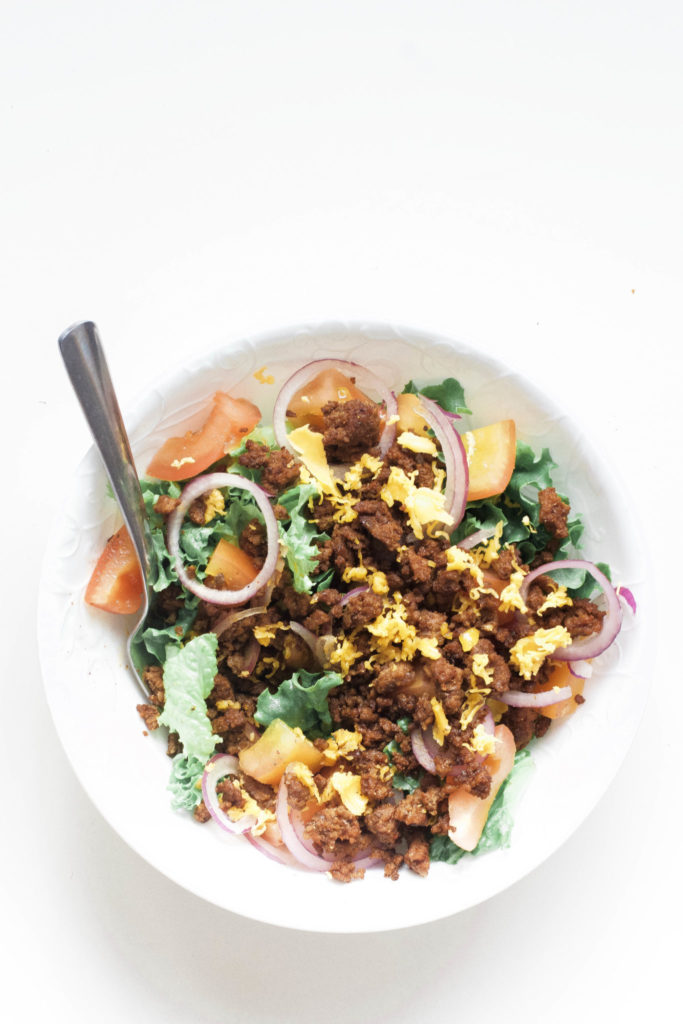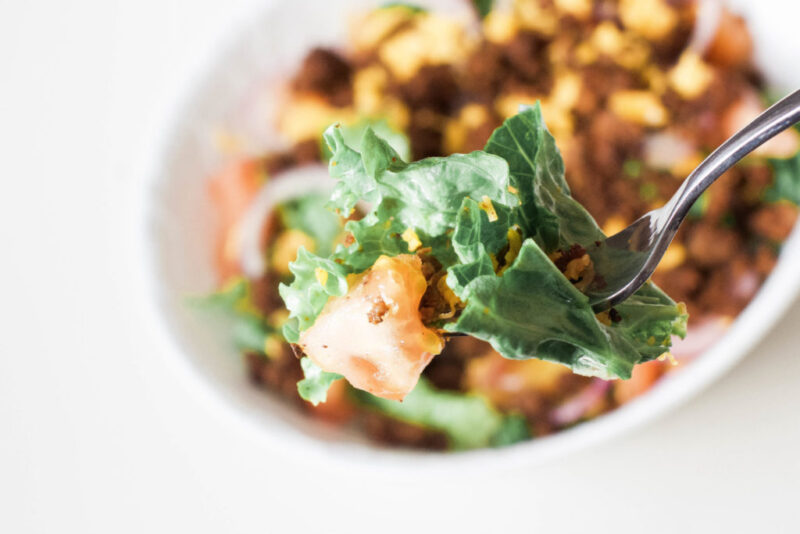 Whole 30 or paleo? No problem. Simply don't top with cheese! It's that easy to eat healthy and wheat free. Feeding your whole family? You can let everyone customize their own bowl to their liking. Taco bowls work great especially if you have a picky eater in the house.
Like Taco Bowls? Here are more salad recipes you'll love: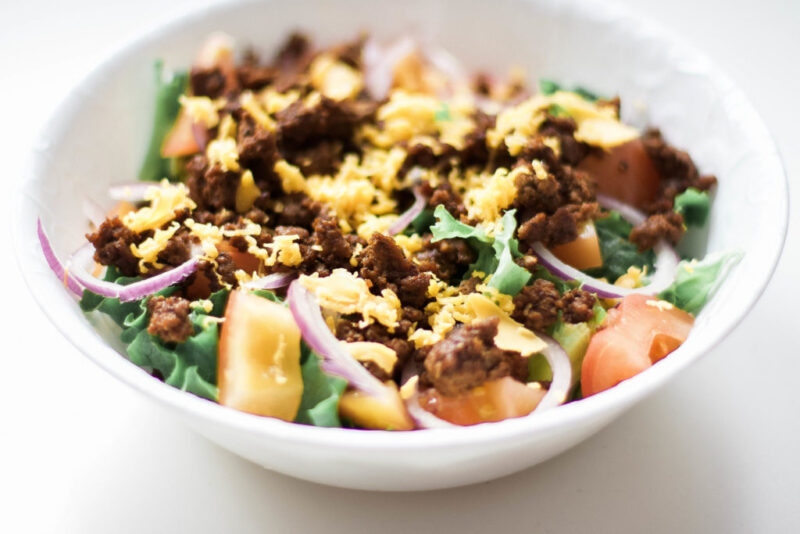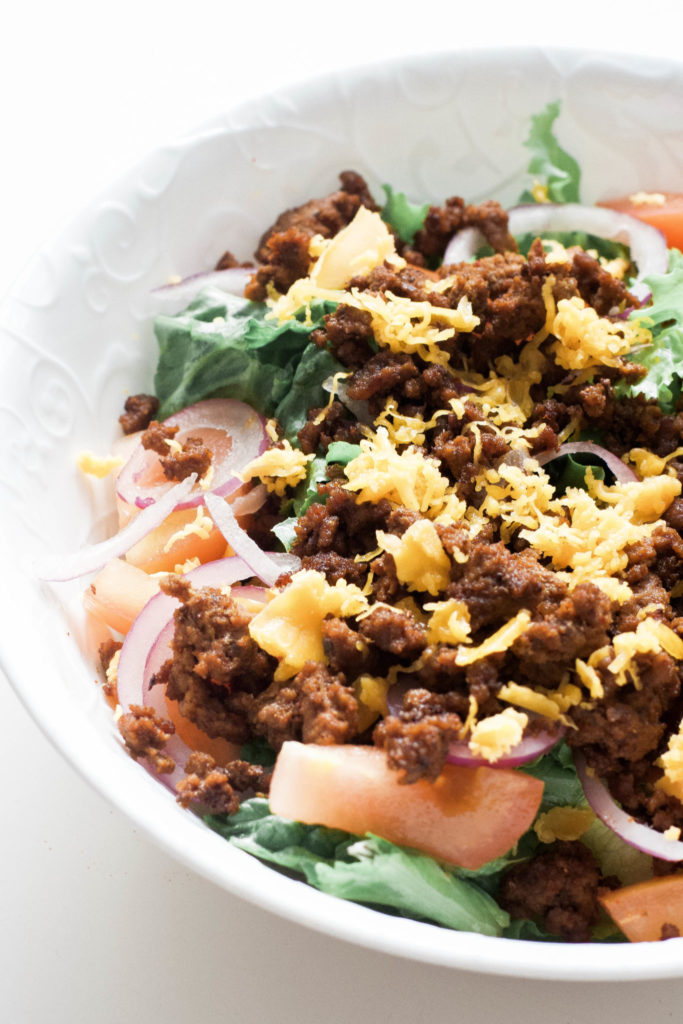 As for the meat in this flavourful recipe, always choose lean. Extra lean ground beef, ground chicken and ground turkey is always a healthier option when it comes to cutting out the fat. You could even cook tofu, a vegan and vegetarian meat replacement. I would love to know if you try the tofu option!
Maybe you're wanting to try a different base? I used curly lettuce for these taco bowls but you may also use arugula, baby spinach, romaine, or kale. Once again, many possibilities to mix things up. You won't be disappointed!
Live your best life and enjoy this salad during the long and brutal winter we're having.
I hope you enjoy this recipe as much as I do!

Gluten-Free Keto Low Carb Taco Bowls (with Homemade Taco Seasoning)
Ingredients
1

lb

extra lean ground beef

can also use chicken or turkey
SALAD:
4

cups

lettuce

washed, cut, dried

1 to

mato

can use roma or grape tomatoes

1

red onion

1

tsp

olive oil

salt and pepper to taste

1

cup

cheddar cheese

shredded
Instructions
Wash lettuce, tomato and onion, chop as desired, pat lettuce dry with paper towels and set aside.

In a medium or large cooking pan, cook ground beef on medium heat until browned, breaking up with a spatula. Drain fat if needed.

In a small bowl, combine taco seasoning spices and water. Whisk together or stir with a fork until well combined. Add to pan and stir until beef is fully seasoned.

Simmer for 10-20 minutes until the liquid is absorbed.

Prepare the salad by tossing together the lettuce, tomato, red onion, salt, pepper, and olive oil. Section into serving bowls.

Top the salad with the cooked ground beef, sprinkling shredded cheddar on top. Optional toppings: hot sauce, sriracha, sour cream, avocados, hot peppers, etc. Enjoy!
Shop the post