These crispy, oven-baked sweet potato fries are the perfect healthy snack, appetizer, or side dish that's super easy to make and involves only five ingredients! Flavourful, healthy, and filling.

Hello to you in 2018! It's the new year! After a fun filled holiday break, we are officially back to a regular routine again, my oldest daughter is back in school, and I have my time back! That means getting back to healthy eating and living habits for achieving that new year's resolution.
Being a mother of two, it's easy to slip off the healthy eating bandwagon. We find ourselves eating what our toddlers won't finish and start snacking out of control. If you are on the go all the time like I am, you too probably rely on snacks to get through the day.
But 'snacking' doesn't have to be bad for you.
More healthy recipes you'll go crazy for: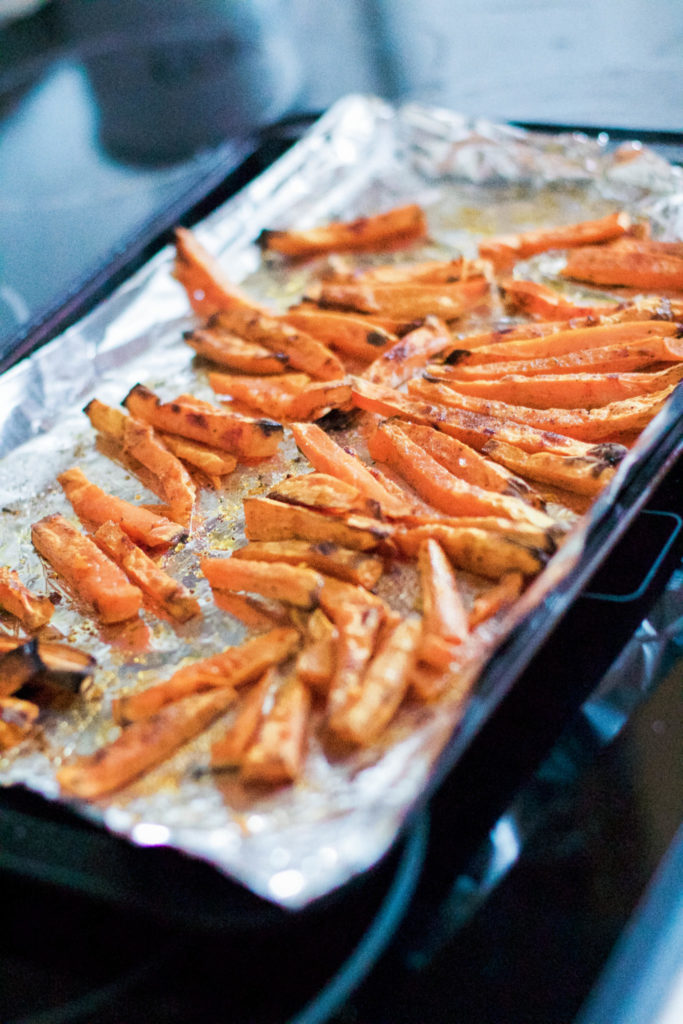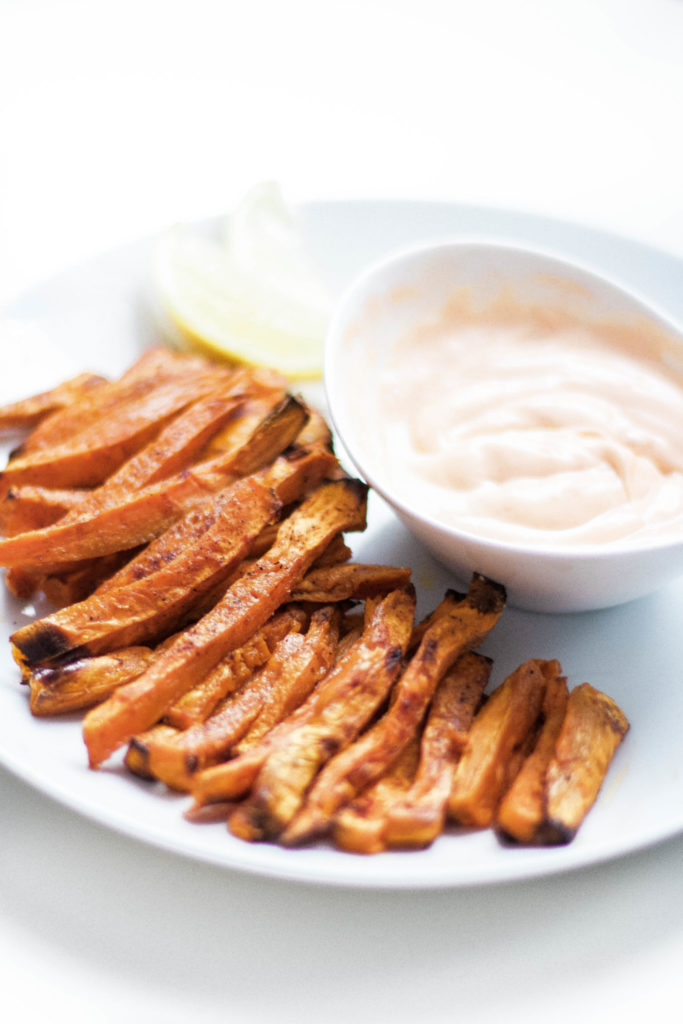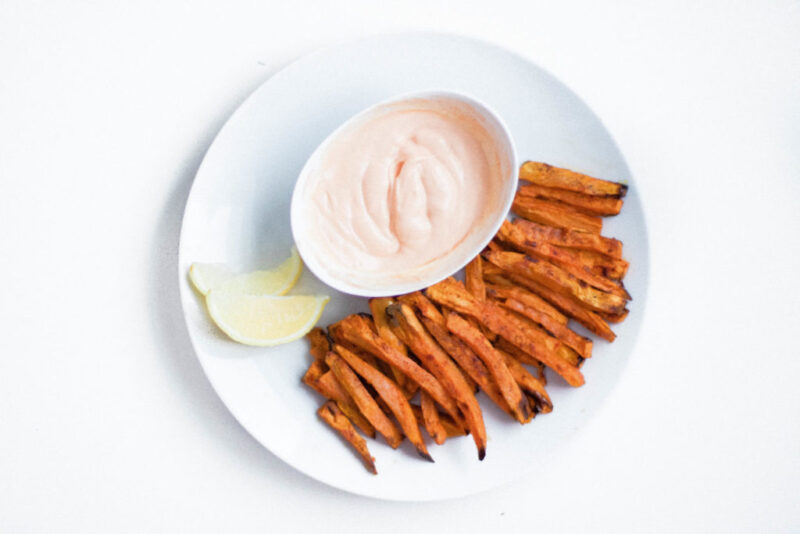 Taking a little extra time to prepare healthy snacks will go a long way. You want to fuel your body with nutrients and stay away from high carbs. These sweet potato fries will be the best guilt-free snack you've ever had. They're salty and sweet at the same time, and did I mention perfectly crispy?!
Tips to get crispy (not soggy) sweet potato fries:
Stick to thinly cut fries. About 1/4″ thickness will do and will cook through in comparison to wedges that usually turn out soft on the inside. You'll need a good knife set for cutting sweet potatoes, I use a set like this.
Soak raw, cut sweet potato fries in water for an hour and squeeze out liquid with paper towels
Use 2 tablespoons of olive, avocado, or coconut oil to coat the fries before they go into the oven. This helps them crisp up.
When using foil on a baking tray, make sure the shiny side is up to avoid the fries sticking. You could also use a non-stick cooking spray.
Don't add salt until after the fries have been baked. If added before, salt will draw out the liquid from the fries and cause them to be soggy during baking.
Bake at high heat (450 degrees), and broil for on high for 3-5 minutes for additional crisping. Watch carefully that the fries do not burn.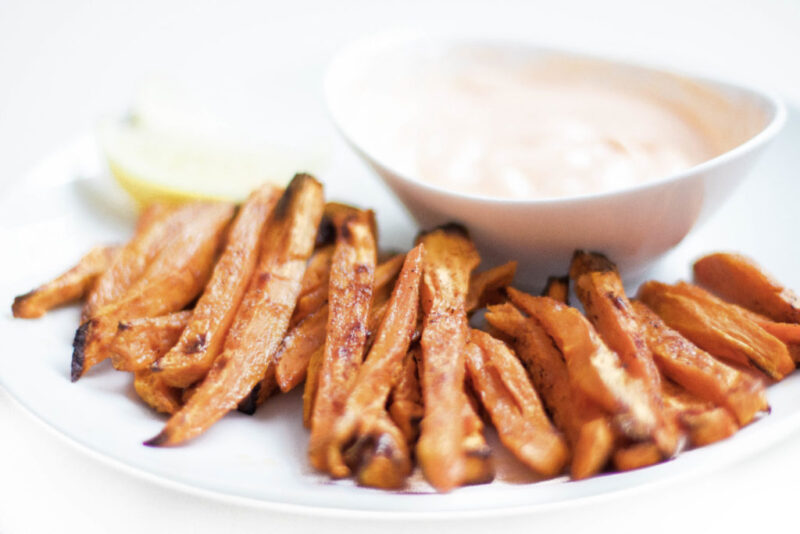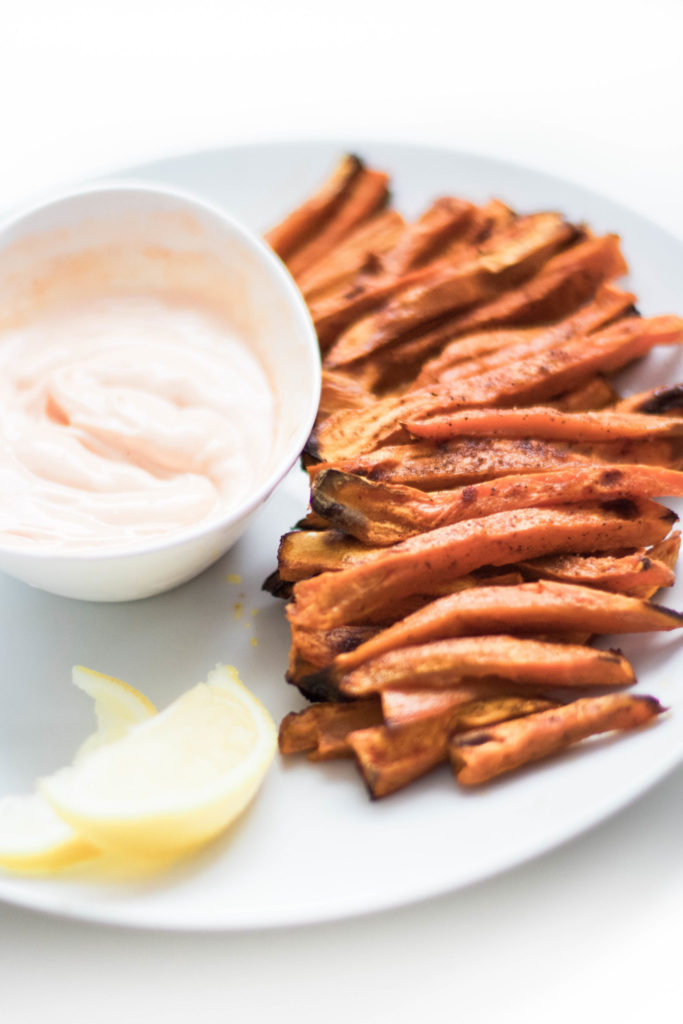 Did you make this recipe? Be sure to tag me on Instagram and use the hashtag #Northsouthblonde! I'd love to see how your healthy fries turn out!
Cheers to 2018!

Crispy Oven-Baked Sweet Potato Fries (GF, Vegan, Paleo, Whole 30)
Instructions
Preheat oven to 450°F.

Wash and skin the sweet potatoes. Cut off top and bottom, if pointy. Cut sweet potatoes vertically into 1/4" thick cubed strips.

Place them on a baking sheet lined with foil (shiny side up) or use a non-stick cooking spray on the foil/baking sheet. Make sure they are spread out and hardly touching each other. Drizzle oil over the fries and do not add spices yet.

Bake for 30 minutes. Flipping halfway with tongs.

Remove from oven, season fries with sea salt, pepper, garlic powder, and paprika. Serve immediately with choice of dip. I used

vegan mayo

mixed with

Frank's Red Hot Sauce

.
Nutrition
Shop The Post: