Vegan Avocado & Chickpea Salad is a light and nutritious meal that is extremely satisfying! Easy to make, this high in protein and fibre salad will be all you need during the warmer months.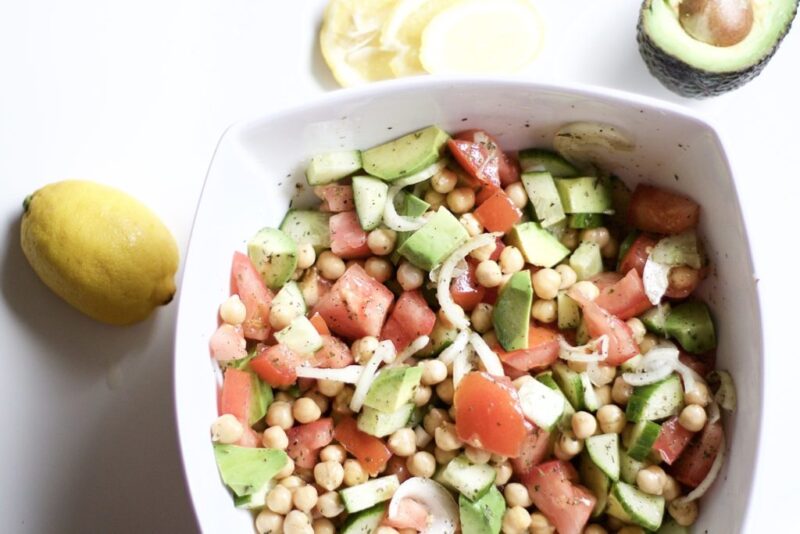 Vegan Avocado Chickpea Salad
Sometimes too much meat and barbecued meals can be a little much for your body. It can block you up, meaning you'll notice you haven't gone 'to the washroom' for a few days.
A simple, light alternative is a salad that's going to fill you up while satisfying your tastebuds without weighing you down.
This avocado and chickpea salad has enough protein to power your day, and enough fibre to clean you out and make you feel great. It's packed full of plant-based nutrients that your body needs on a daily basis.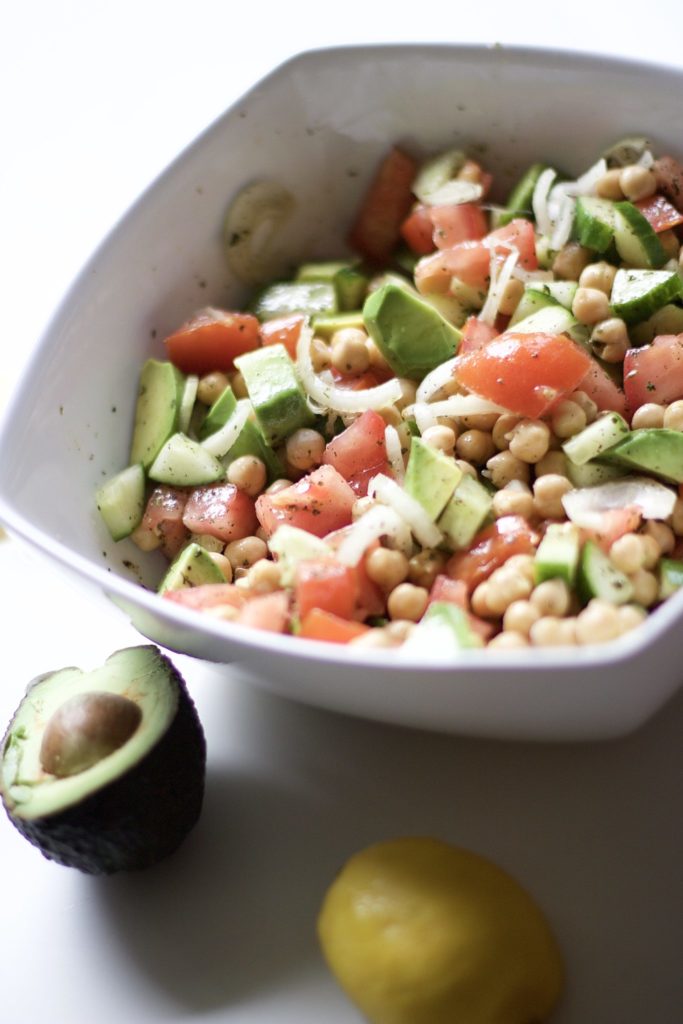 Health Benefits of Chickpeas
Contain a moderate amount of calories and aid in appetite control
Great source of plant-based protein when consuming a vegan diet, for overall wellness
Contain high amounts of folate which is great for pregnancy, for carrying healthy babies
Source of fibre for maintaining weight and allows for easy digestion
Have a low glycemic index which helps to control blood sugar levels
Protects against heart disease
Health Benefits of Avocados
low in sugar and high in fibre, improving digestion and blood sugar levels
reduces risk of heart disease, cancer, and lowers cholesterol
high antioxidants to fight aging, boost immunity, and improve vision from its beta-carotene
promotes bone health and better absorbency of calcium
provides folate which helps women carry healthy babies
provides you with a full feeling after consumption, aiding in weight loss
If you love this, you'll love: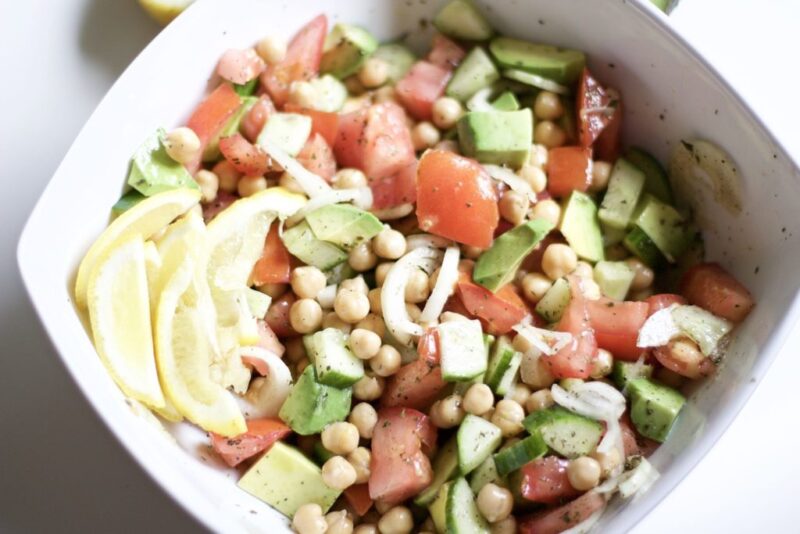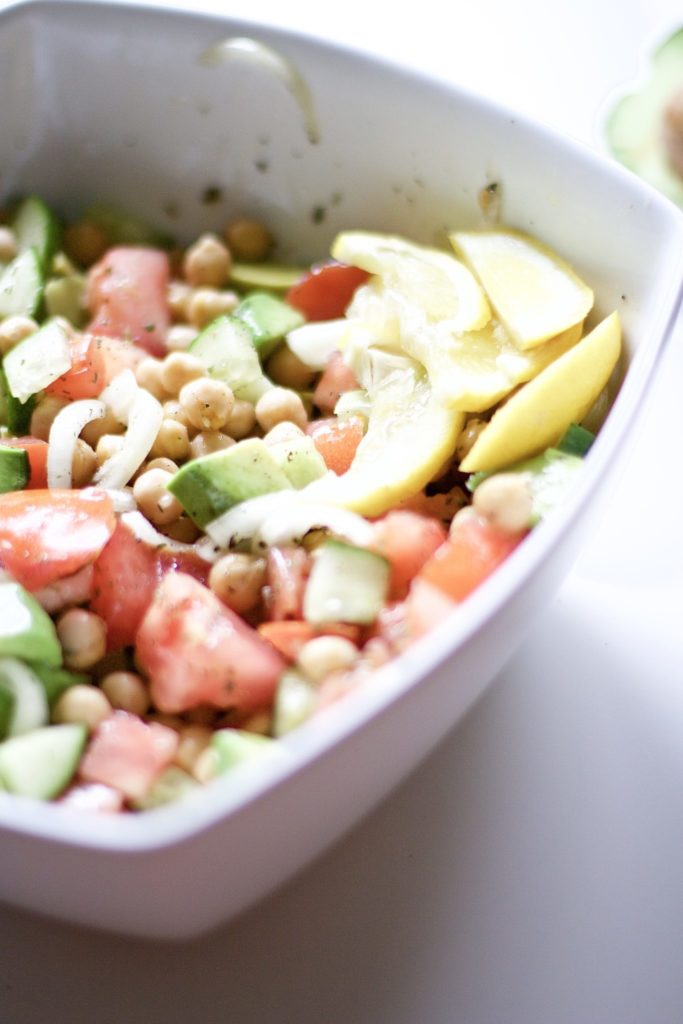 An Easy, Light, and Healthy Salad
The best part about this salad is that it doesn't mush all together when you mix it. It remains creamy and crunchy all at the same time.
It's made with fresh, wholesome ingredients that make you feel like you're not actually eating a salad because of how filling it is. Talk about satisfying!
This past Canada Day long weekend I served this salad on the patio for our family and it was a complete success. Everyone was excited about how nutritious it looked and raved about how good it tasted.
You'd be surprised how a few simple ingredients goes such a long way.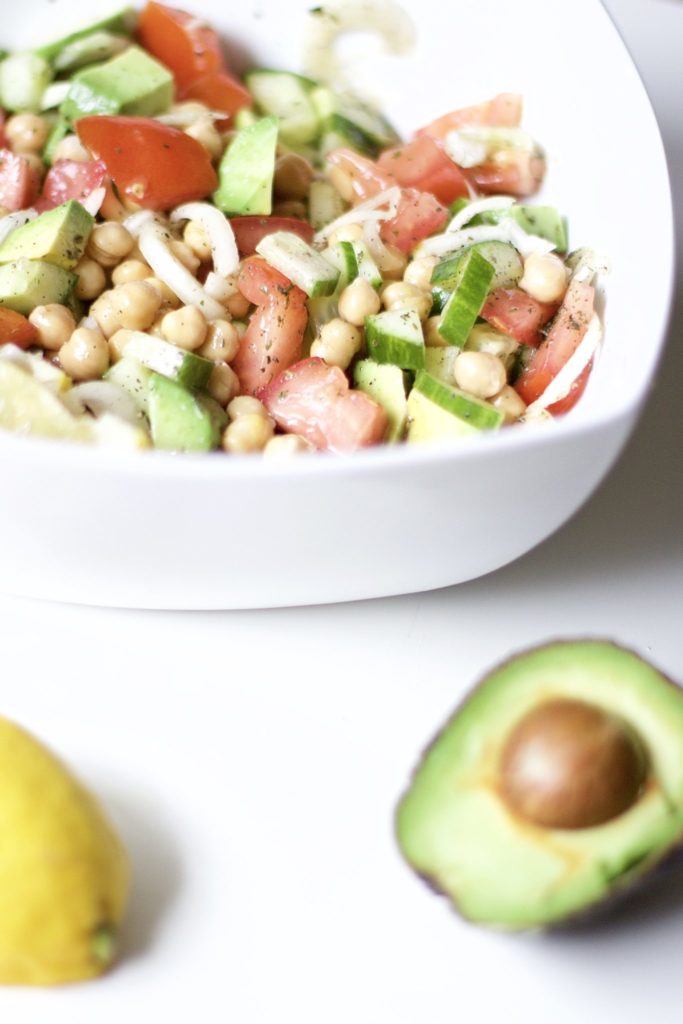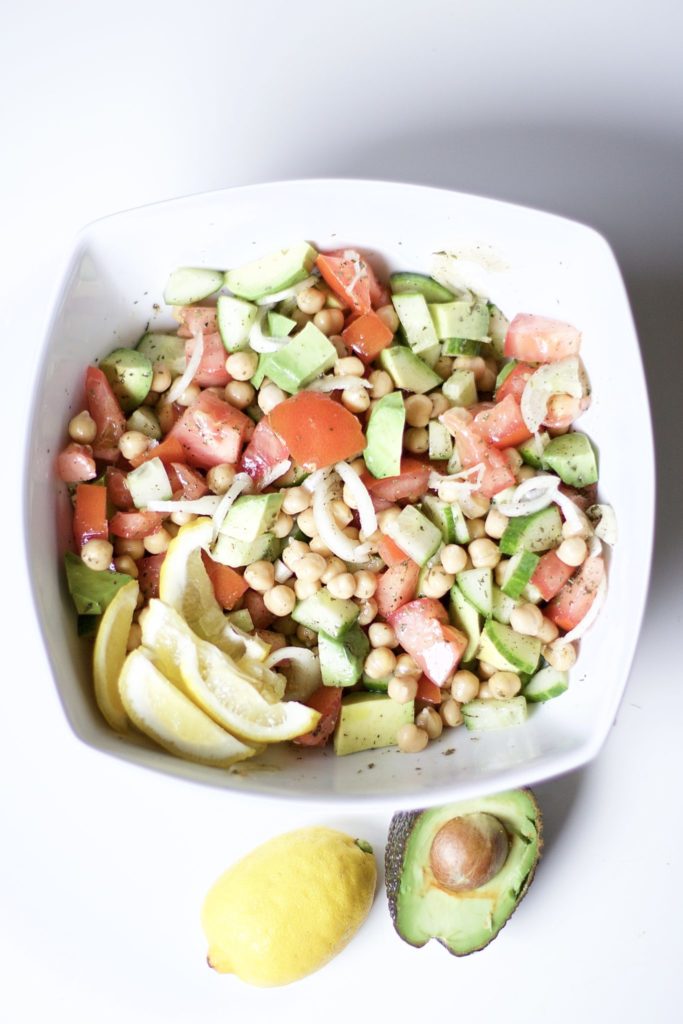 Easy, simple, and definitely delicious! What a way to spend summer with something so light, nutritious, and satisfying all at the same time. Impress your guests or better yet, eat it all, like I did. You won't regret it!

Vegan Avocado & Chickpea Salad
Ingredients
2

avocados

2

cups

cucumber

2

cups

tomatoes

1/4

cup

red or white onion

3

tbsp

extra virgin olive oil

2

tbsp

red wine vinegar

optional

salt and pepper to taste

2

tbsp

cilantro

or use parsley

juice of 1 lemon
Instructions
Peel and pit the avocados, and chop them into 1 inch thick pieces or desired size. Chop the cucumber, tomatoes, and onion as well.

Drain and rinse chickpeas in a colander.

Combine all ingredients including juice of one lemon and cilantro in a large salad bowl and toss with tongs. Cut a few pieces of lemon to garnish the salad.
Notes
1 serving is approximately 6 Net Carbs
Nutrition
Calories:
281
kcal
|
Carbohydrates:
14
g
|
Protein:
3
g
|
Fat:
26
g
|
Saturated Fat:
4
g
|
Sodium:
14
mg
|
Potassium:
769
mg
|
Fiber:
8
g
|
Sugar:
4
g
|
Vitamin A:
829
IU
|
Vitamin C:
23
mg
|
Calcium:
29
mg
|
Iron:
1
mg
Shop This Post: