Satisfy all of the ghouls in your life this Halloween when you make these spooky Eggplant Jack-O-Lantern Pizzas for your fright fest. Simple to assemble, and ready in less than 30 minutes, they are perfect for getting the little ones involved as well.
Original recipe was posted here at So Fab Food.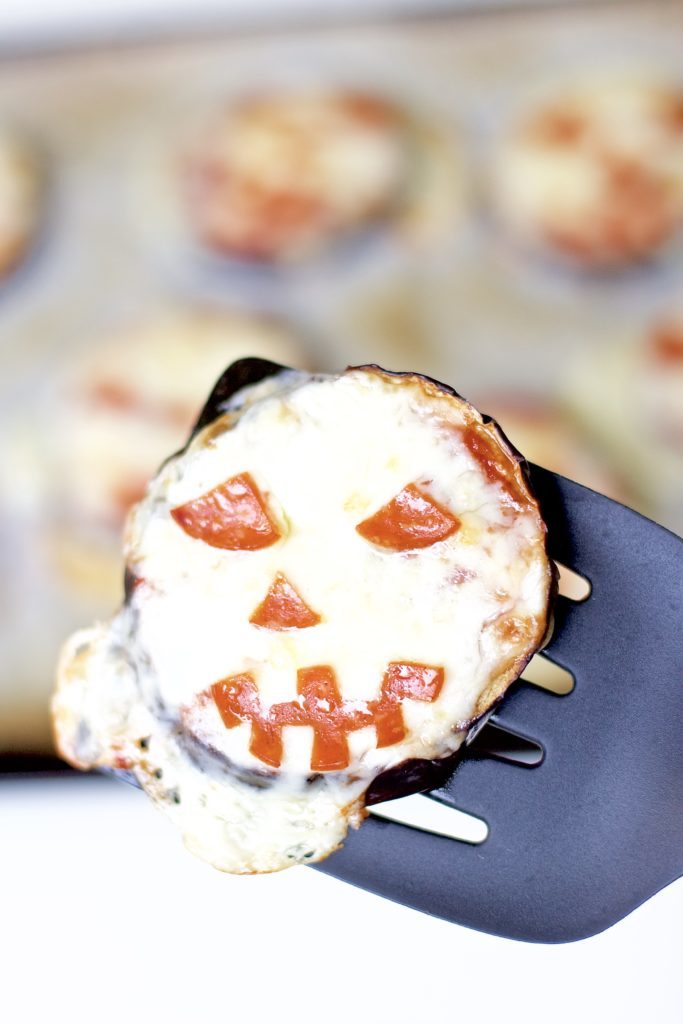 I am completely ecstatic to share with you this fun, spooky, no-fail Halloween recipe; guaranteed to scare every time.
We love Halloween at our house as we have two little girls who giggle and get excited when they see something spooky like these mini, gluten-free pizzas. It's such a great idea for the kids and an even greater idea for crowd pleasing.
When I think of pizza, I think of an overload of carbs. That's simply not the case with this recipe. These eggplant pizzas are a great alternative to the average dough pizza and I love that the eggplant adds vitamins, potassium, and fiber. Not to mention, this recipe is surprisingly easy to make considering that it is a pizza recipe. No rolling, no kneading dough, and no waiting for the dough to rise. Only 30 minutes to make – that's a recipe for the books if you ask me!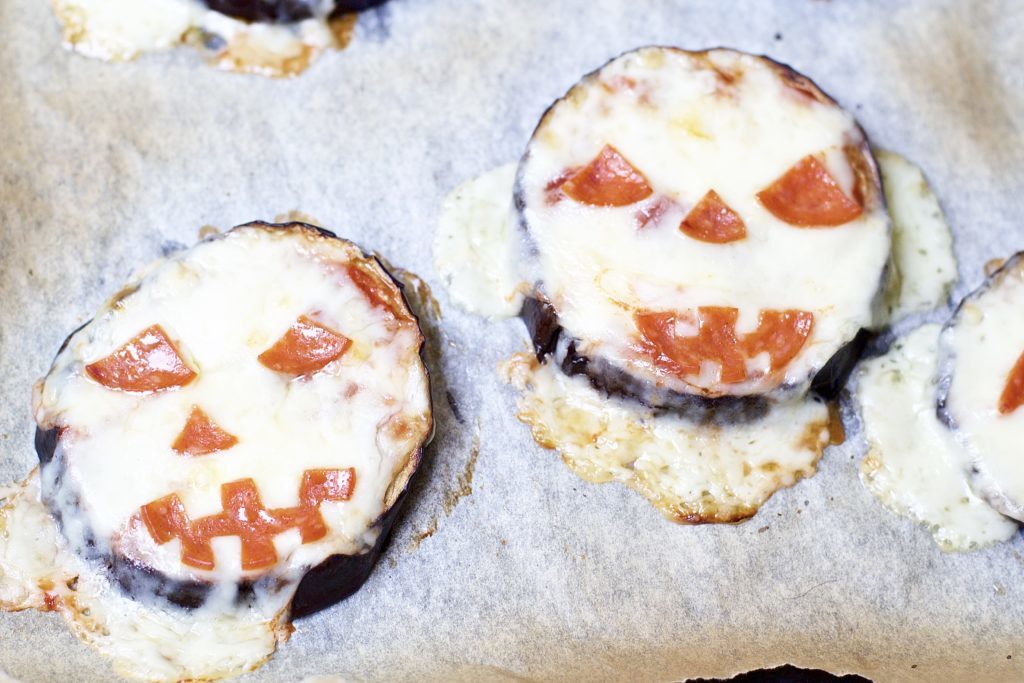 SPOOKY EGGPLANT JACK-O'-LANTERN MINI PIZZAS
With only a few ingredients involved, you're bound to have them all on hand. What if you don't have pepperoni? Use salami, ham, or bacon! The meat is easy to cut and shape into mini facial features and you can definitely get creative with it.
When you pull the pan out of the oven, the pizzas will be melting with cheesy goodness and no one will be able to resist! Go ahead, spook your friends and family this Halloween with these mini pizzas guaranteed to be a hit.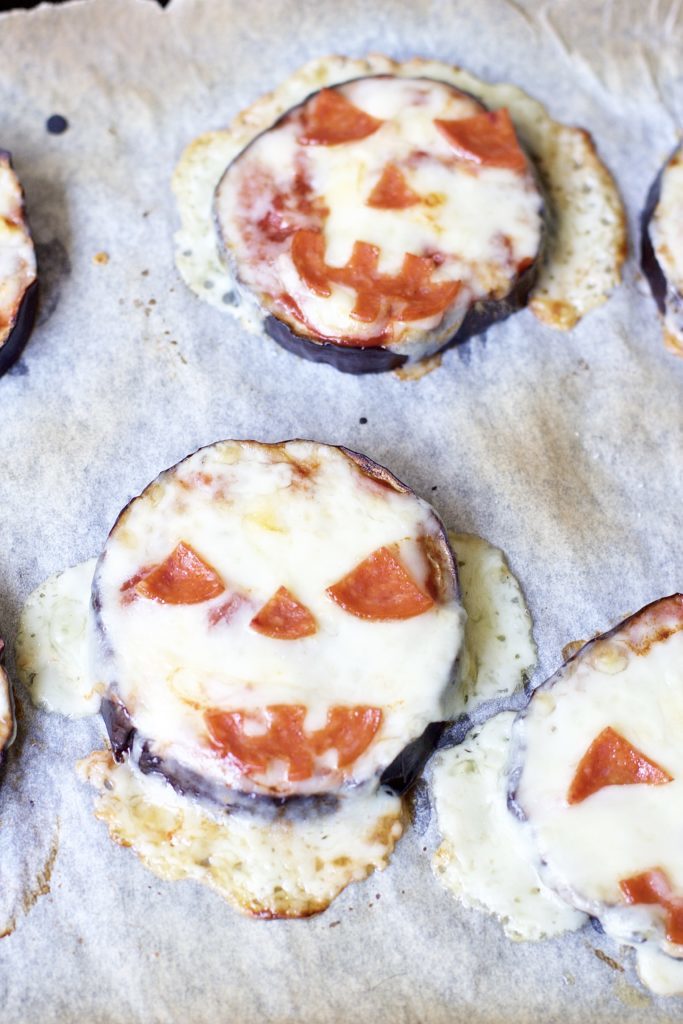 I hope you enjoy these as much as my family and I did and I wish you all a safe and spooky Halloween. Enjoy!

Eggplant Jack-o-Lantern Pizzas (Low Carb, Keto, and Gluten-Free)
Instructions
Preheat oven to 400ºF.

Grease or line a pan with parchment paper. Cut eggplant into thick slices (a quarter to half an inch thick) and spread out on pan. Sprinkle salt on top of each slice.

Bake for 25 minutes.

In a bowl, mix the crushed tomatoes, salt, pepper, garlic powder, and oregano. Spoon a layer of the sauce on each slice of eggplant. Sprinkle the shredded mozzarella on top.

Cut the pepperoni into small triangles for the eyes and nose of the jack-o-lantern pizzas. Cut pepperoni into jagged teeth. Place on top of the cheese as desired.

Broil on high for up to 5 minutes, watching carefully not to burn the cheese or eggplant.

Remove with a spatula and serve immediately.
Notes
Home Chef Tip: Don't have pepperoni on hand? Use bacon or ham instead!
Shop The Post

Pin it!