Eggplant Pizzas are a quick and easy dinner recipe, with all the macronutrients to keep your blood sugar low and help you lose weight.
They're keto, low carb, gluten-free, and seriously scrumptious.
Enjoy your favourite food and stay healthy!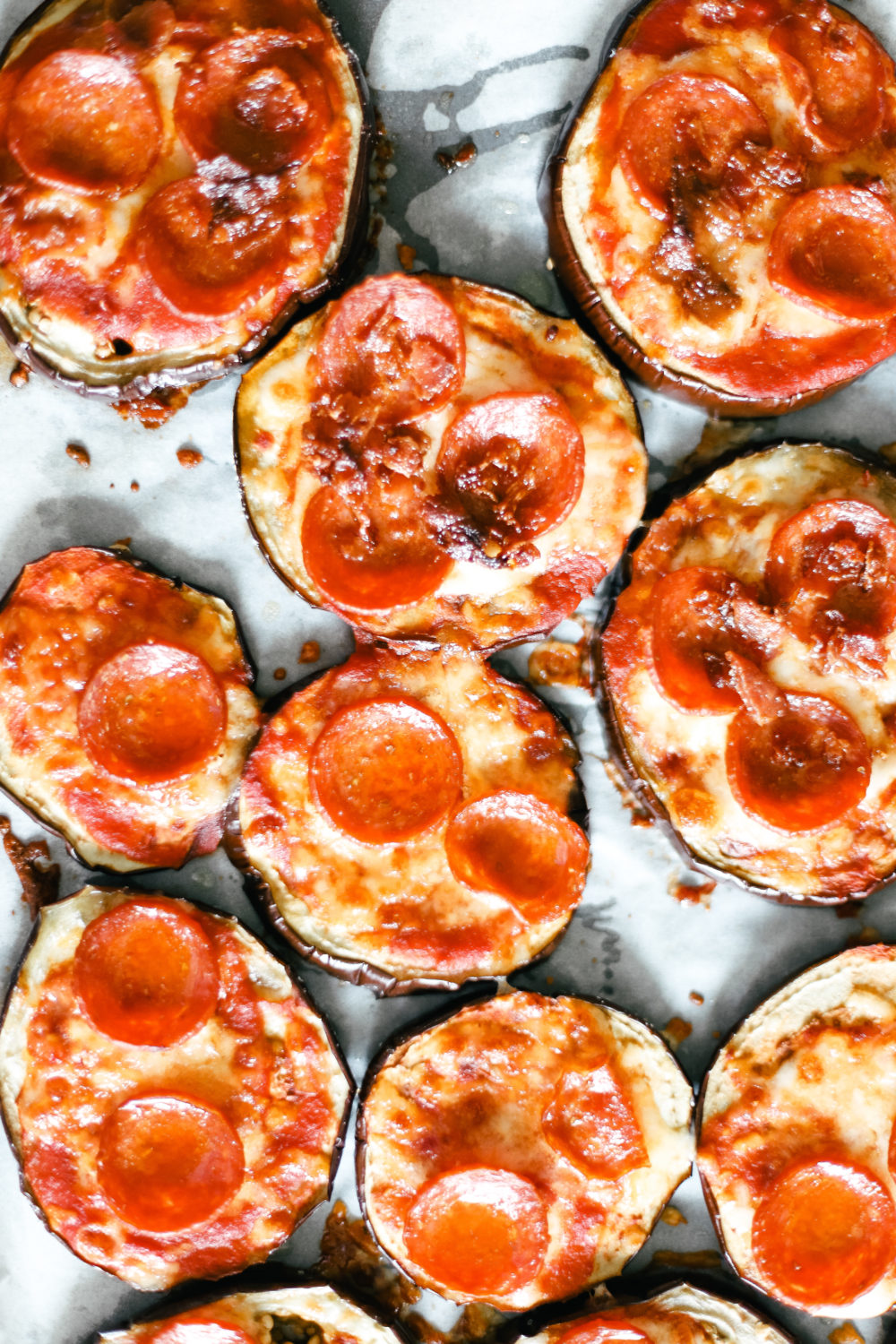 Healthy Keto and Low Carb Eggplant Pizza
If you're like me, you can't live without pizza! Most assume it's a food you'll have to give up while intaking a low carb or ketogenic diet, but simply put, it's not.
Eggplant is an amazing choice when substituting your typical flour dough pizza crust because it's high in fibre, a nutrient-rich aubergine that will help regulate you in the bathroom as well as lower your risk of heart disease.
A great option for diabetics who want to avoid spiking insulin levels with high carb foods.
Not only will you be able to maintain insulin levels and blood sugar levels, it also ties into managing cortisol levels — the stress hormone that will produce belly fat, promote fatigue, moodiness, anxiety and depression, and much more.
More Keto Dinner Recipes You'll Love:

An Easy Dinner Recipe
Delicious and quick and easy to make, these mini eggplant pizzas will be gone in a heartbeat.
Only 20 minutes of baking time in the oven and done!
If you're looking for a fun twist to this recipe for Halloween, check out these Mini Jack-o-Lantern Eggplant Pizzas which are exactly the same, just with spooky pepperoni facial cutouts!

Keto Sugar Free Tomato Sauce
Tomatoes have natural sugars, but watch what you buy in store because cans or jars could have added sugar.
To keep this recipe low carb and keto friendly, you'll want to use tomato sauce that has no added sugar.
This keto-friendly marinara sauce is already seasoned and ready to go!
The other option is using pre-made pasta sauce like in my Slow Cooker Zucchini Lasagna.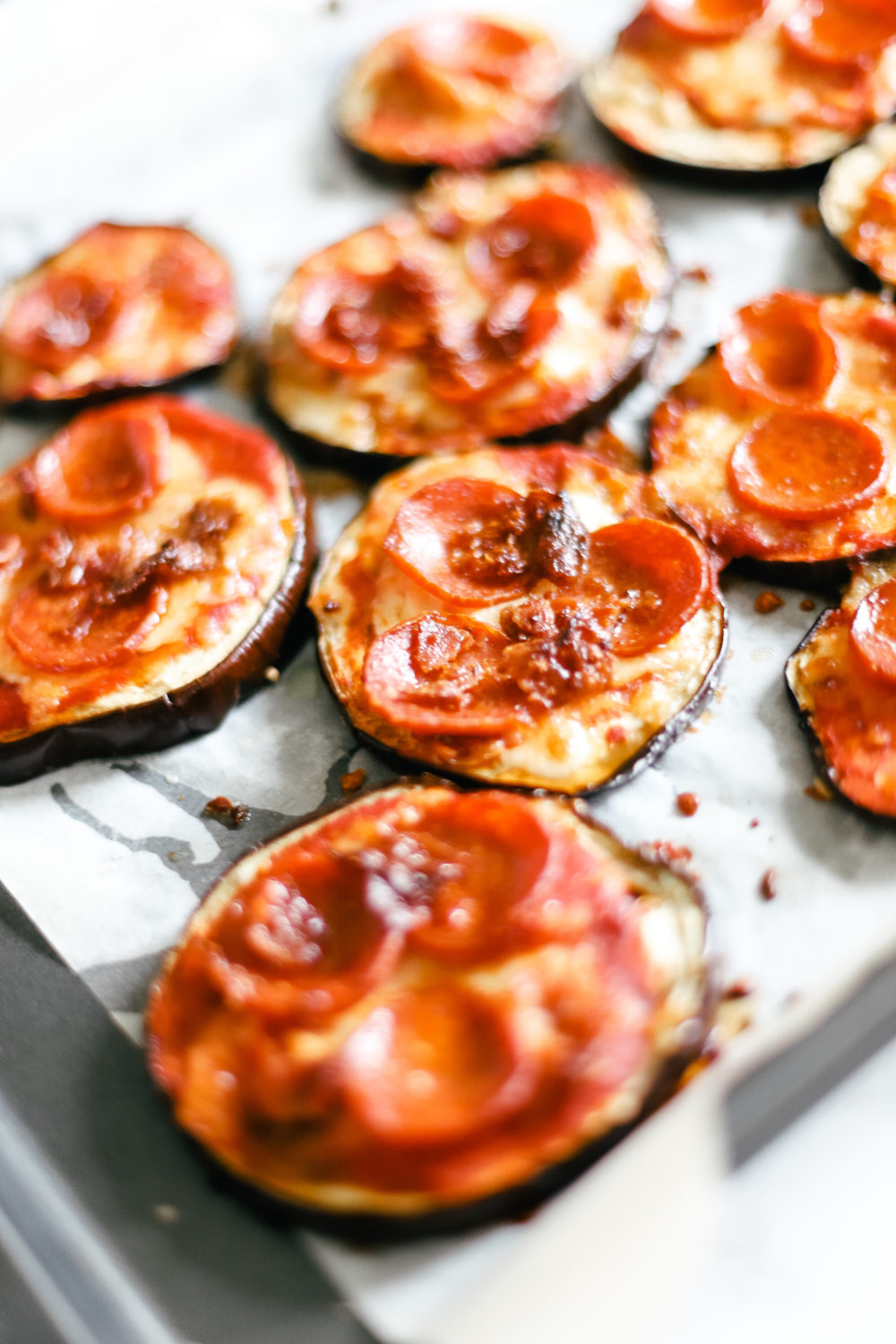 Eggplant Pizza Toppings
The hubby wanted bacon on his pizzas, so we added pre-cooked crumbled bacon bits.
You could easily add on mushrooms and ham to make this a Canadian style pizza. Or, add more veggies like chopped onion, bell peppers, and cherry tomatoes.
You could also add your favourite cheese like parmesan or feta. Yes, and even olives. And hot sauce, too. Maybe a few hot peppers as well.
Seriously so, so good.
I'm not a fan of pineapple pizza (sorry, not sorry), however, keep in mind that pineapple is a sweet fruit that is high in natural sugars and therefore high in carbs. Good riddance.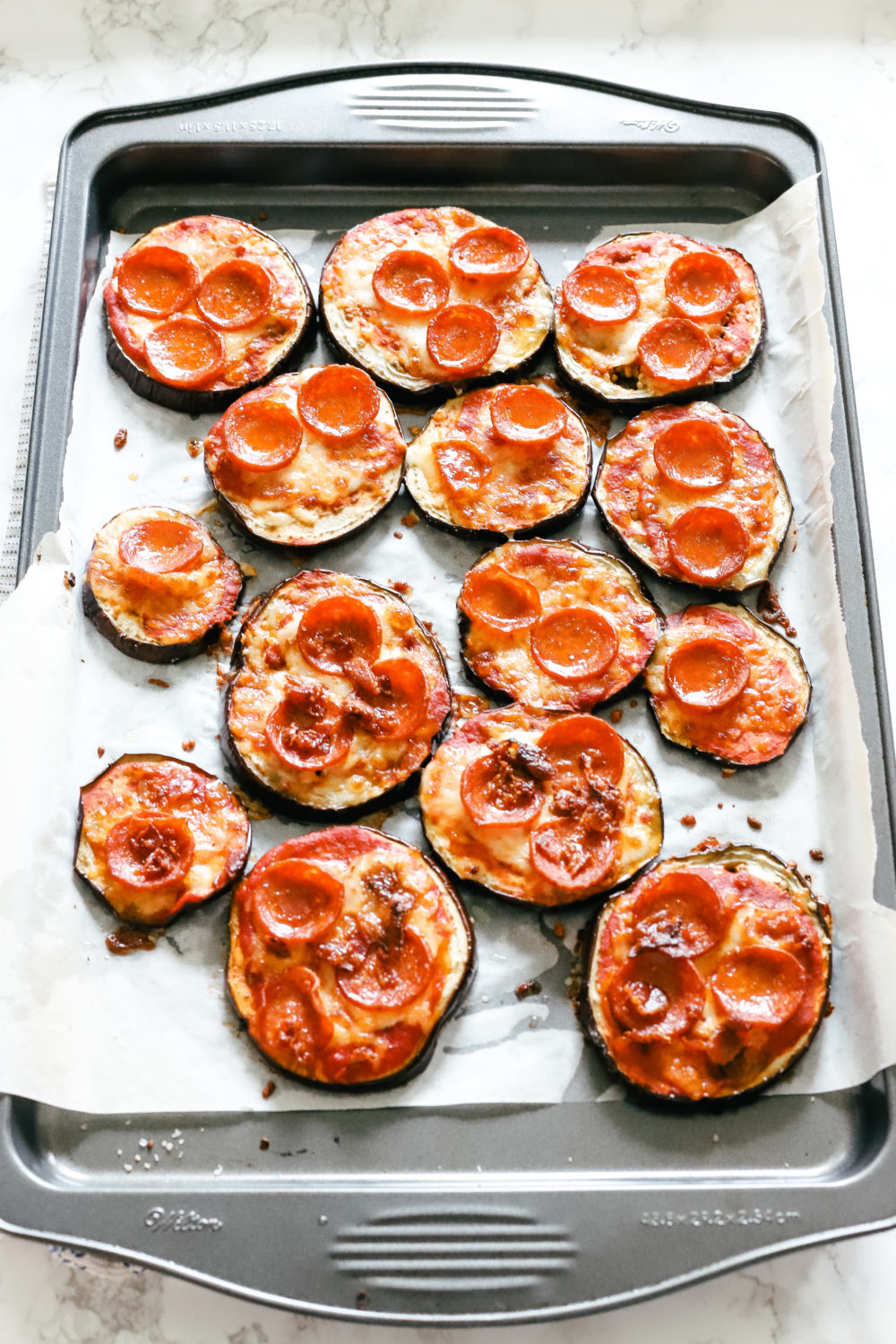 How to Bake The Best Eggplant Pizzas
The key is in the salt. Just like other vegetables, like zucchini, eggplant tends to hold onto water.
If you have the time, once you've sliced your eggplant into half-inch pieces, salt each side of the pieces and have them sit for half an hour between paper towels.
This will retract the moisture for a later, more crispier eggplant crust. Then, wipe off the salt by using a clean kitchen towel or paper towel.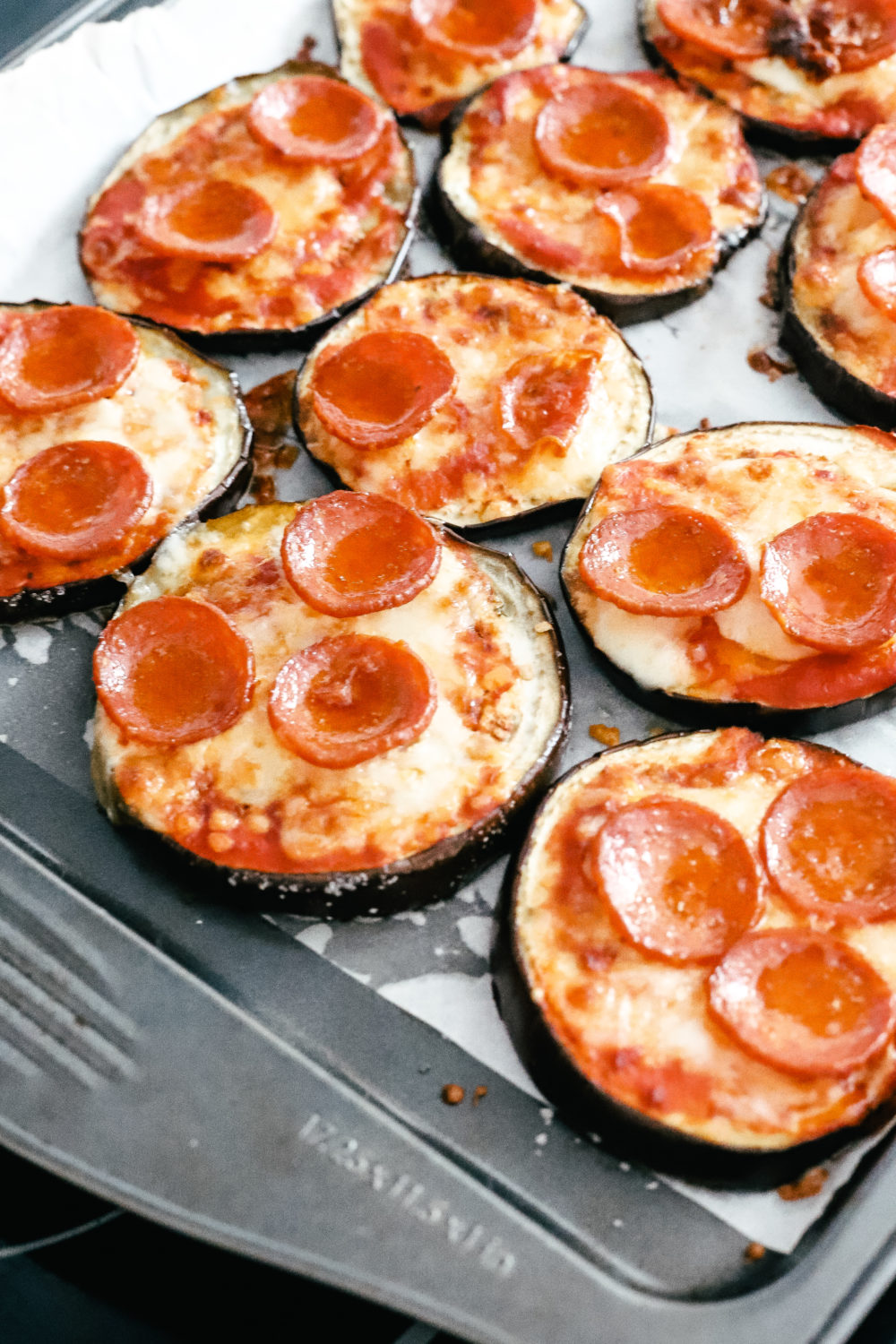 Tips for Baking Mini Eggplant Pizzas
Spread out eggplant slices on a baking sheet layered with parchment paper and bake at 400 degrees Fahrenheit for 20 minutes.
Remove from the oven.
Add your seasoned tomato sauce, you can also use organic marinara sauce, sprinkle mozzarella, and place pepperonis and bacon bits on top.
Broil on high until the cheese browns and desired crispiness. Be careful not to burn.
I told you dinner would be ready that fast! Show me how your eggplant pizzas turn out by tagging me on Instagram!

Low Carb Eggplant Pizzas
Quick and easy to make, with all the macronutrients to keep your blood sugar low and help you lose weight. Enjoy your favourite food and stay healthy!
Instructions
Wash and dry eggplant and cut into 1/2 inch thick slices. Spread slices apart on baking sheet and bake for 20 minutes.

Remove from the oven and add toppings. Spoon on the marinara sauce (organic, no sugar added), add shredded cheese and pepperoni. Add extra toppings as desired -- chicken, bacon, ham, vegetables, mushrooms, olives, etc.

Broil in the oven, on high, until desired crispiness. Careful not to burn.

Serve immediately using a spatula and enjoy!
Notes
1 serving (about 4 pizzas) = 4 NET CARBS
Nutrition
Calories:
149
kcal
|
Carbohydrates:
8
g
|
Protein:
8
g
|
Fat:
10
g
|
Saturated Fat:
4
g
|
Cholesterol:
22
mg
|
Sodium:
272
mg
|
Potassium:
334
mg
|
Fiber:
4
g
|
Sugar:
5
g
|
Vitamin A:
282
IU
|
Vitamin C:
4
mg
|
Calcium:
152
mg
|
Iron:
1
mg
Shop What You'll Need