Baked Dry Rub Chicken Wings are low carb and full of flavour. An easy dinner to make, simply pair it with your favourite side salad or a dip and enjoy!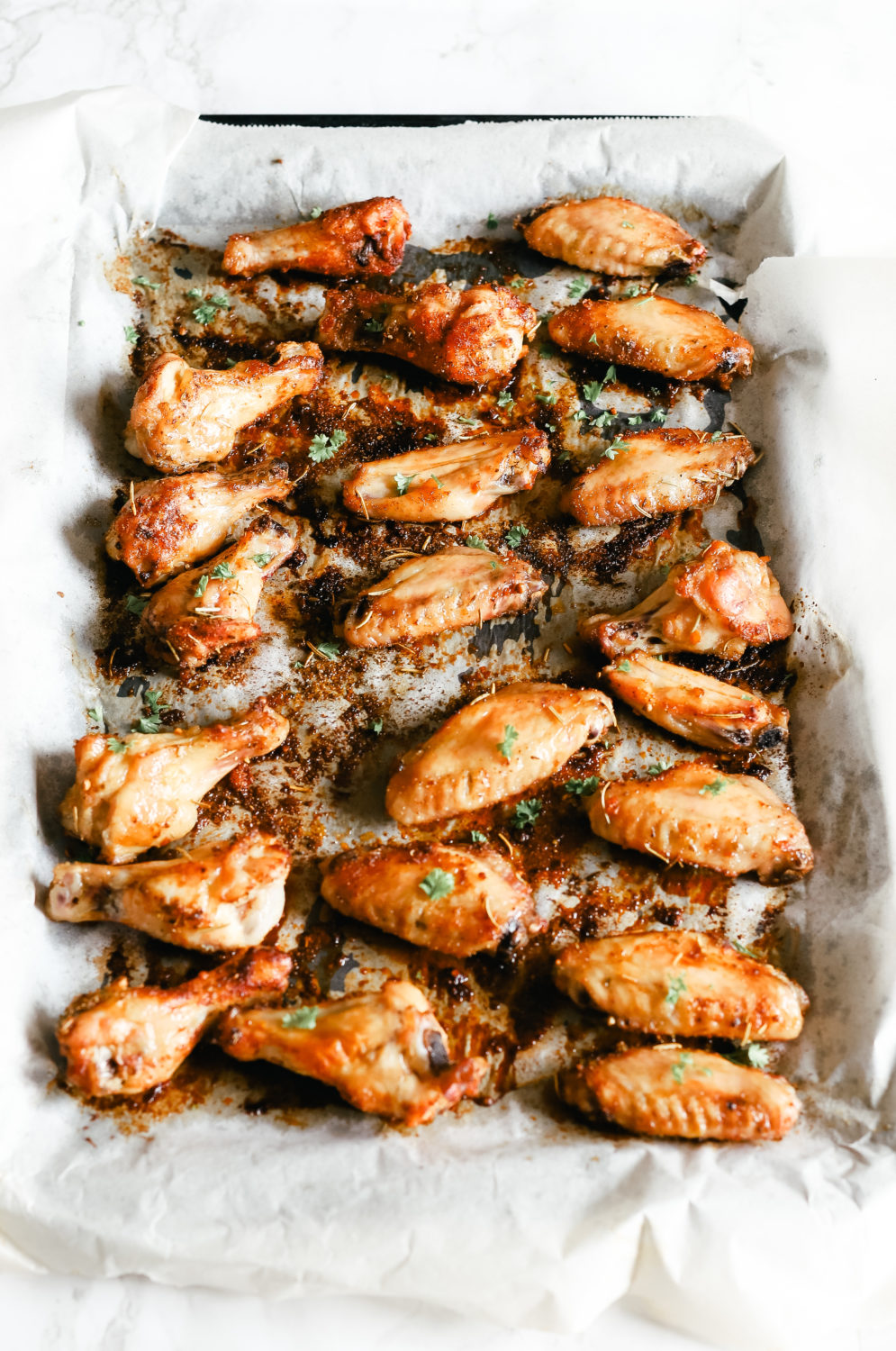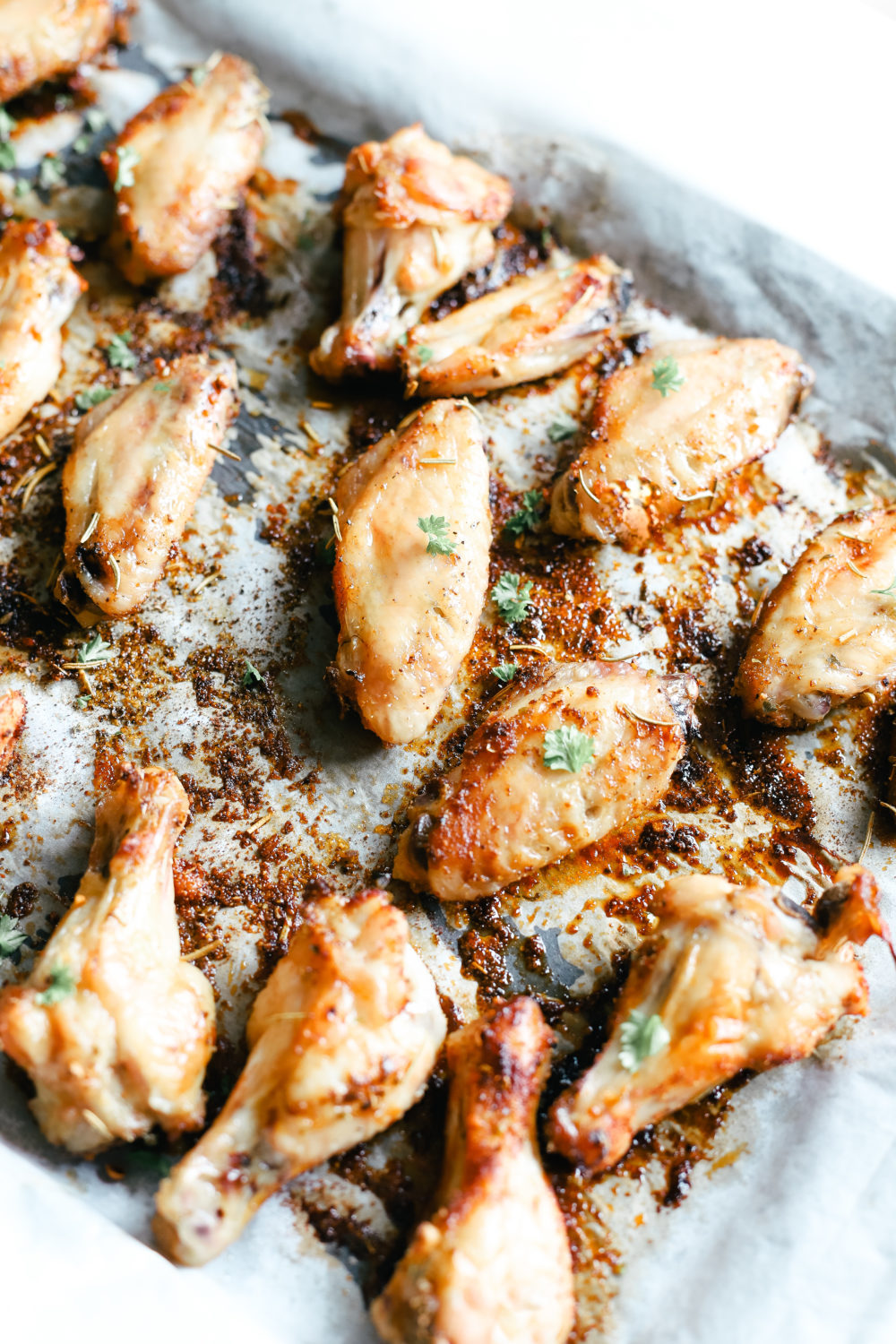 The best ever chicken wing recipe coming right up. Yes, I said it.
You'll love these flavourful wings that are easy to whip up for weeknight dinners. Serve with your favourite side of salad, steamed veggies and dip.
The whole family will be licking their plates–promise!
Dry Rub Chicken Wings
This oven baked dry rub chicken recipe is a classic in our house. We use the same dry rub seasoning every single time and for literally every other chicken dish.
The dry rub I use is perfect for chicken breasts, drumsticks and thighs.
If you're eating a ketogenic diet, then all of this "fatty" meat will be filling while enjoying a low carb diet.
And the best part is that it will be light on your wallet since you'll be cooking at home.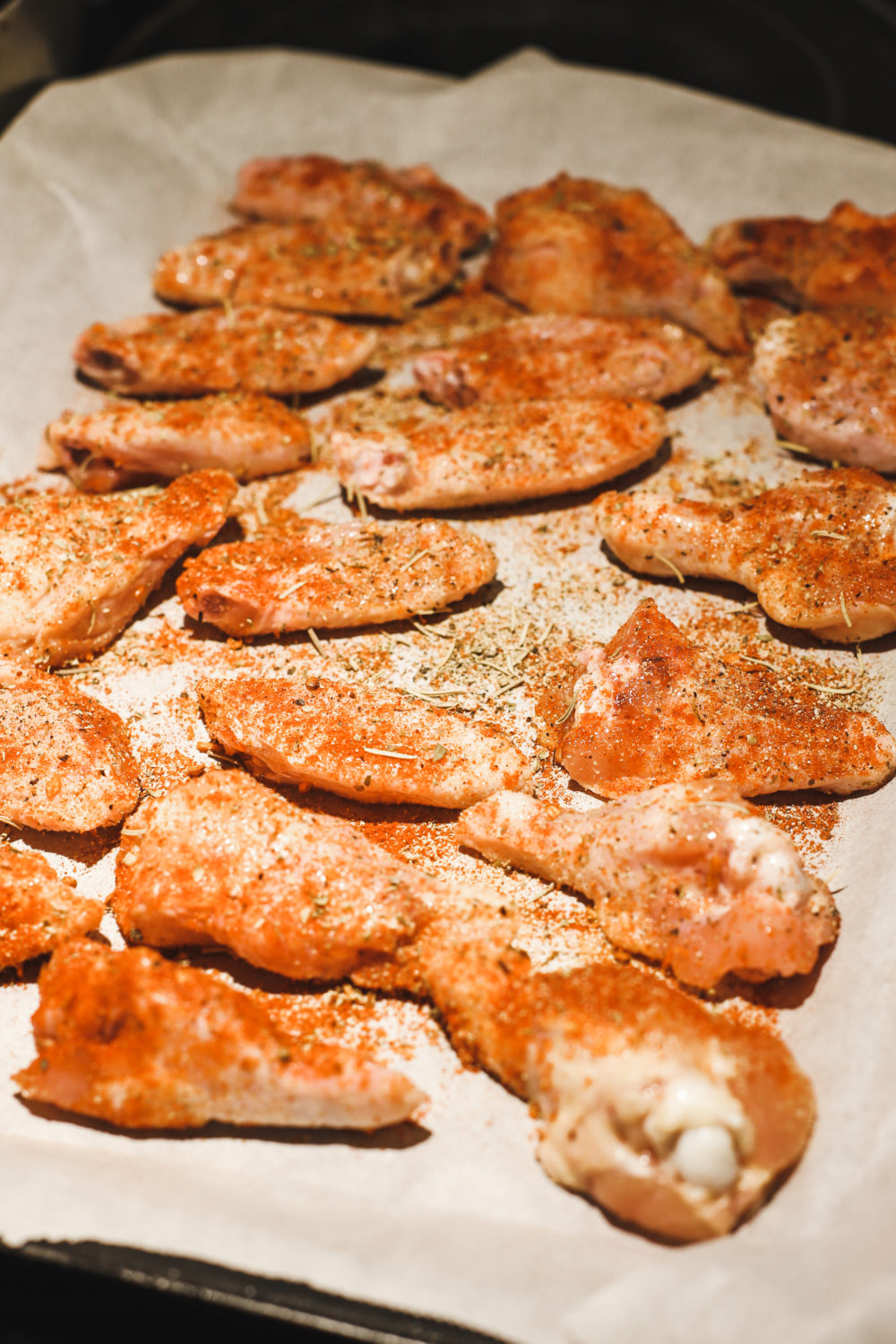 Gluten-Free, Keto, Low Carb, Paleo, Whole 30 Wings
This classic dry rub recipe is great for the whole family to enjoy. Dad will drench his wings in hot sauce while the little ones will lick their fingers clean with the dry rub seasoning alone.
Game night? No problem. No need to load up on all of that deep fried, breaded garbage. Cut the bread and you'll see how much lighter you feel after eating. You won't feel engorged and you'll simply have more energy.
When you eat breading, you won't be able to stop. With this recipe, you'll be satisfied.
All you need are your favourite chicken seasonings from your pantry.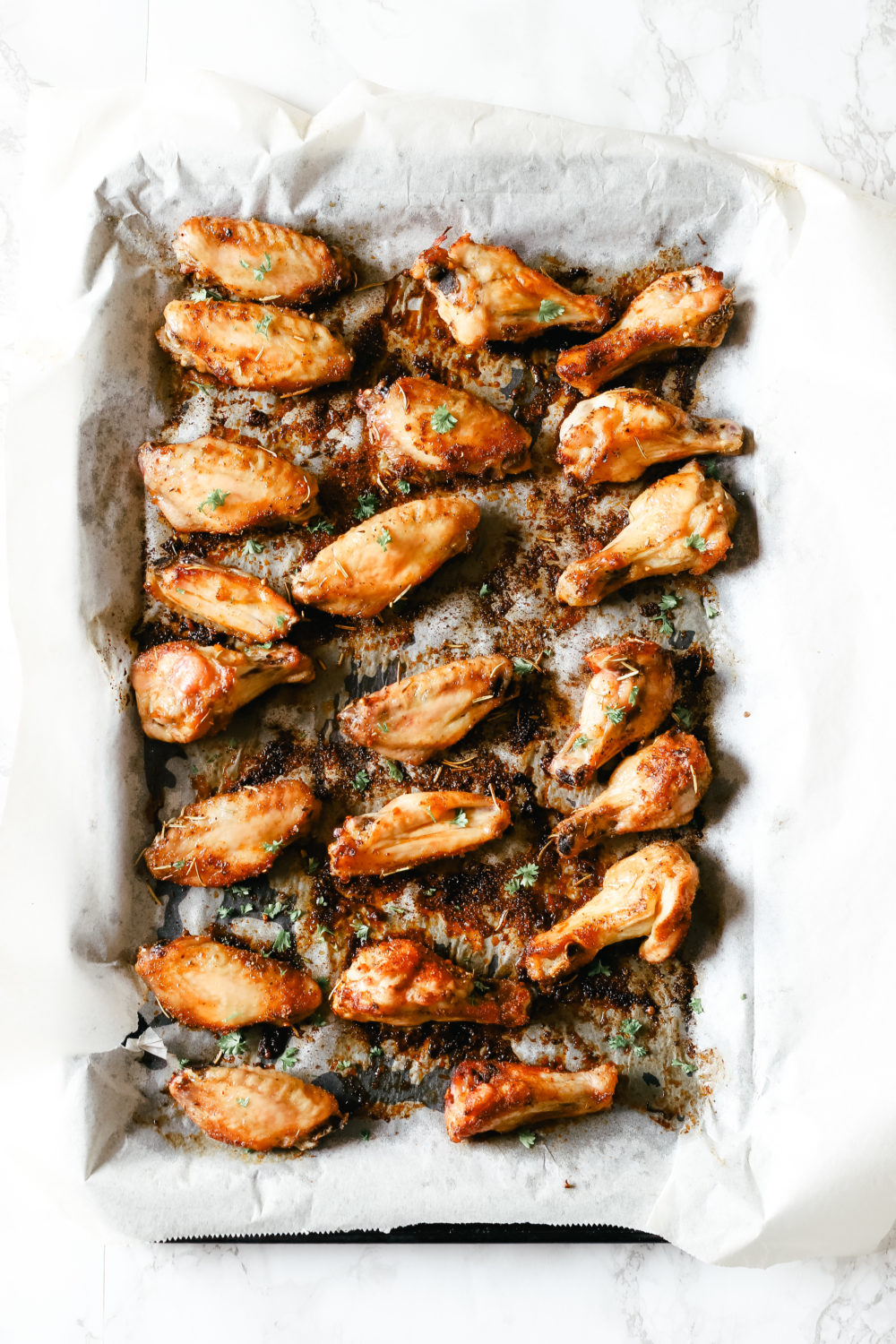 How to Make a Chicken Wing Dry Rub
You'll need salt, pepper, garlic powder, paprika, oregano, thyme, and olive oil.
You have two options–you can mix the spices together with oil beforehand to rub onto the wings, or you can simply drizzle the oil on top of the chicken while placed on a lined baking sheet and then sprinkle on the spices.
You'll want to flip the wings over with tongs to coat and season the other sides. Halfway through baking, the wings need to be flipped and you'll season the other side at that time instead.
You'll Also Love:

Oven Baked Chicken Wing Recipe
Once you've seasoned your wings and have them evenly spaced on a lined baking sheet, you're ready to bake them in the oven!
We bake ours at 400 °F for 45-55 minutes, flipping them halfway through with tongs.
We like them extra crispy, so the longer the better. Keep in mind that you don't want to cook for too long or the chicken will dry out.
Just keep an eye on them until they look perfect.
To be safe, use a meat thermometer to check that the internal temperature is at least 165 °F.
Why Dry Rubbed Wings?
By skipping the typical breaded wings, you're putting emphasis on the crispiness and seasoning of the chicken.
They instantly become low carb, which can make a big difference in lowering your blood pressure and feeling fuller, for longer.
They'll go perfectly with a side salad, steamed veggies, or crispy sweet potato fries.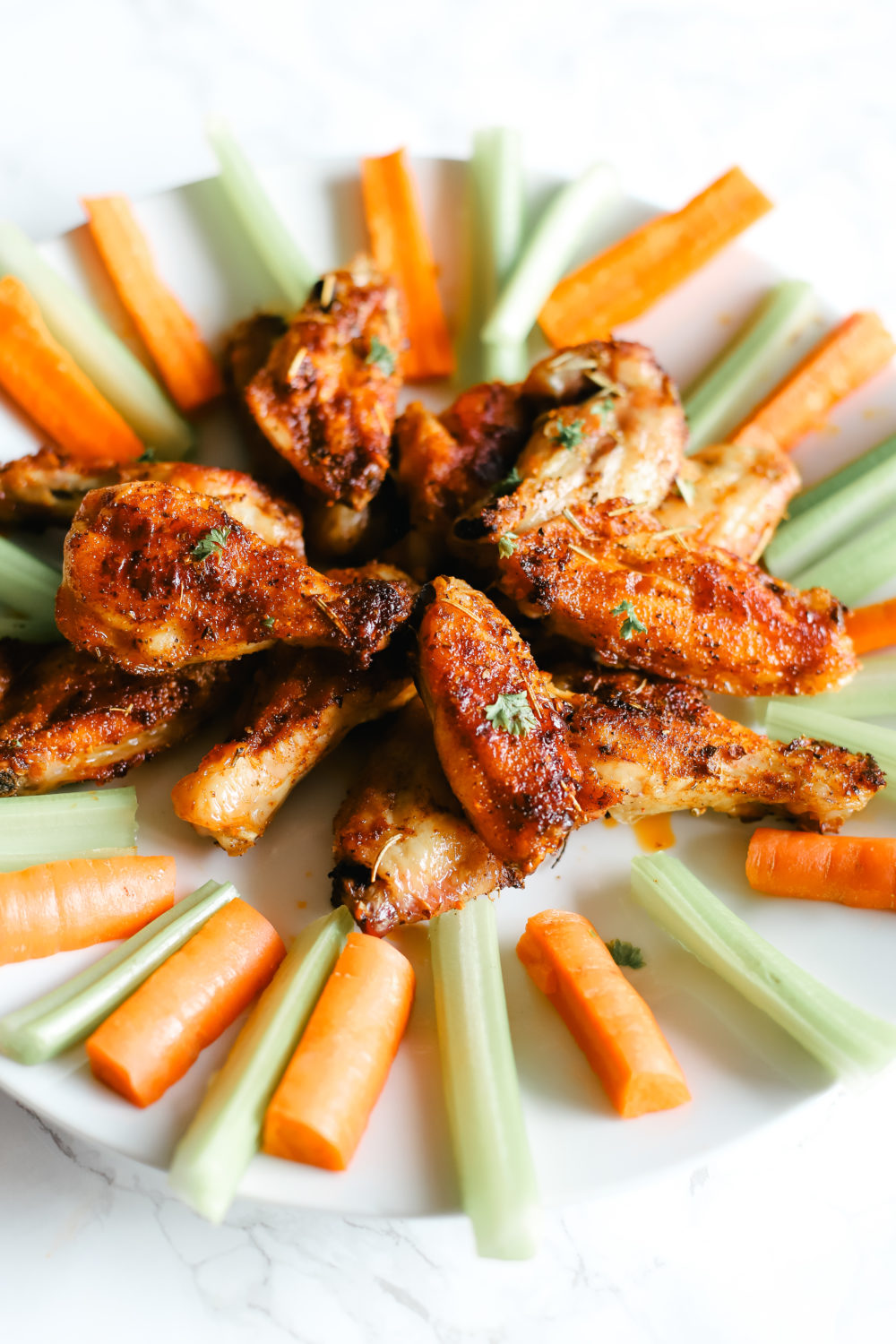 Can I Freeze Oven Baked Chicken Wings?
Yes. Once fully cooked and cooled down just enough (not burning hot), place your wings in a freezer bag.
Try to remove as much air in the bag as possible.
Freeze up to 4-5 months.
Wing night? Reheat in the microwave for 2 minutes, or place back in the oven to warm up.
Dinner Side Dishes to Serve With Wings
You'll want to have these wings with other low carb sides like:
Caesar Salad (No Croutons)
Chopped Carrot and Celery
Steamed Vegetables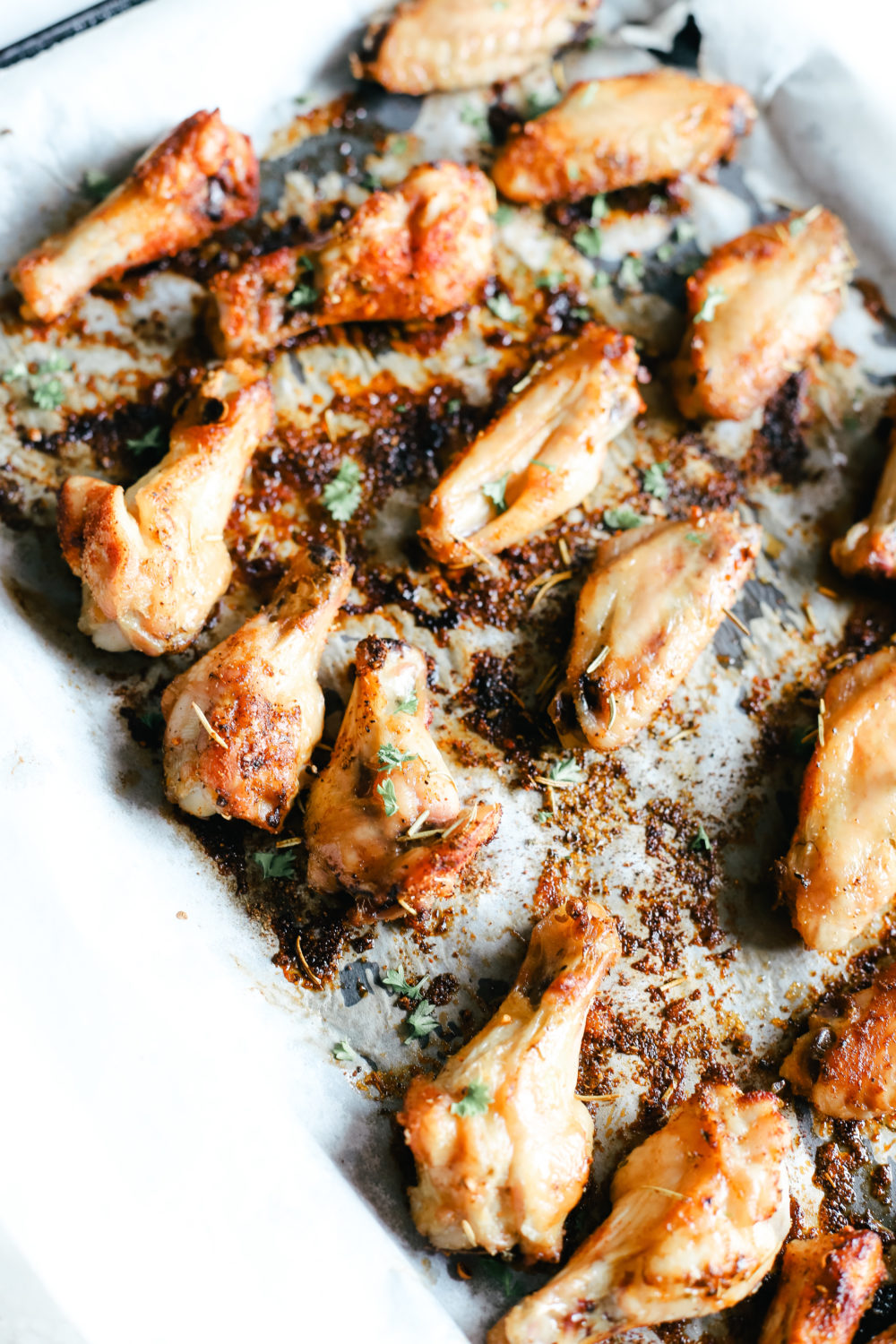 I know you're going to love these wings, baked to perfection! I love seeing your recreations, be sure to tag us on Instagram and use #northsouthblonde!

Oven Baked Dry Rub Chicken Wings
Instructions
Bake for 45-55 minutes, depending on desired crispiness, turning half way through.

Garnish with parsley and enjoy!
Notes
1 Serving or 5 Wings = 2 Net Carbs
Nutrition
Calories:
415
kcal
|
Carbohydrates:
2
g
|
Protein:
34
g
|
Fat:
29
g
|
Saturated Fat:
8
g
|
Cholesterol:
141
mg
|
Sodium:
717
mg
|
Potassium:
309
mg
|
Fiber:
1
g
|
Sugar:
1
g
|
Vitamin A:
553
IU
|
Vitamin C:
2
mg
|
Calcium:
30
mg
|
Iron:
2
mg
Shop What You'll Need
Pin for Later