Slow cooker split pea soup is an excellent source of fibre and a favourite comfort food that's easy as can be to make during those colder months!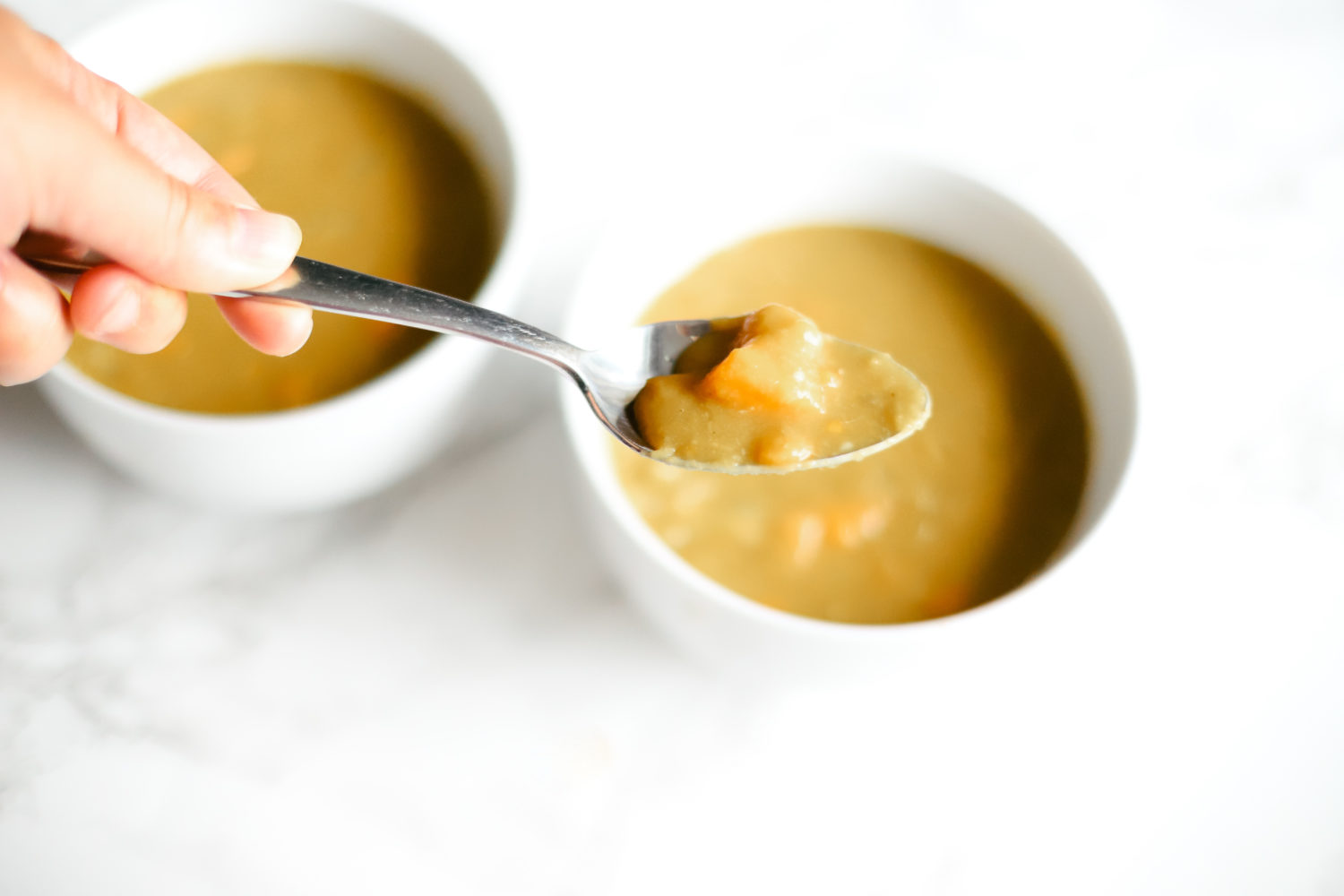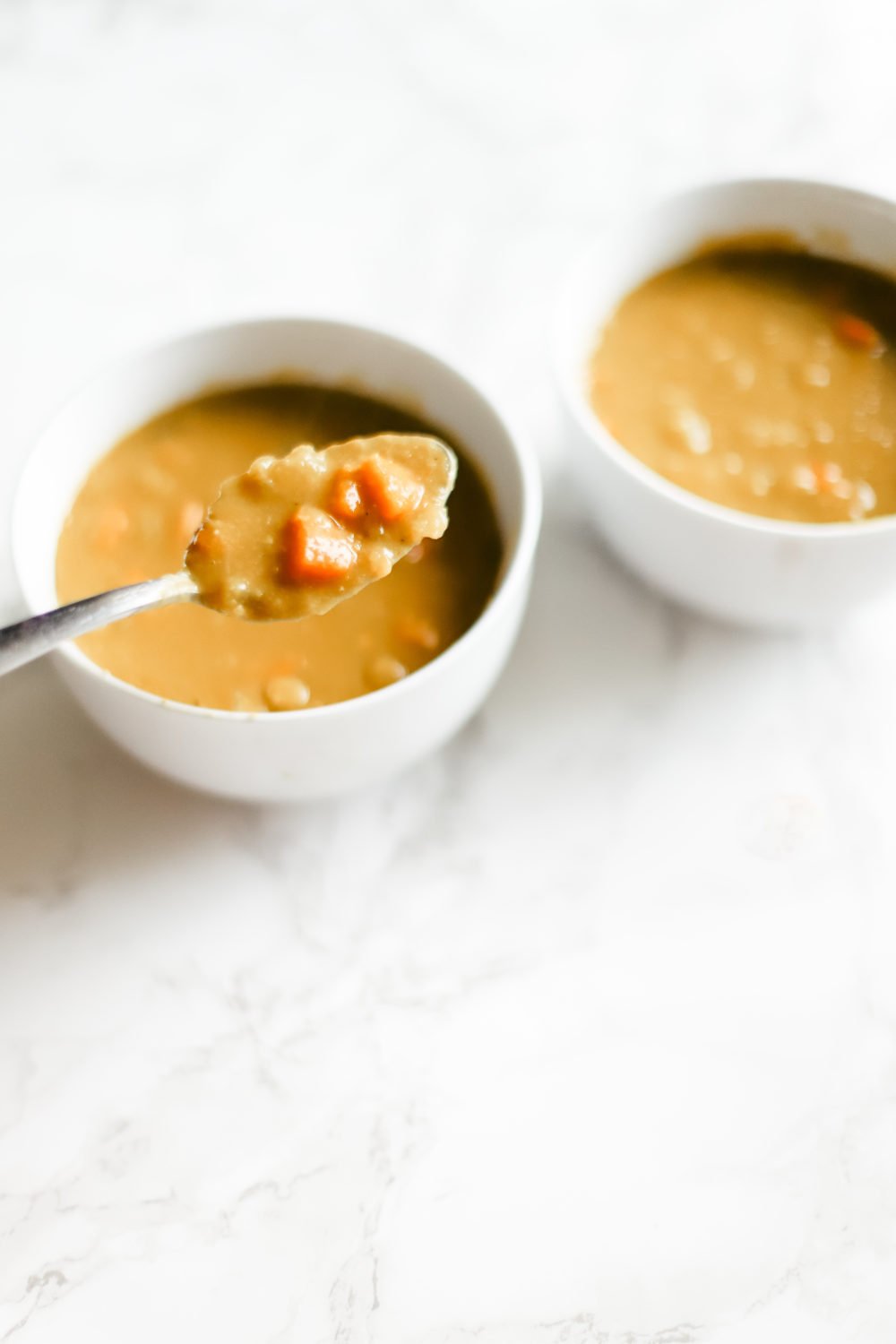 It's almost fall and we can't wait to warm the house up with yummy soups that are easy to make in the slow cooker. Split pea soup is a classic recipe that will be your go-to on chilly days. It's super affordable to buy a bag of split peas, just keep in mind that the peas will eventually soften, they just need a few hours to cook! All you need is a slow cooker in your life and you can sit back and relax.
Is Split Pea Soup Keto?
If you are hoping that this soup is low carb or keto, to be honest, it's right on the border. Split peas have tons of fibre, about 41 g of carbohydrates, 6 g of natural sugars, and 16 g of fibre as per a 1 cup serving. That makes 25 net carbs – a bit higher than the recommended limit of 20 net carbs and may or may not kick your body out of ketosis. It is definitely hearty and great to feed the whole family with little work or prep involved.
Key Nutrients in Split Pea Soup
Vitamin A
Vitamin C
Vitamin D
Vitamin B-6
Vitamin K
Thiamin
Folate
Iron
Magnesium
Niacin
Phosphorus
Potassium
Zinc
Copper
Manganese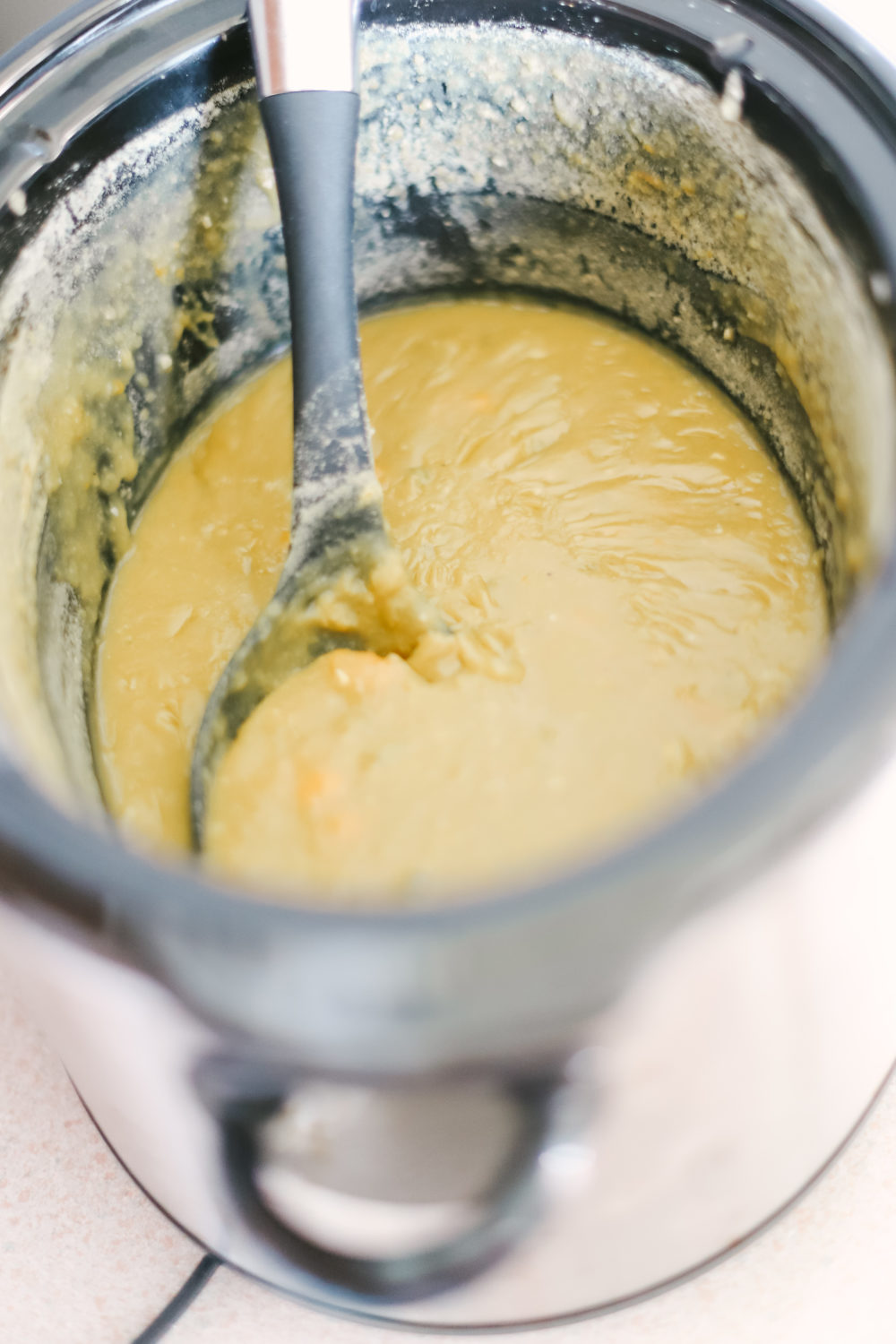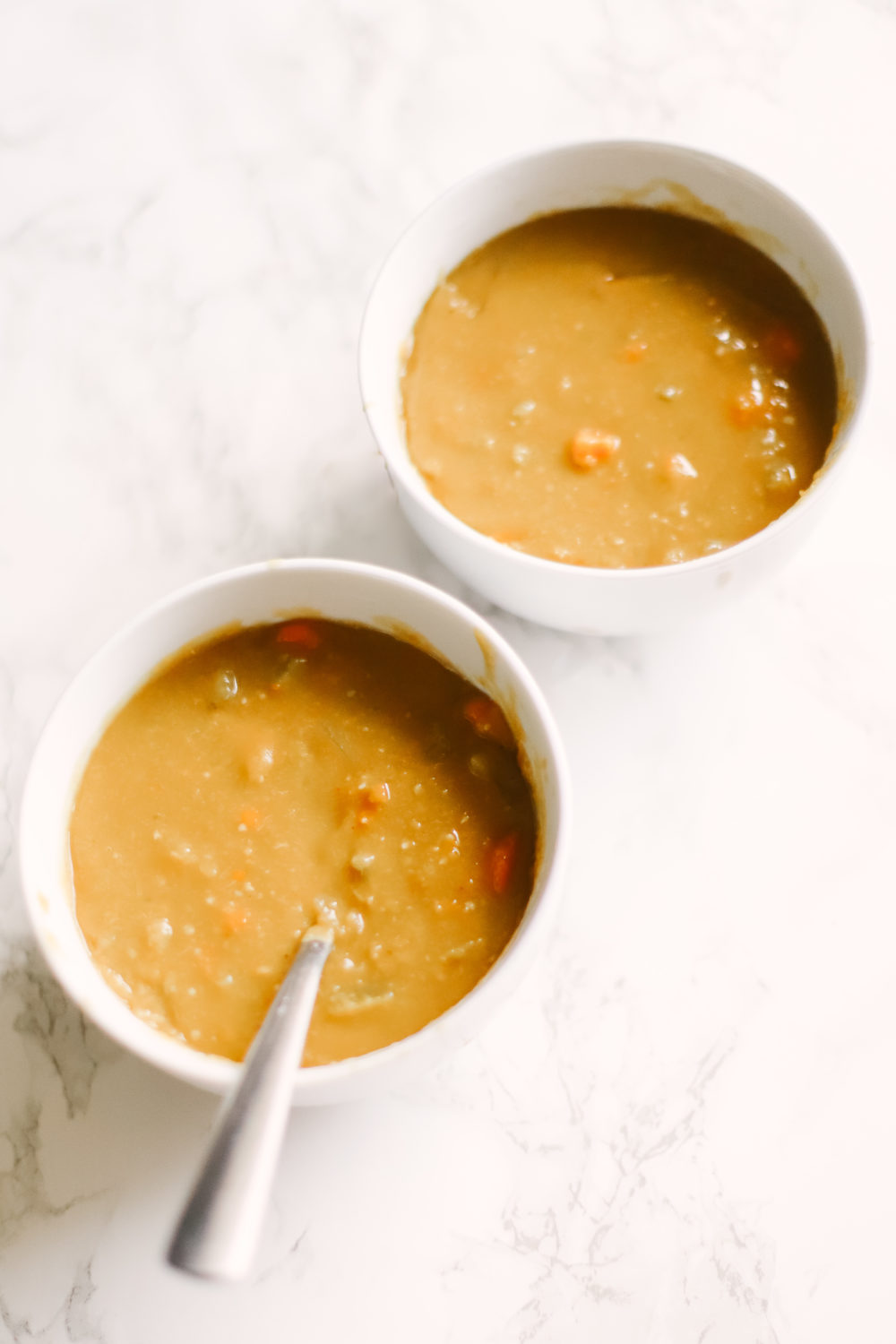 Other soup recipes you'll love:
These nutrients are essential for a strong metabolism, brain function and so much more. If a pregnant woman was to take a good look at the label of her prenatal multivitamins, she would see all of these vitamins and minerals mentioned above. In other words, this soup is completely packed full of goodness to nourish your body.
Just one cup of this soup will fill you up and keep your belly warm! Not only is this a meatless soup, it's lower in sodium because there is no chopped ham that is otherwise seen in traditional split pea soups and is loaded with sodium. Store the soup in the fridge for up to three days or in the freezer.
If you are worried about the thickness of the soup, control it by adding water to thin it out, or cook for longer to thicken.
This split pea soup will reduce the risk of heart disease, chronic illnesses, cancer, and aid in weight loss.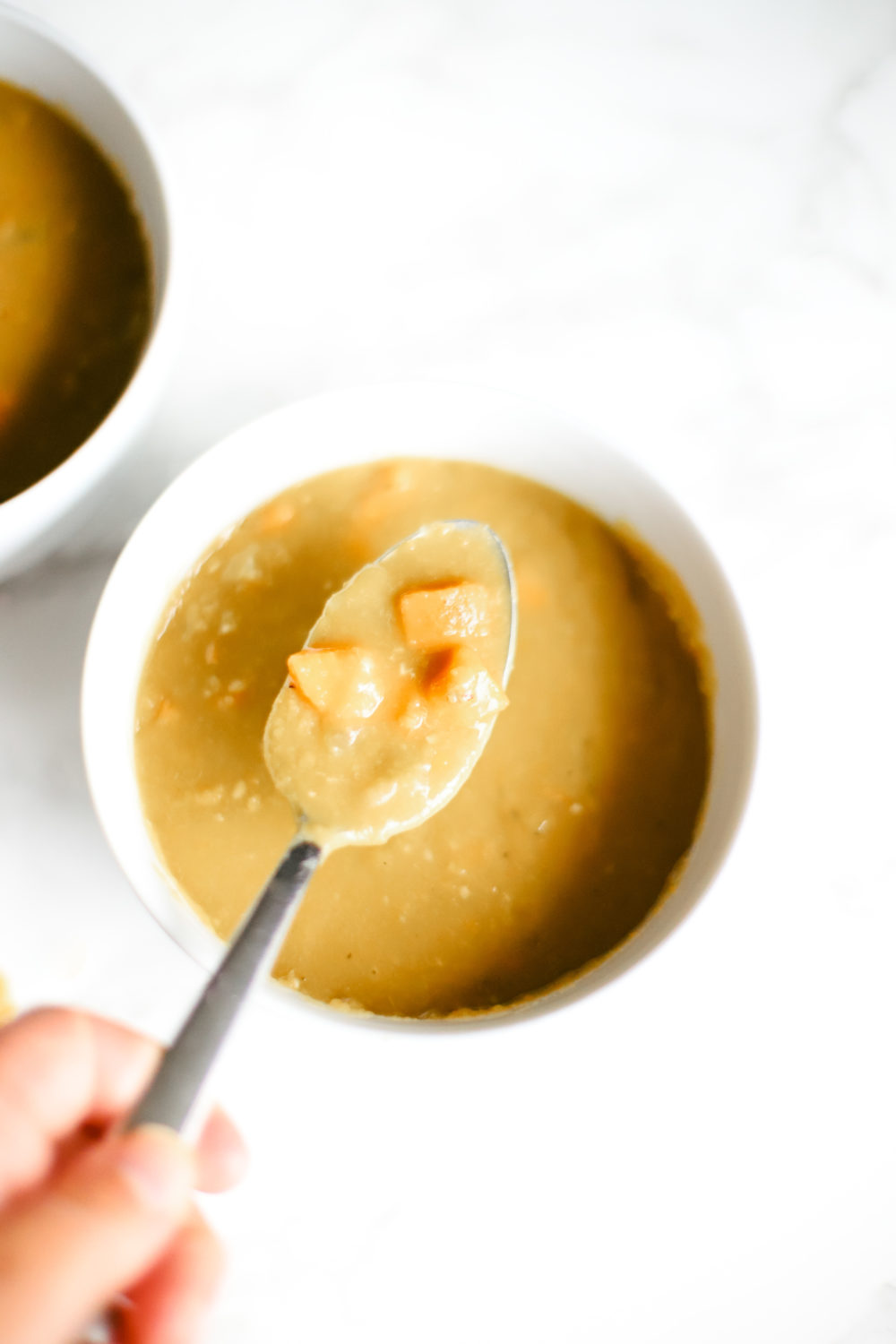 Enjoy my friends!

Slow Cooker Split Pea Soup
Instructions
In a slow cooker, add the split peas, carrots, celery, onion, garlic, and water. Then, add in the seasonings including bay leaves and flavoured cube by crushing with fingers. Stir all of the ingredients together.

Cook on low for 4 hours, or on high for 3 hours. Cook until desired consistency - if too thick, add more water. Serve hot and enjoy!
Notes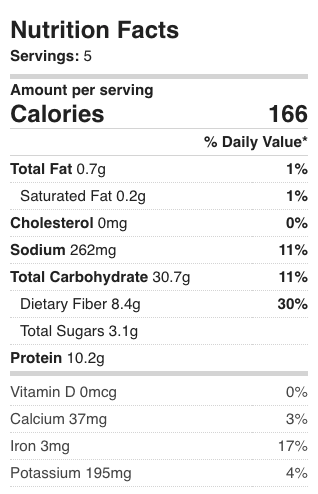 1 Serving = 22 Net Carbs
Nutrition
Shop What You'll Need

Pin for later!